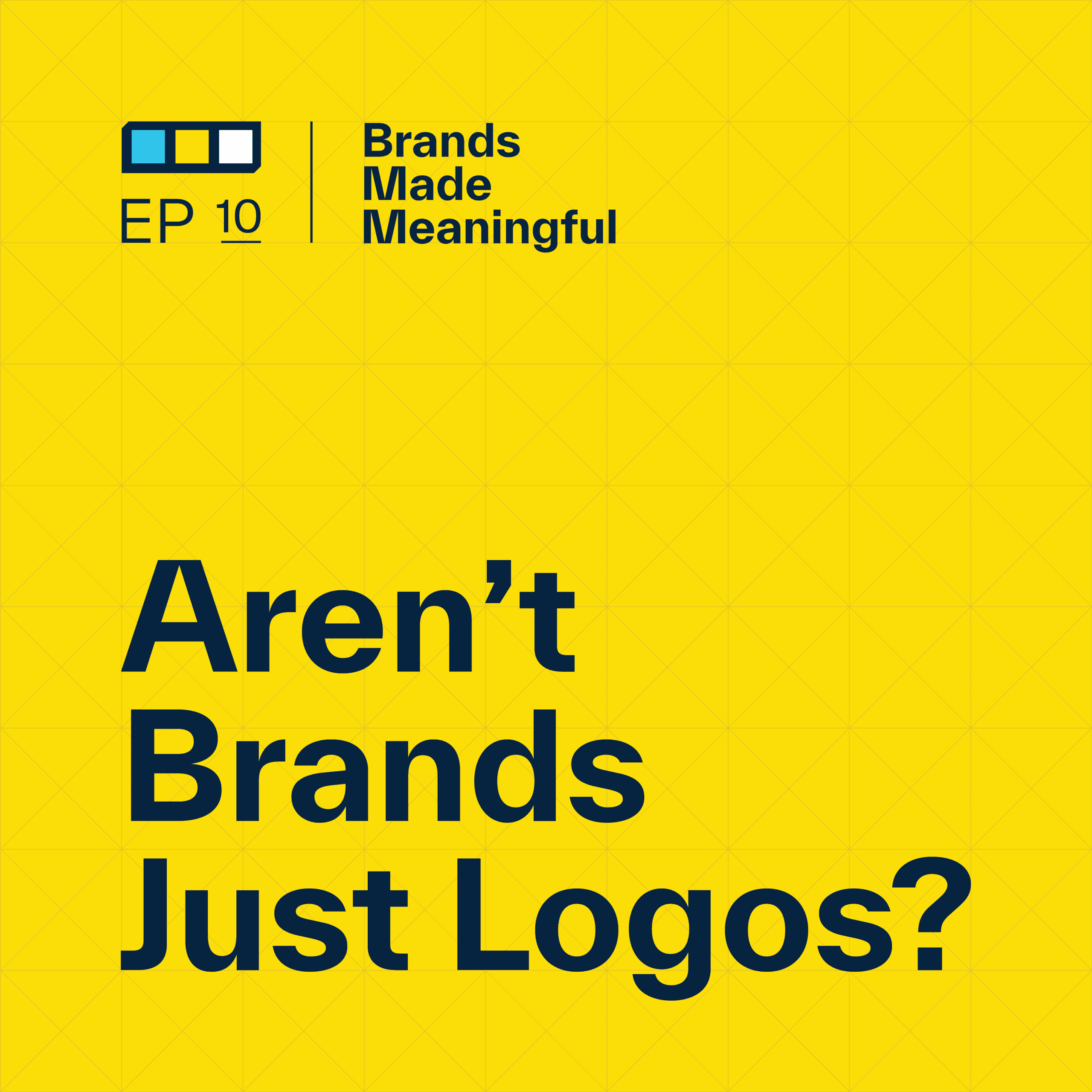 Aren't Brands Just Logos?
Episode 10
Derek and Tucker sit down today to discuss what logos mean within branding.
EPISODE TRANSCRIPTION
In today's conversation, we're talking about what logos mean within branding.
Derek
Kind of a fun topic today.
Tucker
I do like this topic. It's almost the first conversation we have with new business people every time.
Derek
Probably the most common subject that comes up in some way, shape or form with what we do and the industry that we work in within branding- and that's logos.
Tucker
Yeah, and the logo; what it means, what it should do when we talk about branding. When you talk about branding with anybody, everyone just goes, "Oh, the logo. Okay, you do logos for a living, great." And my answer is, "Ehhh, kinda I guess."
Derek
But that's because everybody knows or thinks they know what a logo is. They have logos that they like or there are brands that they're fans of their products or bands that they're fans of their music. There are logos out there that everybody identifies with that are part of their own lives and their own vernacular, that they associate with good things.
Tucker
Yeah, when someone asks me, "So what do you do?" And I go, "Oh, I'm in branding." And they say, "Okay, so you do logos." And I say, "No, not really, that's just a piece. That's just a big piece." When we talk about a case study that's, I don't know, one of the half an hour conversations about a case study that's just one little section, maybe a three-minute conversation about, "Oh, and the logo is this." That logo is really the marker for what that brand is now.
Derek
It's a symbol.
Tucker
It's the symbol. I think of it as the face of that brand. And our face is important, absolutely. But are they everything? No. Your face isn't the end all of your story. Your face isn't what I think of when I'm talking to you, I'm thinking of what you're saying.
Derek
It's a visual piece, and oftentimes it might be a first visual piece. It might be the first part of somebody's introduction to a company or a business or a product that might be the representation of that logo. You think about the logos that you, whether you like or you associate with positive things. When you think about positive association, where we're kind of heading is, it's that positive association and all the good stuff that comes behind that logo that is what makes your brand.
Tucker
Yeah, so the most simple way to say it is that a logo is not a brand, but a brand needs a logo to identify it. So the best way to start thinking about these things is like of that face or maybe that shell to say, "Okay, well, if we're going to have something to visually identify it, that would be that logo." But the other side of the coin is, well, what other things identify it? Well, your name identifies it. So if your name is the verbal representation of your brand, then that logo is the visual representation of the brand. And there's a lot more that goes into it than just those two elements.
Derek
Right, and we're not downplaying the importance of this symbol. It's extremely powerful and when it's done right and when it's built, we would say meaningfully, it can be an incredibly important part of the brand. It's the thing that people might wear on their clothes or embroider or put on coffee mugs. But it goes so much deeper than that.
Tucker
When we have a process where a logo is in that process, because not every single project we do has a logo in it, right?
Derek
And not every branding project that we work on ends up with a brand new logo.
Tucker
Exactly, there are many rebrands that come back and it's, "Nope, we didn't change anything with your logo because your logo is still okay the way it is. It still tells the story we're looking to tell." But when we do have a new logo in that process, I think there's a conversation that we have before we get into the logo that helps explain what we're going to do with the client. And Derek does it great, but I'm going to steal it right now. It's the book analogy of saying the logo is going to be the cover of your book, but it is not the inside of that book. So it's incredibly important that we get this logo right and we get it so that it visually represents this brand the right way, because it's tip of the spear, it's the first thing everyone sees. But it's not going to help change that inside meat of that book. So we need to also remember there's a lot more work to do in the back end.
Derek
An analogy that I like is the Starbucks coffee analogy- and by the way, they continue to refine their logo. They revised their logo, I don't know, half a dozen times. Like every seven years, they fine-tune it.
Tucker
Yeah, I think most bigger brands do that. I mean, you see many Google switches their logo a little bit all the time.
Derek
Yup, but the Starbucks logo- when you see that on the outside of a building, it identifies the sense of place (and this is retail. This isn't a business-to-business or manufacturing) but in a retail environment which we're all really familiar with.
Tucker
Yup.
Derek
When you see the target on the outside of a building or a Wal-Mart sign or a Starbucks on the outside of the building, assuming you've been in them, you already have an association with what that logo stands for. If your favorite beverage in Starbucks is a nonfat latte with a little shot of caramel in it, then you are already salivating to that experience when you see it; that's what that logo represents to you. If you visit a restaurant (and whether they have a great logo or not a great logo by whatever great is defined) if you go into that facility and have a terrible experience and terrible service and awful food, then that whole experience is now what that symbol or what that logo represents for you.
Tucker
Yeah, and so we call it a symbol; an identifier. A great way to think about it is a logo is a cue. It's a visual cue to trigger all of those memories, all those thoughts, and the perception that you want to have. So is it important? Absolutely. That logo can attract people. If you think about it as a cover of a book, it can absolutely deter people from opening that book and reading that story. But it's not everything. And I think that the title of this is "Aren't brands just logos?" No, they're not. You can absolutely have a fantastic brand and not have a great logo. You cannot have a fantastic logo and a bad brand. That's not going to work out in the long run.
Derek
We should sign off with that when we get to the end, let's bring that back.
Tucker
Let's just bring it, say it again.
Derek
When it comes to branding, one of the ways that we define branding is it's a promise that you make to your customers. Harry Beckwith, I believe, who authored "Selling The Invisible", defined this in his book, that a brand is a promise that you're making to your customers regarding the problem that your services or products are going to help them make. And our favorite author, Seth Godin, had a great quote following that up said, if a brand is our mental shorthand for the promise that you're making, then the logo is the Post-it reminder of that promise.
Tucker
Yeah, it carries that story, carries that promise forward. So it's great. I mean, it's just that platform that's going to tell that story. But I think if you start looking at it in the sense of it being, like you just said, a Post-it note, it's absolutely important what that Post-it note is-
Derek
Which is trademarked.
Tucker
Which is trademarked, yeah. But it's not everything because what's everything is that promise. What's written on it? Because if you don't have a promise, then the post-it note does nothing.
Derek
A logo isn't going to get somebody to care about your company if your brand story doesn't resonate with them first. And that brand story includes visuals in addition to the logo like color, photography, and imagery, it includes a whole verbal component of messaging and how you communicate and express what it is that story is. But it's also having that story in place in the first place.
Tucker
When we say story, we're not just saying, "Oh, so what are you telling?" It's really like, who are you? What are you here for? Why do you exist and where are you going? So when we say story, that's a really summarized version of saying all these meaningful things that we're pulling out. And there's a really good reason why the logo is step 30 of this huge process, right? We don't get to it until we already know what that story is and we've already been writing a lot of this stuff. We understand the emotions we're trying to play out. It's not the first step and it's not even close when we work, let's say it's a six-month rebrand; it's in months four and five that we're actually working on the logo. So you can kind of start getting a sense of where that lands.
Derek
So if a company jumped right into the designing of a logo and skip the 29 steps that you just described, and let's say they crowdsourced it; went online, threw it up on one of the crowdsourcing sites, and then had 100 different people submit designs from all over the world and then you pick the one design that you find most aesthetically pleasing to you, and you pay them 100 bucks. That's crowdsourcing a logo.
Tucker
And you're saying that in their minds they're saying, "We're rebranding, right? So we're going to go do this."
Derek
So we've already said a logo is not a brand, but what's the difference between a logo that was developed with no first steps versus a logo that came in what we would say is the correct portion of the process?
Tucker
Yeah, two things. One: purpose over preference. Or I guess in this case, preference over purpose, you're just basing everything off of your individual likes and dislikes. So if you like it, then great. We've been down that road with clients where they get frustrated because they don't love the logo, and it's important that you like the logo, but it's also important to understand that the logo is not just for you, it's for a lot of other people. Then, two: it's really limiting to say, "Let's just get in and let's just rebrand, let's redo the logo." And just doing the logo is not going to change anything. If you have all of your website, all your marketing materials, the way that you're marketing yourselves, your perception, your customer service, all that stays the exact same, and the only thing you're doing is swapping in a new logo, it will do nothing for your business. There might be a little PR in there to try to get your name out again, but it's not going to solve your problems. Unless your problem is that people hate looking at your logo but love everything else, I find it very hard to believe that changing your logo is going to do much for you.
Derek
I just saw a couple of TV commercials with one of the businesses that imprints logos on coffee mugs and backpacks and things (because we actually help our clients put that kind of swag together for their employees sometimes). The logo on the coffee mug isn't the brand. The brand is the experience of the conversation that two people have within that organization over that cup of coffee.
Tucker
Yeah, I think it's easy for someone who may just be a designer (and I said 'just' as a negative thing, but there's nothing wrong with being a designer) I think when you are a designer and you say, "I do brands" and what you do is logos, (you may specialize in that, people do that) but the hard part is you're missing all of these key things that support that logo. So like you said, you could put your logo and everything, but if the logo is just a mark and you have no idea of what you're trying to create with that mark, you're like, "Well, what does that even represent and why does it matter?" Then you really run into spending money on things that people are telling you you should spend money on, but it's not going to make an impact. So when we look at putting a logo on swag, that's the very final step of trying to tell that story. So if you're going to put your logo on a bunch of mugs and say, "Hey, we're branding, so we're going to put our logo on a bunch of mugs." That's interesting. I don't know how that's going to help you market your business more other than maybe a little bit more awareness.
Derek
Right. 
Tucker
So when we say, "Why does it matter?" Why does it matter to understand that brands are not just logos?
Derek
Well, so I'm a designer. I was trained, went to college, and have a degree in graphic design. So for me, much of what I have done, especially early on in my career, was around the designing and creating of all kinds of creative stuff, but logos certainly. And we've designed, I don't know, hundreds of logos over the two decades. So I'm saying this coming from that very designerly point of view, but if you just think about your brand as a logo, you are absolutely limiting what it is that you're marketing, your communication, your branding, your active branding efforts; you're basically wasting your time.
Tucker
And that's because branding isn't a design solution, right? Design is absolutely a part of it, it's a big part of it. I mean, the way that we communicate is visually and verbally. So it's half of the solution there, but it's not all of it. The branding is all about the emotional and psychological avenues and solutions that we're providing there. So I think it's easy for someone because of how approachable design is from everybody's perspective, because I can see it. So like I have a perception of it right there and then. You can kind of forget about all the other stuff.
Derek
Yeah, and you can get into, "What does that logo represent? And does the logo have a symbol or is it just a type treatment?" There are a lot of different ways to go with it, but we end up going down a rabbit hole far too soon. And we've skipped what you said before, which is being purposeful and meaningful about why we do it. I would even say, jumping back to the swag example, depending on what your brand is, would determine what the appropriate swag is. If you're not a conversational type of a brand, coffee mugs don't make any sense.
Tucker
Yeah, I mean, we've had people come to us and go, "I just want to throw my brand on golf balls." But why? What would be the purpose of you doing that?
Derek
They say, "Because I play golf. And now I get some cool golf balls."
Tucker
Yeah.
Derek
Spread brand awareness all over the right-hand side of the golf course in about 220 yards in the tree.
Tucker
But I think the best way to think about branding, (because this episode's really just high-level about what branding is) is if you start thinking about branding underneath the marketing umbrella, it becomes more clear when you start understanding how you're defining marketing. So going back to Seth Godin, because he's fantastic, he has a quote on "What is marketing?" And I think this summarizes the way that we think of marketing versus how someone else might think of marketing. Maybe a salesperson thinks of marketing differently, but he defines it as, "Marketing is the generous act of helping someone solve a problem; their problem. Marketing helps others become who they seek to become." And I like this quote because if you think of branding underneath this umbrella of, "Okay, how are we helping someone solve a problem?" A logo is not going to do that by itself, but it can still support those efforts. So you might be trying to solve a really big problem in your business, but a new logo is not going to help you solve that problem. But if you have a great logo, it's going to make it easier for someone to resonate quicker or maybe it's going to help you tell that story that solves that problem. So if we look at someone who's down this route and they've already decided, "Nope, we're just going to rebrand, we're going to do a new logo" (and rebrand in their mind is just doing a new logo), what are some of the issues that they would see? Or maybe what are some of the problems only thinking needing a new logo will get you?
Derek
Well, my first answer comes back to something we were talking about a few minutes ago, which we've had some experience with in the past. And it's a company that even goes down the marketing route, the branding route, the route of creating brand awareness with whatever is appropriate for them. And they just end up spinning their wheels and none of those marketing efforts are working. They're so focused on looking great that they're not then maybe focused on the additional meat that follows behind that book cover.
Tucker
And we've had conversations with people who are almost all the way in and they say, "Yep, we just need a new logo. That's what we need." And the reality is they don't need a new logo. They need to build out the rest of their brand and that money that would be charged on a logo, (because logos aren't cheap, there's a lot of work that goes into redesigning a logo) but if you're not redesigning a logo and you're doing the rest of that, you can use that money in a more efficient way if that logo is fine. And I think that probably one of the hardest things we'd have to tell people is, "Yeah but by the way, your logo is fine. We don't need to touch your logo." And you're almost talking yourself out of a project there, but it's to help them understand that it's not necessarily the logo that's having your marketing efforts fall flat. It's a lot of the other stuff. And so it's like you could use that same resource and work on the inside of that book that needs to be built out so that the logo actually means something.
Derek
Yup, have the meaning behind it.
Tucker
So, if you're saying one symptom is that people are spinning their wheels because all they really think of a brand is its logo. What is another symptom of someone just considering the logo?
Derek
Well kind of going down that, "Asking why," again if somebody's marketing efforts are falling flat, oftentimes it's because there's a lack of clarity in what they're communicating.
Tucker
Yeah, and that's pretty common.
Derek
A lack of clarity in messaging, a lack of clarity and meaning, the inability to differentiate, or even to define what they do in a way that connects with somebody.
Tucker
And the problem of that is when you're overlooking the other pieces and you're basically overlooking the verbal components of saying, "Well, if as long as we look different, it doesn't really matter what we say." And that's just not true at all. Because if you look totally different, but you're echoing the exact same thing as everybody else, that makes it really hard to stand out.
Derek
There's a hero and a guide component of branding and storytelling that we talk about, and it will probably have its own podcast conversation at some point. But if you think of really good storytelling, the hero is an important part of that story because it's one that a lot of us associate with as we're watching a movie; we hone in on what that certain character is. But the guide that's always there, a little bit behind the scenes, that comes up and supports that hero, helps that key character take that next step; breakthrough, get what they want. I almost think of the logo as the hero in the story and the guide as the messaging, the experience, the content, the follow-through, the customer service, all of those things that make what that logo symbolize as meaningful.
Tucker
It's interesting. One of the writers that we work with talks about the logo as a marquee-
Derek
Jeff Mueller, shout out to Jeff!
Tucker
And he said the logo and the name are the marquee that pull people in. That flashing light on the movie theater way out there and you're of like, "Ooh, what's going on over there?" That's a really good representation of what a logo is and what it can do. I mean, a great logo can really make people think differently about you. But if you go in and that movie sucks, then it doesn't really matter. If your experience isn't what holds up to that marquee, if your experience with an organization isn't matched with what you had thought previously going into that, that's where you find these problems.
Derek
Imagine if you've never been in a Walmart or a target, and you're standing outside the front of each of those retail stores with no association or prior experience of what it's like to be inside them. Is there a differentiation between the two? Sure, their names are different. Their symbols are different.
Tucker
Their colors are different.
Derek
Their colors are different. But do you have any sort of sense of the nature of that business or what the experience is inside or the types of products they sell or what their customer service is like based on that marquee?
Tucker
Yeah, no; the short answer is no. But the long answer, I suppose we're assuming everyone who would be listening knows those two.
Derek
But those experiences inside those two particular organizations, in my opinion, are very different from each other.
Tucker
Oh, for sure. What they sell, their value propositions are very different, and their brands are very, very different. But if you look at their logos from a pure design standpoint, there's not one that's like, "This is a perfect logo, and this one's imperfect so you know that this one's better than that one." I mean, they pay millions of dollars to make sure that their logos are perfectly designed to represent them. And if you had no idea like you're saying, it doesn't make a difference. It might draw you in, you might be interested. I know IKEA does a great job of this because it's just a huge blue building with a big old yellow name on it. That does a great job of someone identifying it.
Derek
And that's a logotype without a symbol.
Tucker
Exactly, and that does a great job of representing that marquee, of pulling someone in and identifying and saying, "Ope, that's an IKEA."
Derek
That's only one step of that brand. Once you get inside, now you have to do the hard work of following through.
Tucker
Yeah, then the last symptom. We're kind of taking our time here, but the first one was spinning wheels or wheel spinning efforts; when we talk about marketing, it's what we're doing just really isn't working at all. So why are we focusing on a logo? It's probably because our brand isn't robust on the back end. And then two, was the lack of clarity; people overlooking that verbal standpoint of getting a differentiation or distinction in a verbal setting.
Derek
Or even worse, having a misperception or the wrong idea of what you do.
Tucker
And figuring out how we tell that story from a clarity standpoint. And then third is a lack of engagement.
Derek
That's the result. And if your marketing materials fall flat because they're confusing, then you're going to be suffering from a lack of engagement.
Tucker
Or, if you're sitting there thinking, "No one really likes our logo, maybe if we just switch our logo, everyone would be happier." I mean, if you switch your logo, everyone's not going to love working at your organization; that's not how it works. But if you switch your logo to represent what that change is, The logo is the identifier of that rebrand, but I think a lot of it comes with, "We're changing the way we work, we're changing who we are, and we're reinventing ourselves. This logo represents that reinvention." But if you're not reinventing yourself, a new logo is not going to symbolize anything. It's just going to symbolize a new preference on the way we look.
Derek
If people already to your analogy, love where they work, a new logo might just be that icing on the cake. Because now they're that much more proud to wear it, because it's up to date and now more accurately reflects what the current version of the story is.
Tucker
Yeah, I think when people ask us what the value of just doing a logo is, it's so hard because it's very situational. To understand, well, what are you doing? What is the change that you're seeking to make? I mean, in your example, if you were to say, "We're not changing anything, everybody loves working here. Everybody loves working with us. We just want to update so that we can feel better about ourselves or be more confident." Well, what's the value of confidence in that situation? It depends. But if you're merging a dozen organizations and having a new logo, then has this unification symbol that says, "Nope, we're all this now." And what does that all mean? There's a lot more value in that.
Derek
There's value in a new logo when there's a change in an organization. Whether they've merged or new ownership has taken place, they've shifted their target market, they've launched a new product, they're expanding into a new industry, ect. It's one of those organizational changes is then when we would step back and say, "For that change to be successful, we need to be seen and perceived as a certain way for us to be successful in this marketplace." Then step back and say, "Does our current logo and all of our materials reflect where we're going?"
Tucker
So while we wrap up here, we have about 2 minutes left. How are we saying people should move forward with this conversation? If you're looking at your organization and you're thinking about your brand. It's not to look at your logo and say, "Do I like that or do I not like that? Or does that logo match what we're trying to tell?" I would start by saying, "What story are we trying to tell and what's the experience we're trying to create for our our customers? And are we doing that?"
Derek
Yup, I would dig into that story a little bit and I would say, "What are we trying to do? Where are we as an organization going? Let's get one step deeper beneath the products that we sell and the market that we serve. Whether it's for you, whether it's your vision or your mission, what is that? And what is it that you're trying to do? Then analyze, brand audit, work on your visuals, your logo, and say, "Does this represent the future state of an organization that's killing it and crushing it at doing that mission?"
Tucker
Just because we say a logo symbolizes a change, doesn't mean that change hasn't already happened. I think it's really important. Maybe you've already transitioned and that would help us say, "Okay, this logo would be the tip of the spear for this rebrand because it's going to show everyone that you are a different organization now."
Derek
You just nailed it. I don't know that I've even thought about it like this before, but a logo doesn't initiate that important change, it summarizes it.
Tucker
For sure, and I think that people get too caught up in to say, "Well, if we just rebrand, maybe people will just think about us differently and maybe everything will change." And that's just not true.
Derek
The logo is a symbol for really important key internal, emotional, organizational, strategic pieces of your business.
Tucker
And that's why that's what we sell, right? We don't sell logos. We don't service people with a new logo. Well, what we're really selling here, if you boil it down as much as we can, is we're selling change; visual and verbal change. And that change is the change of a mindset being then articulated visually, verbally, emotionally. And so a piece of that is a logo.
Derek
So wrap this up by saying what you said earlier in the conversation.
Tucker
You can't have a great brand just because of your logo. A logo is not going to change the world for you. So the way that you think about it is, a brand can be great with a bad logo, but a great logo does not make up for a bad brand. Is that what you're looking for?
Derek
Perfect. Yep. That's it.
Tucker
All right. Until next time.
Derek
Until next time, thanks for listening. If you have a subject matter that you'd love us to talk about, feel free to hop on our website and shoot us a note.
Tucker
Just send Derek an email personally.
Derek
Yup, I look forward to it.