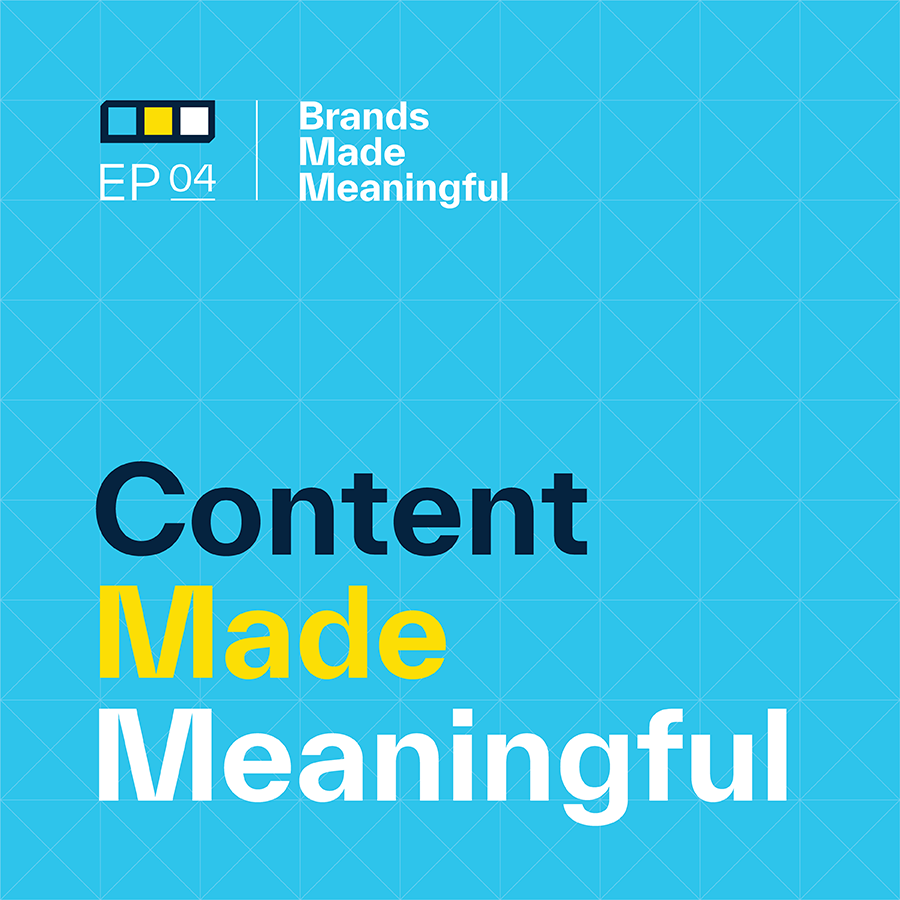 Content Made Meaningful
Episode 04
Today Derek and Tucker discuss the concepts within content and its common misconceptions such as the phrase "Content is King."
EPISODE TRANSCRIPTION
Today we're talking about content. All those fantastic things that people make and spend their blood, sweat and tears creating for their business.
Tucker
The marketing departments across the country groan as we talk about content, but that is the key to today's topic. Talk a little bit what content means to you.
Derek
Content's all the meat of your marketing materials. Specifically, that might be the messages, blogs, posts that live on your website. It's the stuff that you write about if you're posting on social media, whatever platform; LinkedIn, Facebook, Twitter, Instagram, or whatever that platform is for the industry that any particular business is in. It's all of that stuff. And I think a lot of people that we work with, they're just stuck. They're either creating a ton of content and spreading it around or they're overwhelmed and they don't even know how to get started. And even for us in our own marketing materials, in our own LinkedIn, we're always thinking about what should we be posting? What are we posting this week, this month? What's the plan? What's the content calendar say is coming up? What's all that meaty stuff?
Tucker
I think that people have a desire to create the best every time. So content is kind of an anomaly of saying, Well, we've got to do the best every time. And if we have a social post and it goes out every day or every other day, it's got to be the best every time. But at the end of the day, content creation should be easy, right? It should be something that people can go to the table and say, You know what? I can write this because I understand what we're talking about. I understand who we're talking to, and I kind of understand what they need to hear at this point in their journey with us. And if it's not easy, I think that we'll talk about a few things that can help people go, "OK, yep, I need to review those things or maybe readdress some of these pieces that'll make content creation a little bit easier." But one quote that's always said is "Content is king", and I know you don't like that quote. You want to talk about that a little bit.
Derek
I'm shaking my head, and I'm trying not to swear. There are a handful of phrases that people throw out with respect to marketing and design and advertising and branding, and one of the ones that is, I don't know, overused or misused or just maybe flat out I've come to, I've heard it way too many times is, "Content is king." Content is king, with a quick Google search actually traced back to a Bill Gates article from a couple of decades ago around the importance of having high quality, relevant information that will help your company's online efforts is basically how that was defined. But some people that we talked to, their definition of, or what they think content is king stands for is quantity instead of quality. Yeah, we just need to produce a crap-load of information and overwhelm. You know, we're posting all the time, anywhere and everywhere, and I don't even care what it says. I'm just all about awareness and getting into people's feeds so we're just going to do a ton and a ton of stuff.
Tucker
Well, and it's interesting to say unique, high quality, interesting and relevant content that is king. The amount, whether it's a little bit or a lot of that is better than any amount of just B.S.
Derek
The other phrase that we hear almost equally in business is, "Cash is king." So let's have a separate podcast down the road of, "Cash is king versus content is king" and let's do some sort of head-to-head kind of bracket comparison to see what wins, cash for content?
Tucker
King quotes of March Madness! So, if we're talking about content and you kind of mentioned a couple of these, but I wrote down on my list a little bit of when I think of creating content, what are the vehicles that we use? I said email marketing, social media, website (a lot of content on websites), blogs, things like that. But at a high level, it's ongoing marketing tactics that need to constantly be created to be able to market your products in the world.
Derek
What are the one or the two or the three most important reasons why people are posting and creating that content from your point of view? What's one of the most important reasons from a marketing branding standpoint?
Tucker
Well, I think one is to build awareness. Two, people want to establish expertise in the marketplace. And three, it's trying to move customers down that funnel. And I think the third one is where people tend to get lost. Of saying, if you have a funnel, (some people call it a sales funnel, some people called a marketing funnel; depends on your organization and how it works out) but if you're creating content, the goal should not be to necessarily sell them in that piece of content. The goal should be to move them down that funnel with the eventual goal to be a sale. But it's really hard to take someone from the top of the funnel to a sale, all in one piece. So it's interesting to say if one of our three goals; build awareness, establish expertise, and move someone down the funnel, that last third one might not always be top of mind for some people when they're creating content.
Derek
And some people are trying to put all three of those things into that same piece of content. So they're trying to write something that helps with their SEO with their search engine optimization. Part of that awareness thing, it's when somebody googles something that it helps you be found because you've published some sort of article or content with those words. Then it gets into presenting something in some point of view that establishes your expertise and then tries to close on that sale, and that's why a lot of people can't even get started or they don't know what to do because that sounds like an incredibly hard task.
Tucker
Yeah, and most people, if you think about all the services or all the products that they offer, saying create content about anything that your organization has to do, it becomes overwhelming. Like you're saying, there's so much to pick from. How do you even start? And most of the people who are writing the content, whether it's large organizations, small organizations, but at the smaller organizations, those people who are writing the content are so deep in that field of expertise that they're probably writing content that goes right over the heads of their customers because it's not approachable from a non-aware person.
Derek
I call those white papers. We talked to, "quote-unquote." I still don't know what a white paper is, and I've been working in this industry for two decades. And a lot of times will we'll be talking with a customer about their website, for example, and trying to review it to see what holes can be plugged, what improvements can be made, and one of the things that we talk about from time to time is publishing some content that does the number two goal, (which is to establish your expertise and to come across as a trusted person within whatever industry it is that we're in) and  to offer, then something that you can download that you can take off our website or a video you can check out that will help you inform you in some way, shape or form. And nine out of 10 times the response that somebody comes back to me with is, "Oh yeah, we have a white paper. We have a research document that we wrote. We could publish that." And I would challenge the industry to say, of how many of those quote-unquote white papers get read and are actually helpful to the person who has read them who may or may not be looking for your services?
Tucker
It's a good question. And it takes a lot of time and effort for you to be confident in that time being used well needs to be going towards something that's valuable to that process. So if we're talking about content, what is the problem? Why is creating content so difficult? What problem we think that it has in all of this is that people aren't creating content meaningfully. Meaning that they're not stepping back, looking at their customer and saying, "All right, they know this. They don't know that. How can I get them from an unaware place to a most aware place where they're ready to buy, ready to understand what they're getting and why they're getting it. And how can I move that forward meaningfully with ongoing content?" So, you have three most common symptoms that we see when someone has a content problem. Do you want to talk about those three really quick?
Derek
Sure. One of the most common ones we might have talked about this a little bit already, is the blank page. A lot of companies will attempt to, whether it's the marketing person or anybody within that organization who will take on the task or the role of creating content and they don't know where to start. You're literally looking at a blank page going, "What am I supposed to write, and to whom am I supposed to write this for?" And just how to get that going in some way can be quite a hurdle to get over. And then because they can't, the symptom is then that they don't have any content because it's just too hard. It's too tough.
Tucker
Yeah, I think that goes back to the overwhelming nature of knowing so much, and I've got so much to say, what do I say? Well, I guess I'll say nothing. Or to your point of saying, I don't know what to write, I think another part of that is it takes a really long time to figure out what you want to write every time. If you sit down and let's say you're focusing on doing blogs, right? We're not going to get into the tactics because I don't know what tactics are relevant to you. But if we say your tactic is, I'm going to build out a blog and I'm going to post once a week or maybe once every other week, and it takes you a really long time just to sit down and figure out what the topic of your blog is, and that's probably half the time of even writing it, then you probably don't know what content needs to be spoken to at that moment.
Derek
Well, people default to writing articles or blog posts that end up being what they had for dinner, what they had for lunch today, and what the team at the office's favorite five candy bars are during Halloween. They kind of default to Facebook-type personal things that may have some benefits in speaking to the personality of your organization, but aren't really helping your customers or prospective customers. You're not moving them forward.
Tucker
Some of our smaller clients have that initial problem when they come to us. They're like, "Hey, I have this and I talk about the culture of our organization", and that's fine to a certain extent. But at the end of the day, our content is (unless you're using it for recruiting purposes) really supposed to be angled towards customers and how we're moving them forward. And I would say an important part is culture. I mean, some people buy from expertise firms and stuff like that based on their culture, but I think for a lot of the people we're talking to that are product-oriented or maybe service-oriented, they don't talk about culture as much. So what about your second thing?
Derek
Another symptom, real common symptom, is just a lack of engagement. A lack of social media likes, a lack of read articles, a lack of downloads that you have posted on your website, or maybe even a lack of website visitors. People that are actively searching for your services aren't finding you because somebody else is doing a better job of posting content that Google and the other search engines are finding.
Tucker
Yeah, basically they have more relevant content than you. Their website is full of more relevancy than yours is. So when someone searches it, and they're actually interested in it, you're not coming up because you're not talking about what people actually want to know at that point.
Derek
So another way to think about this is, I'm going back to quality versus quantity. You could be publishing an incredible quantity of content and still not be found, because somebody else is posting a fraction of the quantity that you're posting, but they're so relevant in what they're posting and so aware of the types of information and topics that are relevant and interesting and sought out by their prospective customers, that other group is the one that's capturing the attention and the visits and the likes.
Tucker
And it comes back to the engagement, but also the sharing of it. To say, I have a blog, right? And if I write a blog that really resonates with the customer, that customer might send that to another person they know who's actually a better customer, a better fit for it, because that's what they need to know. That idea of creating something so relevant that someone else wants to share it is the goal here. Like you said, it's definitely quality over quantity. So if we can get one post or one blog or one video that is so relevant that people share it hundreds of times, that's better than 100 posts that no one ever shares.
Derek
Yep, as I said, we're not getting into this, but to jump into one tactic on LinkedIn, for example, just liking somebody's post doesn't necessarily move the needle. But if you share somebody's post or somebody shares your post, that algorithm starts spreading that word.
Tucker
Well, and it's all about the conversation too, right? If you make something, like your example with LinkedIn, that people like; that's one thing. But if people like it and then they comment on it and start the conversation, if you've started a conversation on it, that means it's relevant enough that people actually want to engage with it.
Derek
For anybody who's ever clicked and agreed to download something off of a website or receive something from a colleague that says, "Hey, check this out, I found this article or here's a link." Or today I got an email from a colleague that said, "Hey, check out this TEDTalk. This really resonated with me." I mean, those are the opposites of the problems. Those are examples of content that somebody has killed it on and done a great job with. If you've ever downloaded something and chose to do so, that's an example of relevant, good content with you as that prospective audience.
Tucker
So the third thing, go into the final third thing that you think is a symptom of having bad content.
Derek
A third symptom of not having meaningful content within your marketing materials is a lack of leads. It's having a small or minimal number of prospects connecting with you and reaching out to you; you're not cutting through. You're not attracting people to pick up the phone or send you an email or inquire more about your services.
Tucker
I think this comes back to the idea of if you look at your marketing or your content as a large funnel and you're looking at that first piece that someone sees, they're not making it to the bottom. That's what you mean by limited number of leads, right? Where someone's not getting to the part where they're an active, hot or warm lead to you. So it's interesting to say there's definitely value in it, but when people try to sell right out front, there's not much value in it. Because you're putting a bunch of time, effort, and probably other resources into that content, whether you promote it or whatever; but that's not going to help you sell something.
Derek
Either if there's just an overall lack of awareness that your organization even exists or produces a product or has a service that this prospective customer might be looking for. Either they can't find you, they don't know about you, or when they do find you or come across you, they don't look at you and whatever that first engagement with your brand is, they don't look at that as being relevant to something that's going to help that specific need that they're looking to fill.
Tucker
So the three common symptoms for content that needs to be rethought of or reimagined are, one; unable to do or write, or it takes a long time to create content. Two, people aren't really engaging with it, it's not being shared, or it's not seeming to be popular. And three, the number of leads is quite limited or maybe it's even drying up because your content really isn't connecting with anybody. If those are the three, what are some solutions or some steps that people can take to move their content forward? To raise the bar?
Derek
This sounds incredibly obvious, but it's something that we see all the time, companies lack of clarity on who their customer is; whether their customer changed at some point in time or pivoted or modified a little bit. There's an exercise that we do maybe once a year at a minimum where we step back and remind ourselves, "Who is our customer? Who are we trying to talk about? Who are we trying to talk to?" And it's not just what industry are they in, but what role are they in? And maybe even like, what is he or she's name? What do they look like? And where are they? Are they on LinkedIn? You know, there are companies that are posting on, let's say, Twitter that should be posting on TikTok. But how do you know? Instead of just wasting a lot of time and resources by posting on everything, there may be literally one channel that is where you need to focus all of your efforts. But unless you know who that customer is and where they are, then you're guessing.
Tucker
And I think that to your point, it's important to know who they are. It's really important to know where they are. So you're focusing on specific channels, but I think it's really important to think about what they know and what they want. And if you know what they want and you can speak to that and you can understand how much knowledge they have on your product or your service, and you can help guide them down to, "I know you want X and you don't quite know that you want that yet, so we're going to make content up here at the top of the funnel to move you down; to inform you." And this is where it comes to, when people say, "Make content, give it away for free and give them something that they can really use." That's helping customers move down that funnel of understanding what they really need is what you sell. So, that's so what's that second thing that they could work on?
Derek
If your content's not working or you're having a hard time getting started, it might be because you don't have a story or your story's not current with respect to your brand in the business that you're really in and what your organization is actually all about; what it stands for, its purpose, it's why. If you don't understand what your organization stands for, where it's going, and the North Star that guides it, then the marketing, the content becomes tactical instead of strategic. It becomes like throwing darts.
Tucker
Yeah, there's that downstream, right? So if content is at the bottom of what we would consider the way you're looking at a brand, your purpose is that top, top, top thing that guides everything. Not having a really solid purpose or not having a really solid story; why you're here, where you're going and who you are as an organization, that's going to hinder your ability to resonate the way you really want to resonate. So this is the being seen the way you want to be seen has a lot to do with understanding your story, the story that you're telling and the story that a customer wants to hear from you. So having an understanding of that story becomes impactful in creating content that attracts ideal clients or customers.
Derek
It also helps the messaging in the content that you're creating. It helps that come from your point of view because you know what you're about and you know what it is that you're trying to do. And if you know what your own brand's personality is and how you want your brand to be thought of, then that comes through all the way down into the tone and the style in which the content is written. Is it witty or serious or formal or a white paper?
Tucker
Yeah, and I think that this one doesn't necessarily tell you what to write, but it helps you when it comes to how you're creating things. And you already know the topic that you have (and we'll get to how you figure out that topic next) but how you figure out that topic is different. And how you write it, and like you're saying the tone, the way that it's delivered, maybe the length, the high points inside of it; those all come down to that story. It's what are we telling people and what do we need to know? So anything else on that before we move on?
Derek
Nope, I love it.
Tucker
So the last one is really getting down to the nitty-gritty, and that's mapping your message. Some people call it message mapping, some people call it other things. The way that we think of mapping your message is in three steps. One, you need to segment your audiences based on either products or services or however you do it. Understand I have these audiences; here are the people I'm speaking to, and these are the solutions that are most relevant to them. Two, it's doing some customer journey mapping; and that's figuring out where your customers interact with you first versus last. Figuring out what they really need and how they find you. And this becomes really important for understanding at what stage the content and what channels really help you. And then third is awareness mapping. So this is unaware, pain-aware, solution-aware, service-aware and most-aware. There are five levels there, and this is where you get to that funnel-looking kind of thing. Where someone who is unaware, that's the largest audience, someone they don't know what you do, they don't have any idea, they probably don't even know what their problem really is, right? That's really what we're coming at, where they're unaware of their problem. These are the hardest people to sell because they're not ready to buy. They might not even be ready to buy for years, but eventually they might be. In your mind based on research and based on knowledge, you know that eventually they will be a customer of yours, or they'll be an ideal market for you. Then you move down to pain-aware, and these are the people who have identified that they have a problem, but they don't necessarily know that a solution is out there for that problem or they have a problem and they think there's a different solution for it that's not quite right for them.
Derek
They're probably focused on a symptom instead of the problem. They don't know who can solve that problem.
Tucker
Exactly. So then we get to solution-aware, and these are people who have that problem, they know what their solution is, and they say, that is my solution. I need to find something or someone to help me with that. And they're in the place where they're almost ready to buy, but they're not quite there yet because they don't know everything they need to know before putting out the money. And this process of looking down this funnel from unaware to most aware, it really depends on what you're selling. When people say "a sales cycle," this is what I think of, when someone sells something more complex and more expensive, it takes a lot longer to get from unaware to pain-aware. But when you get someone all the way down to most-aware (and I kind of skip service-aware) but basically they're understanding that you do that for me, you have what I need, and you can help me with that. And then most-aware is not only do you help me with that, I understand why you do it and that you're going to do it right and I trust you. So then I'm ready to buy.
Derek
So should companies be focusing their content and creating content for their various different marketing efforts and branded items, should they be doubling down and focusing all of that content in one of these five areas?
Tucker
Well, in our experience with clients, the best way to move people through it is to really understand where the leverage points are. And the leverage points, a lot of people think that close, that final most-aware stage is the leverage point; like that last meeting is the most important meeting, but it's not. Because by that last meeting, before they're ready to buy, that should be basically all given. I mean, they trust us. They know what we do. They believe in what we do. It should almost be closed before that meeting, and that's just a formality. Before all those things, I think that when people focus on the unaware, the pain-aware, to really get people to understand what that problem is and get people to understand that the service or product that you have is that solution; that's where you need to be putting a lot of eggs in those baskets, but not all of them. Because when people focus all on one basket, then you start having holes. When people say you have holes in your funnel, basically, that's what that means- is that you don't have something to move them on to the next piece.
Derek
What an incredibly helpful model to look at, to guide the content that you're writing or creating. To know that if I'm going to write something, that I know that I'm specifically writing this blog post for example, to an audience that has something to do with a branding or a marketing topic. But if I'm writing to a pain-aware person who happens to know that they have some sort of a pain point, but they don't know what the solution is, that I know that I don't have to write to close it. I'm not writing "how-to" or "next steps". My only objective with this specific piece of content for a pain-aware audience is to move them to the solution. That's all.
Tucker
And that makes it way more digestible. I'm thinking of,  even our larger clients who have full-on marketing departments where they have a content creator and they're literally trying to figure out. It makes it way easier to understand if something's right or wrong if you have this high-level map of, who are we speaking to? What do they need and how knowledgeable are they?
Derek
It's not only, where does your website fit? But it's what pages and sections of your website are the appropriate ones to speak to the various parts of this five-section sales funnel?
Tucker
Yeah, and we even work with these large agencies or large organizations that have social media accounts that are great. I mean, they have fantastic social media accounts, but they still struggle with, well what's the right social media? And then you start becoming out of this purposeful mindset of saying, "No, we're trying to move someone down this. We're trying to give them this much information." We start moving into what the preference is for that department head or whoever is making that decision; they're making it based on their preference because they're like, "Oh, well, that's how we've always done it. And I really like the way that looks and it sounds really cool. Let's just post it." But the question is, does that help move customers down one more rung to get closer and closer to being the most aware they could be?
Derek
So if you've got a great story and you know what it is that you do, you know who your customer is, you know the pain points that your customers are running up against, the internal feelings that that's making them cause, and the ultimate reasons why they want to buy from you. And you know where they are within the unaware, pain-aware, solution-aware, service-aware, or most-aware section of that sales funnel. That should make somebody's content creation efforts way, not only easier and more focused and more targeted, but more effective and way more successful.
Tucker
I think the one thing that a lot of people don't do that they should do, they might understand where their customers are, I think that's that first step that a lot of people take is well, "Where are our customers? Let's speak to them, they're super important." One hundred percent, we get why someone would do that. But when I think about it, the first thing I would do would be awareness mapping. What do people know? And the people that we're engaging with, how much do they know about us and how much they know about our services? And where's the content going in that map? So I think it's interesting to look at all of these things, and we talked about content is king. Well, content is only king if it's great content that resonates. It's not quantity over quality, like you said.
Derek
Yep, so good luck. Write some good content, some better content-
Tucker
and we'll see on the next one.
Derek
See you next time. Thanks.