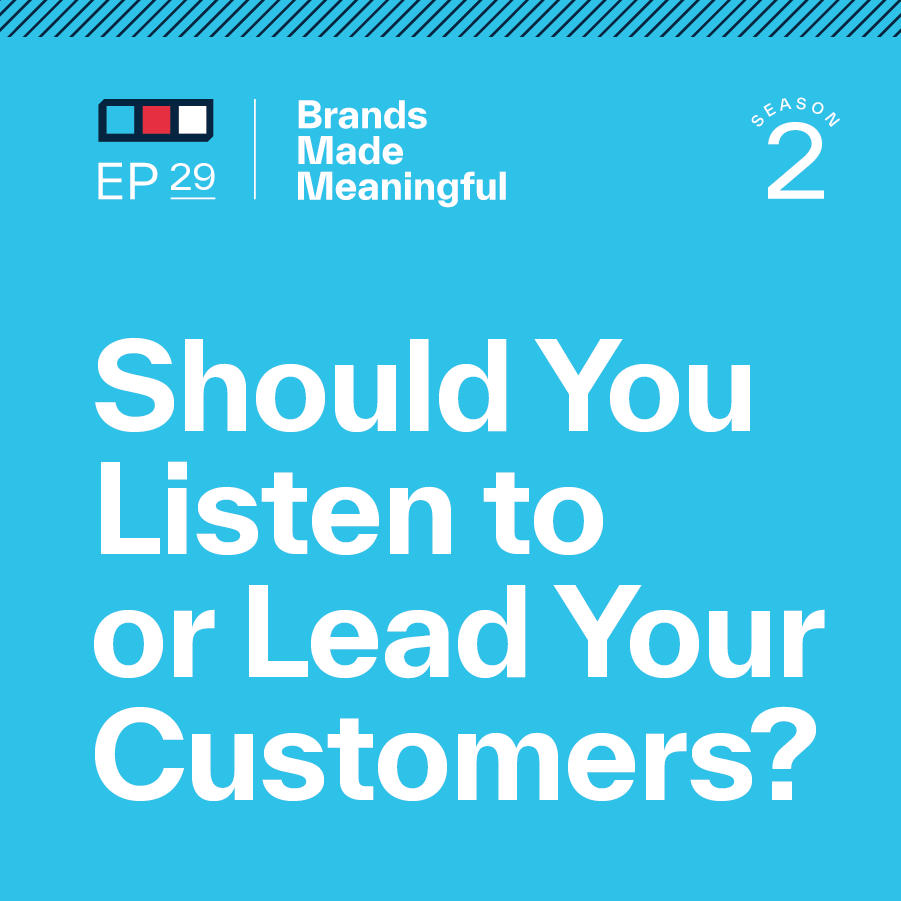 Should You Listen To or Lead Your Customers?
Episode 29
Within the challenge of any rebrand is the challenge of managing customers' perception of change.
EPISODE TRANSCRIPTION
This is an interesting conversation because it's not something our clients ask us about, but it's that underlying problem that comes out when people just don't even think about it.
Tucker I know back in Episode 26, we talked about what makes something authentic. We pointed out that it starts with yourself. That's how we do all of our branding processes—from the inside out. We do that a lot. But today's conversation is really looking externally and saying, "Should our brand listen to our customers, or should it lead our customers to a place they don't even know they want to be at?"
Derek I was at a networking event recently and, like every networking event when you meet somebody new, they say, What do you do? Or tell me about your company. And I know that that's a thing that we solve for our customers, and that's a thing that we talk about all the time. Call it an elevator speech or a value proposition. But answering what you do, you can always tell either when you don't do a good job of saying what you do or if what you do has no interest whatsoever to the person you're talking with, that conversation usually ends really quickly or they just move on. 
Tucker Or if you took too long to say what you do. 
Derek Exactly. Got real long and real complex with it. So we spend a lot of time figuring out how to say what we do. But if we're not paying attention to the people that we're talking to and if what we do isn't something they want or if who we are, they don't care about that, there's a miss here.
Tucker There are also blinders that get put on when you're doing stuff day to day. If you're in charge of communications, if you're in charge of the organization as a whole, it's easy to get distracted by all the day-to-day things and not sit back and go, What are we doing? Are we listening to the people that we need to be talking to? What are they saying to us? I think branding can be a really great conversation between people to say, What do you need? What can we offer? But today we're going to get into this idea of, Is it better to listen? Is it better to lead? You probably need a little bit of both. How do we know when we're doing one more than the other and how can we kind of start solving this problem? 
Derek You framed it up really nicely. I think calling this a conversation is a really nice way of thinking about this. We've been working with companies lately that are, without even realizing it because, like you said, they're so focused on their own day-to-day or they're distracted. They're either way too focused on what they think without taking the time to find out what their customers want. Or they're so hyper-focused on their customers that they kind of lose themselves and what they want.
Tucker Absolutely. And there are natural reactions too. Like if I just go back to you and me right now, we have different tendencies when we work with clients. You tend to listen to clients more than I do. I tend to lead clients more than you do you. It's just the general belief that I might think they don't know currently what they want yet because they haven't seen what they want. I would like to show them, Hey, what about this option? This could be something that you want that you don't even know yet. Whereas you do a great job of asking, So what do you want? Tell me exactly what you want and I can give you what that is. It's really a difference in the way that you kind of carry yourself, too. So if you think about the way a brand carries itself, you can put that in the context a little bit and say, Does your brand listen more or does it lead more? Not that you can only do one or the other, but I think that's the way I would start thinking about this conversation. 
Derek Love it. So what's more important? What they think or what you think? 
Tucker We'll get to that in a little bit. But where I want to start is why all this matters. Why do we do this? Kind of goes back to our strategic framework a little bit to dive into how we even start analyzing these things to understand if we're doing right or wrong. In other episodes, we've talked about this a lot, and we've found that most successful brands have a really good balance of authenticity, relevance, and surprise. If we put that into context a little bit, if it's to say our organization takes our customers and it's really about what they want, we take what they want into consideration, then we're really being relevant to them. If we don't do that, we're risking being irrelevant to them. If we do exactly what our customers expect every single time, then we're risking being unsurprising or we're lacking delight. They're not going to turn the corner and be like, Oh my gosh, I didn't even see that coming. That's amazing. And that can sometimes really ruin a brand. And then the last one is, if we're not clear about who we are and what we believe, and what we want out of every situation, then we're really risking being inauthentic to ourselves or that authenticity doesn't feel right or something can feel off. When you're doing internal things or even external things, the customer can kind of smell inauthentic stuff from a mile away. We get into those things in other conversations. But really this conversation is around the balance. In what ways can we balance those things so that it's not an issue and we're utilizing the key aspects of each to try to really delight people, give them exactly what they want, and make them feel like we're in it for the right reasons? 
Derek You made a great point that we need to listen, but we can't let them necessarily decide all of it. First of all, if they knew what the issue was, if they understood what their challenge was and how to solve it, they wouldn't be talking to us in the first place. So if all we know is what they know and what they think, and we're not validating that through insights and research and data, we're risking throwing all of our eggs in one basket and missing the mark. Listening to our customers is critical, but it's one of the pieces of things that we review and gather and consider in the whole process of what we're looking at. We did a whole episode on insights and research, and you guys could absolutely go back and listen to that. But you have to take that information into the right context, too. 
Tucker Absolutely. I think that goes back to my point that it's really important to be relevant, but sometimes people don't know what they want. My example is if I showed you a hamburger and you've never heard of cheese before, but you would love a cheeseburger, but you just don't know it yet, and I never show you that, then you're missing out on that possibility of greatness that you've never even experienced. So you don't even know it's an option for you. Brands do that all the time by saying, We're only going to offer this and we're going to tell them this and this is how it's going to be because that's what they told us they want, but they don't know what's around the corner. There are a lot of times when you grew up and you didn't even know something existed. And then once you found out it existed, you were like, Wow, that's awesome. I can't believe I didn't know that was a thing. And so we have to balance that a lot. And I think that the bigger the organization, normally the tendency is to not be surprising. And that is sometimes a shame because they can do amazing things with their budgets and their power and all this other stuff. And sometimes that's just the nature of the way that they work. 
Derek If you don't really know who you are in a really authentic, meaningful way that you can communicate, then how can you be surprising? How can you be delightful? How can you be interesting? If you choose a mission or a story that's so focused on the features and benefits of your product that falls into a sea of sameness, how can you be surprising? 
Tucker Let's get into a couple of examples just to frame it up if someone's not quite understanding at this point. A great example –  we just got done with rebranding a golf club down in Florida. Lemon Bay. They're a great client and awesome to work with. But their example about relevancy, surprise, and authenticity was, when we came into the project, them saying they felt like they weren't modern. They felt like they weren't doing all they could for their members. They felt like there was more to offer, but their members were happy. Their members were super happy. There were no complaints internally. There was no like, Wow, our brand's really tired. There was none of that, really, from a standpoint of everyone's happy to be a member there, we're all good, we're very financially successful, we're fine. But what they wanted to do is kind of start over and sit back and understand who they were. So we dove into their mission. We dissected all of their organization. Why do they exist? What are they trying to do here? Where are they going? 
Derek And the reason they did that is because they were looking ahead to the next generation of members. 
Tucker Absolutely. 
Derek And the future success of the club. They weren't just sitting back, going, We're continuing to do the same thing that we've been doing and that's what's going to make us successful in the future. So they were motivated to say, What's going to help us long term? 
Tucker So if we're sitting back and we go, The first step is to really understand who they are, the next question became, What should we do? What is the direction that we're taking? And we took this path of we know who we are, but we really need to understand how relevant we need to be and how surprising we need to be. And where we landed was asking a lot of members through various types of research – qualitative, quantitative, some surveys, some interviews – to really understand what they want and what they are not getting today. Then we took a step back saying, Hey, what could we possibly do from a totally blue sky perspective? And then matching those up but not being so literal with, I want a new dining room. Well, that's not what we do, but that's great, thanks for the advice. But what does that mean? Like, why do you want a new dining room? Do you want your club to be evolving? What does that mean? So we dug into some of those things to give them something they're not asking for directly. But that's the value, the core belief underneath that.
Derek What that revealed to us and reinforced what we had started to learn was their incredible sense of community. They want a new dining room because they want to spend more time there, more time together. 
Tucker Absolutely. And for them, it was about how we evolve the community. How do we showcase how vibrant our community is? And we took that to their brand right away and said, That's a great theme. We need to use that. The other side of this project was they didn't want to be like every other club, which is a surprise right there. If our members are members at other clubs, we need to make sure we're not just like everybody else. So we took the time and really dove into what clubs are doing locally, nationally, and internationally that really resonate with members and figure out what is a great trend and what's a trend that we don't necessarily agree with. Some of the things that, when people zig, we can totally zag on it and that will surprise people. But we don't want to surprise them in a negative way to say, I don't even agree with this, or if we're a golf club but we start offering tennis lessons and we don't even have a tennis court, that wouldn't make sense. So there are some things that would be surprising but they're not relevant enough. We balance those things to figure out what's right and what's wrong. In the end, they came back to their membership with this great rebrand that was all about attracting future members and saying, Hey, we heard everything you say. We've developed this brand to attract future members based on the core values and the beliefs that you as members have today. So that was our understanding of great relevancy, surprise, authenticity, and balance saying this is not for you because, just to put it bluntly, you are going to phase out of this organization at some point. But we understand that what you offer us is a great culture and a great value base, and we need to understand how we take that to the next level, to the next more modernized generation. So that's that project, really trying to balance those three things. And what happened was that people are super happy with it. When we presented the logos and we presented the new brand and all that other stuff, there were gasps in the room. They're like, Oh my gosh. And then there was a round of applause and, Oh my God, I can't believe this. And we had people come up to us and say, I would have never thought this club could get to here. That's surprise. That's for us to say, It feels really true to them, but it's still like a breath of fresh air. 
Derek And in all of that, we were able to work with them to help do that with them by listening to them and by listening enough to where we could then turn that into us leading them in the direction that they couldn't have gone but we could have only gotten there by hearing them. 
Tucker And most clients get that. Most clients hire us because they want someone who's going to give them something they've never seen before. They want something that they wouldn't come up with on their own and they get that that's our job. Our job isn't just to listen to them and let them help us paint across the thing. But there are some clients who are really good at that and there are some clients who aren't as good at that. So the second example that I like a lot is a professional sports team that we work with. They are really trying to understand what they stand for, but what they really want is what the perception of their organization should be. They've been around for a long time. They're trying to figure out if they should be relevant to the fans that have always been there, the lifelong fans, the people who are in their fifties and sixties and have been fans for that long. Or are we trying to go for the gen-z, the next generation? And how do we balance those things and those kinds of questions? 
Derek And partners, corporate partners, who they have chosen to align with? How much does that factor in?  
Tucker So when you ask about how relevant we are and how surprising we are, sometimes it's more complex. With the golf club analogy, it's really easy because you say, We have one membership, we have one audience, and this is who we are going for. For a professional sports team, there are a lot more audiences, there are a lot more opinions at play, there is a lot more risk, and there's a lot more reward. So it's to figure out what is right, what's going to keep fans that have been lifelong fans still in the game, what's going to keep them really engaged with us, but what's going to make us feel authentic and surprising in ways that the next generation of fans gets really excited about our brand and can kind of buy-in on that. 
Derek In our early conversations with them, they were missing all three of these components. 
Tucker Initially, yes. 
Derek Correct. Which is why they're doing the work. And they realized that they had an opportunity to improve on these. I don't know how much we want to get into the weeds, but they defined this as three words. They called it their brand essence. And we use the same term within the Brand Foundation work that we do. It's like, what do you as a brand stand for? And they've chosen to use three words to define what that is. And what was interesting was, when they presented and shared this with us in the first place, some of the sidebar conversations came out as they were walking us through this. And one of those conversations was that the league that they belong to also has three words and some of the league's words, essence words, and this team's words were the same. And some were very different. And I can't remember if that was mandated or a coincidence. 
Tucker Well, the league helped them create them. So there was a little, We did it like this, and they go, Well, we agree about that. And that's totally fair. And it worked for a long time and they've been using it for a long time. Looking forward, the conversation turns into these three words. They represent our experiences. They're representing what we're trying to do in the marketplace, and they're representing how we want people to think of us. Are those supposed to be words that resonate with our internal team? Are they supposed to be words that resonate with our customers? Are they supposed to be the ones that resonate with our partners? How does this work? Ideally, they resonate with all of them. That's the goal. And we have kind of approached it by saying it's absolutely imperative for this to resonate with you first, the way that you roll out your brand, for your team to be using it on a day-to-day basis, for you to come to the table and say, Hey, this is who we are. If that's not true, that makes it really hard to do your job and do it really well. I mean, if you think about the best creative in the world, the best brands in the world, the best copywriting in the world, it's all really based on people being themselves and saying this is the internal inspiration that really gets them going. 
Derek Two questions they brought up are two parts of our conversation. One was them directly asking us, Do you guys think if this is our external perception of how we want to be perceived, what's the internal version of this? And then the comment that they shared was that with their current three words, their goal was that everything that they do externally should align with two of the three words. And so right off the bat, you and I were kind of looking at each other across the table because our belief is that these perception words should 100% align internally just as much as they allow. 
Tucker They should be the same. 
Derek This is what you stand for. There's no separation. if it is authentic, then it's both internal and external. If you're going to choose three words, then everything that you do should be represented by all three of those words every time. Not 60% of your essence. 
Tucker And I think that's hard. There's also this balance of people who want to get stuff done. And it's easier to get stuff done if it's just like, let's tailor these to exactly what we want to get done and just get it done. And it's really hard work. The authenticity piece is really hard. If you're really interested in the authenticity piece, go back to episode 26. We talk a lot about it. It's really tricky because it's being honest with yourself and saying, This is who we are. We don't care right now what other people say or think. It's really exactly what we value and what we believe. And that conversation, especially for salespeople, especially for marketing people, especially for the people in charge of making sure that external people like them, is a hard conversation. And we totally get that. And it's not like we take that for granted. But a part of this is really to figure out who you are and then go down the path of saying, Well, who do our customers need us to be? And we've done that with them saying, Okay, now we need to do interviews, now we need to do surveys, and now we need to figure out who we are versus what they need us to be. Figure out the bridge between those and then what can we do that's really surprising in that same realm. 
Derek And that's the balance that we led this conversation with. One more one more example. 
Tucker Quick one. A really quick one.
Derek We're working with a manufacturing company that internally, in trying to get to their essence, in trying to understand how to help them move forward from this stuck position that they're in, in not having a story that's engaging or engaging the customers or the potential employees that they want, in one of our meetings with them, a couple of things rose to the top that were really interesting to me. One was the incredible passion that this organization's people have for the organization and for what they belong to. Incredibly. So they don't have a culture problem at all. But the problem came with the lack of clarity in the vision of what it was that they do and stand for. And I'm kind of whittling this down. But one of the primary problems that they're running into is the type of projects that the salespeople are landing and bringing in is actually disrupting the internal processes of production, of delivering what it is that they do. 
Tucker In the belief of what we do. 
Derek And that's where they stop. 
Tucker It's different for people, especially in manufacturing. It's a totally different realm. But to say, We're going to sell things that mess up our price, our internal manufacturing process. But for them, that was like, I can get over that hump. But there are people who, not only does that bother them a little bit, but what bothers them more is they're bringing in projects that aren't what they want. So how can I sit here and say, Yep, I totally get it. Let's take this project, and let's make sure that it gets done. And I totally understand that. But how can I do that if you're telling me that those aren't the type of projects that everyone here wants to work on? And that's where the tricky part was for them. And so we've been working with them on how to say what we do and who we do it for in a way that's authentic for us and getting everyone on the same page and really excited to do that kind of stuff – and get salespeople on the same page too. And most of the salespeople are like, I don't want to mess with anybody. I don't want to bring anything bad in that no one wants to do. But I was never told that. So there's this level of communication that needs to happen, and there's also the level of definition that needs to happen. And so if we zoom out and get out of the examples realm and say what are the red flags here, in what ways can we be more understanding on what things happen, we can sit back and go, Ooh, we might need to listen more or we might need to lead more. And I put a couple of these together. Just push back if you don't believe in any of them. But a red flag is that you need more customer leading as in you are listening way too much and you're only taking their examples to heart and not changing it all. We see a lot of me too creative or I saw someone else do that and a lot of people liked it. So then we just did it. A lot of me too stances. There's a lot of, This is popular right now with our customer base and they believe in this. No matter what, if we believe in it or not, we're just going to start believing in it. 
Derek Our competition is doing something that's apparently successful for them. So whether we believe it or not, we're saying that we're going to do the same thing. 
Tucker Another one is internal frustration with building out a campaign's creative stance. If the professional sports team we work with is doing a yearly campaign and it's really hard to do that campaign because people push back and people don't understand it and it just doesn't make sense, there might be a problem with authenticity. There might be a problem with your not being yourself and doing what you say you're going to do. You're listening way too much and you're not leading the customer where you want them to go. 
Derek You're lacking direction, clarity, or anything that's going to actually be effective and resonate. 
Tucker Another red flag would be everything feels generic. You guys have put out the same stuff year after year after year and it starts feeling really generic. It feels really boring. It feels like there's not a lot of effort here. It's like copy and paste. Nothing is changing, which is totally fine for some people, but most people get a little tired of that. They just go, Okay, well it is what it is. 
Derek So that could be relevant and it could be authentic to who you are as a company. But now you're missing the surprise component. 
Tucker Exactly. And then the last one that we see is that you're afraid that audiences are aging out of your brand. That's a big problem with a lot of people, and they don't quite know how to attack that yet. But to say, We have an audience base that's aging out, who are we going to be for? What are we going to do?  There's a little bit of soul searching that needs to go in there and say, Well, what do we want to be and what do we want to do? And then, in what ways can we find that audience that agrees with that and latches onto that? 
Derek We're spending a lot of time right now looking at Gen Z. They're the next generation of buyers, consumers, fans, members, etc. And their motivations and values are different than your baby boomer generation, X, Millennials. Which kind of pivots us to this next section of customer listening and finding out what's going on. So what are the top two or three red flags? 
Tucker If you're going to limit it to a few, it's to say that your customer awareness and confusion are pretty high. To say that people don't really understand what we do. We put a lot of things out into the marketplace and there's really not a lot of clarity about what that is. That means we're probably not listening to our customers enough and we're not being clear and saying, Oh, well, we're doing this and this is how it all works. There's a lot of brand fragmentation. We work with clients on this pretty frequently. Basically what that means is inconsistencies across the board to say, Oh, well, we go down this direction, then we go down this direction, we go down this direction, and we have this stance and that stance and this stance. And you know, we believe in this, this, this, and this. And those are all conflicting things that don't really tie together. We basically are telling a story that goes in a million different paths that's hard to follow. 
Derek We're throwing darts. We're throwing darts all over the board just waiting to see which one of the hundred sticks to something. 
Tucker We have a couple of brands that we've worked with in the past that just go, What about this opportunity, and what about that opportunity? What about this opportunity? And they start just going down them without understanding if that's relevant to them or if it's relevant to their customers. And they just go, I think it's a good opportunity, so I'm just going to go. They're leading without an informed basis on that. 
Derek Reminds me of how I started this business, which was the wrong way. It was me saying, I'm a creative, I'm going to start a creative firm. I'm going to hang a sign out on the sidewalk and people are just going to want creative. Versus identifying that there was a need in the market and that there was a customer base looking for creative to solve some sort of problem that I could serve them with or serve up to them or talk to them in that way. I got lucky that, in the long term, we figured out some stuff along the way that worked. 
Tucker But with enough blood, sweat, and tears, it works out. 
Derek And the purpose of this conversation today is to help people that are listening to do it better, smarter, and faster. 
Tucker But just be more aware, right? Just be more aware of what things work, and what things don't work. And then don't be surprised when it doesn't work if you haven't done these three things. If it's not true to you, it's not true to your customer. And it's not going to really be different in the marketplace. It probably isn't a great opportunity or a great lead. The last one, if you're not listening enough, what can sometimes happen is audiences get burnt out from your brand going in so many different directions. If you come out with every six months, a whole new stance, a whole new position, a whole new social justice movement that you're attaching yourself to, it can be a little bit fatiguing. It can be a little bit like, Okay, so now they stand for this. Okay, sounds good. And now you stand for this and that's great. But I thought you stood for this. And so there's a little bit of you can only move so fast with some of these things that I would just be aware of. 
Derek So basically what you're saying is that the brand and its strategy need to be guided by a balance of both leading your customers and listening to your customers. 
Tucker Absolutely. And if we go back to the surprise, authenticity, and relevance, the hardest one, I think, for most organizations is surprise. It's the hardest because you have to be uncomfortable with taking that leap of faith. You have to be uncomfortable but you still have to do it. And going down this route that could be unproven or foggy or you just don't have the validation that you would want for some of those things. And that's really hard. The second hardest out of the three is absolutely authenticity. Deciding what you stand for and what your story is and why that's true to you is a lot harder than a lot of people think it is because it's easy for a lot of people to get caught up in, Well, what we do as a business is we sell this to these people. Why don't we just do exactly what they say? And it's easy to get caught up in that and not be authentic. Well, this is why we're doing it and this is how it actually works for us. 
Derek I would make the case that authenticity is the hardest. I think standing back and taking that hard metaphorical look in the mirror and going, All right, what are we actually really about? That can be some really deep, really fulfilling work. But I think that's the one that most people just want to glance over and say, We make this stuff, we do this, this is what we do, and they just charge on forward and then they grind their wheels and bang their heads on trying to be surprising, but then in a relevant way with no authentic base. What do you mean, I don't know who I am versus who I am, you're looking at me. So I think that can be incredibly hard. And I agree, if you weren't relevant, you wouldn't be in business. 
Tucker I think a lot of people put relevancy at the top of the list. And I'm totally fine with saying that's super important. If you're not relevant, you don't have a business. I totally get that. But what's the most difficult for people is a different conversation than what's the most important. And when we're in those conversations, at least in the meetings I've been in and the projects that I've worked on and helped people with, it's surprise that really throws some people off – going in a different direction than everybody else. If you're a professional sports team in a league where everyone in the league is going this direction and we're saying, Hey, there's a really good opportunity to go in this direction but fans haven't said that that's exactly what they want, it's a really hard thing to convince. Not only to convince you as a client to do that because that's not as difficult as you then convincing everyone else at your company that you have to do that. It's just hard. 
Derek Of course, it's hard. If it was easy, everyone would do it.
Tucker Everyone would have a podcast about it. But how can this be solved in ways that get people a little bit farther forward? If we're going to frame it up – here are all the problems, good luck and solve it. We got a little bit into it when we did the examples, but it's to really put around parameters on how you're going to do these three things. So if you're going to be authentic every year, it's to review who you are, what you stand for, what your guiding principles are, what the culture is, and what your core values are. Putting all that on the wall and reviewing those can be really helpful, especially for large organizations. There are plenty of times when we get into the conversation around culture and they say, I kind of wish we just had that yearly full company meeting where we talked about who we are and where we're going. We're not talking about customers at all, we're just talking about ourselves. That's a great opportunity to check in and make sure everybody knows that. Here's what our authentic us looks like. 
Derek One of the companies we're working with said that while they believe their owner has a vision for the company, they haven't had that type of team gathering meeting since prior to COVID. 
Tucker Open dialog on those things is incredibly helpful for a lot of people. 
Derek People are dying to know what we're about and to understand so that they can help you be relevant and surprising and distinct and different and all these great attributes. But it starts with that. 
Tucker And it's not only in the marketing world. I think a lot of people look at what we do and they say, This is marketing. Yeah, that's true. But that conversation helps H.R. a lot. It helps hiring a lot. It helps innovation a lot to say we need to be doing R&D on these things and we need you to be inspired because this is who we are and we need products that revolve around that. The other thing that you can do around relevancy is to do more customer insights. Consumer insights and customer insights are incredibly helpful for understanding, and putting your finger on the pulse of what we are doing here. Is it relevant to everybody? Do people agree with it? Is there anything that we should know? Yearly consumer insights would be super helpful for you. I know some of our customers want to do quarterly insights to say, What about this quarter? Are we doing a good job? Doing those things can be as easy as just doing a quarterly survey. It can be as intense as doing interviews every year. So it's to figure out how you get feedback from outside the walls of your organization that give you the understanding that you are on the right track in some way, shape, or form. And then, surprise. That's why I say it's the hardest line. It's like, what can you do about that? It's really cliche, but it's to think differently about what you do. It's to do some assumption reversals to say, We've always done it like this. How can we do it like this? And we've always approached this problem like this. What if we put that in, flip it all the way upside down, and go in this other direction? And surprise can be really hard for a lot of people. But if it's really what needs to happen to be successful in your organization, then I think a lot of people will gravitate towards, we need to do something different and how do we do something different? That's putting the processes in place that allow for being a little fearless, being a little different, and being yourself, but also being something that your consumers don't know that they want yet. 
Derek But starting with focusing on who you are, and why you're in this in the first place, will help lead to some of those pieces. You mentioned the assumption reversal. It's a great exercise. If this is what everybody's doing, what's the opposite? And it's not that we're going to do the opposite, but it opens your mind up to thinking about it in a completely different way. And I think if you do the authenticity work and that then makes you relevant because you understand who your customers are, that will help you then be able to be surprising. 
Tucker I think that you are right on the nose. But it's all about being brave. It's being brave in all facets. It's being brave to admit that you don't know everything and that you need more relevant insights from your consumers. It's being brave and being yourself, even though you're not sure if yourself is exactly what everyone wants. And it's being brave in being different and being okay with being the only one on the block going a different direction. And if you're brave, it's going to be a lot easier for you to hit these three marks. So, don't forget to be brave. 
Derek Perfect. Til next time. 
Tucker Thank you. 
Derek Sussner is a branding firm specializing in helping companies make a meaningful mark, guiding marketing leaders who are working to make their brand communicate better, stand out and engage audiences to grow their business. For more on Sussner, visit sussner.com.