Personal Training and Equipment
INDUSTRY
Branding, Product Graphics, Environmental Graphics & Signage, Print Collateral
TACTICS
Fitness expert Shanti Rainey approached us with a revolutionary idea for a product and approach to full-body conditioning. He had prototypes, a backlog of big picture dreams and the fire in his eyes as he explained it all. At the core of the system is an unstable workout surface, which is adjustable and always challenging for users. Our particular challenge was to brand this new philosophy and device in a way that was appealing to a market still emerging: people with the patience and concentration of yogis, but possessing the gym-rat's desire to achieve bodily perfection. Challenge gladly accepted.
OBJECTIVE
MORE THAN A PRODUCT
ZeSa has always been bigger than a fitness fad. This workout system changes as you progress toward your goal of strength and balance. Following that cue, we created a logo that is grounded and strong, but flexible. It even demonstrates its flexibility by changing into a figure, capable of the most challenging poses ZeSa has to offer.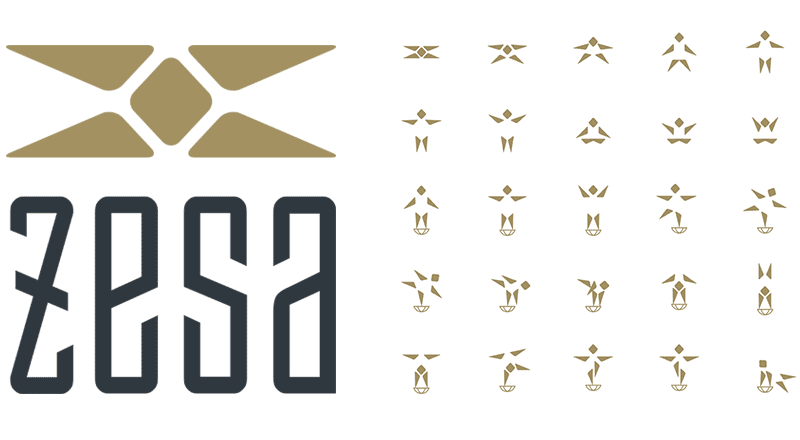 I deeply appreciate Sussner's dedication to getting everything done the right way. They have truly helped me crystallize my ideas and bring them to life. People are amazed and caught off guard by the beauty and thoughtfulness of ZeSa, from the branding and product design, to the studio space, and everywhere in between.
Shanti Rainey, Creator of ZeSa Fitness
"
"
STUDIO ENTRANCE: Layers of cut vinyl were applied to the windows of the studio to create an appealing display from the outside and provide a level of privacy to classes being held within.
LIT FASCIA: A glowing ZeSa logo on bright teal stops potential customers in their tracks.
MANTRA: The name "ZeSa" is taken from Sanskrit, meaning "Balance." The ZeSa fitness system is based on the concept of deriving Strength from training in unstable environments.
WORKOUT APPAREL: Custom shirts with metallic prints keep ZeSa customers sweating in style.
BUSINESS CARDS: Digitally printed on uncoated paper.