Brand Extension, Print Collateral
TACTICS
Premier Marine is an independent business, family owned and operated since its founding in Minnesota in '92. Through yearly innovations and cutting edge technologies, Premier's luxury pontoons have been gracing the lakes all over the US for almost three decades. Premier has been established as the top-of-the-line in recreational pontooning and the #1 brand when it comes to high quality craftsmanship. As younger generations of pontoon enthusiasts continues to grow, Premier came to us seeking to improve their connection and engagement with both their current and future customers. Through revamped brand messaging, more refined, energy-filled lifestyle photography, we helped create a new brochure that helps Premier protect their hard-earned and well deserved spot at the top.
OBJECTIVE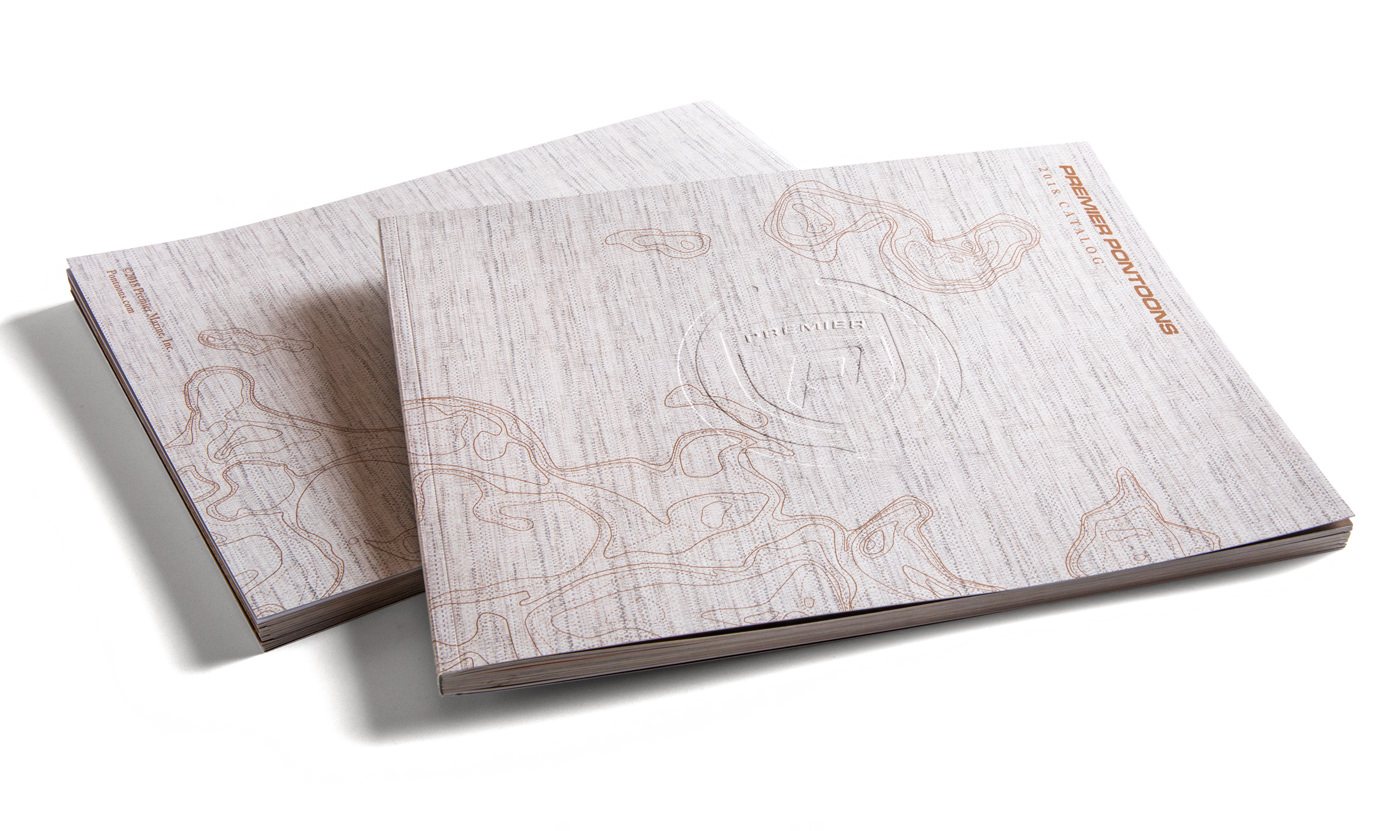 2018 CATALOG: We designed a cover that would be sure to stand-out among the competitors' photography-driven catalog covers. A debossed logo and copper topographic lake texture set the tone to introduce this year's theme: "When getting there is the destination."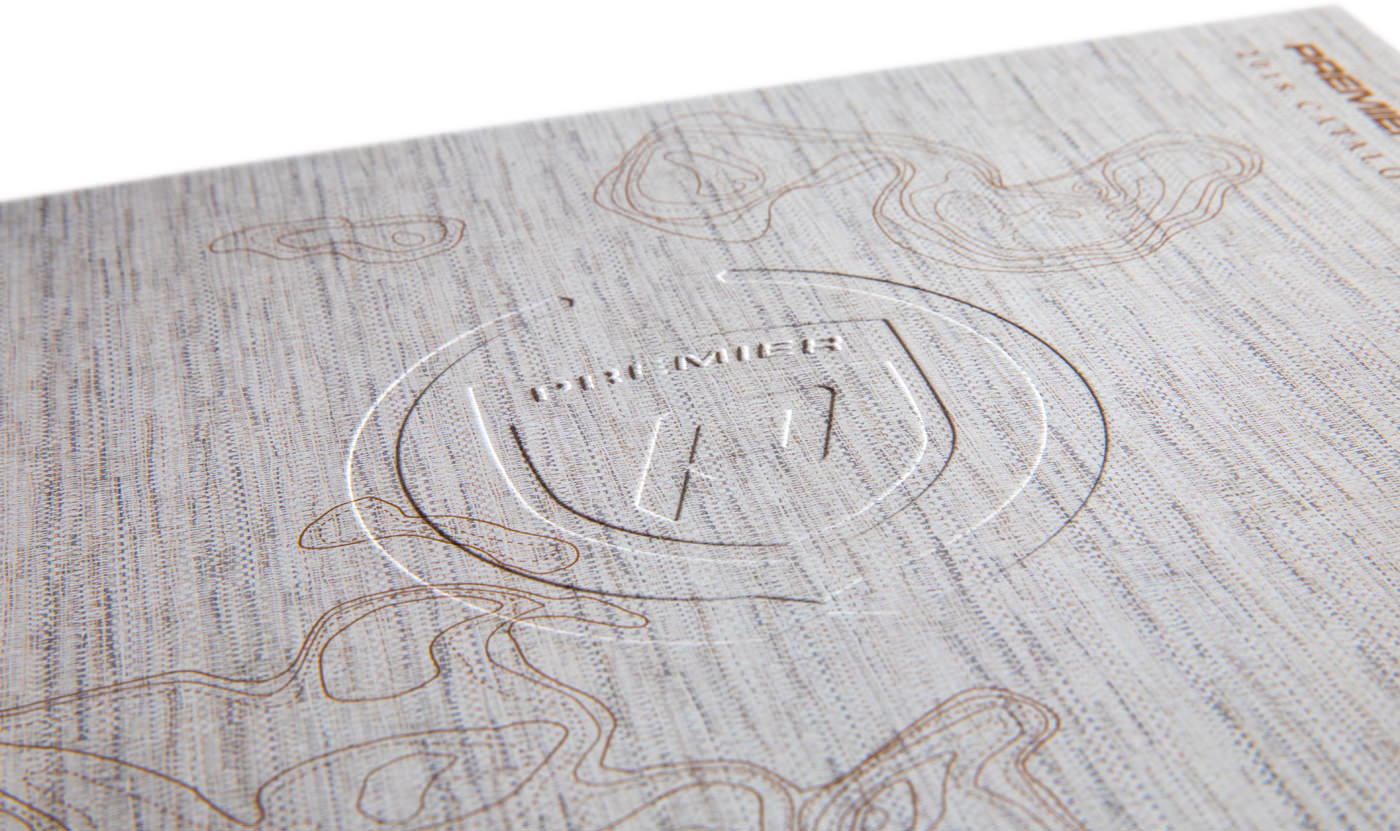 2018 CATALOG: Luxury fabric scanned at hi-resolution was used for the background.
PAST PREMIER
We were tasked with completely revamping the catalog for 2018 while obtaining the emotion and luxury that Premier is known for. We flipped through Premier's past and learned from what worked well and studied the areas that could be improved upon. By fine-tuning the hierarchy of the content we crafted a solution that would meet the objectives of the dealers and salespersons, while benefiting the future customer.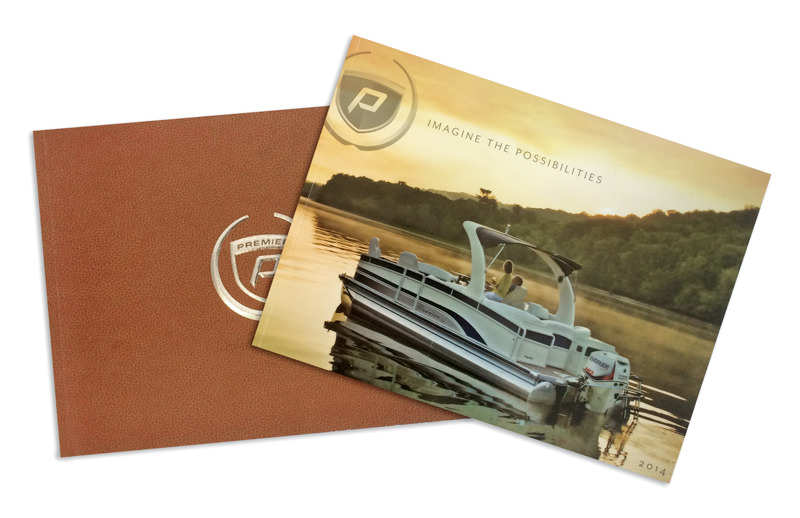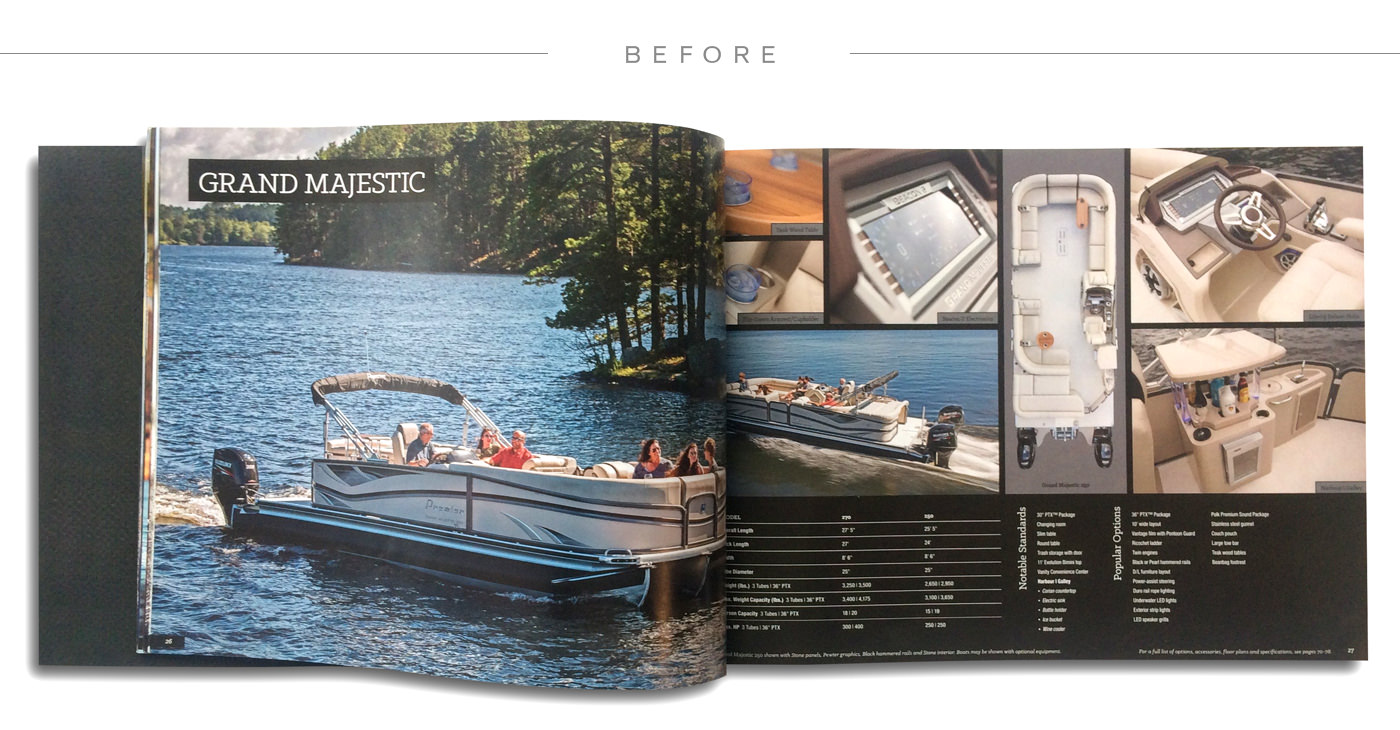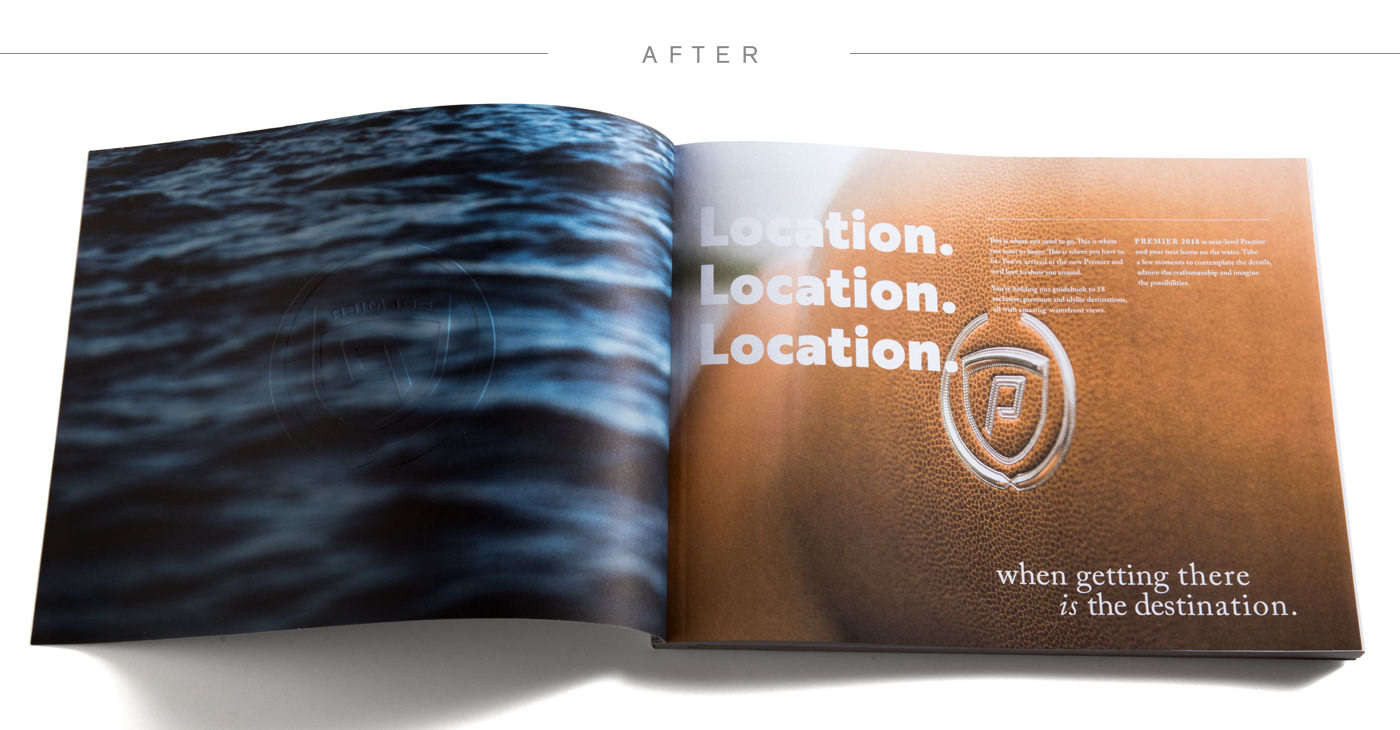 Intro Brand Spread: A new lifestyle-inspired theme and voice are used to engage & speak to the viewer.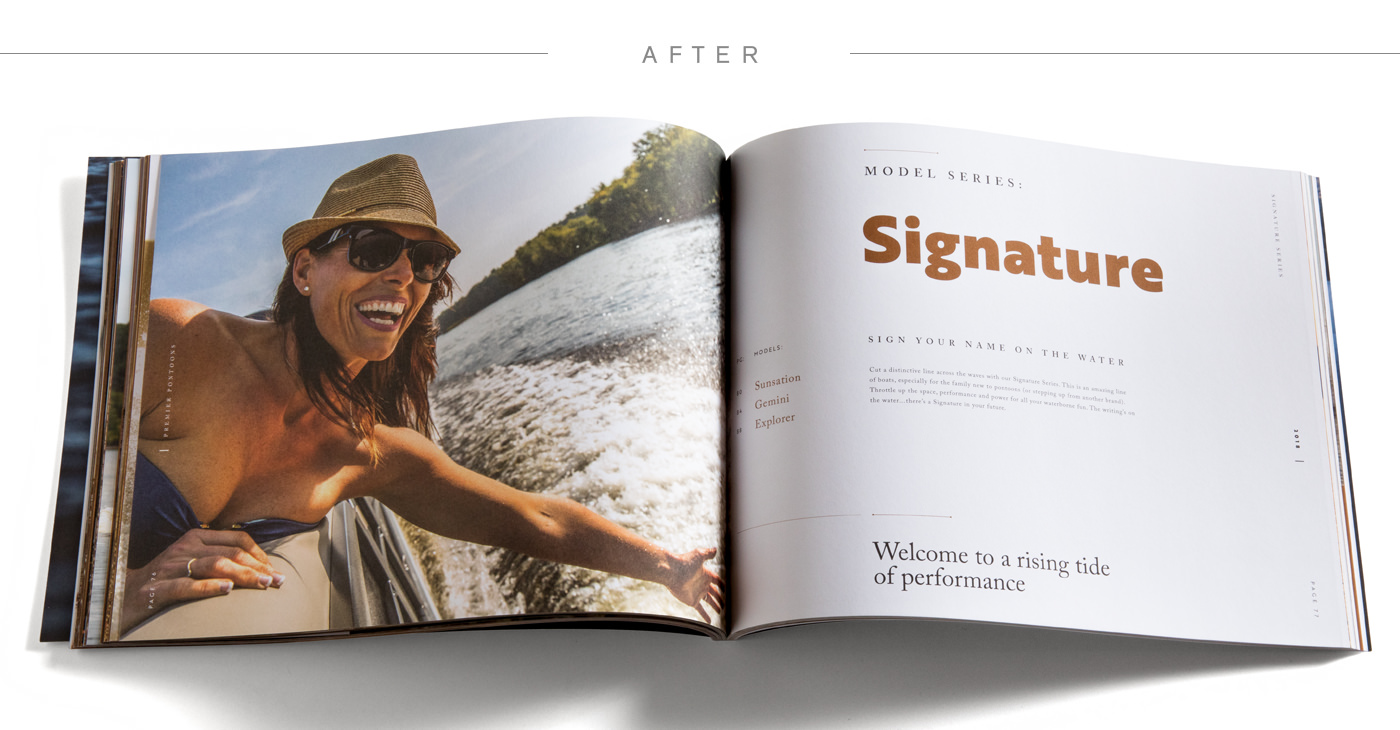 Pontoon Series Opener: Energetic and emotional lifestyle photography is used to engage potential customers.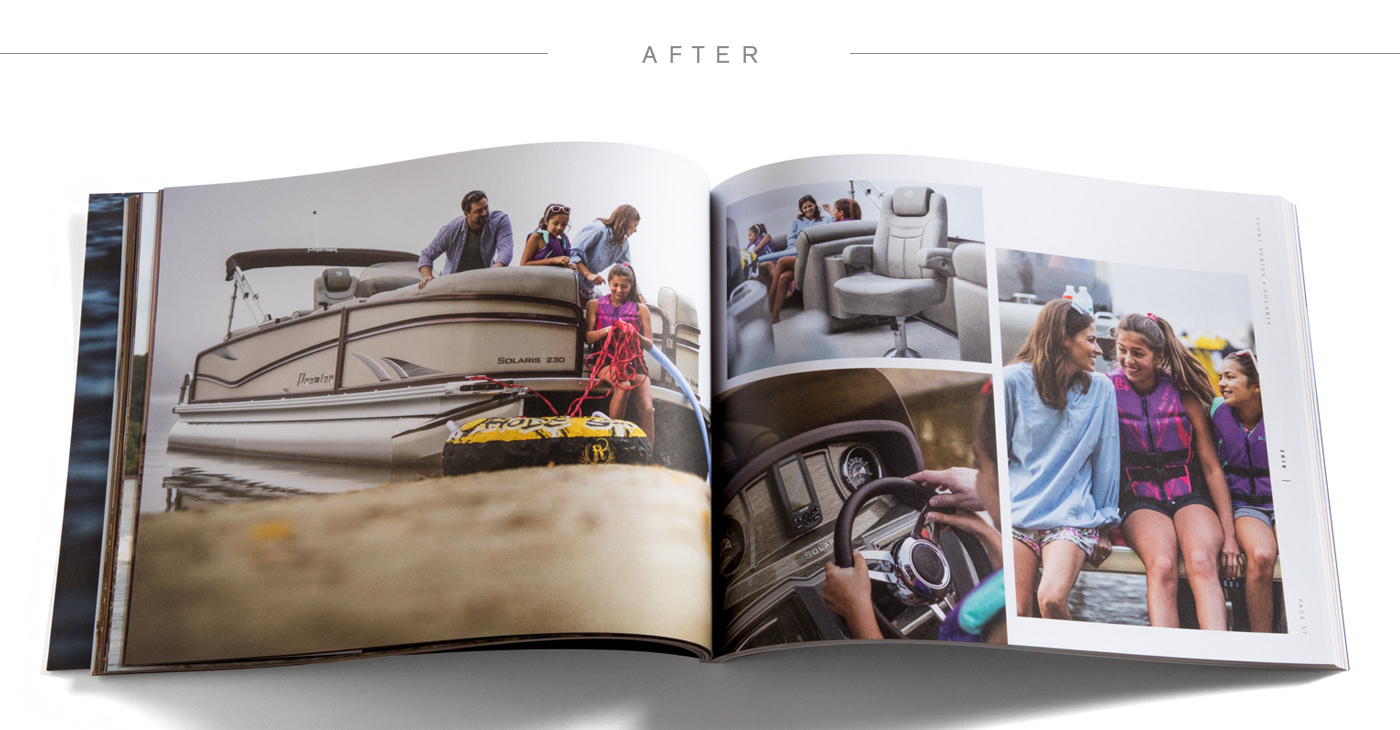 Pontoon Model Spread: Simplified and compelling photography creates a personal, relatable story for each pontoon.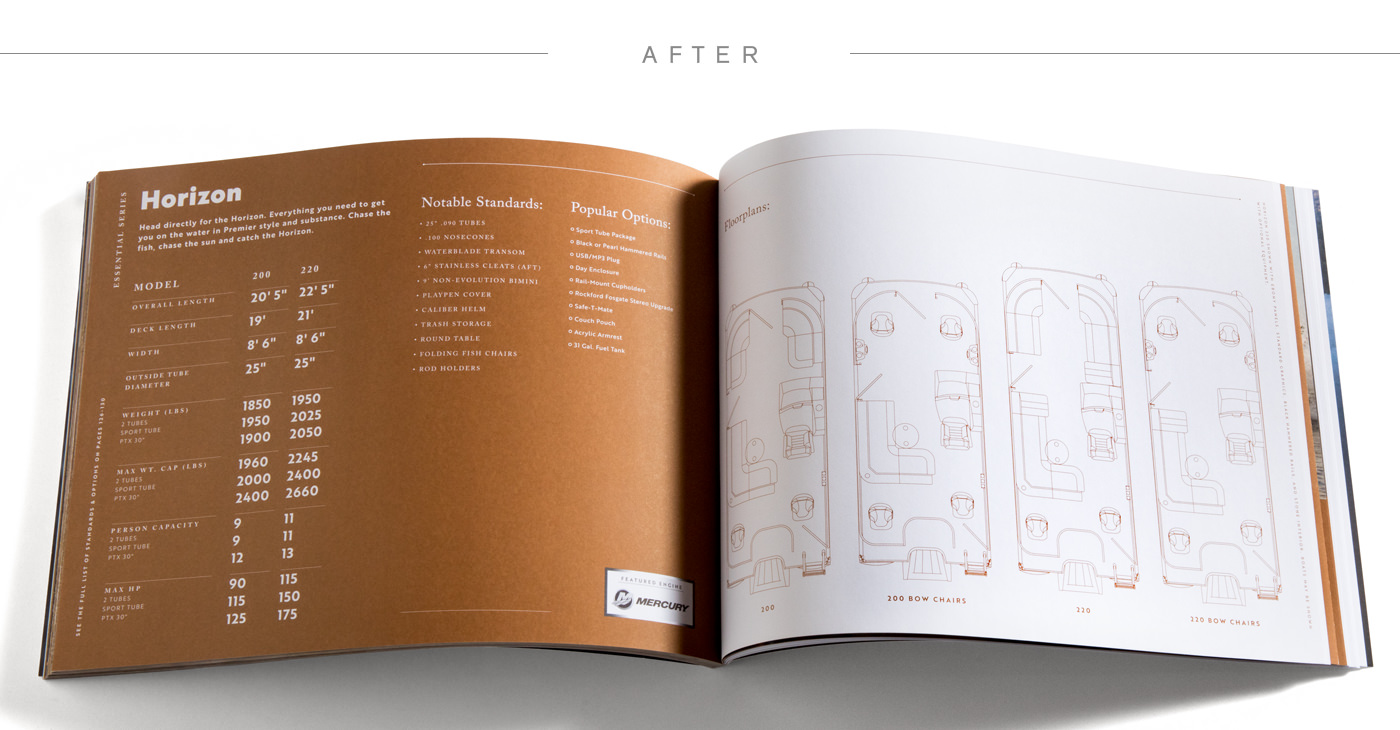 Specs & Layout: All techs, specs and model layouts are highly organized to make building the ideal boat as easy as possible for the customer.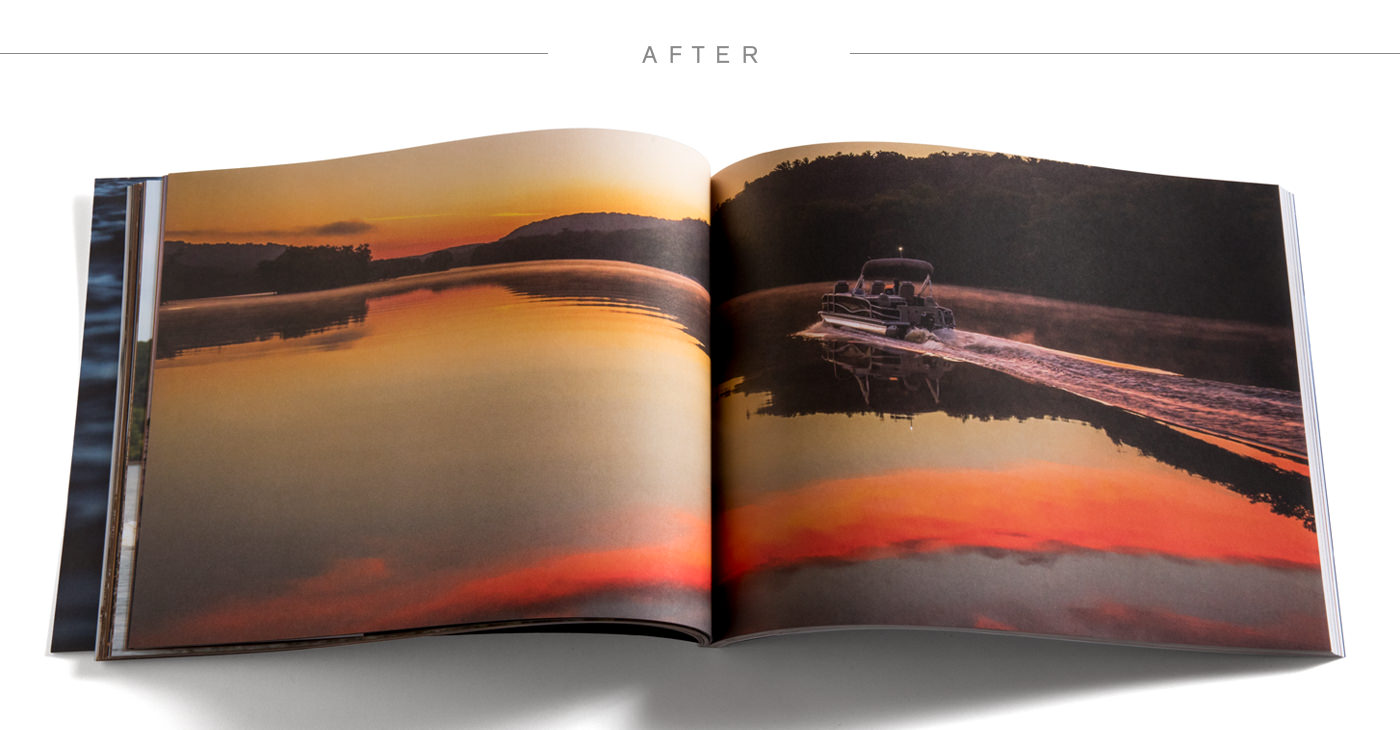 Brand Spread: Heroic, full-spread images sprinkled throughout the catalog captivate, inspire and paint pictures of the many possibilities.
Model Series Opener: New messaging, refined typography and white space add to the luxury look & feel.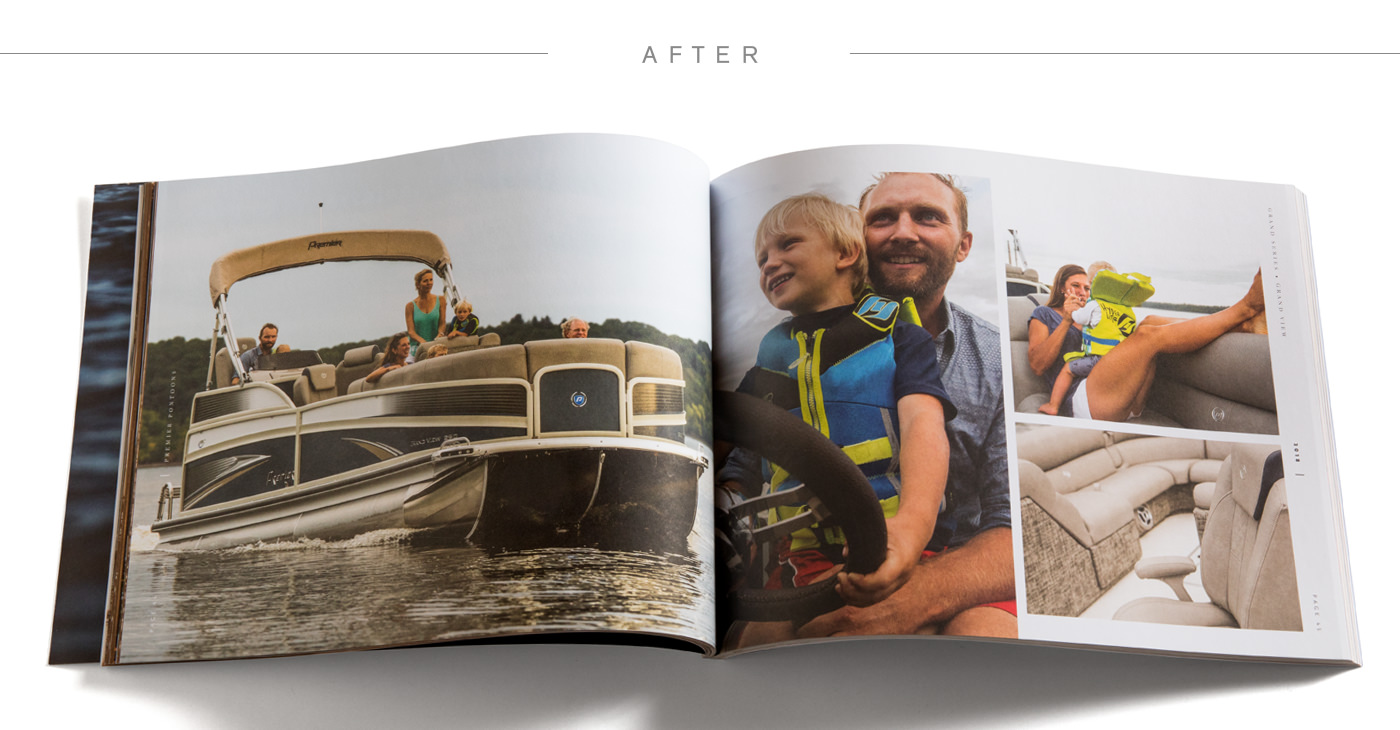 Pontoon Model Spread: Both features and lifestyle are intertwined through photography to be more impactful.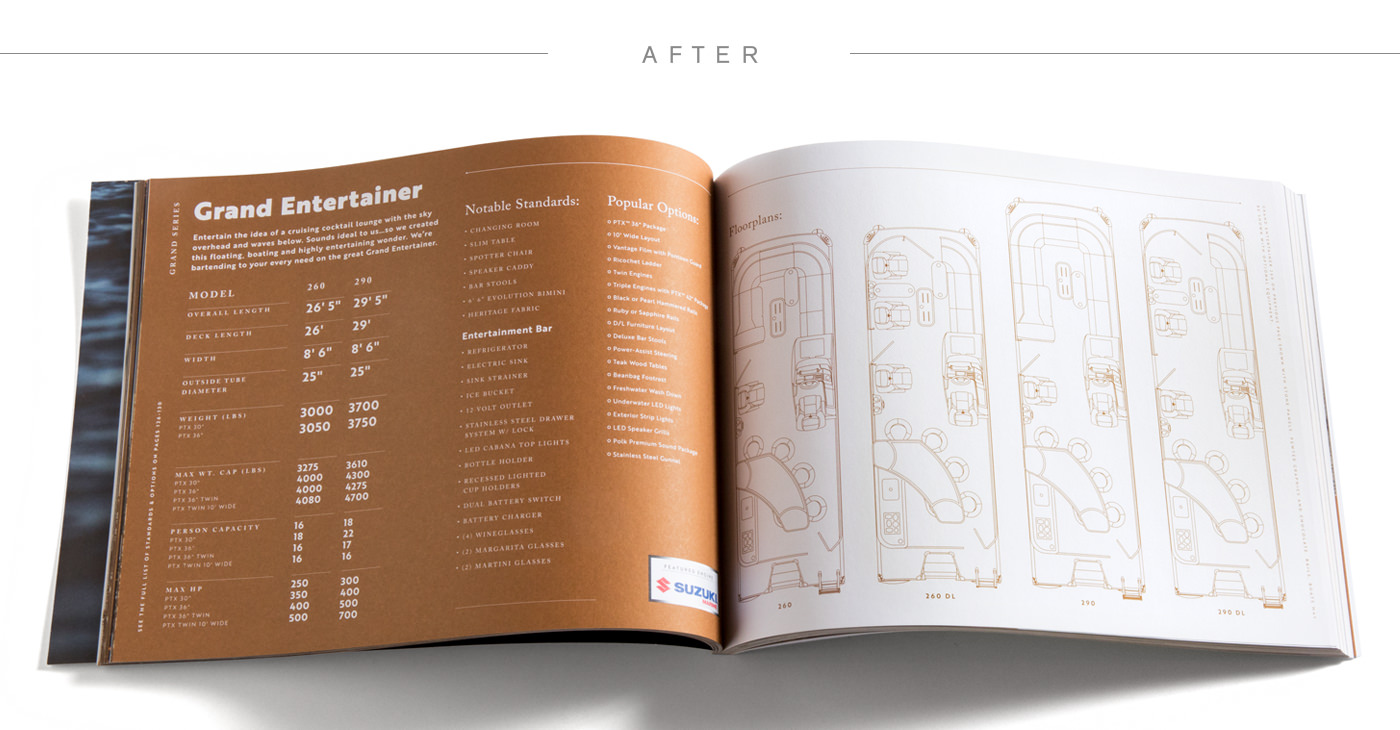 Specs & Layout: Uncoated stock adds a soft touch and differentiates from other competitor brochures.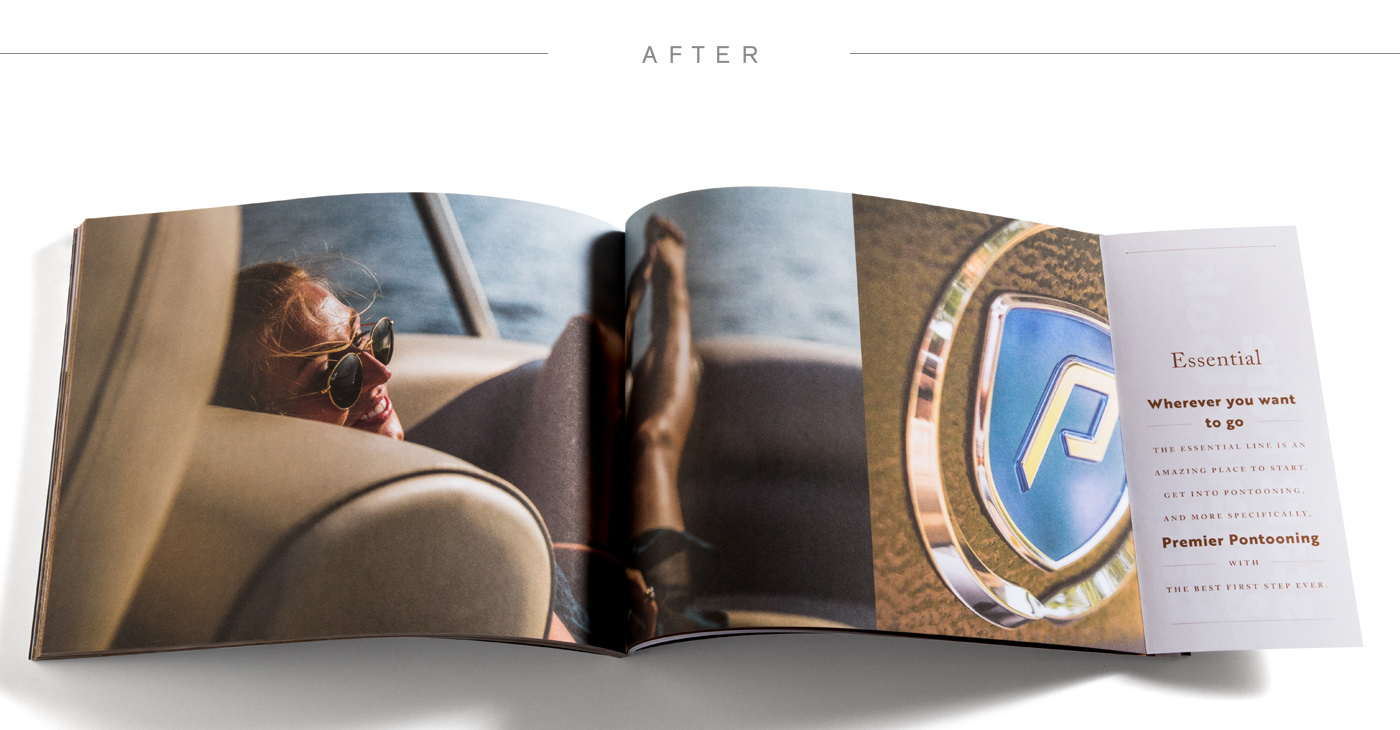 Foldouts: Stylized photography and a hidden brand message add an exclamation point to each line of pontoons.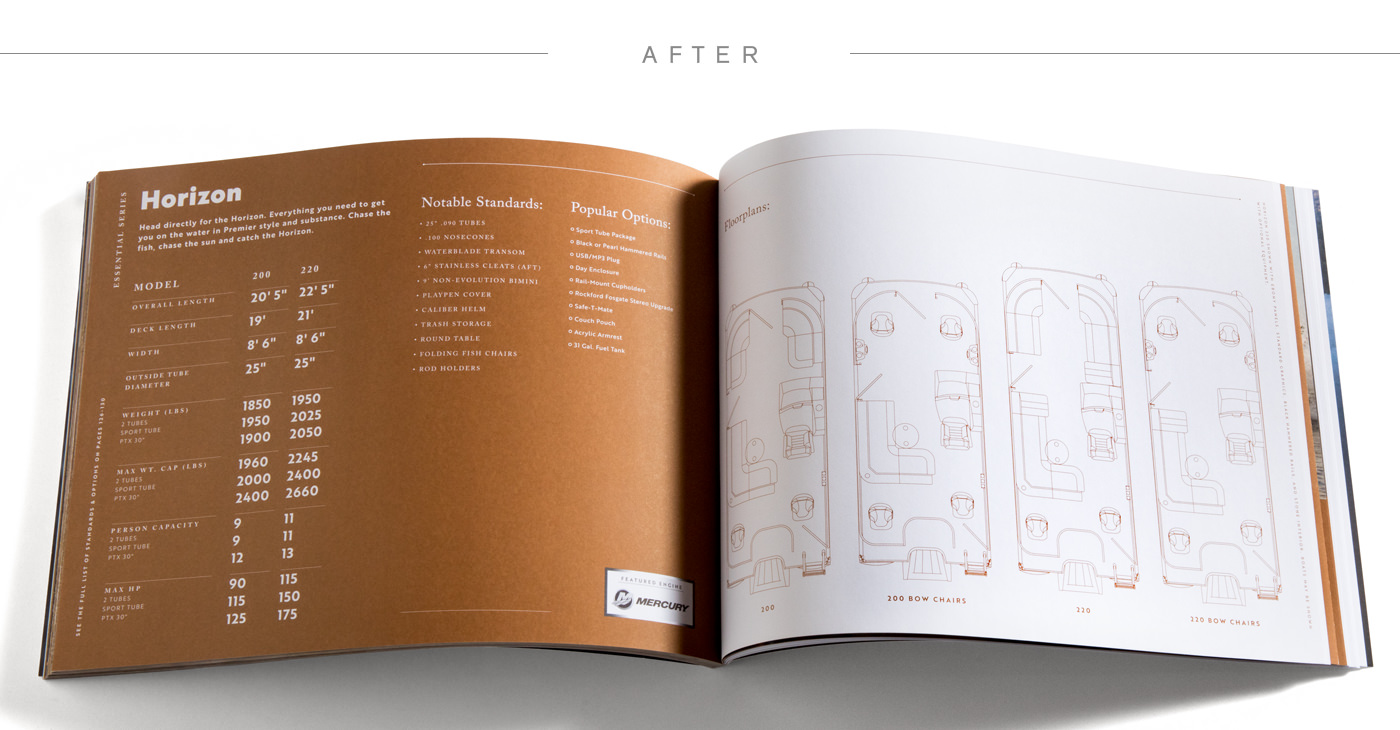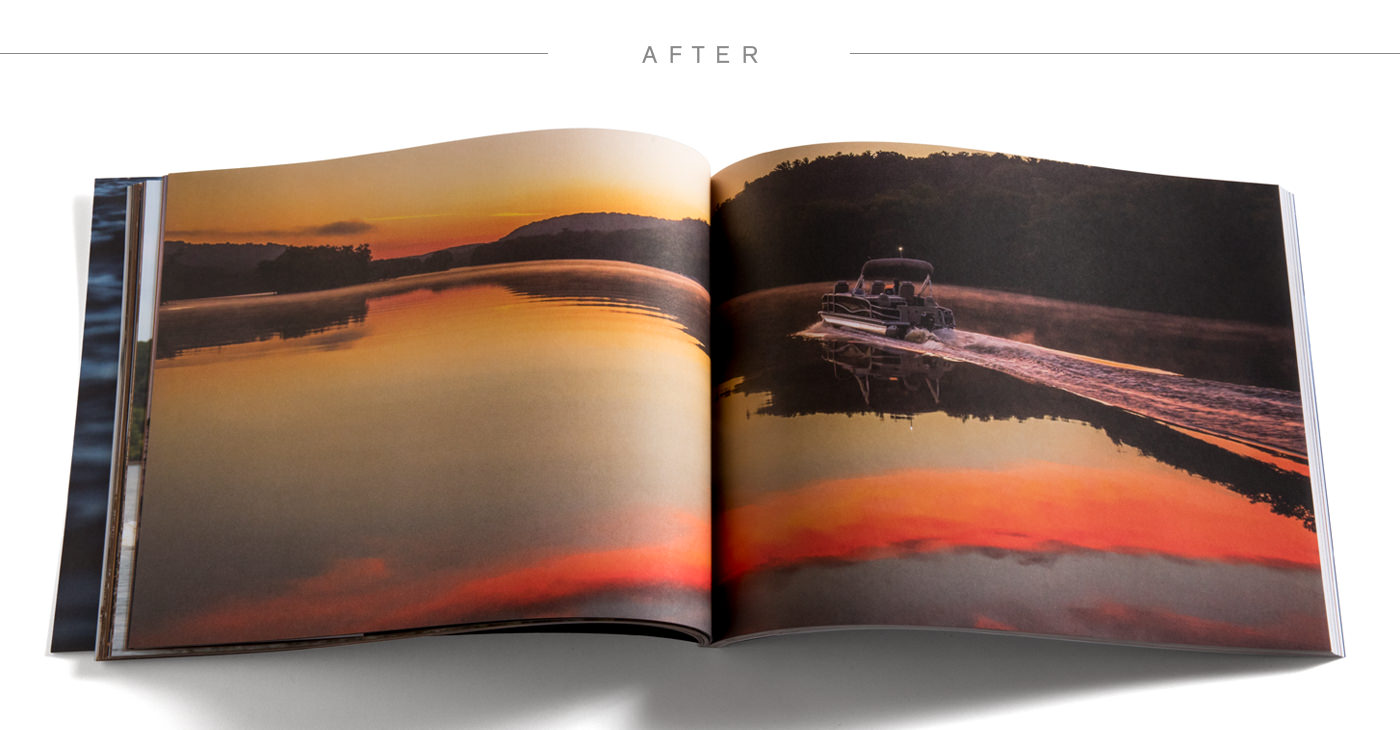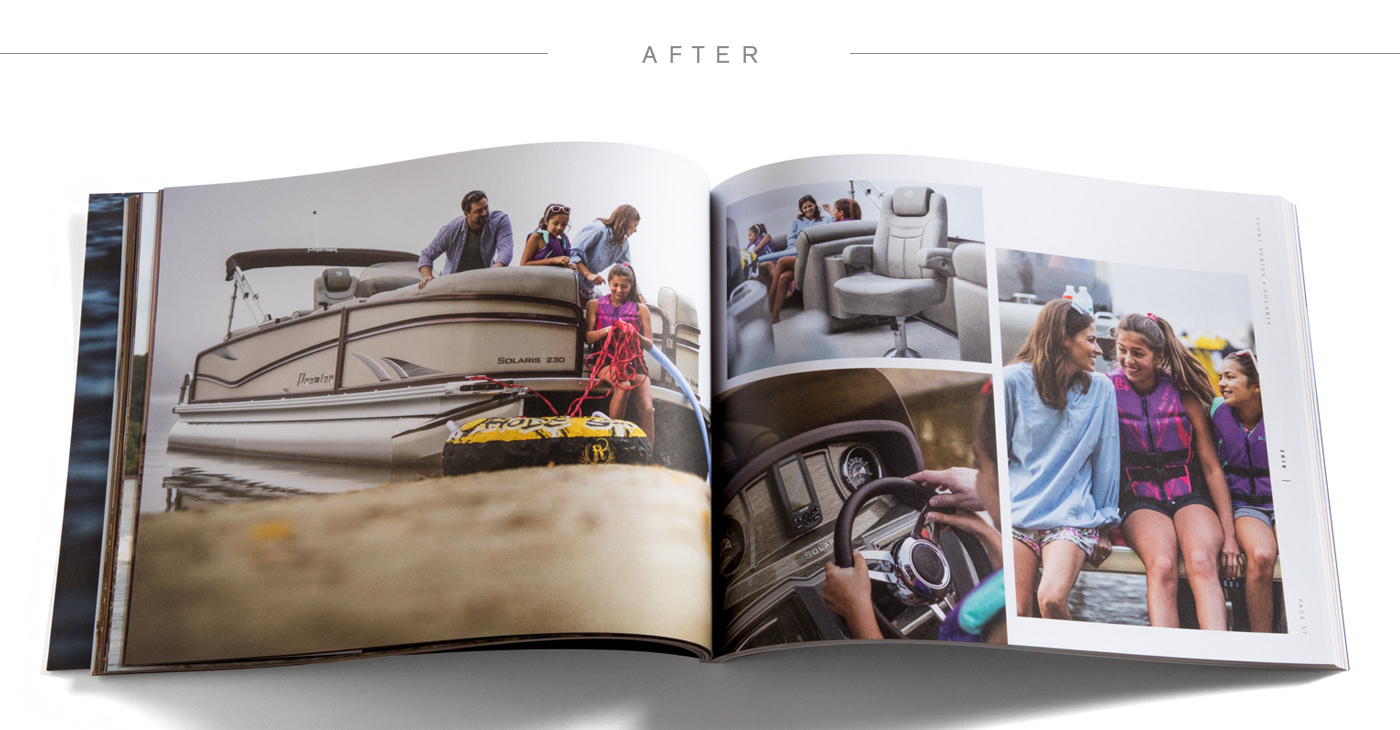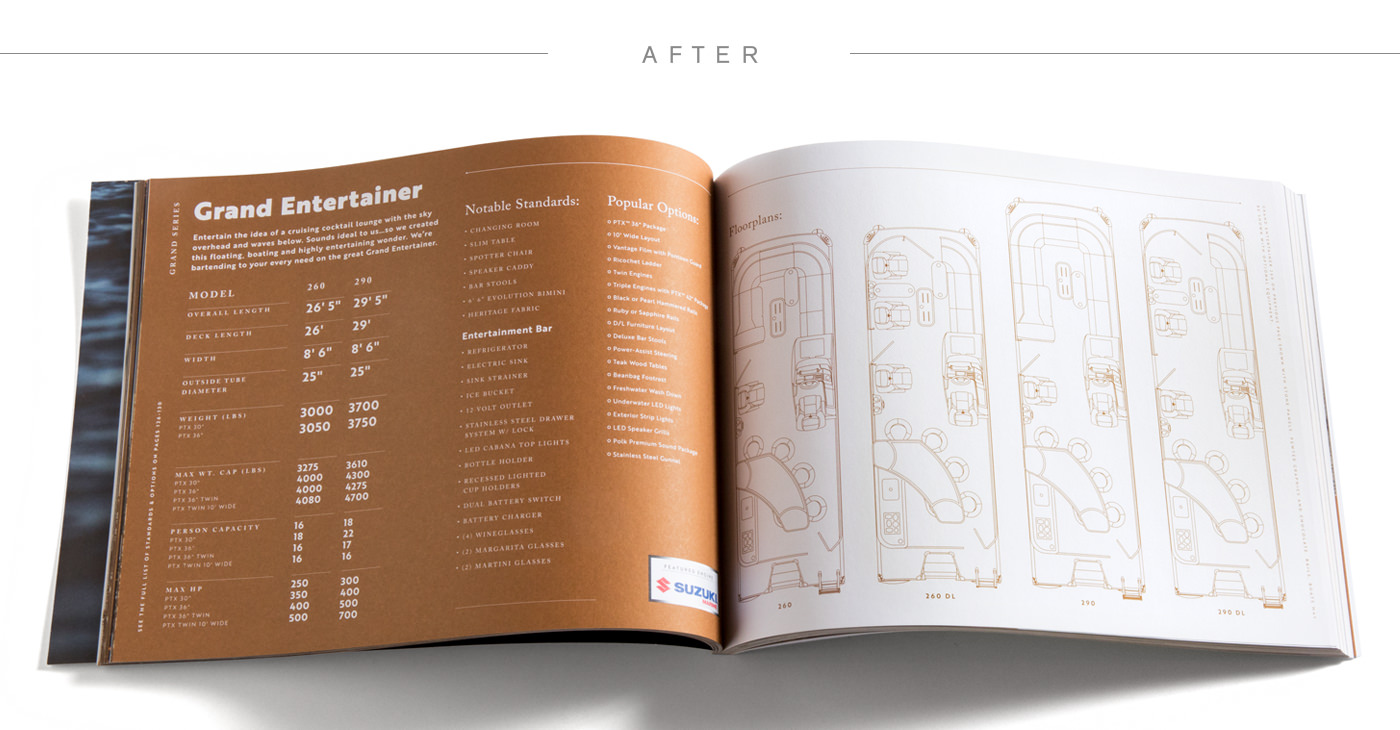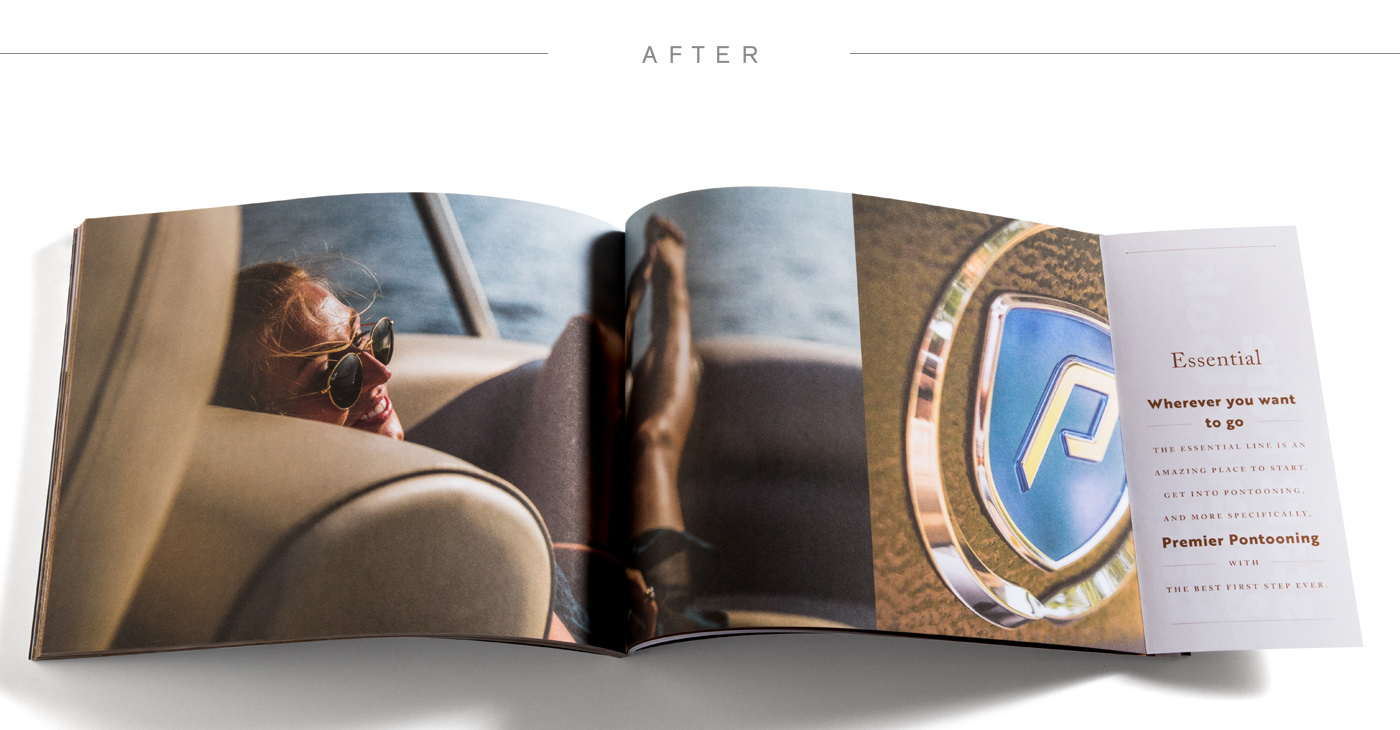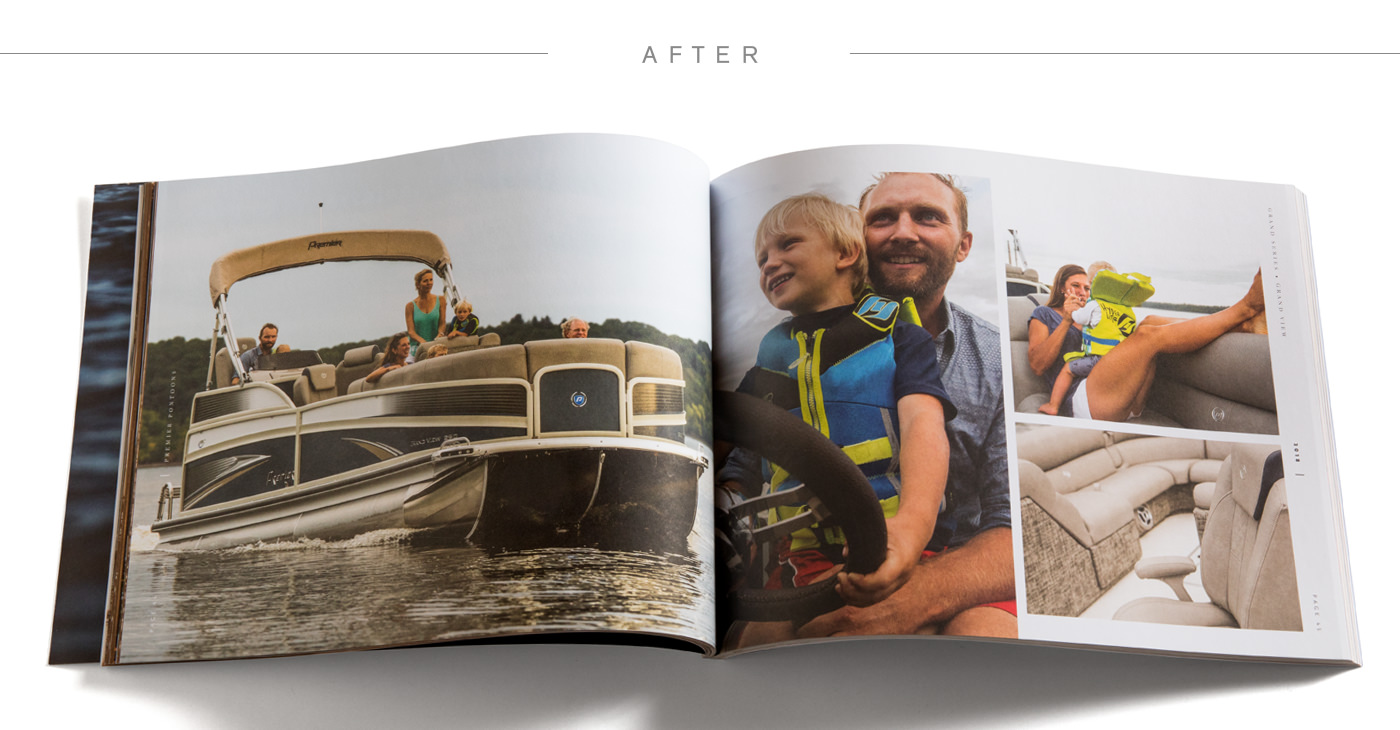 The new 2018 Brochure is the best Pontoon Brochure I have ever seen.
Alec N., Sales Manager, Northwest Boat Center
"
"
NEW VOICE. NEW MESSAGE.
Premier Pontoons is just that, "premier" in every possible way on the water and off. These folks sail at the head of the pontoon pack/armada when it comes to quality, craftsmanship and technology. The one area of the ship that we could see making better, was their brand message. With many new innovations, reinvented model lines and just a watertight story to tell, we dove in. (That concludes boating metaphors for this paragraph.)
ART DIRECTION
We set our creative course on the North Star that is Premier Pontoons—Extreme Craftsmanship. With the mega talents of photographer Bob Pearl & passions of Strait Productions, we created and photo-art directed visuals that enticed readers to race to the water. Through beautiful sunrises and sunsets, a case of sunscreen and a fleet of luxury pontoons, the camera lenses captured the emotion of Premier for the new year.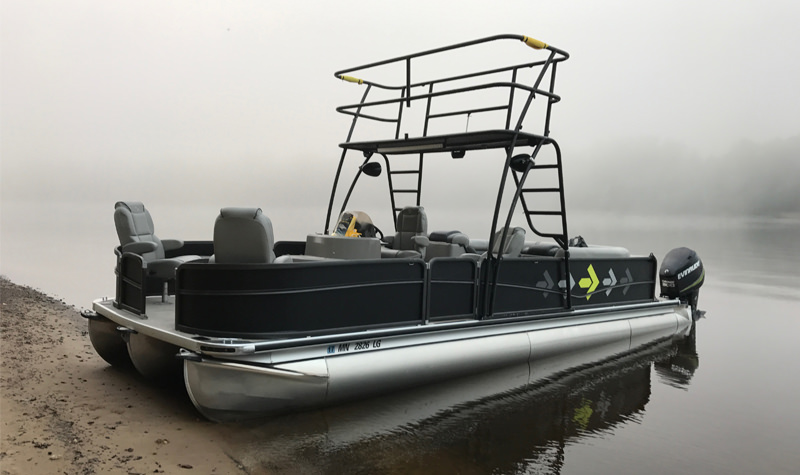 RECOGNITION: