Office Graphics & Branding
CLIENT
Get Your House in Order
INDUSTRY
Reason to Refresh #7 – Enhance Your Space
TACTICS
Telling your brand's story is communicated in more ways than messaging. You can convey your brand in your office or retail space by energizing the experience of being within your physical areas. Do you have an office that employees are excited about working in - where you are proud to host clients and business partners? Making the physical spaces that engage your employees and visitors special and surrounding people with just the right amount of brand messaging and inspiration keeps the engagement fresh, relevant, and exciting. From art installations to walls that honor where you've been and celebrate where you are going, don't overlook the spaces where people experience your brand.
OBJECTIVE
Does your space leave a positive and lasting impression?
Some companies have public-facing, retail-like interactions with their customers. For some businesses, your corporate office is the space you call home. Considering that you host employees, clients, and visitors – your office – and even employee break room – are all part of your brand. Make these spaces engaging, fresh, relevant, and exciting with branded graphics and signage.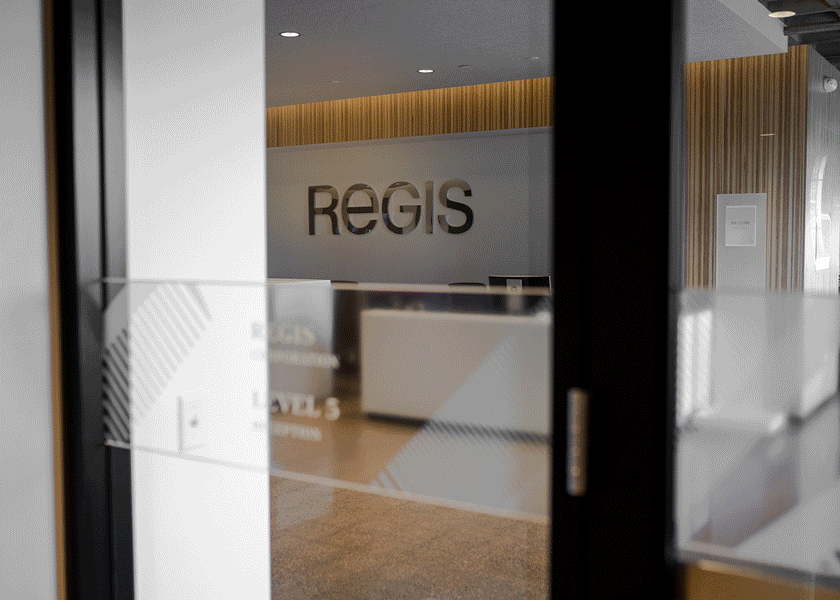 Why do you need office graphics and branding?
Take a look around – are you creating experiences that connect people to your places? Whether you've recently gone through renovations, celebrated 50 years in business, are trying to recruit top talent, or simply want to revamp  – office graphics and branding is a sure-fire way to breathe new energy into your space.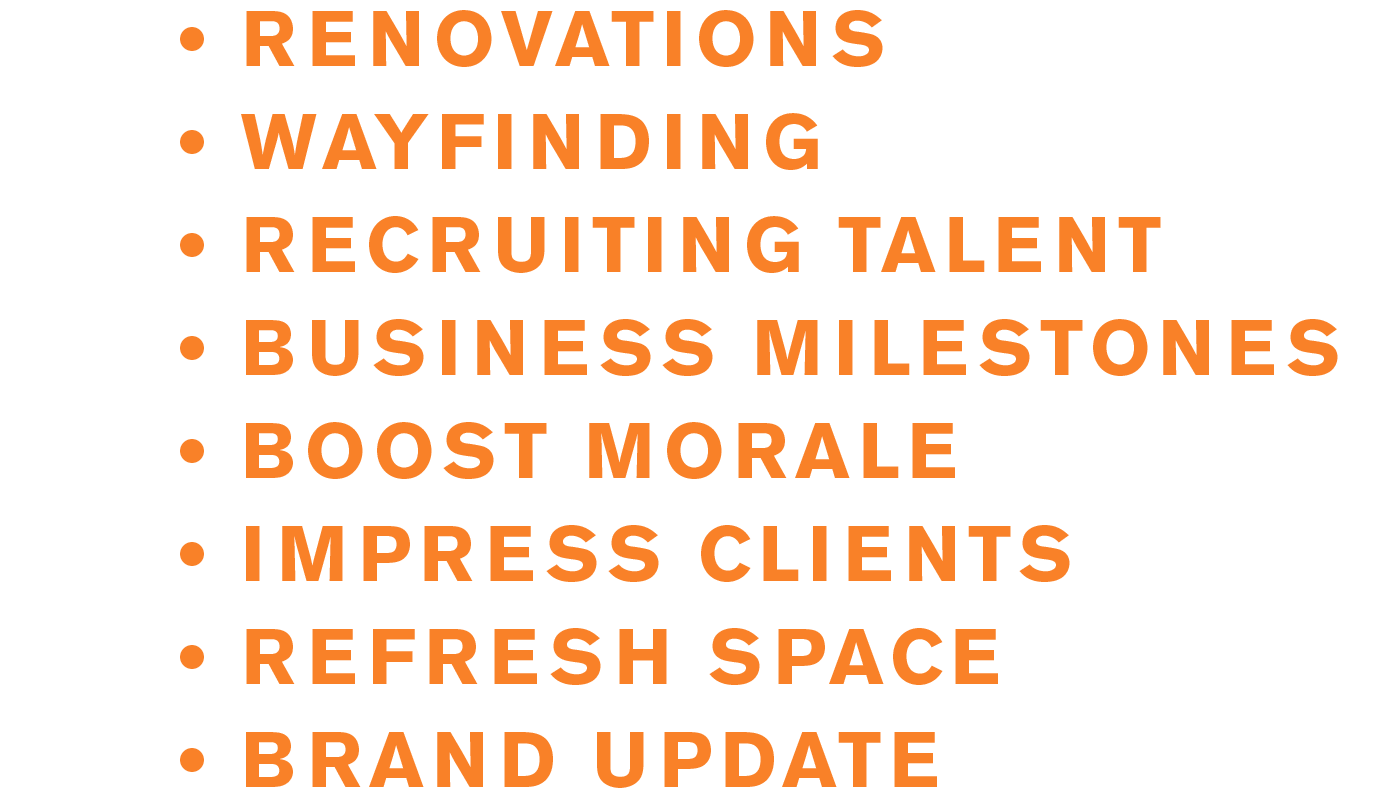 The SDCo team flexed their creative versatility, and delivered a modern, cohesive look and feel throughout our new California HQ, impressing visitors and employees alike!
Mary Horwath, Former VP of Marketing, United Sports Brands
"
"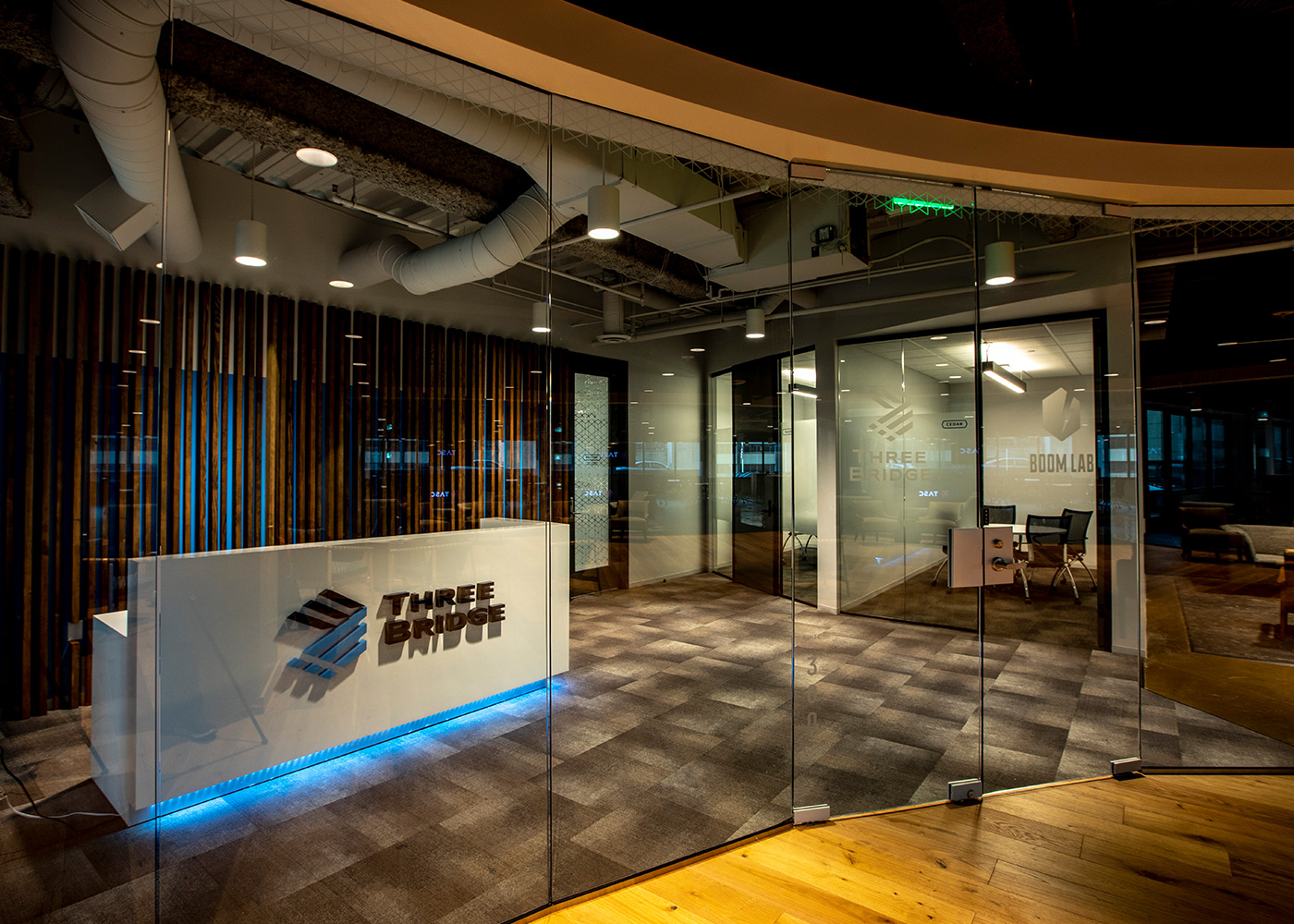 Entrances & Lobbies: Three Bridge's corporate office entry, reception, huddle rooms, and visitor waiting areas.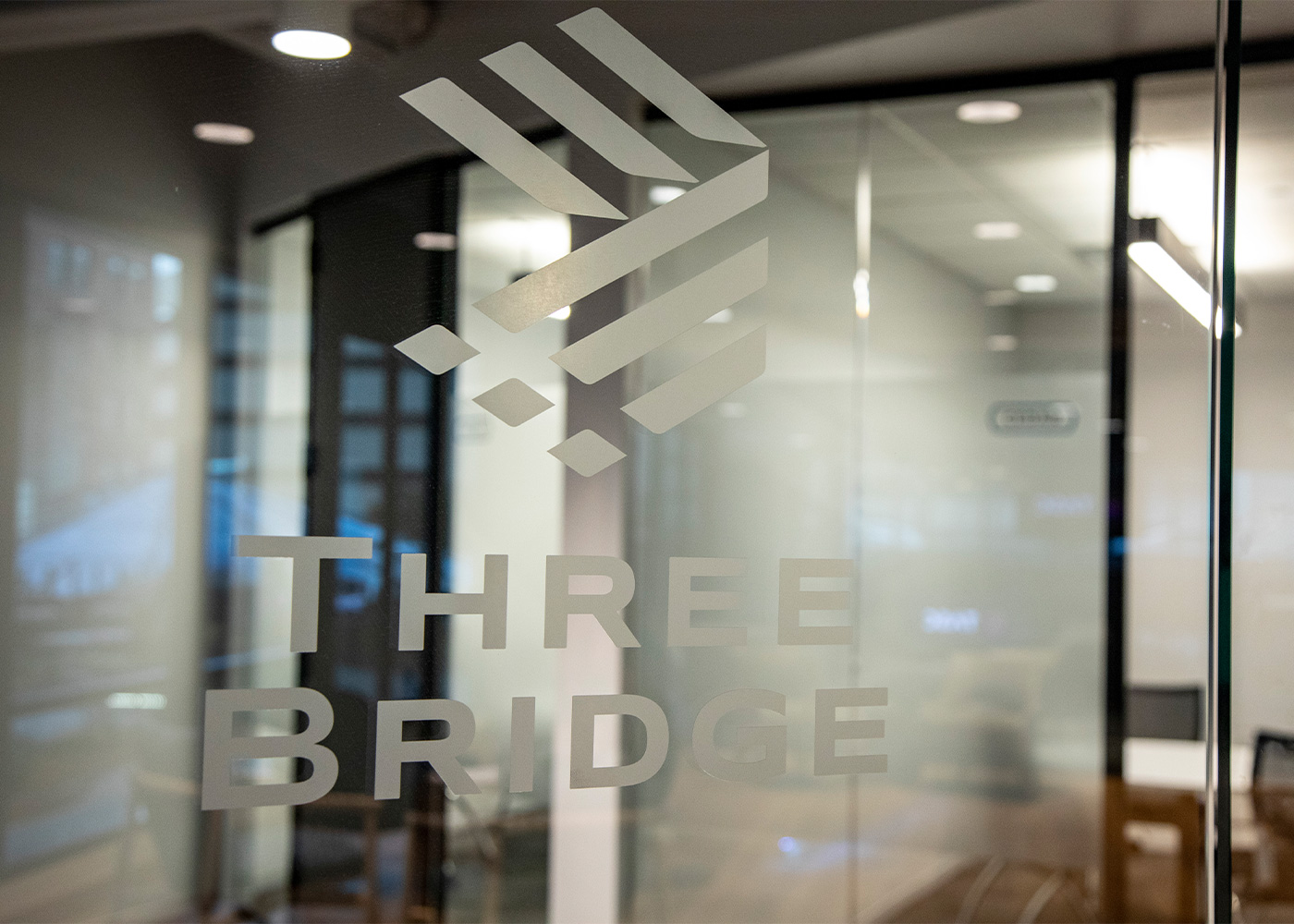 Entrances & Lobbies: Detail: The Three Bridge logo applied to glass in frosted vinyl.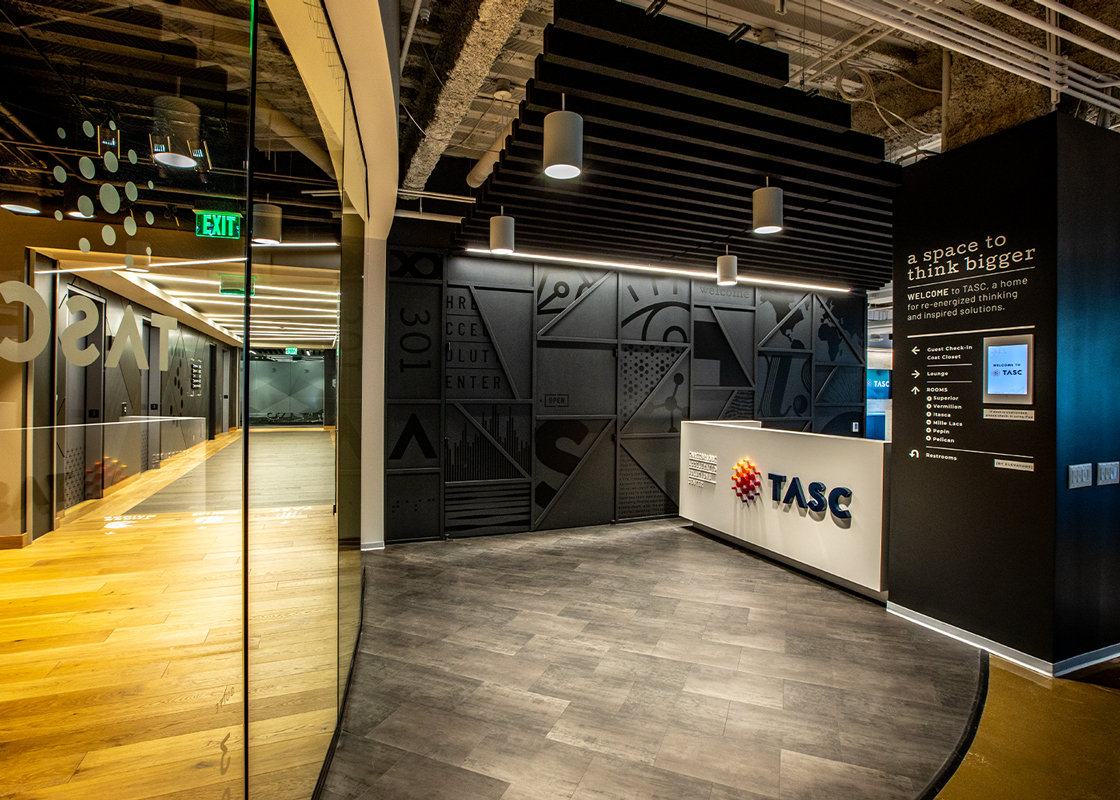 Entrances & Lobbies: TASC entrance and sign-in reception desk.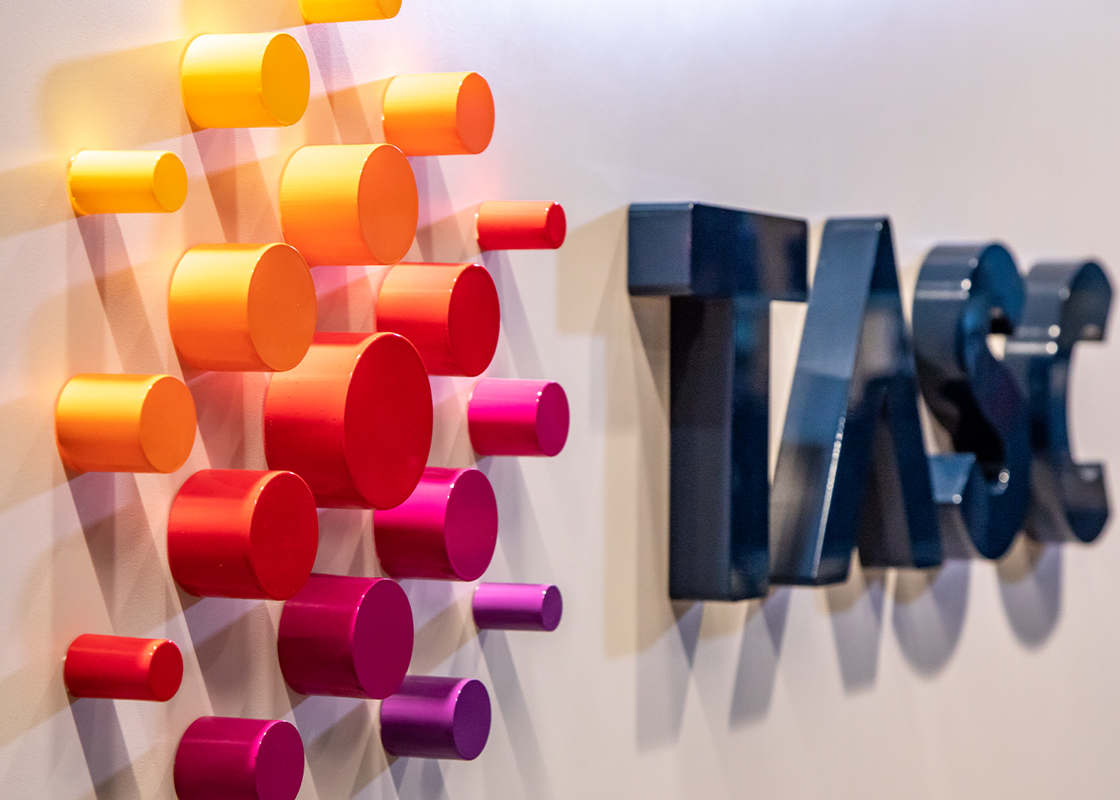 Entrances & Lobbies: Detail: Dimensional and vibrant TASC lobby desk logo.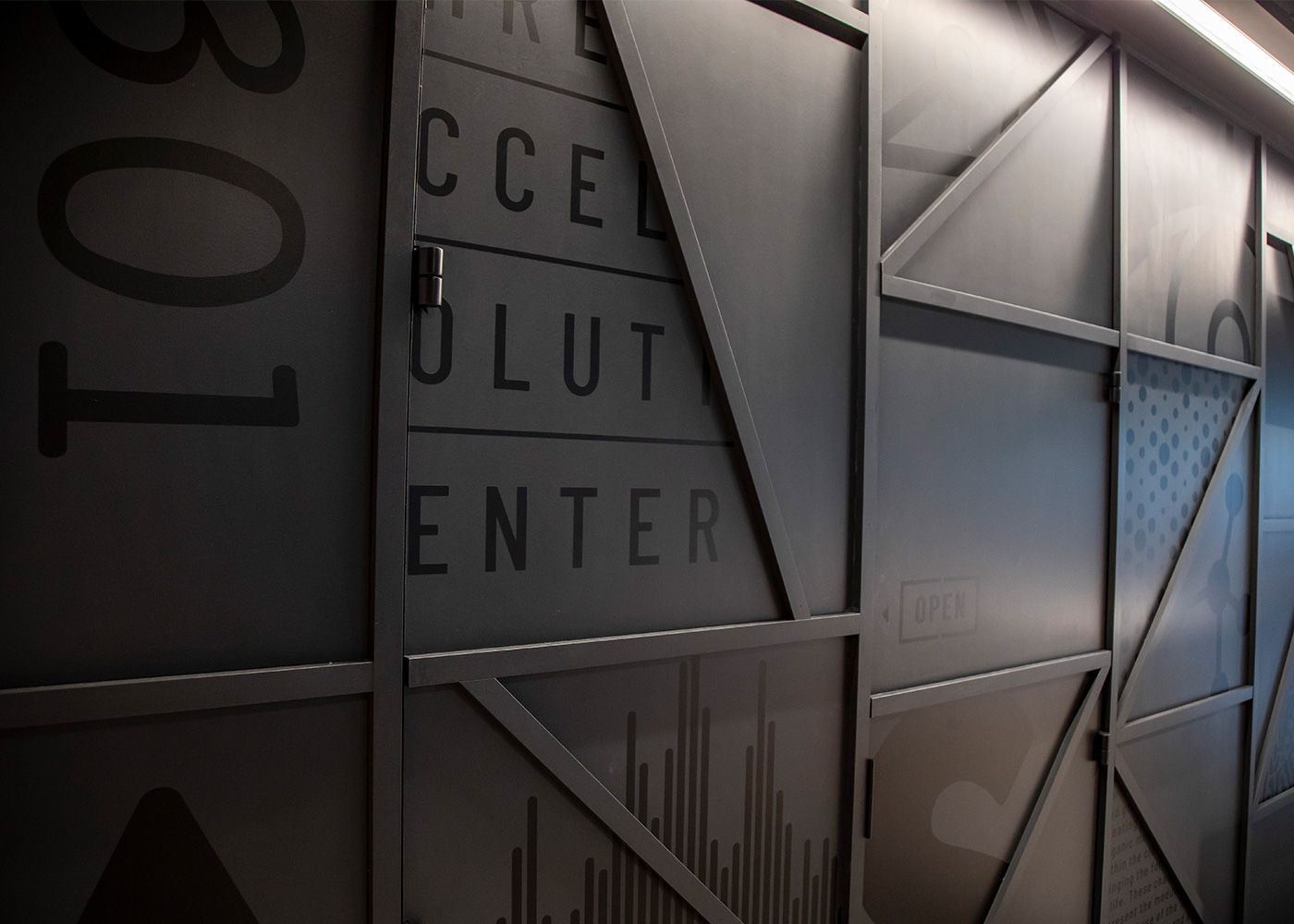 Entrances & Lobbies: Detail: Branded dimensional wall in TASC's reception area.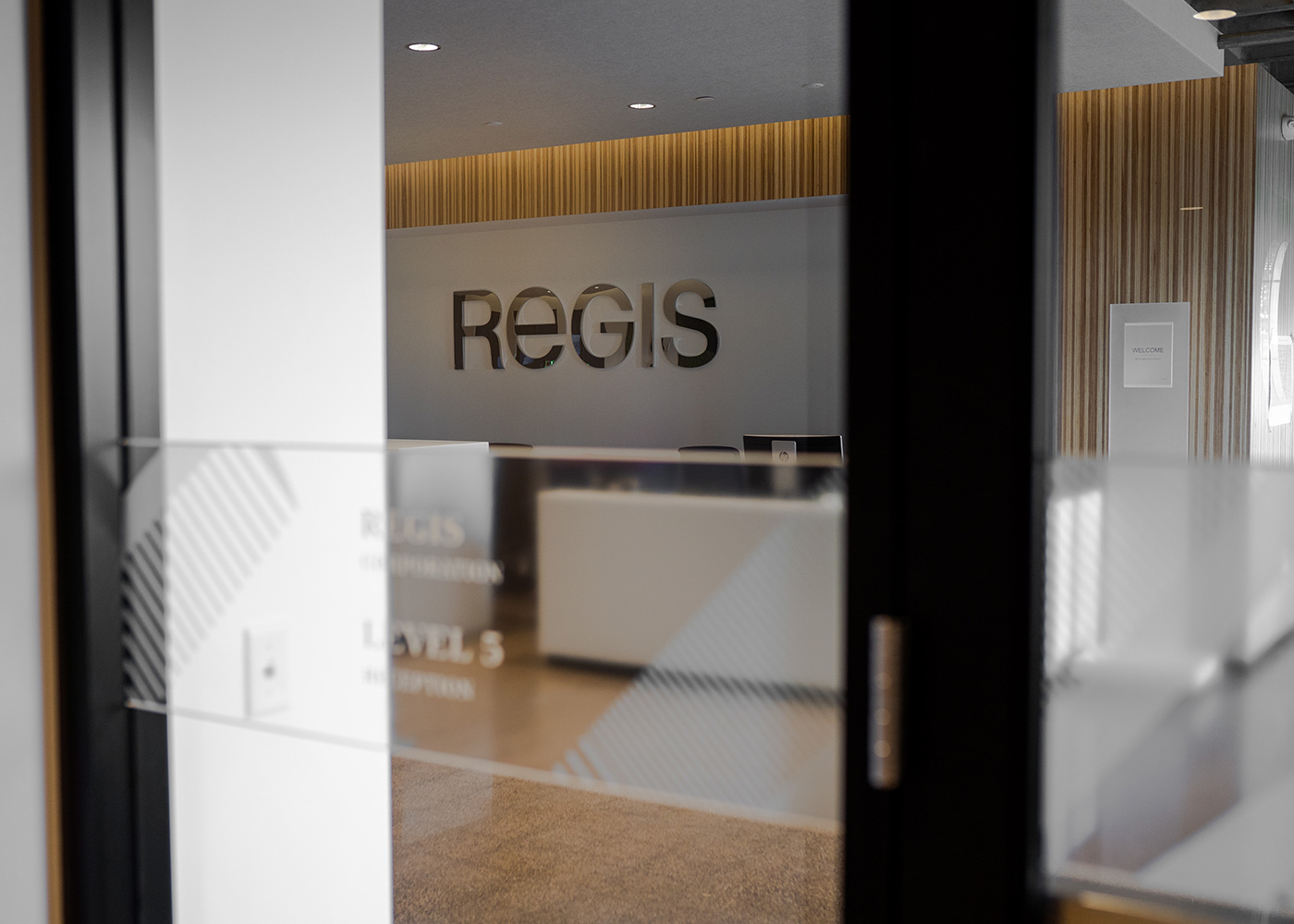 Entrances & Lobbies: Regis's modernized in a chrome logo reflective of their mirror decor.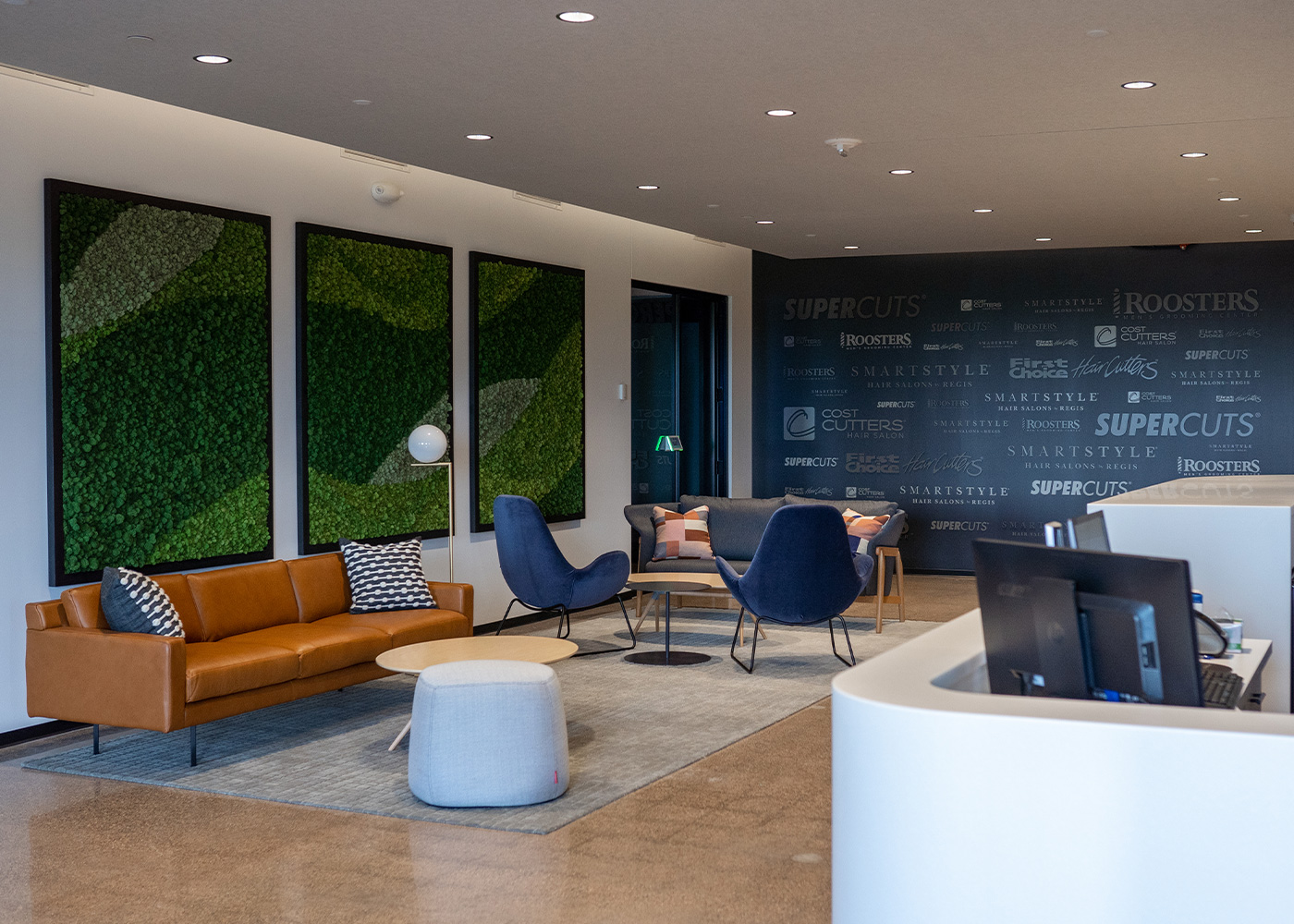 Entrances & Lobbies: Regis's lobby and seating area include a welcoming live wall.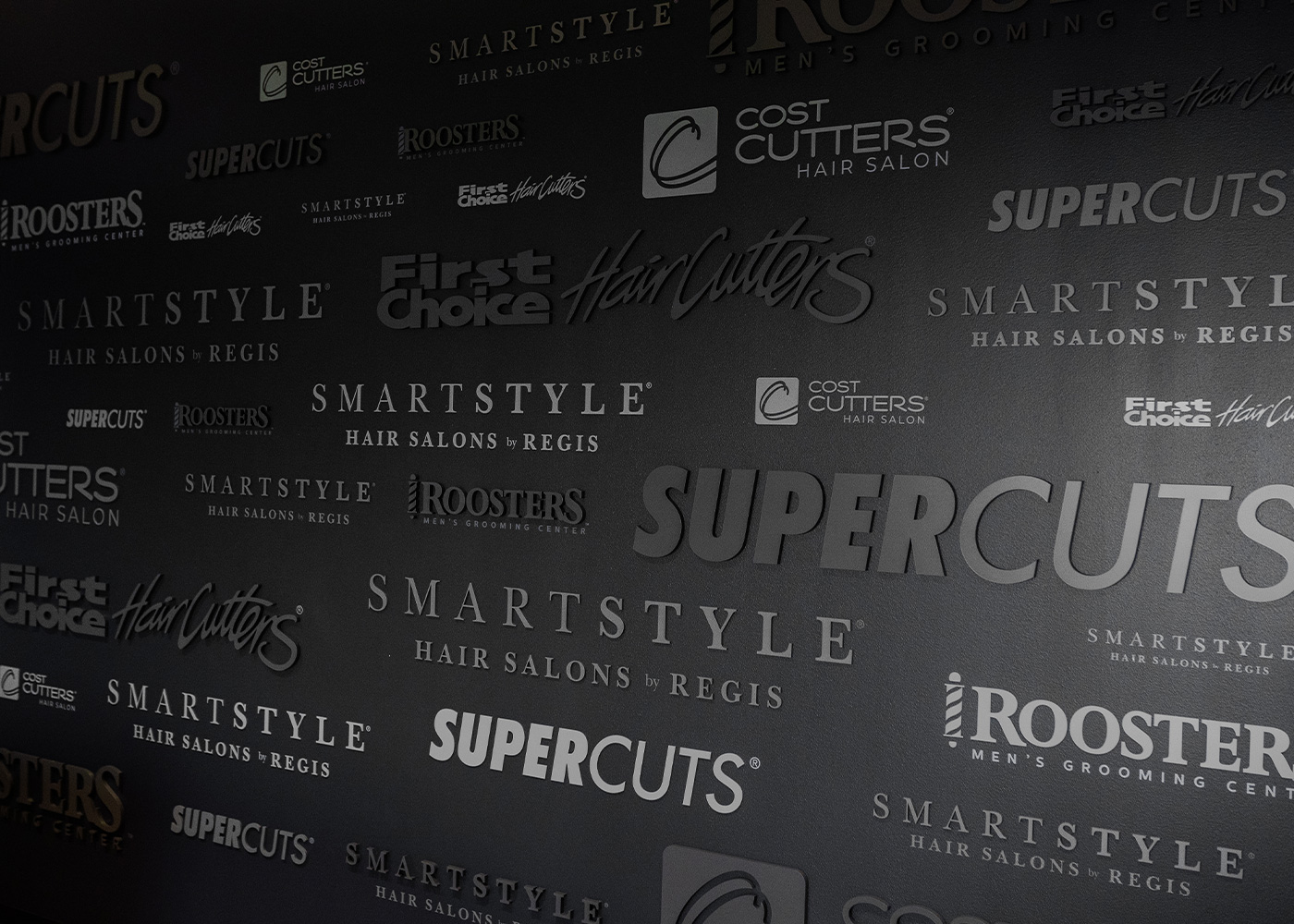 Entrances & Lobbies: Detail: Regis's lobby wall featuring multi-dimensional logos of their consumer brands.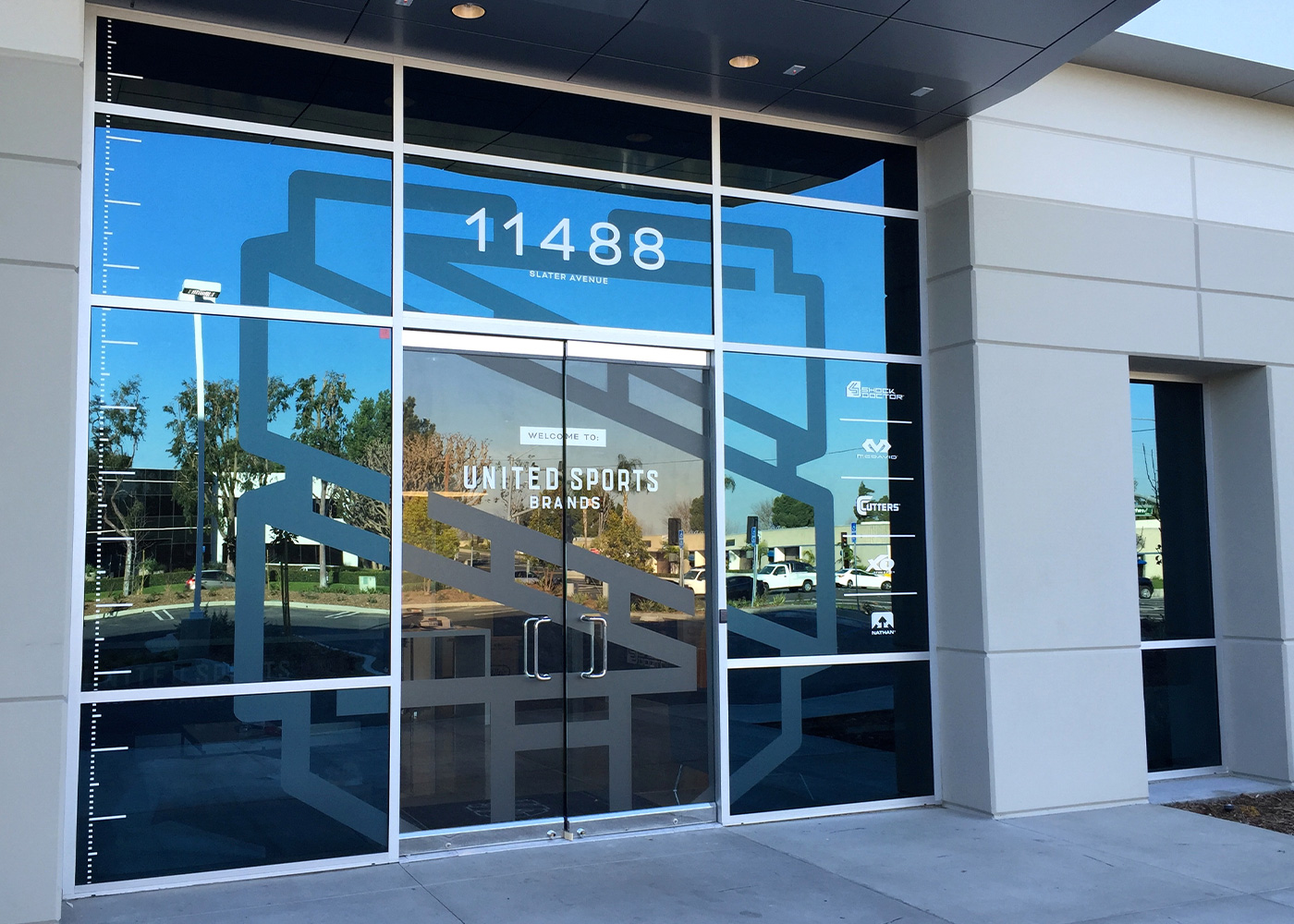 Entrances & Lobbies: United Sports Brands front door entrance with multi-layered vinyl applied to glass.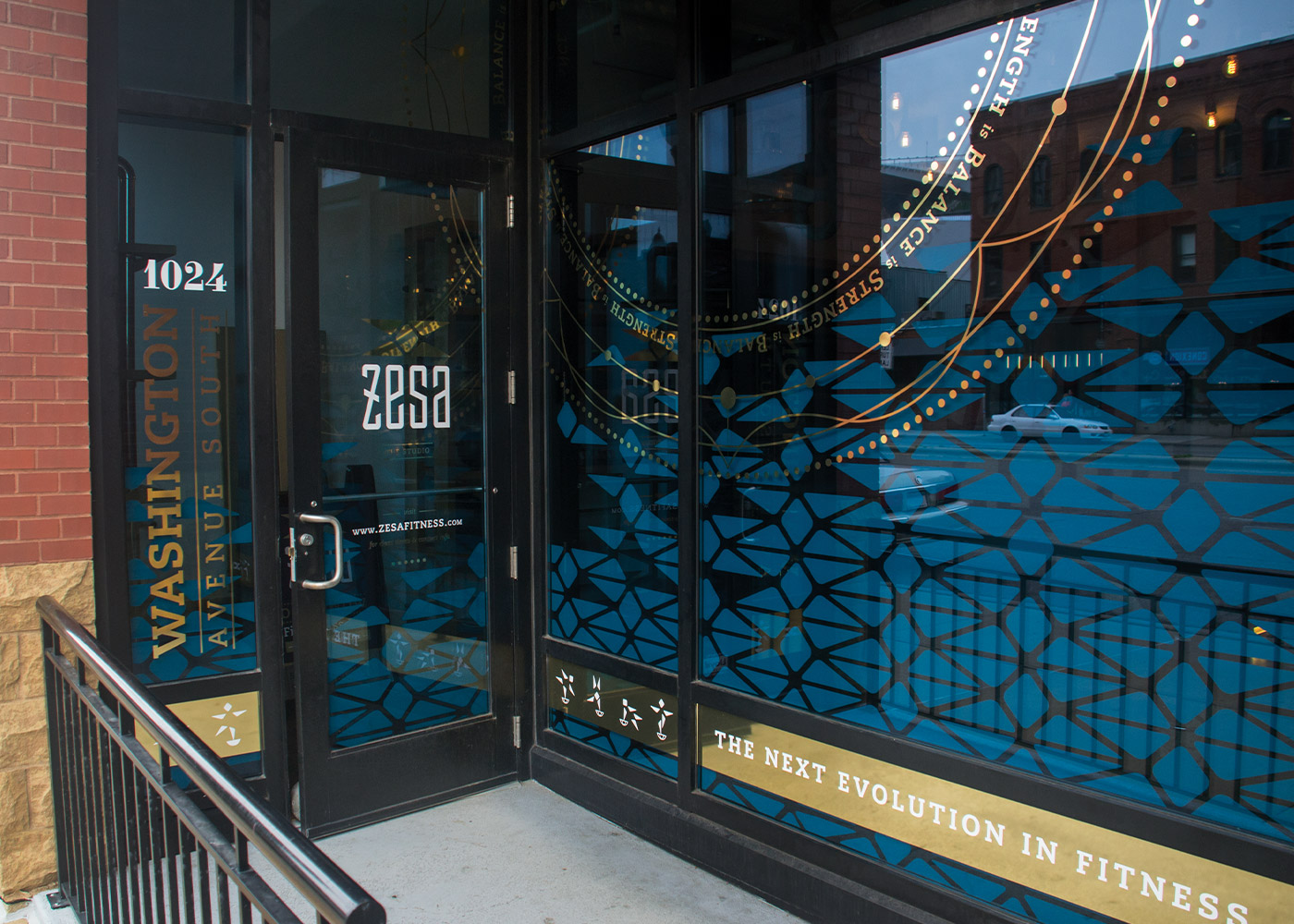 Entrances & Lobbies: Zesa Fitness's stunning gold and blue branded entrance with graphics applied to add privacy.
Entrances & Lobbies: Dairy Product Inc.'s corporate entry wall and custom barn-wood break-room doors.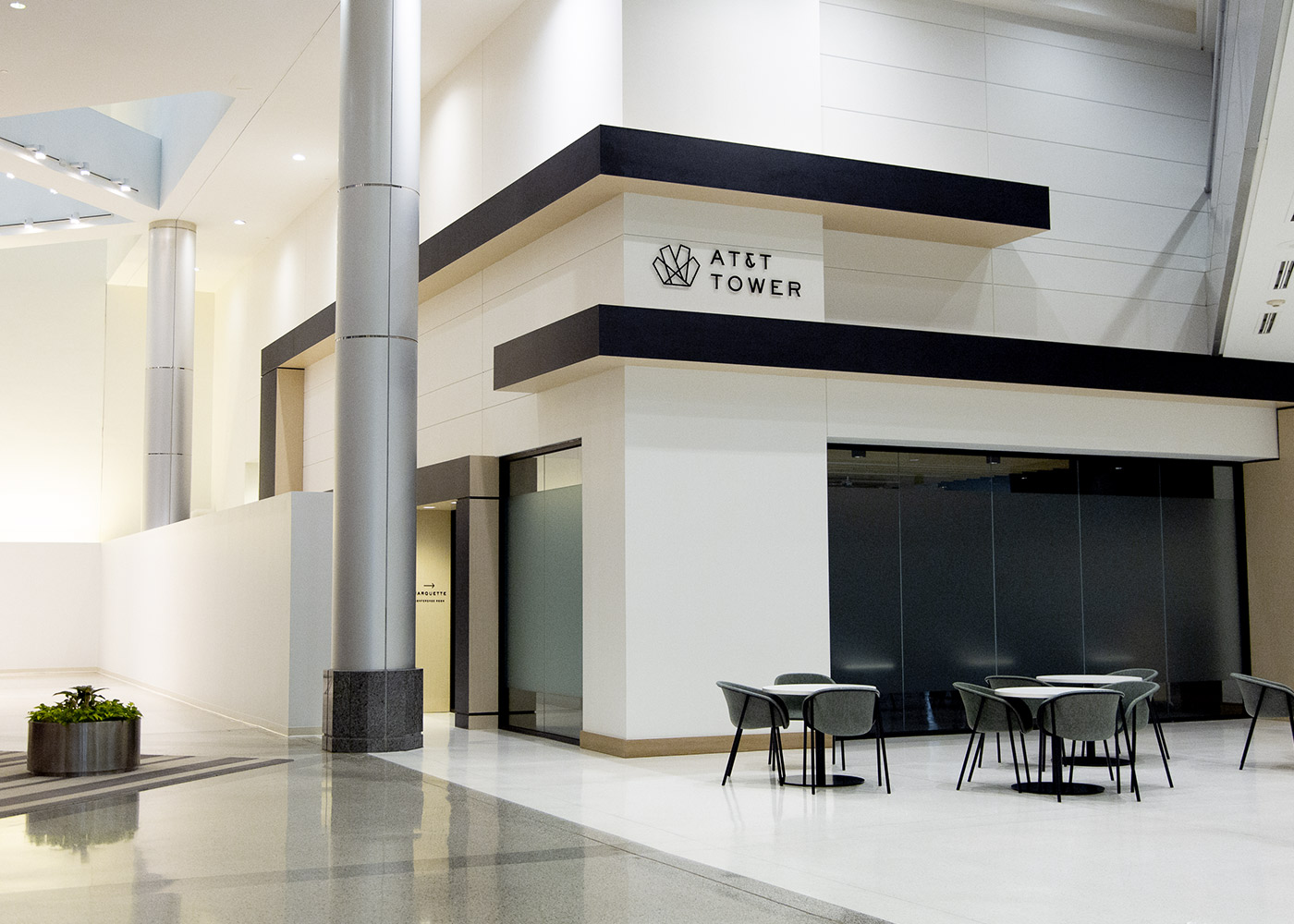 Group Spaces: AT&T Tower's minimal wayfinding directing to the main level group areas.
Is Your House in Order?
If your space isn't inviting, inspiring, or expressive of your brand, then a thoughtful branded execution can bring it back to life. Transforming your space doesn't need to be overwhelming – sometimes a little TLC can go a very long way to give your space the refresh that it needs. We've had the pleasure of working within all kinds of spaces, from warehouses and sports arenas to corporate offices and government facilities. While all of these environments and their brands vary, they all benefited from the impact of applying their brand to the spaces in their environments.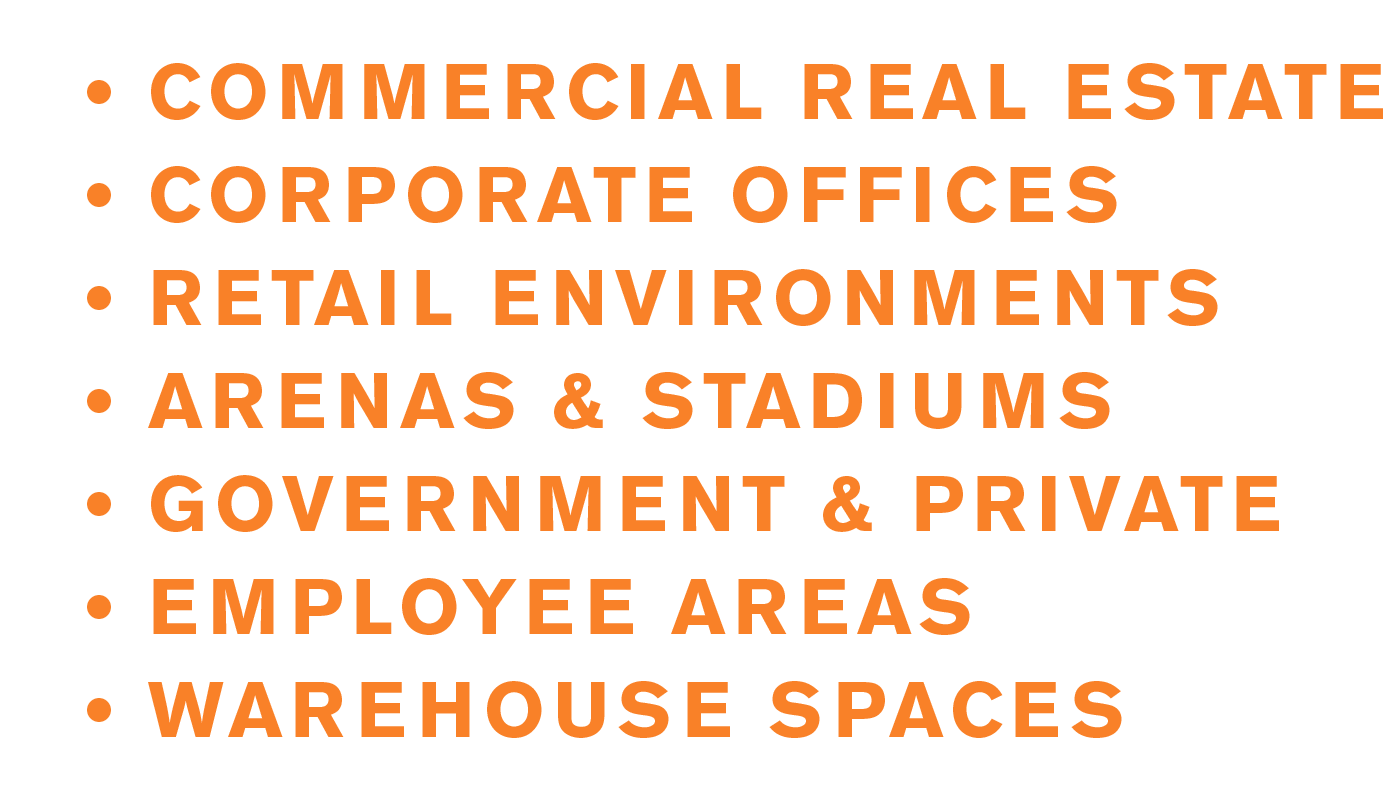 Board Rooms: Regis Corporation's board room includes a 'wow' factor with an art installation built of scissors.
Board Rooms: Detail: A close-up view of dozens of real scissors carefully placed and spaced.
Collaboration Areas: Frosted and cut vinyl adds just the right amount of privacy in Regis' collaboration spaces.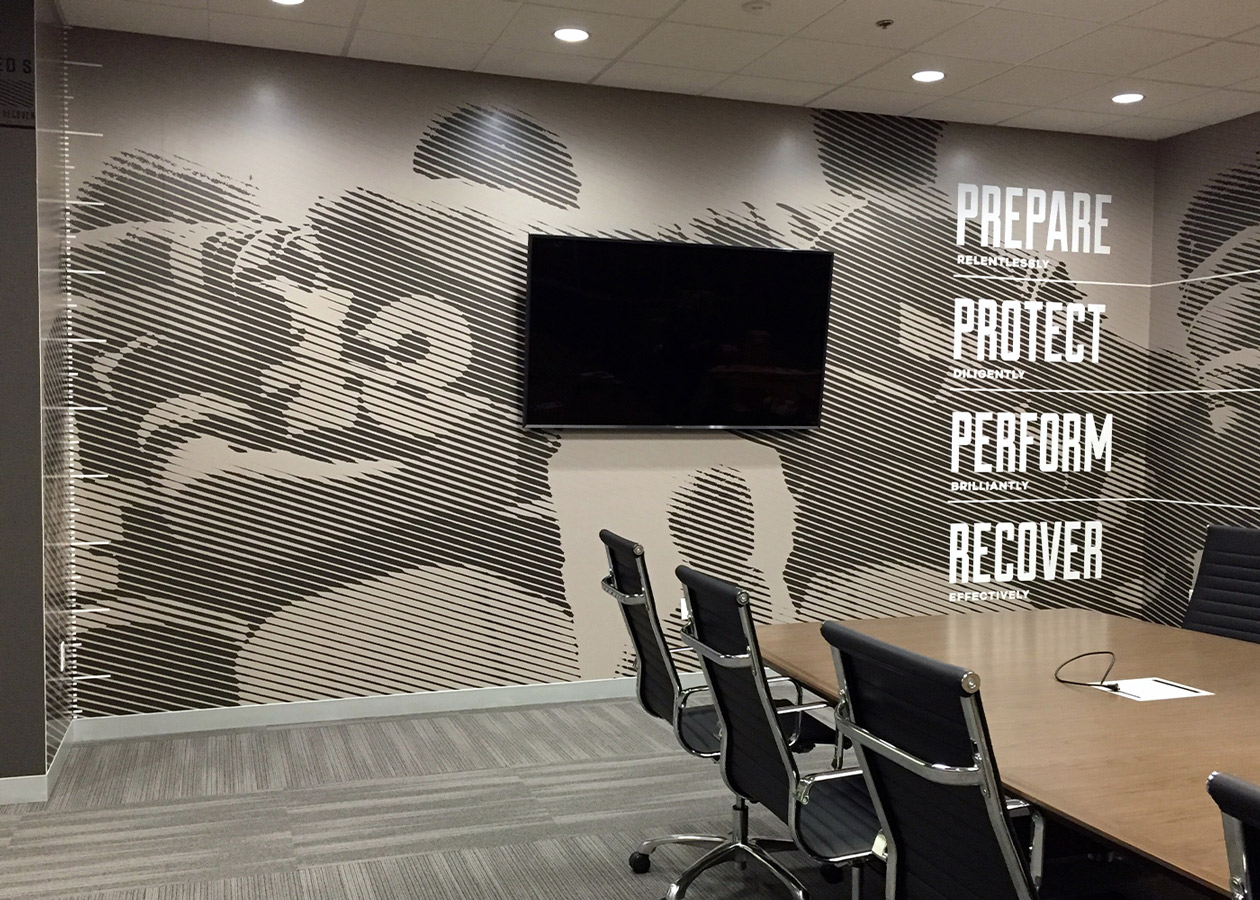 Board Rooms: Passionate brand and mission-based messaging decorate United Sports Brands' board room.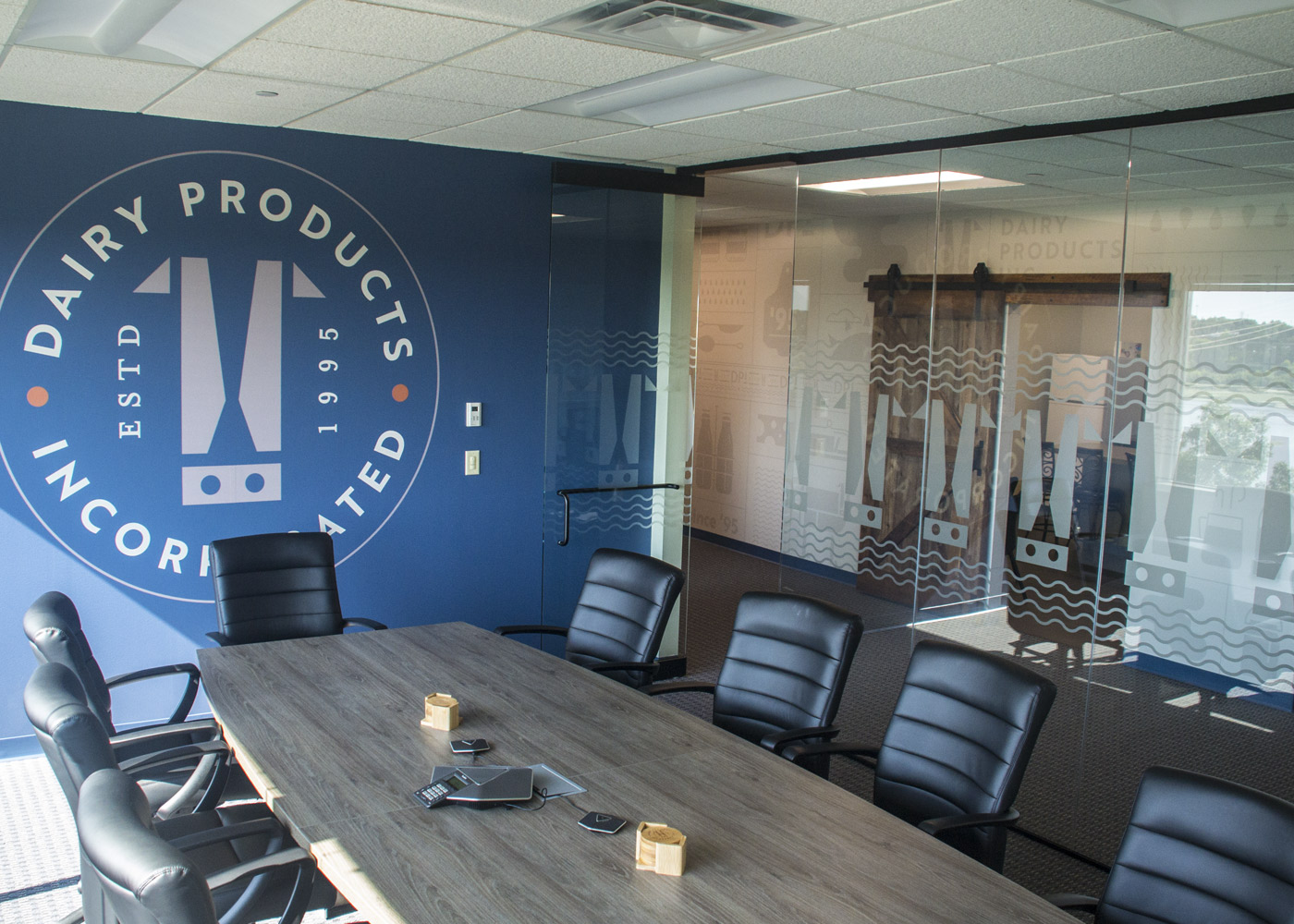 Board Rooms: Dairy Product Inc's board room graphics balance form and function, playfully and professionally.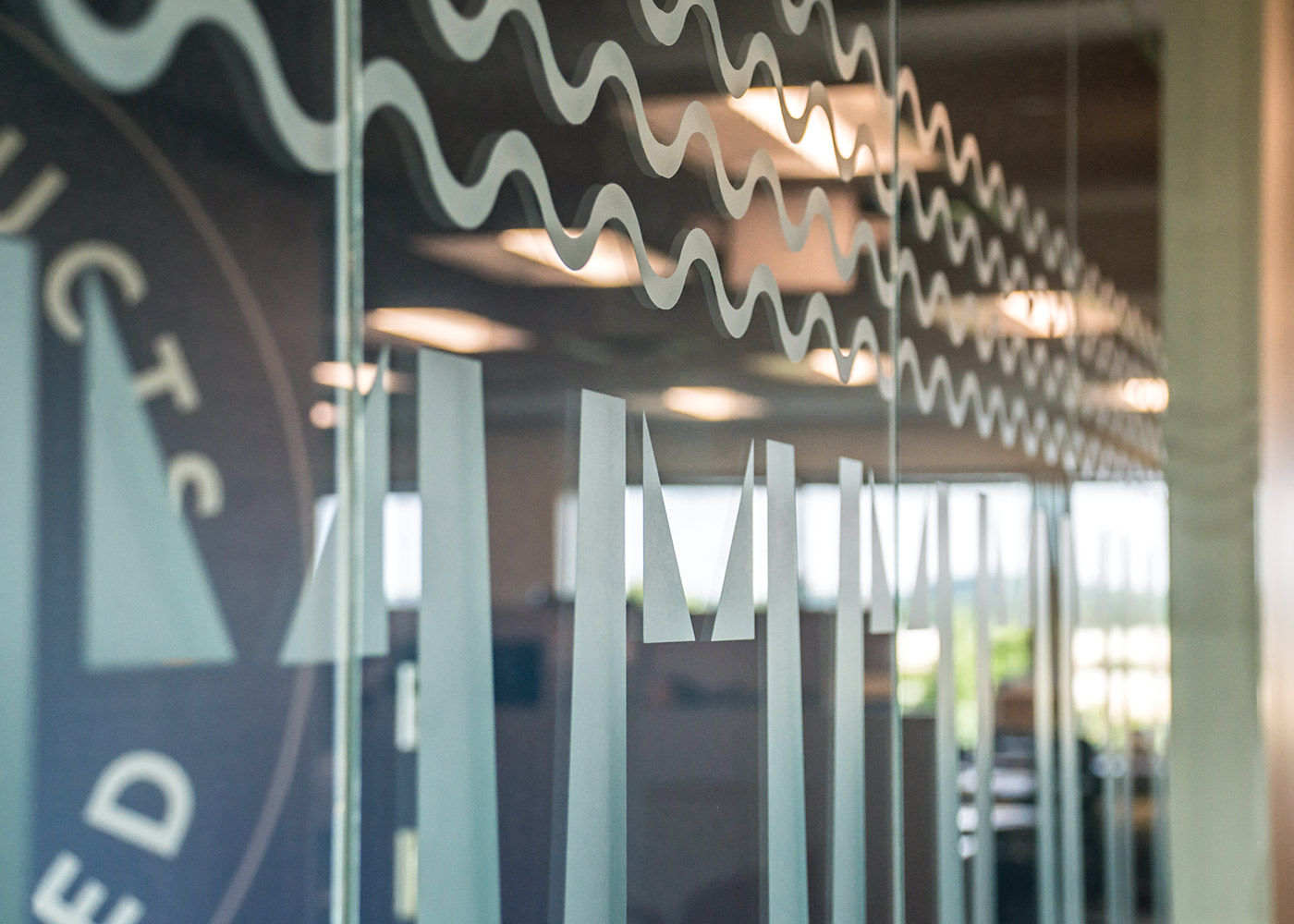 Board Rooms: Detail: Close-up of the frosted vinyl that adds a layer of semi-privacy.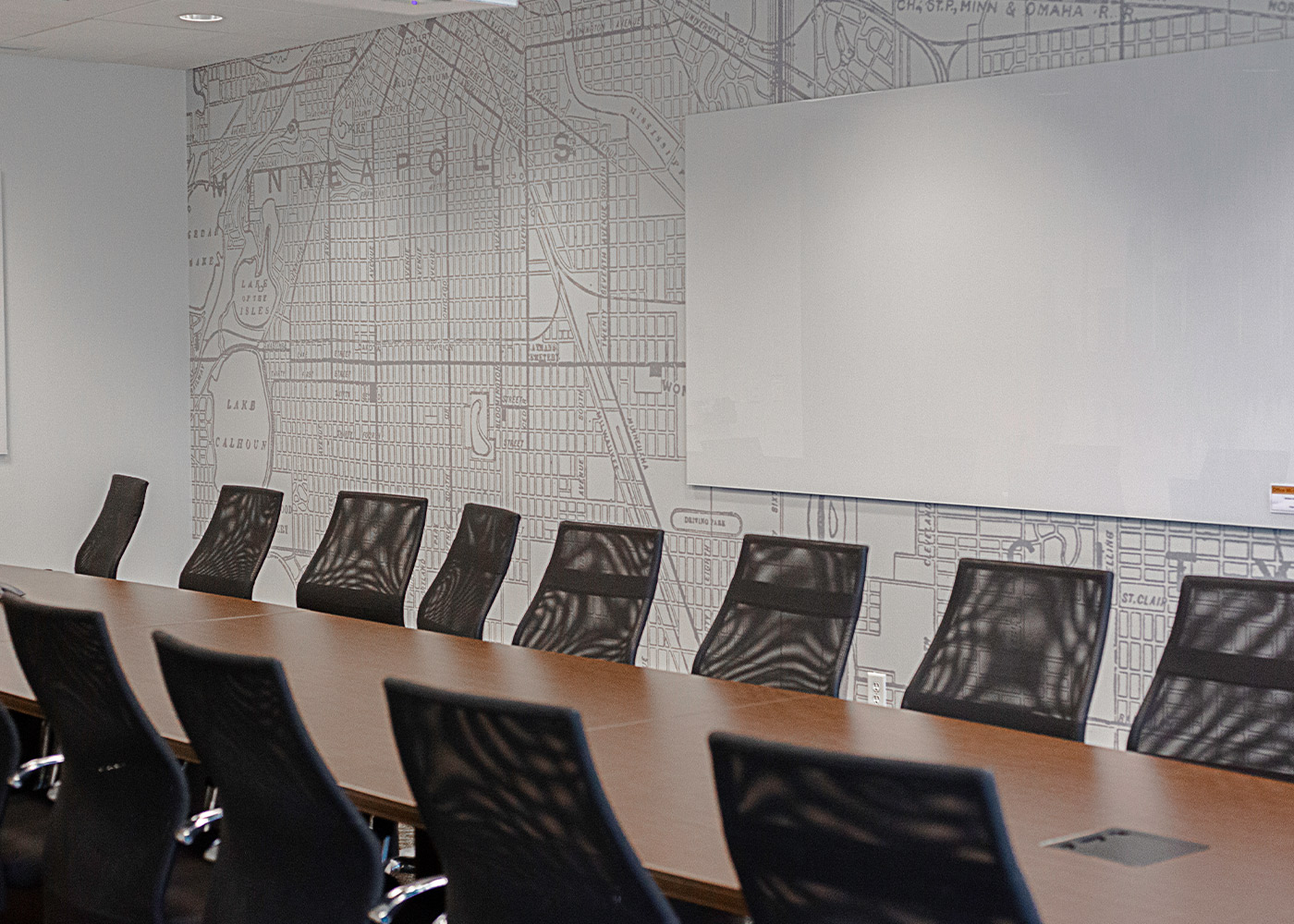 Board Rooms: Cresa's conference room statement wall is covered in a textural map of the area they serve.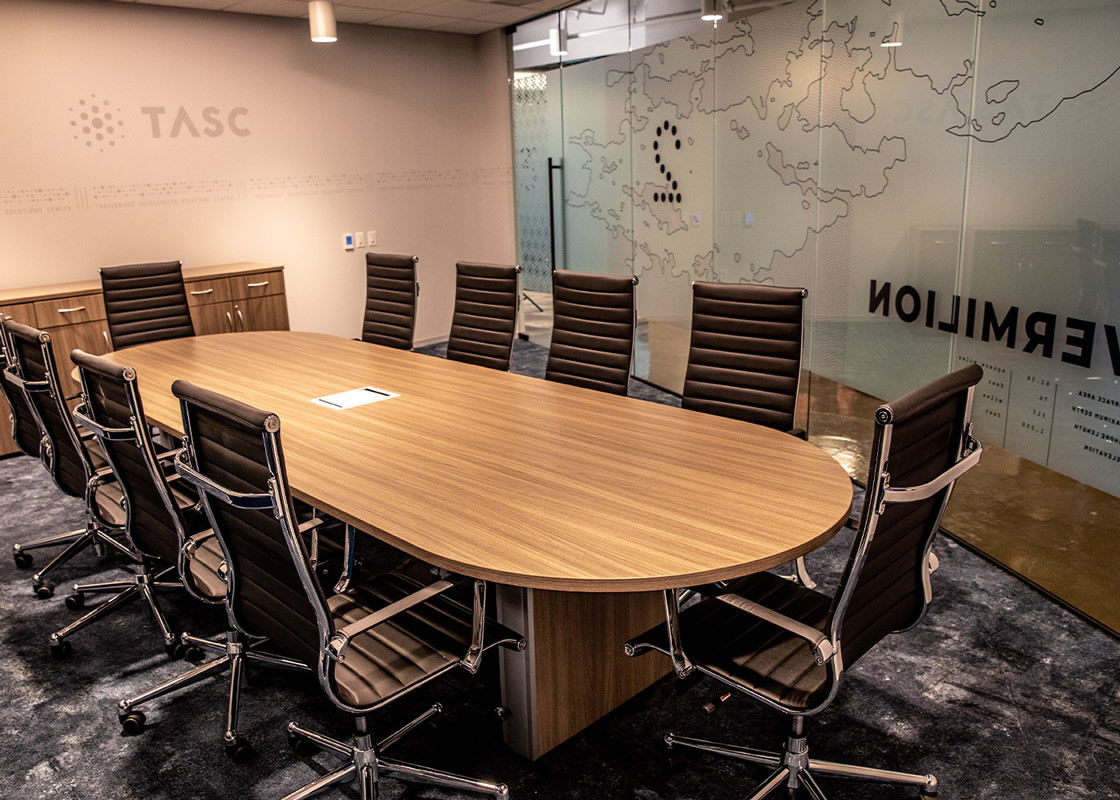 Collaboration Areas: TASC's inspiring and modern space is design for collaboration and inspiration.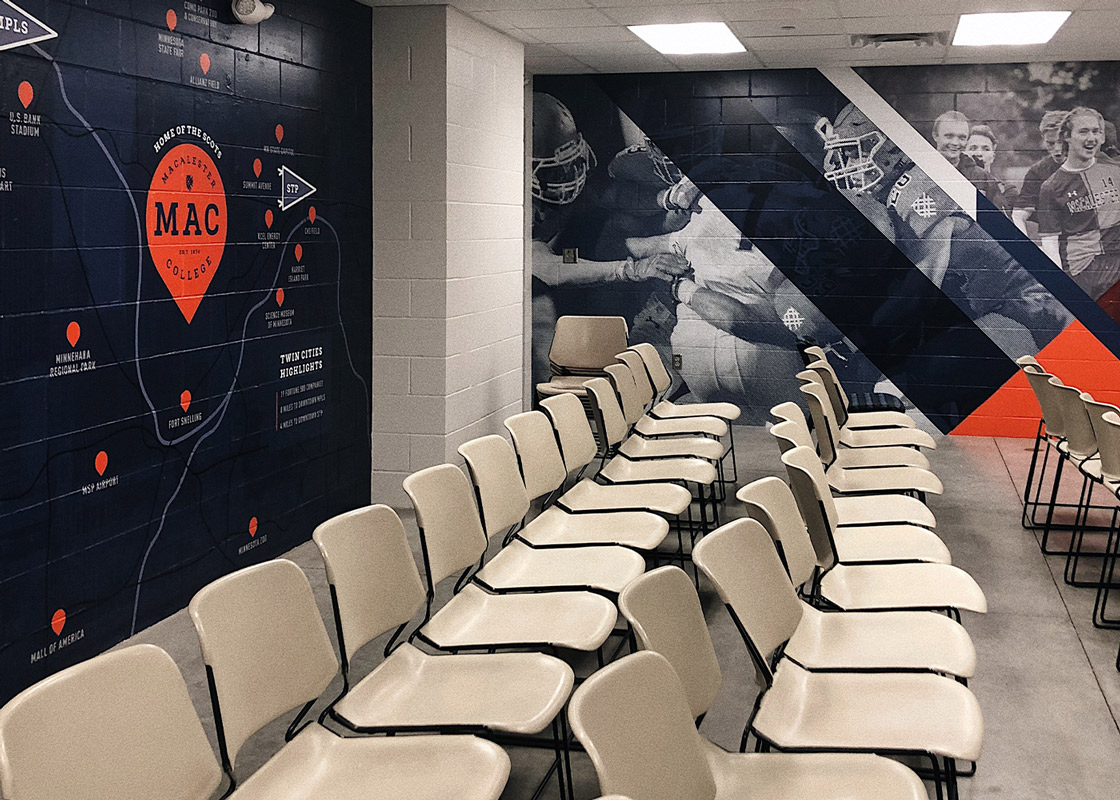 Collaboration Areas: Macalester College Athletics team room is a sure-fire space to inspire and pump up the team.
The positive response from our friends in the industry and our staff has been simply overwhelming!
Mark Welch, President Dairy Products Inc.
"
"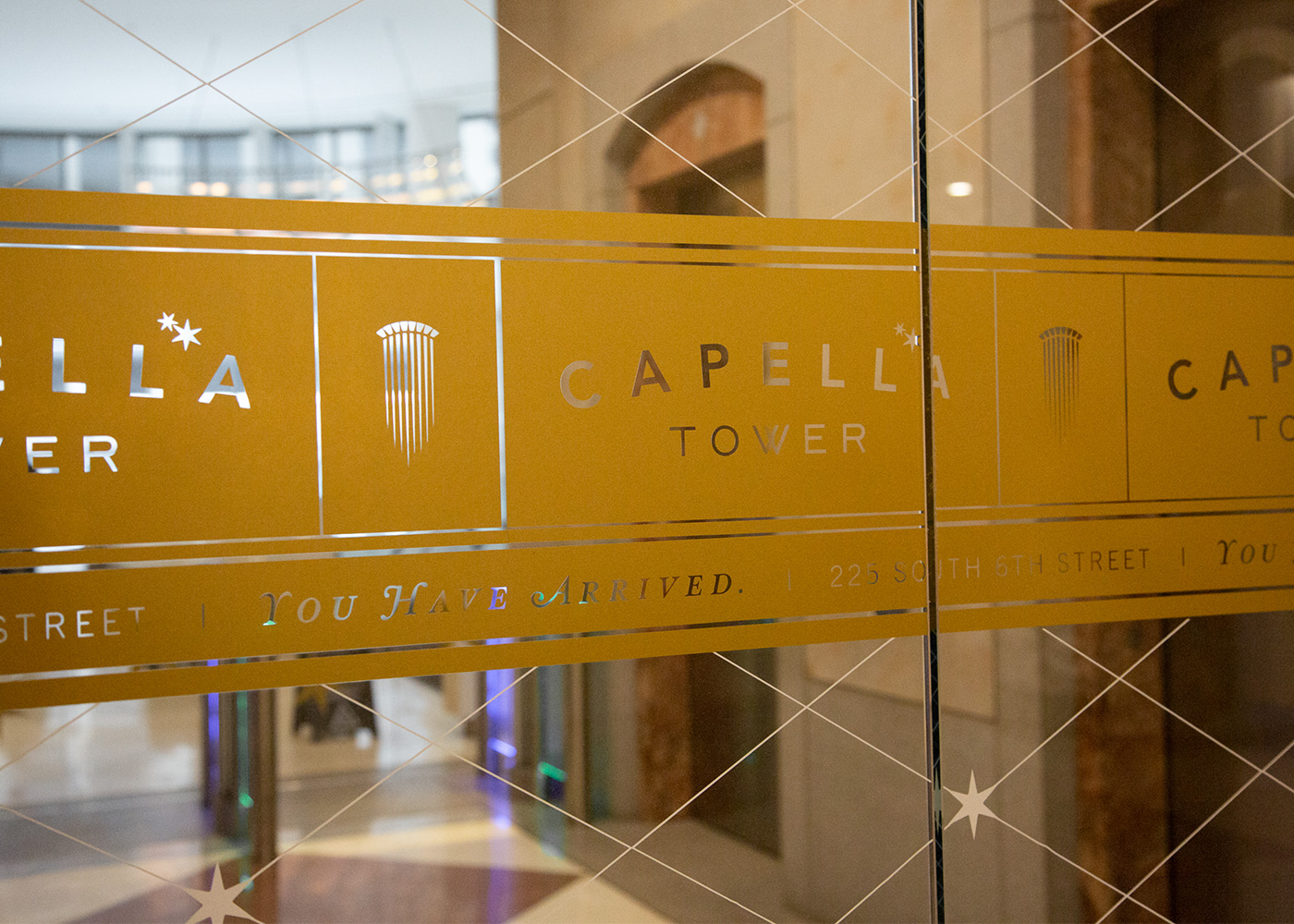 Crashlines / Privacy: Cut vinyl in gold and subtle pattern creates a sophisticated ambiance.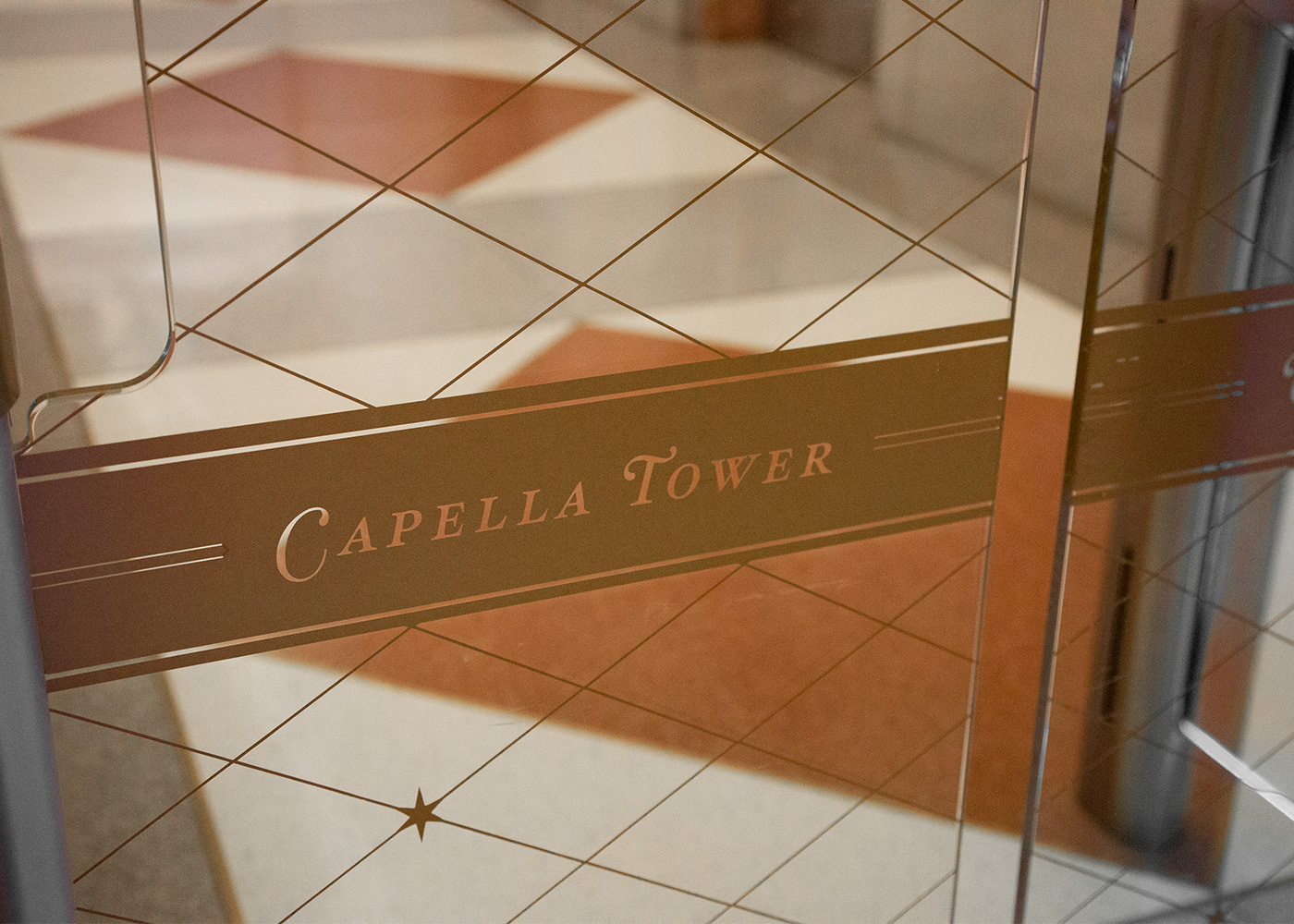 Crashlines / Privacy: Graphic covered security swinging turnstiles for easy recognition.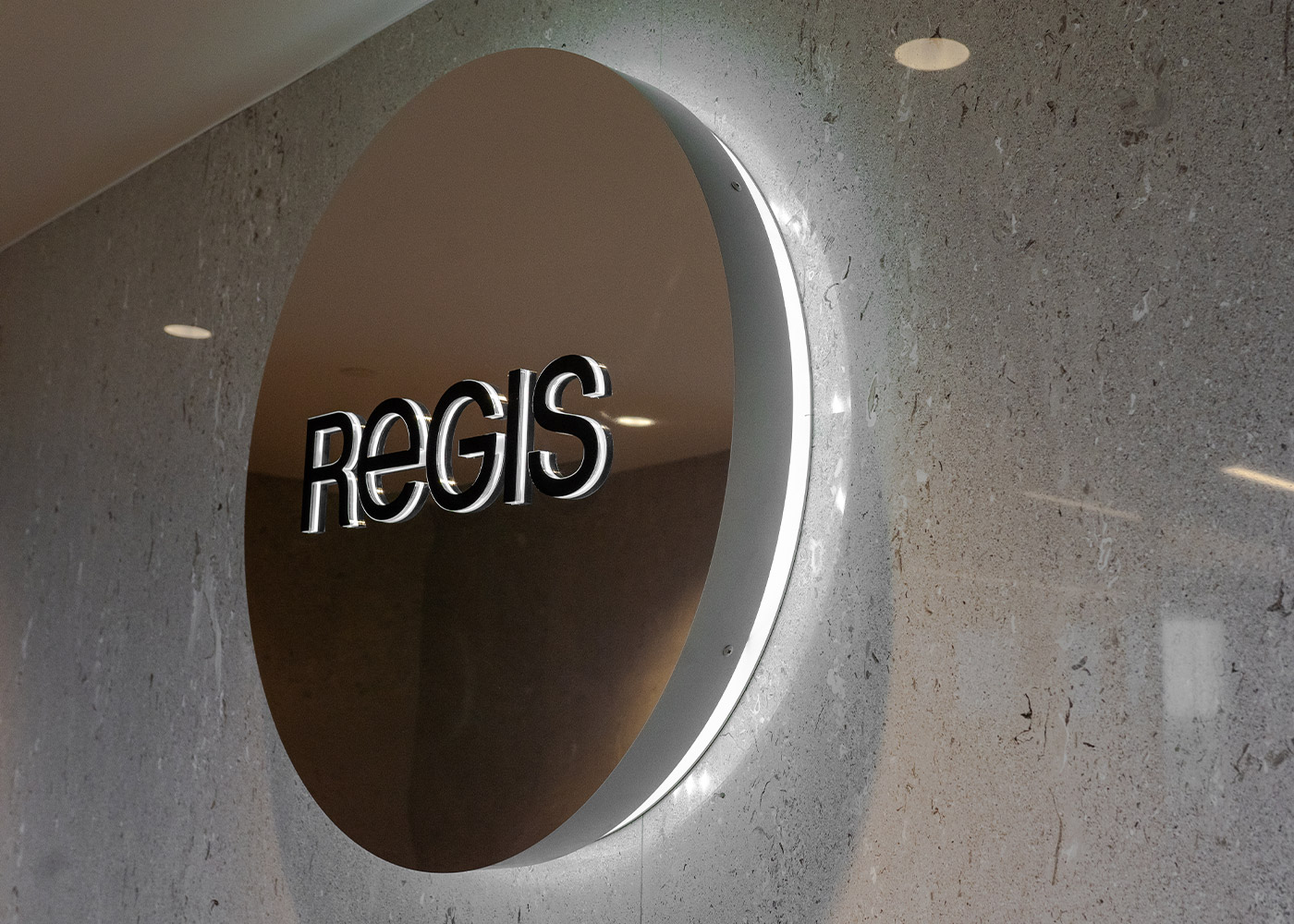 Dimensional: A thick chrome-painted back-lit metal sign with embossed lettering is a showstopping welcome.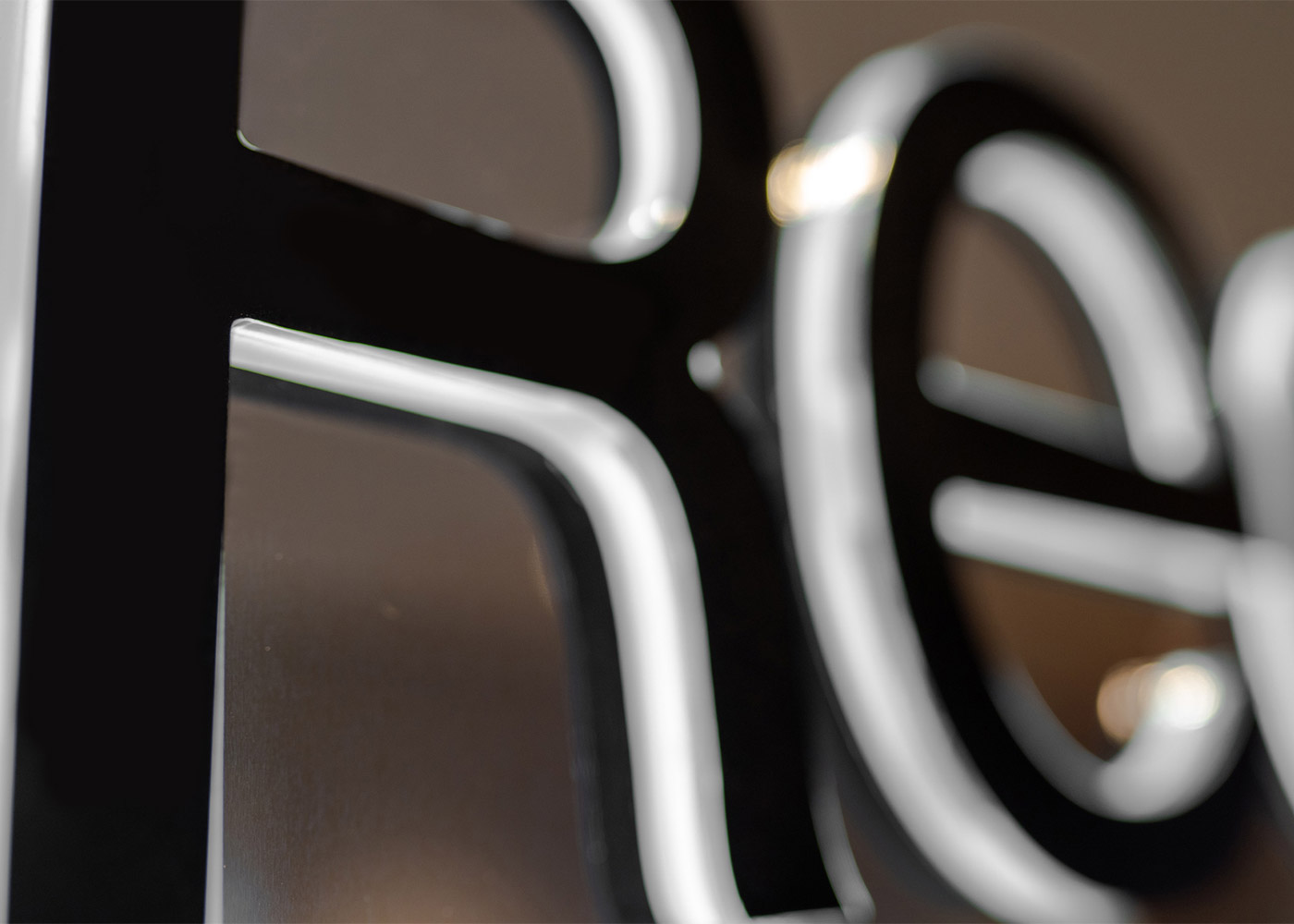 Dimensional: LED lighted side letters create an elegant and modern contrast between the metal and logo.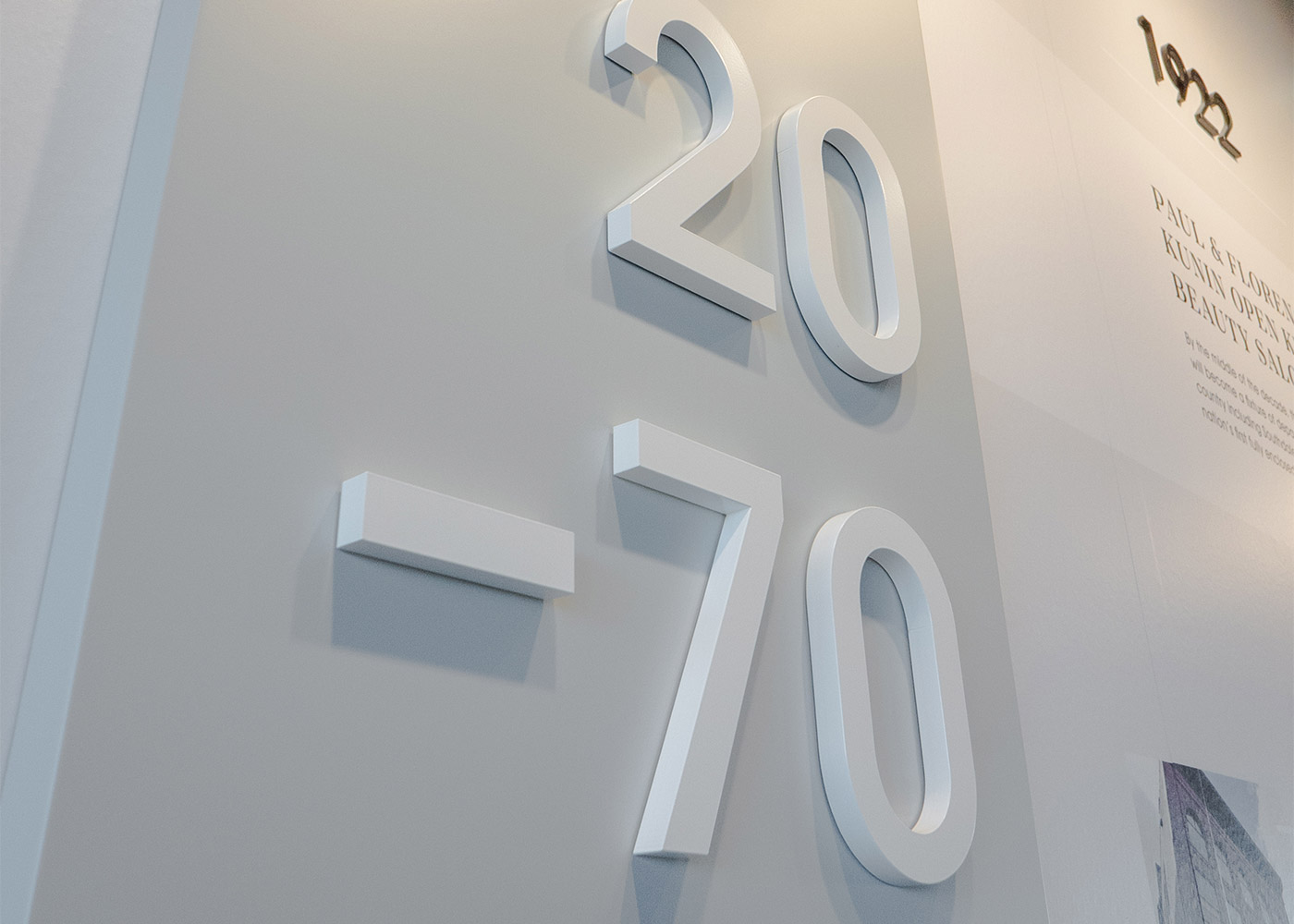 Dimensional: Tone-on-tone dimensional white acrylic on a 1" substrate attached to a timeline wall equals elegance.
Dimensional: Multiple levels and multiple colors establish hierarchy and create a full-on textural brand wall.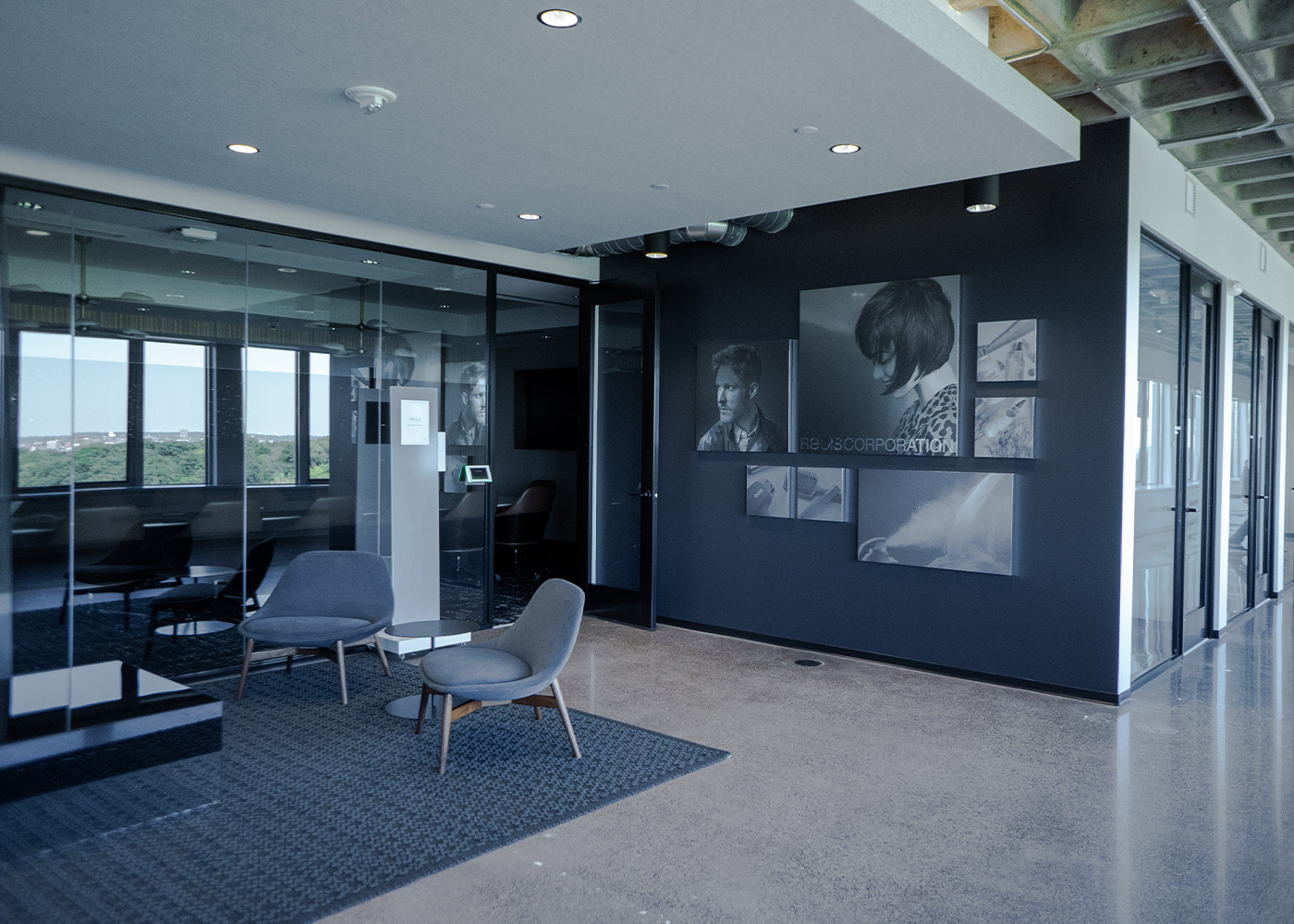 Updatable: 1" thick direct-printed metal provides a flexible, interchangeable, updatable signage solution.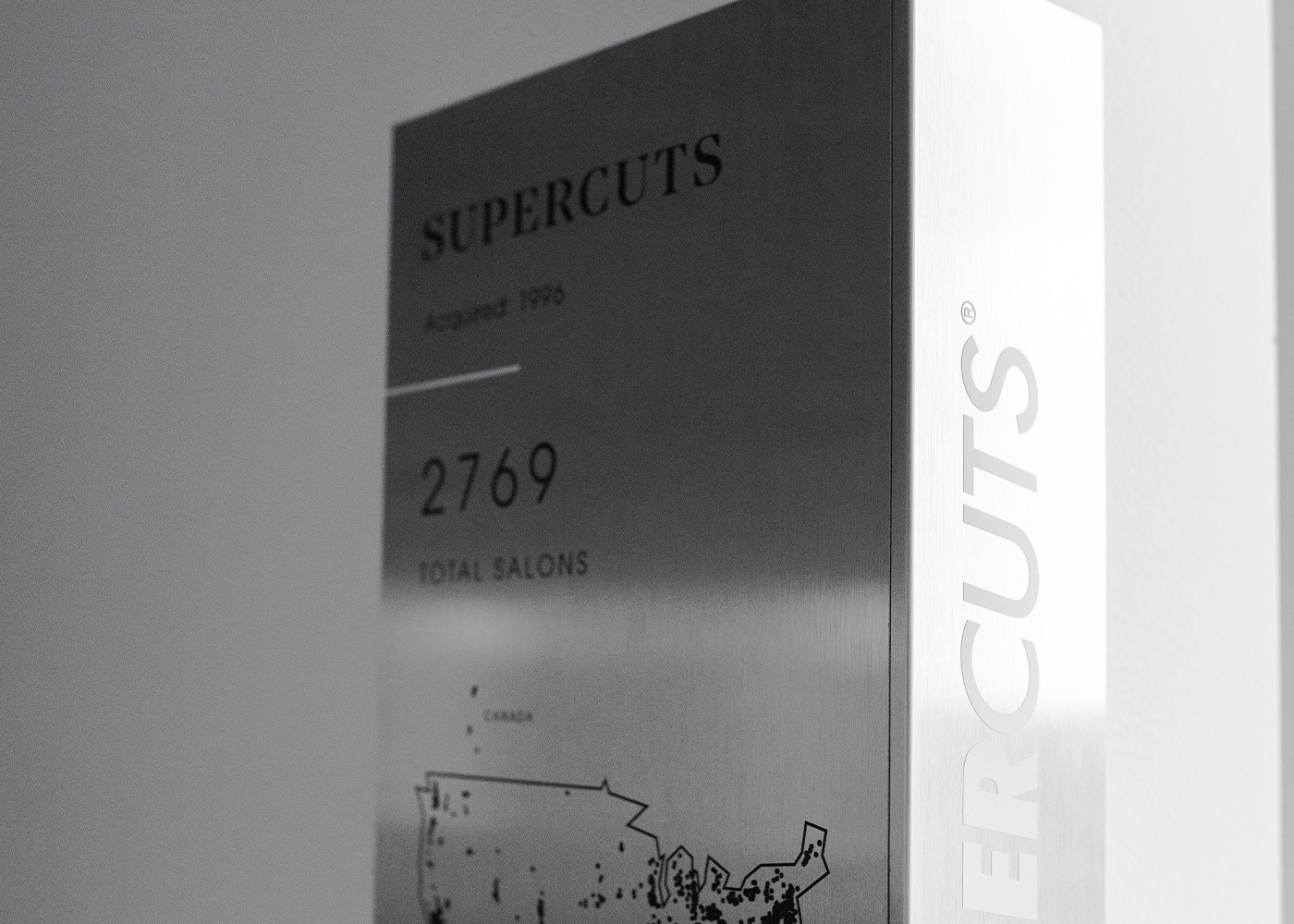 Updatable: Brushed metal attached to the wall corners with magnets makes updating signs easy.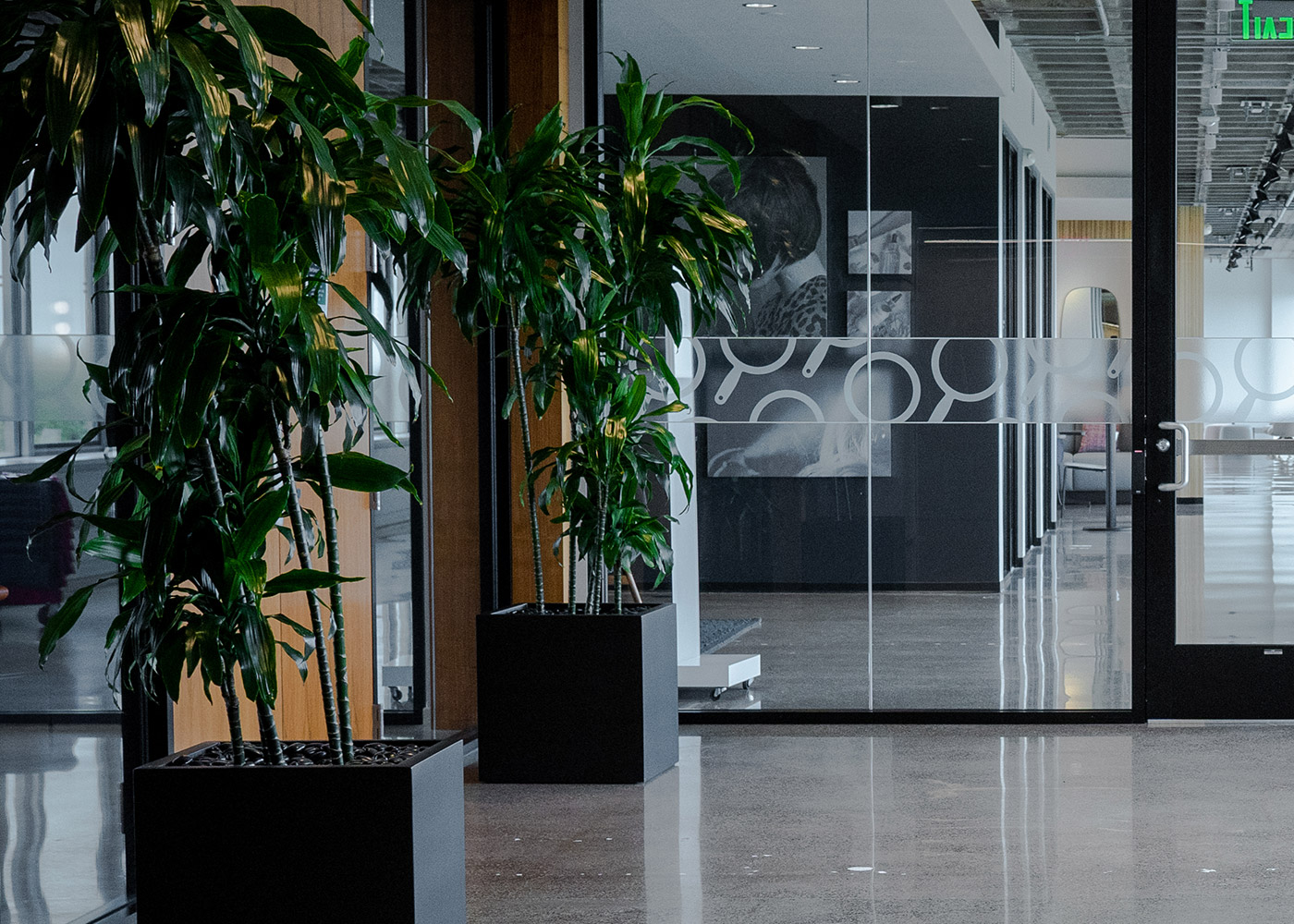 Crashlines / Privacy: Printed and low opacity vinyl showcases glass while adding supportive brand elements.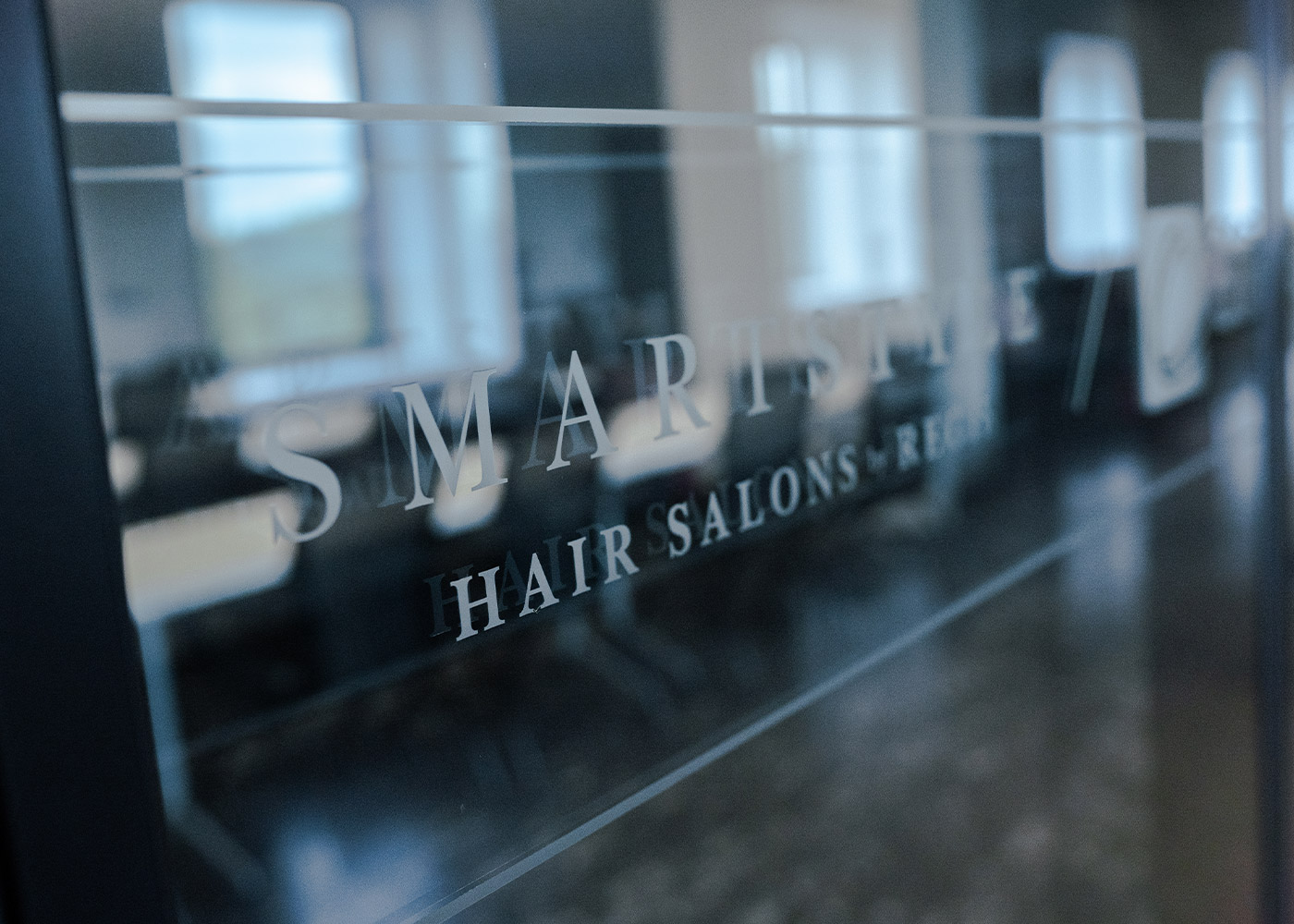 Crashlines / Privacy: Detail: Close-up of the finely cut detailed frosted vinyl on glass.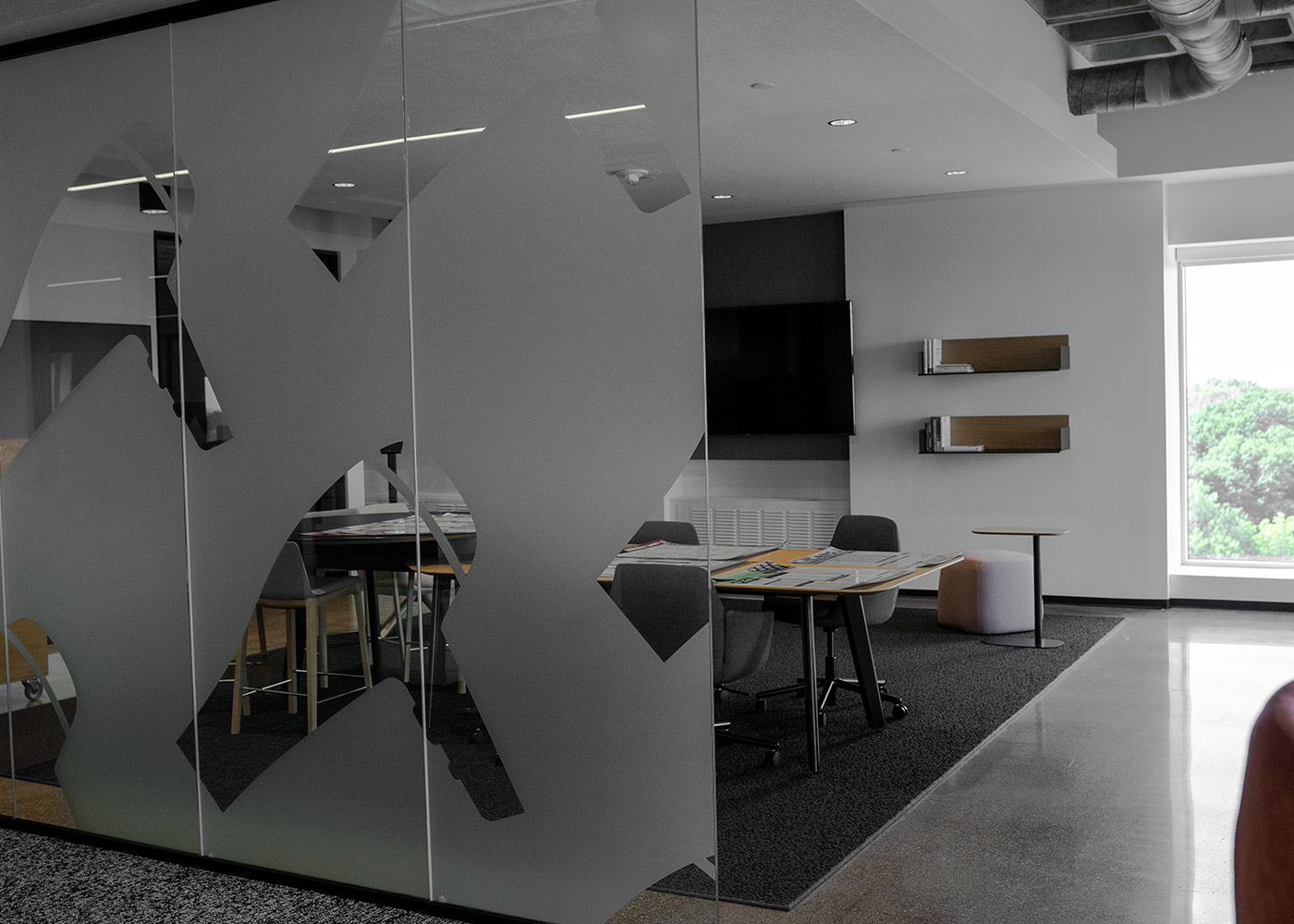 Crashlines / Privacy: Cut frosted vinyl separates team meeting areas while staying open and collaborative.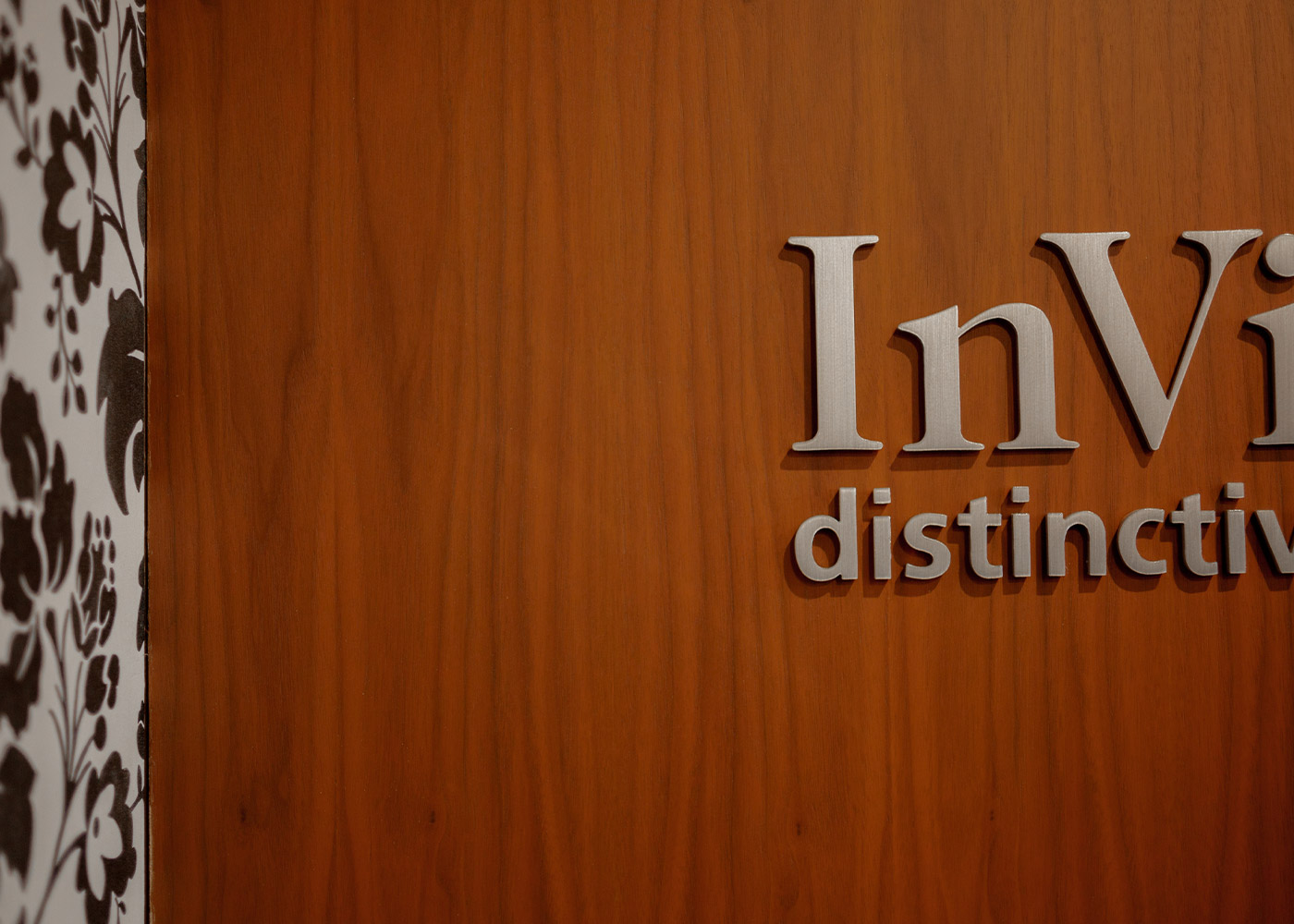 Dimensional: Simple brushed metal letters attached flush to the wall adds a sophisticated dimensional decor piece.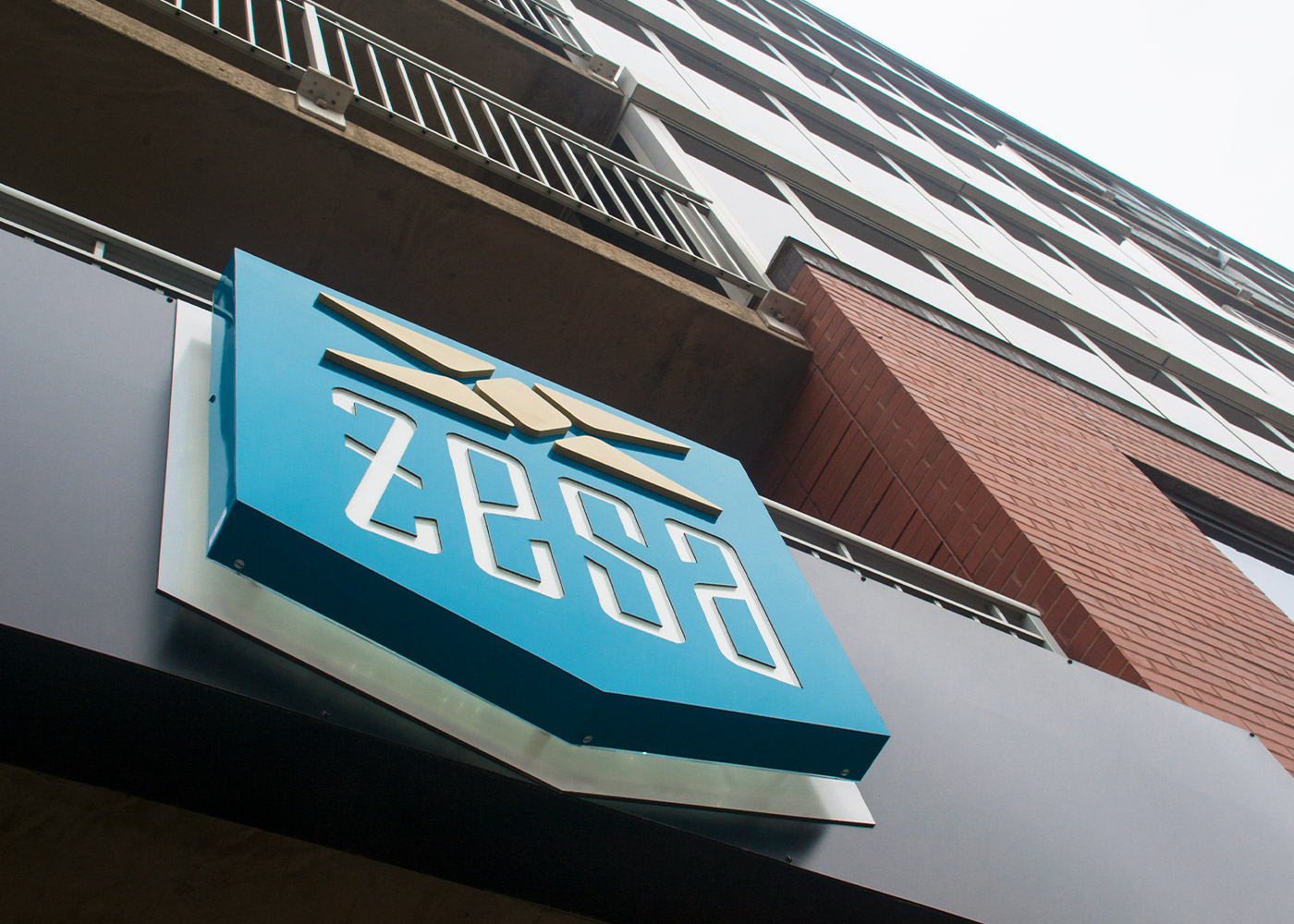 Dimensional: Back-lighted debossed outdoor signage with a dimensional add on creates a multi-level brand statement.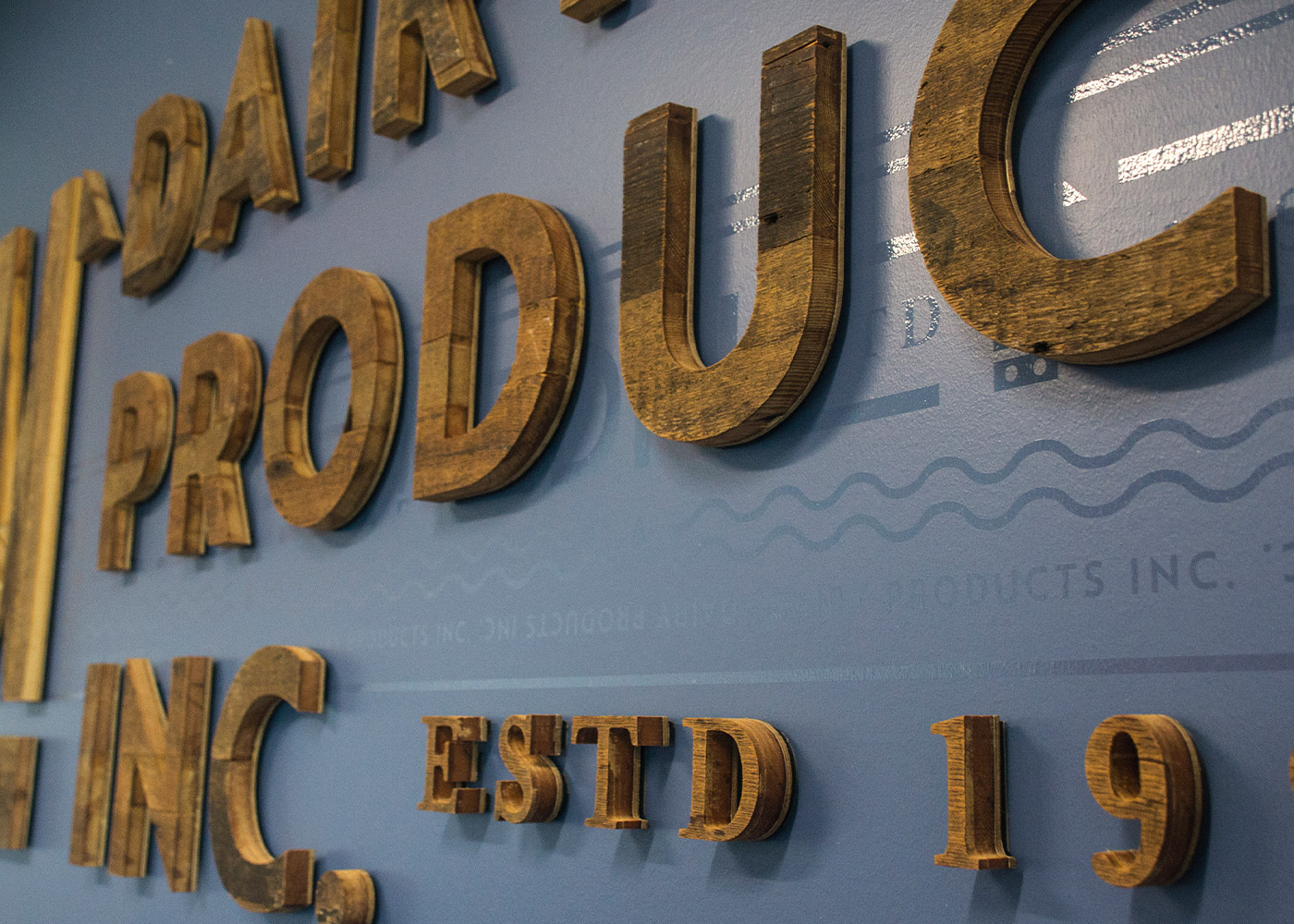 Dimensional: Hand-made barn wood letters create a custom 1" thick dimensional logo.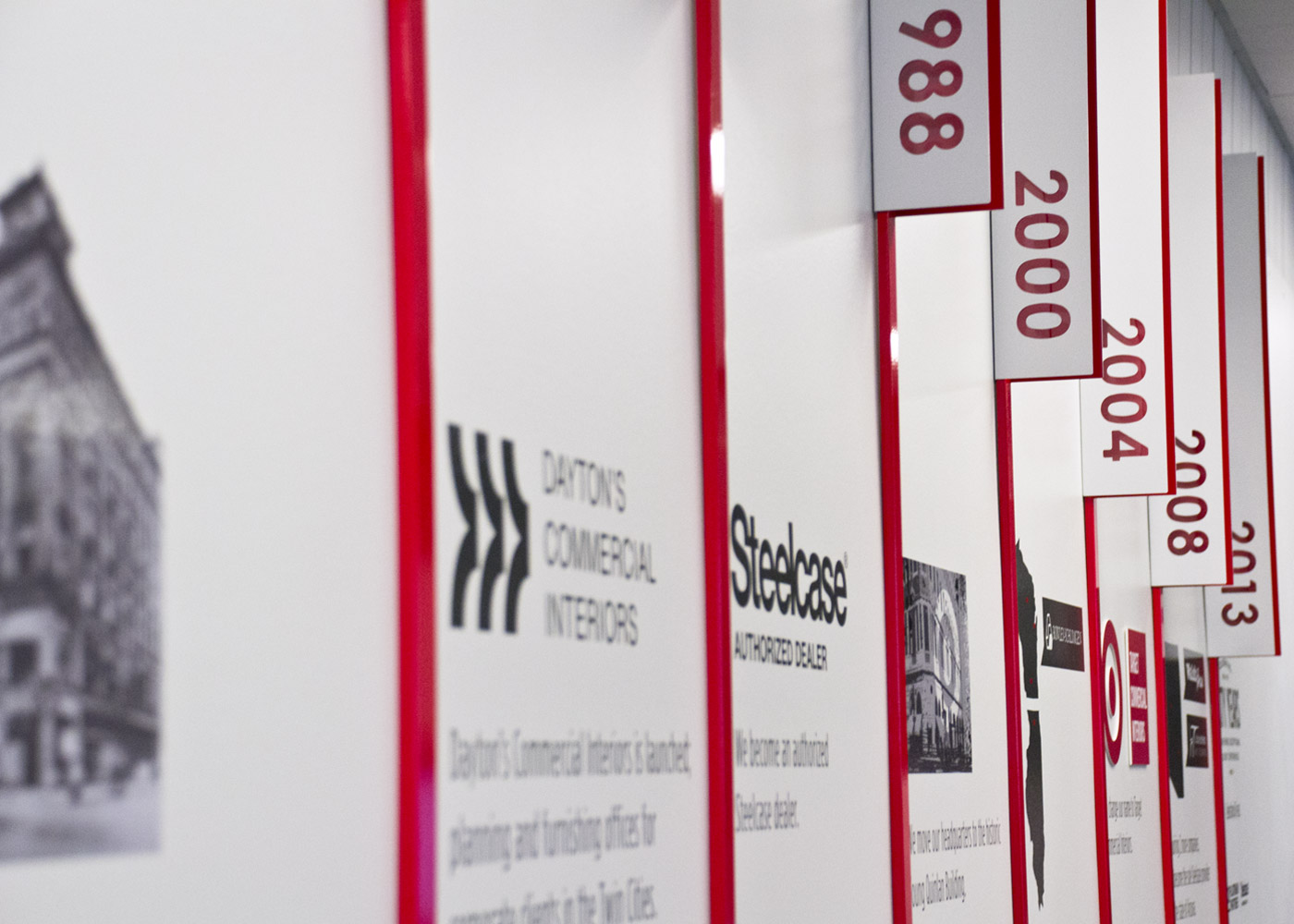 Dimensional: Printed acrylic substrate panels attached to a wall with dimensional slide in's build a timeline wall.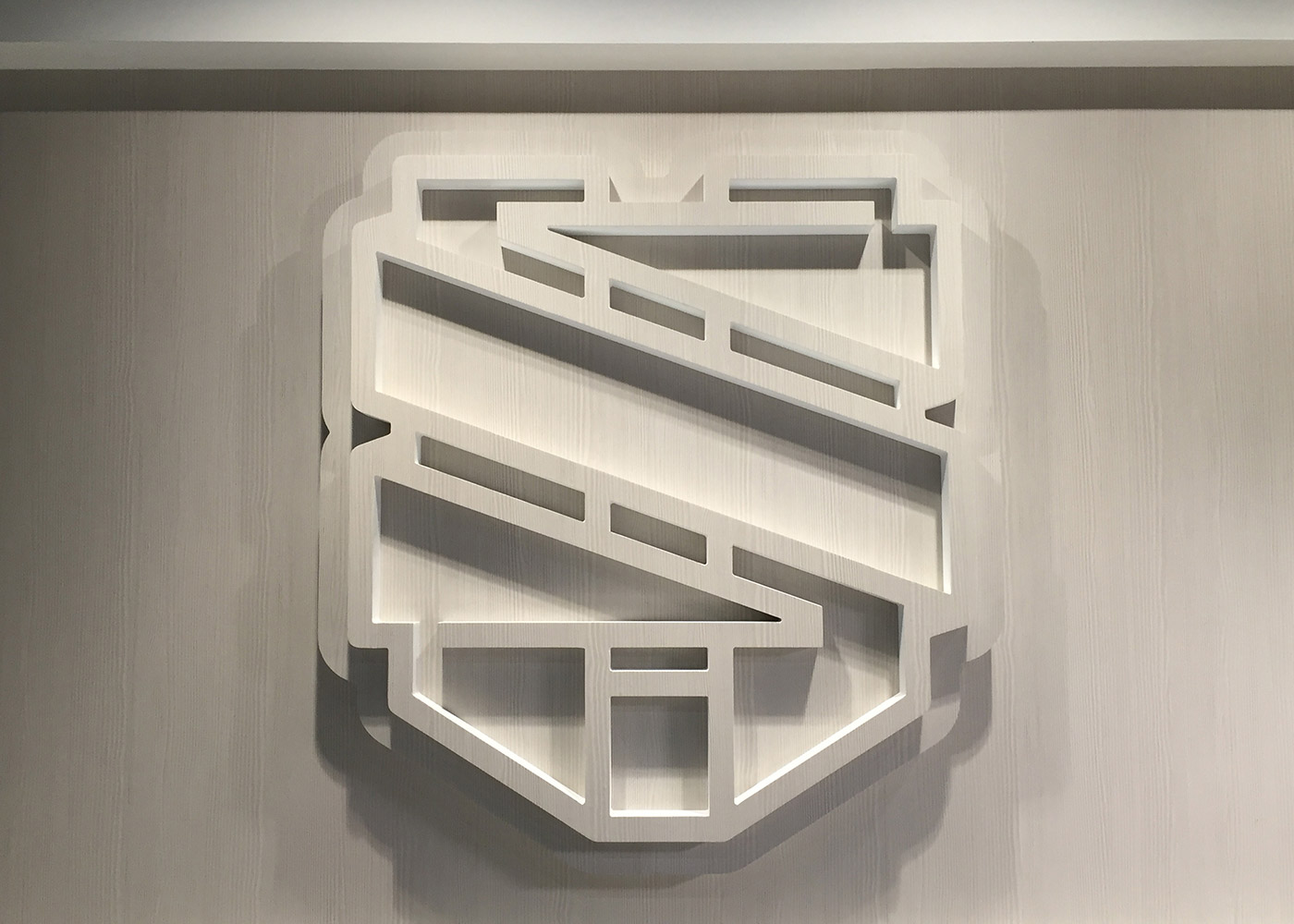 Dimensional: A multi-dimensional custom logo wrapped in a wood-textured substrate creates impact - efficiently.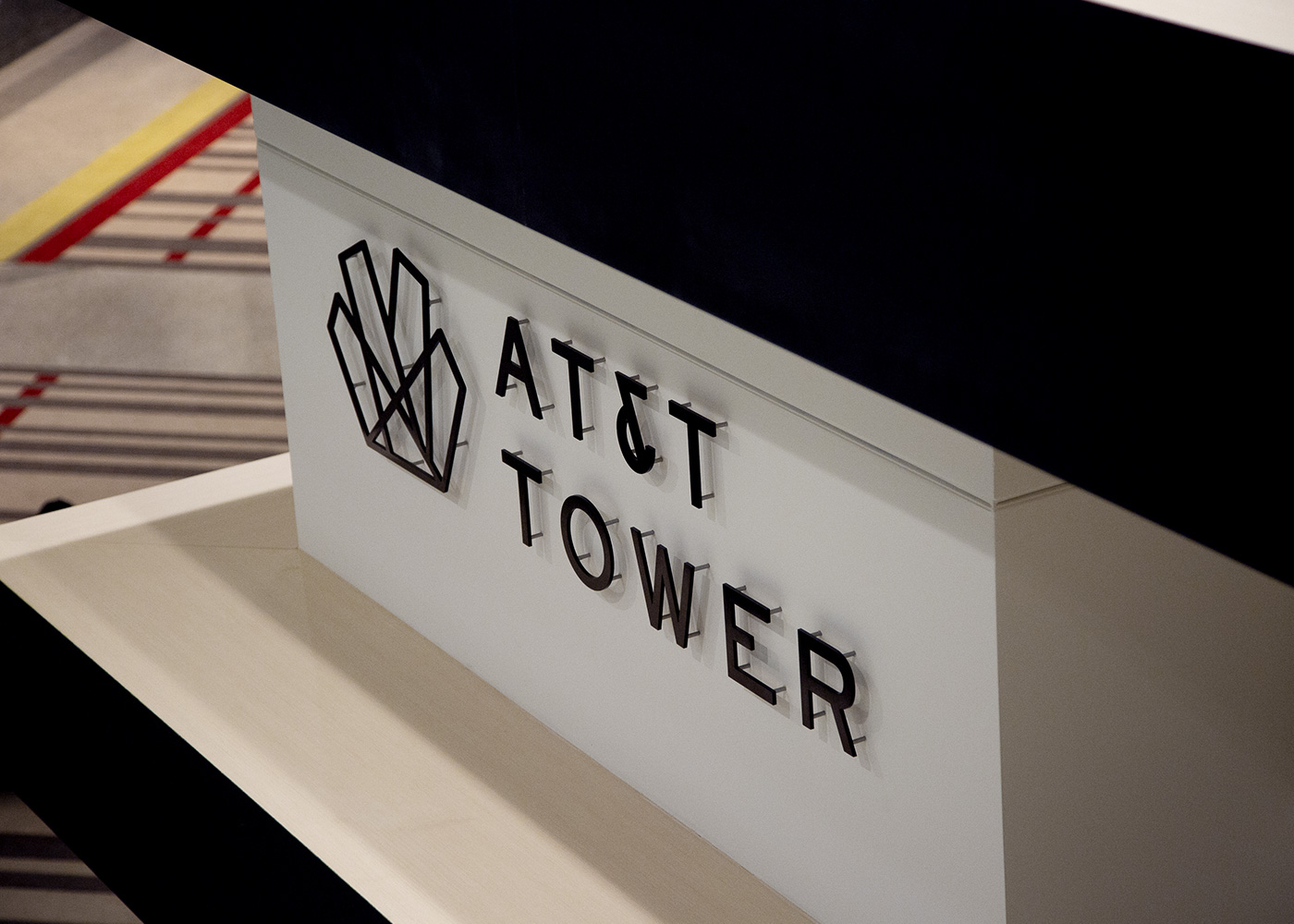 Dimensional: Painted metal logo pinned out from the wall surface creates shadows and dimension from a distance.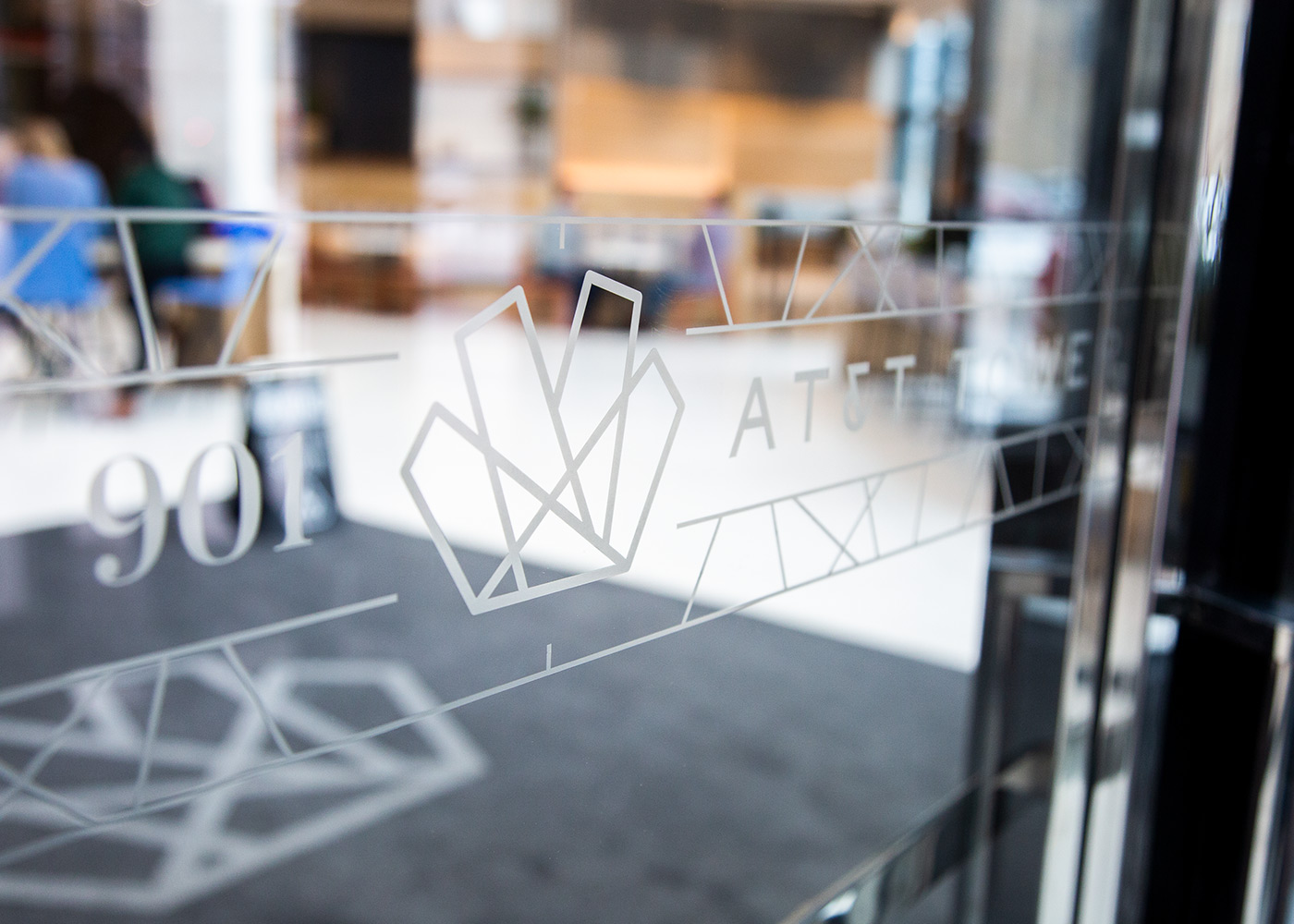 Crashlines / Privacy: Cut frosted vinyl create an elegant crashline to glass walls and doors.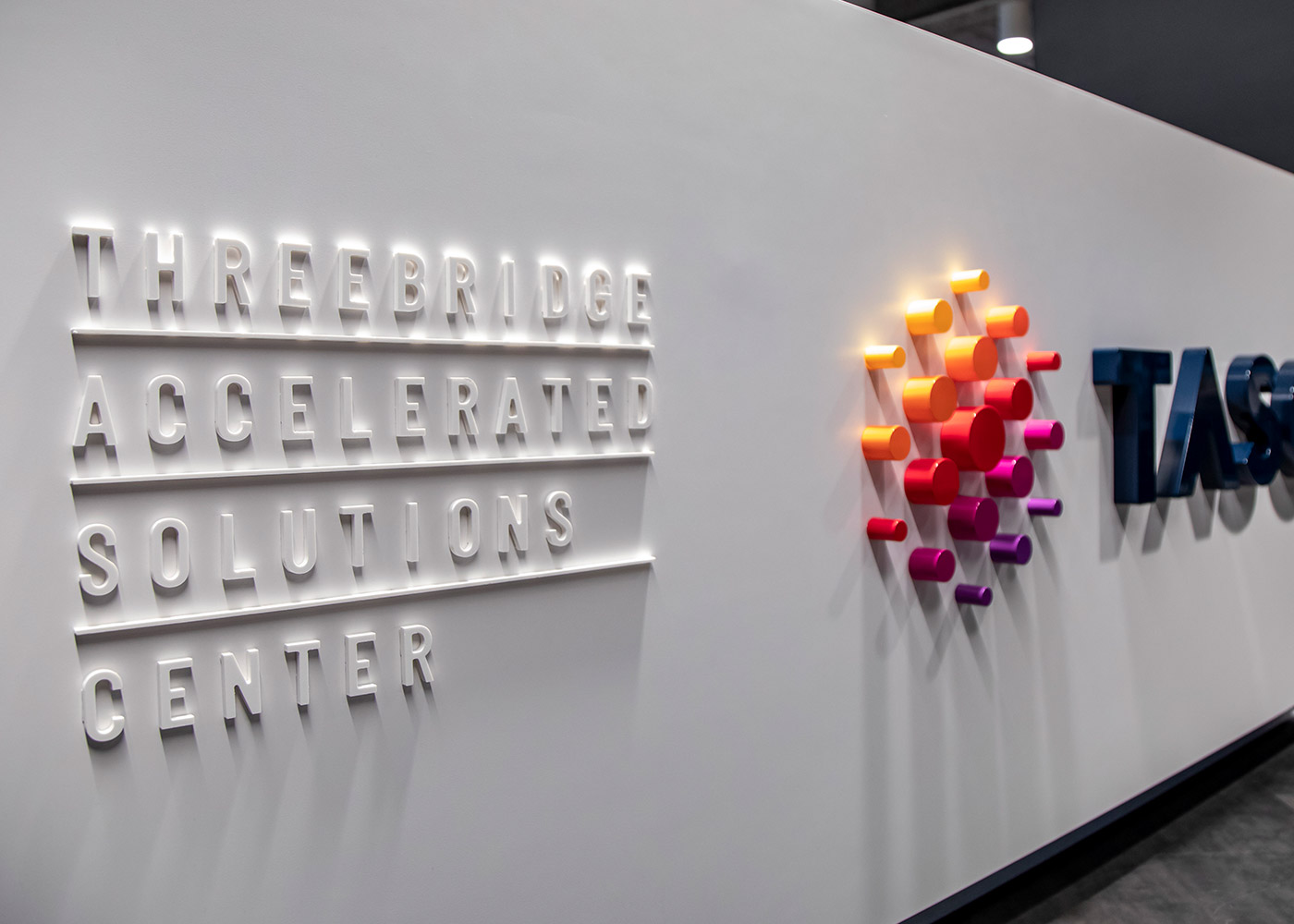 Dimensional: The mixture of tone-on-tone with vibrant colored acrylic in multi-dimensions is a modern look.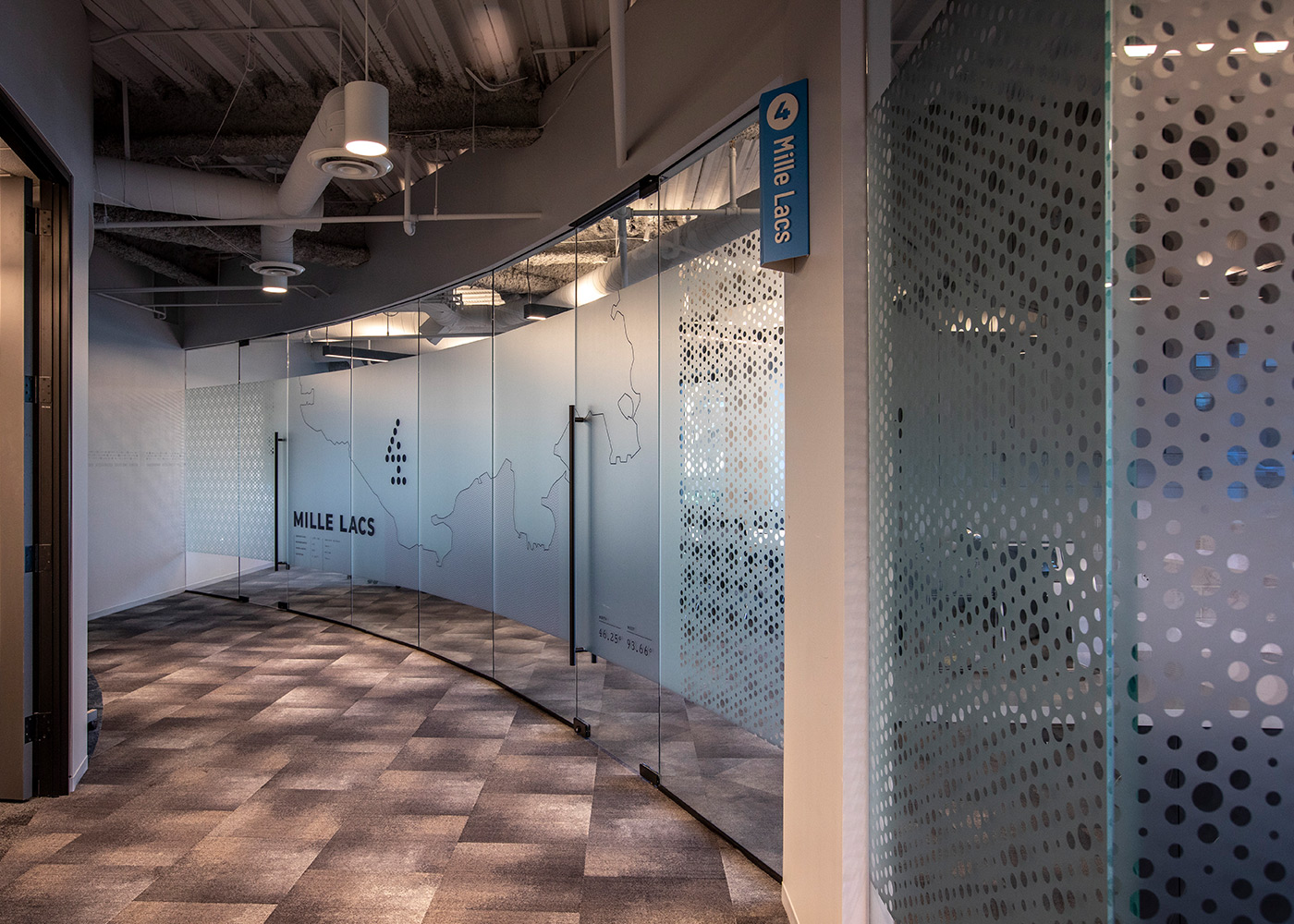 Crashlines / Privacy: Printed and cut frosted vinyl provide full or semi-privacy depending on space requirements.
Crashlines / Privacy: Flooded vinyl with minimal opacity creates a sense of place while avoiding distractions.
Types of Materials
Signs can be executed in an endless manner and are entirely based on your objectives, your budget, and your space. We have experience making incredible transformations with a limited budget, and impactful, never-been-done custom brand installations. From reclaimed barn wood, acrylic, vinyl, printed metal, and fabric, we utilize the architecture, space, and your goals to efficiently and successfully brand the space to express the culture and personality of your business. The environment is an extension of you and yours.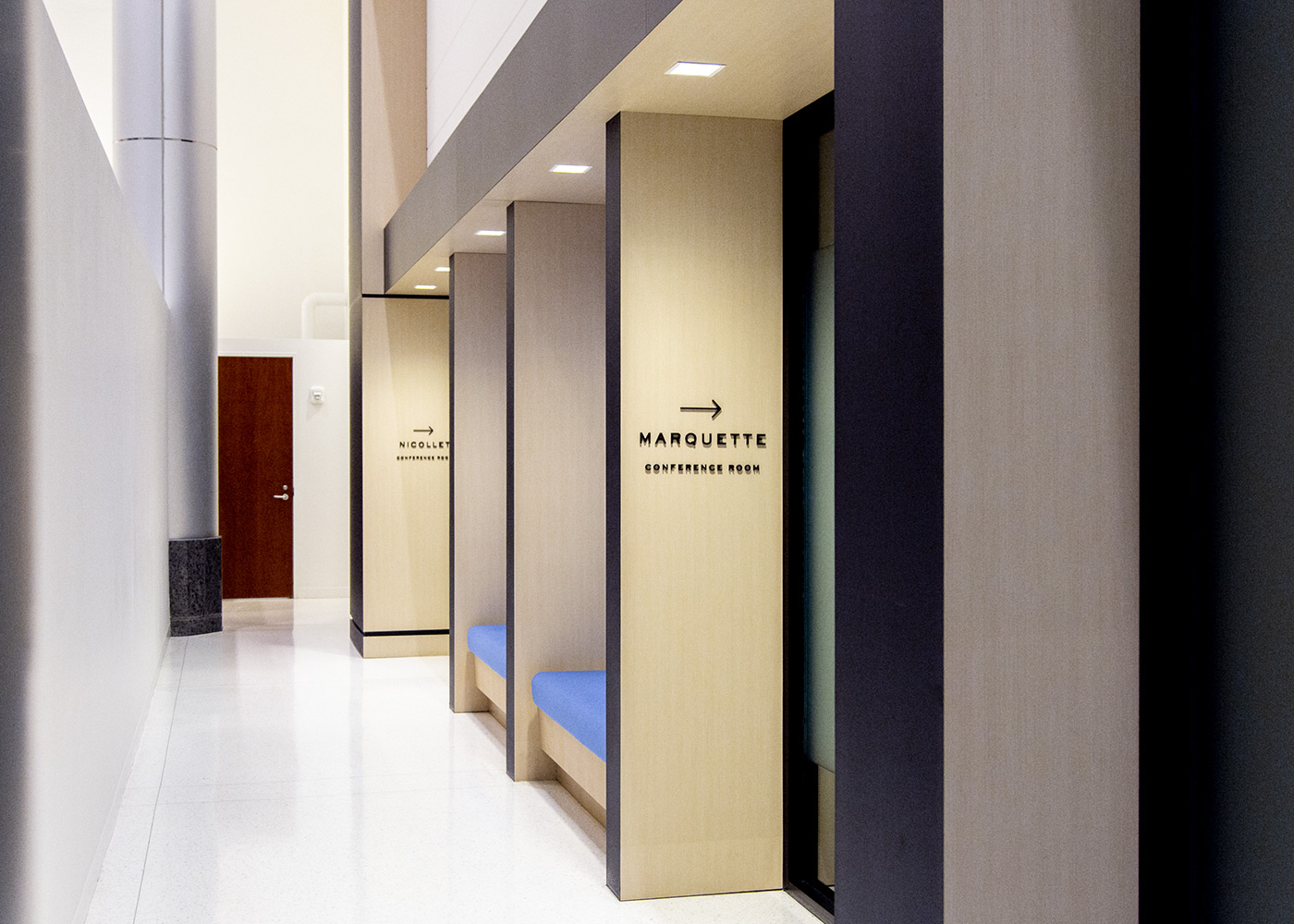 Wayfinding: Black dimensional acrylic is a modern and clean aesthetic.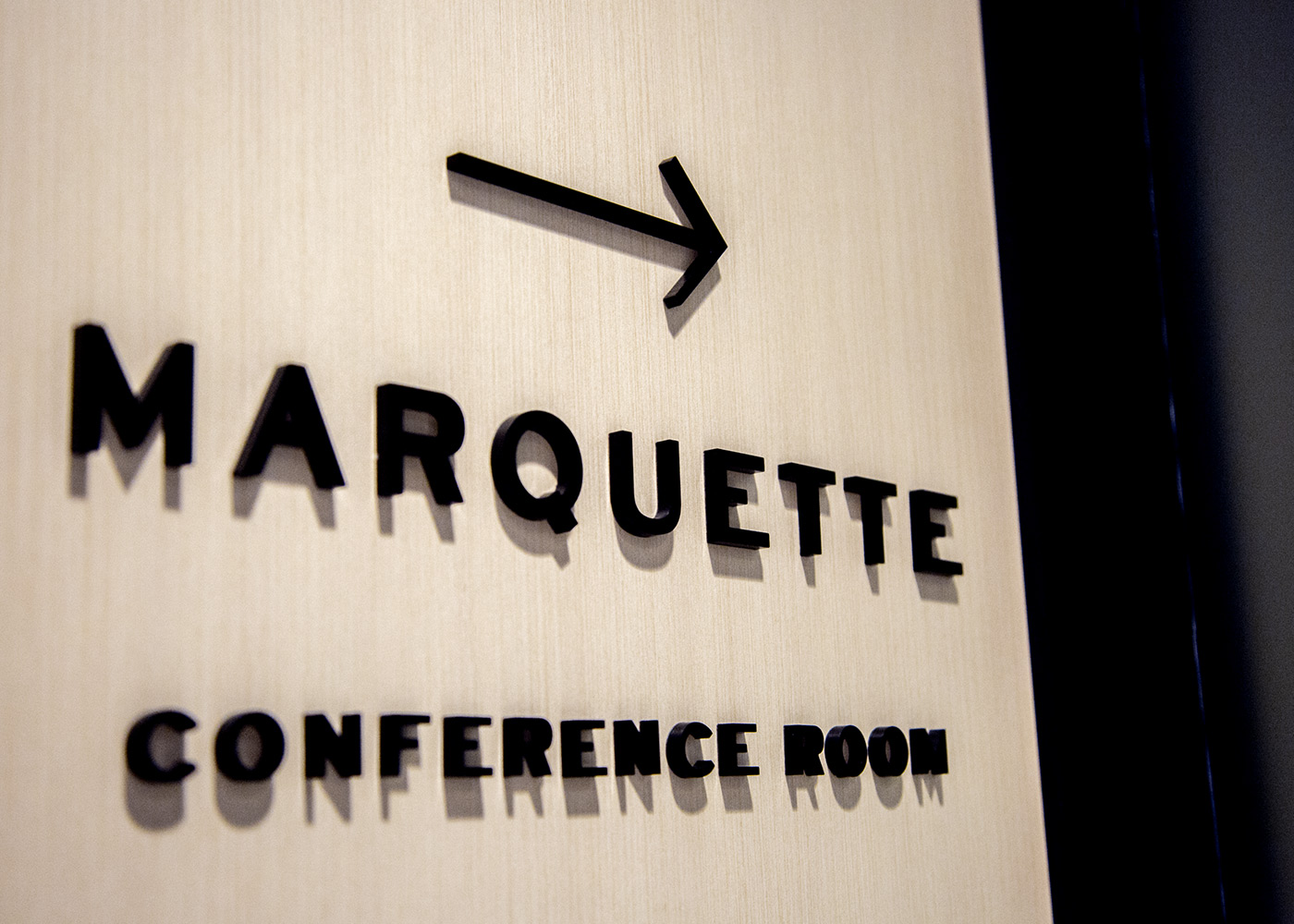 Wayfinding: Wayfinding signs flush-mounted and lighted for dramatic shadows.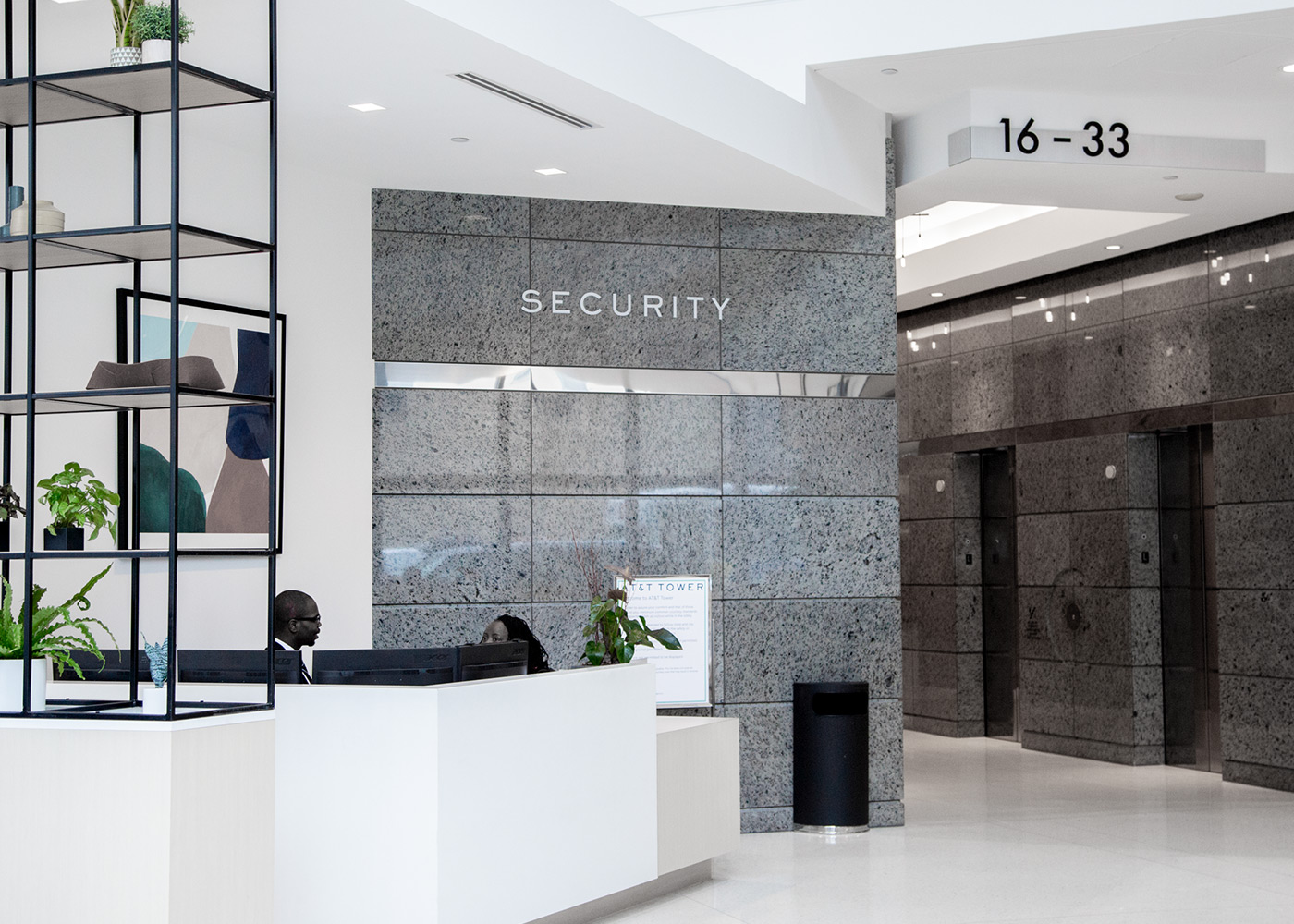 Wayfinding: Flush mounted brushed metal and black acrylic is wayfinding in the simplest form.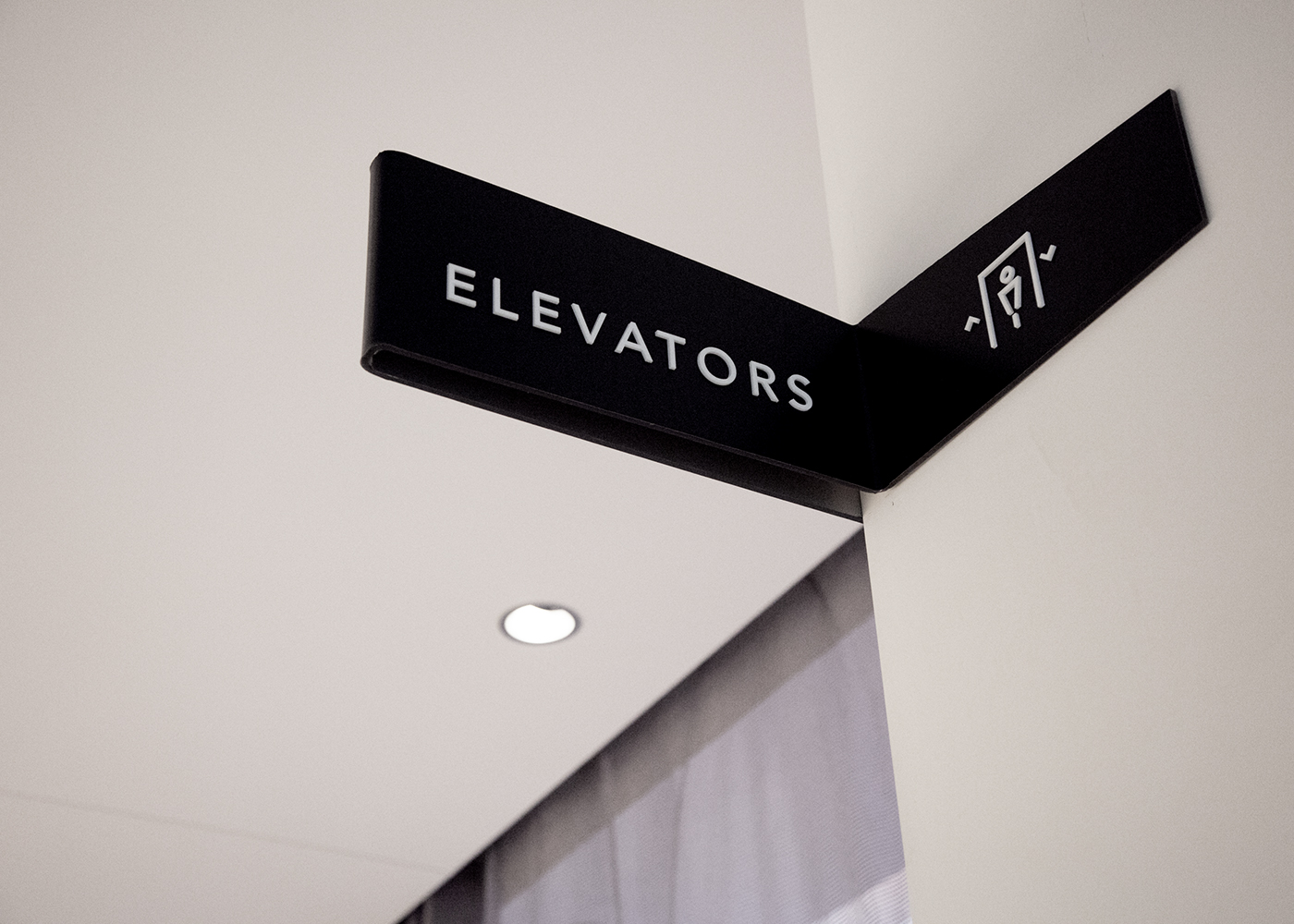 Wayfinding: Custom design and produced wayfinding for Capella Tower.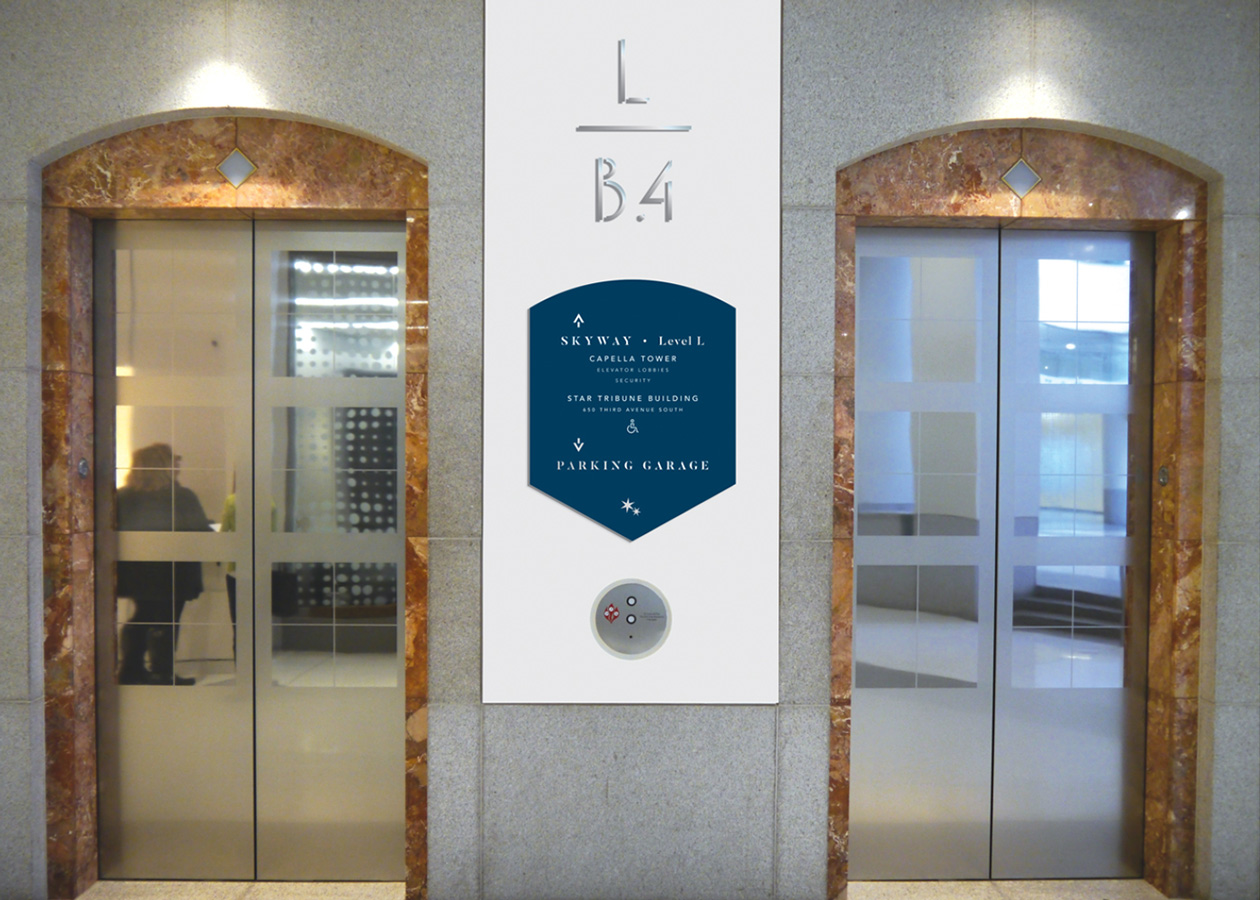 Wayfinding: Brushed metal and a thick substrate with simplified messaging for the elevator areas.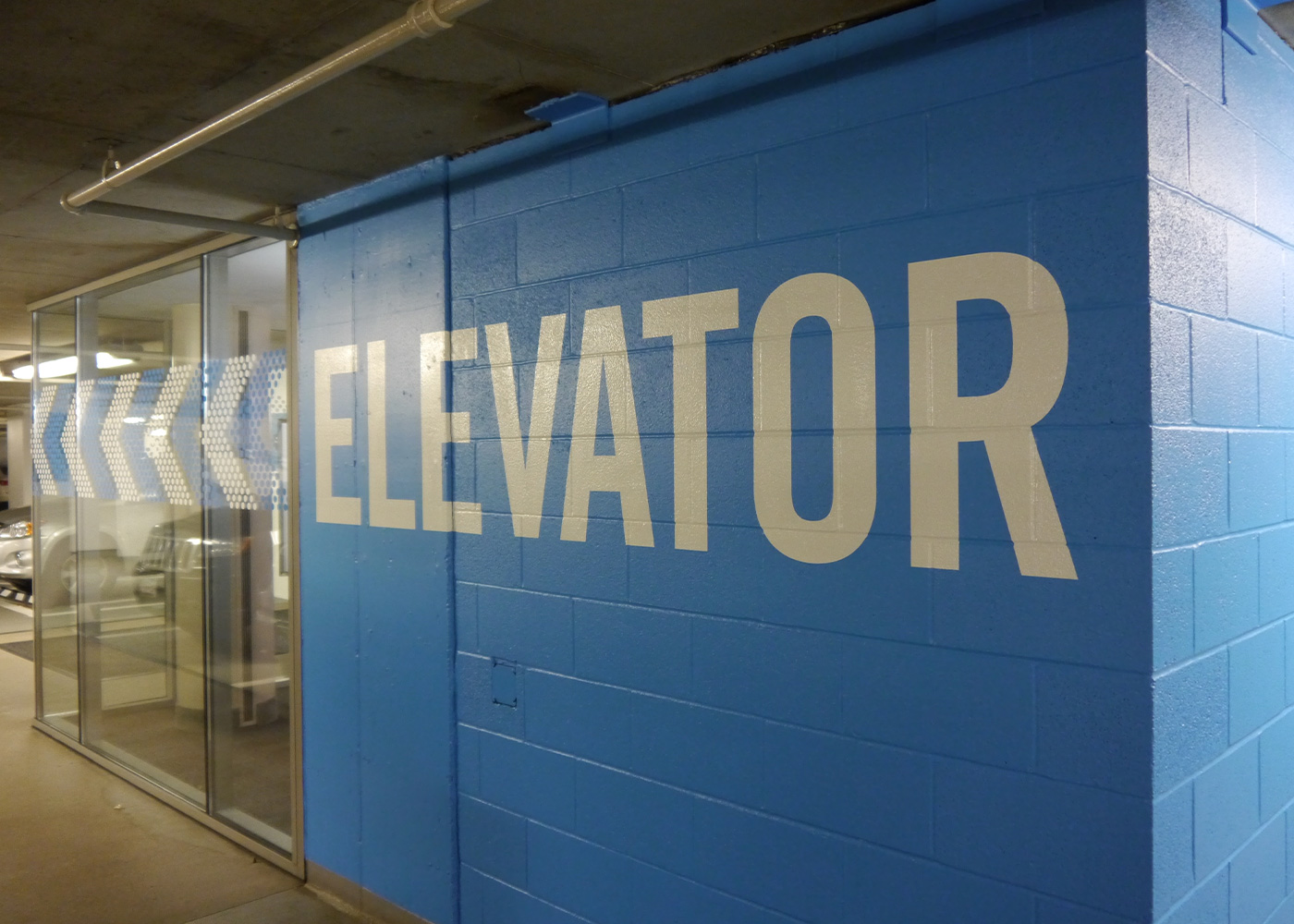 Automobile Wayfinding: Easily recognizable for level recognition in dark areas.
Wayfinding: Custom acrylic brand 'flags' make it easy to be found while making a big impact.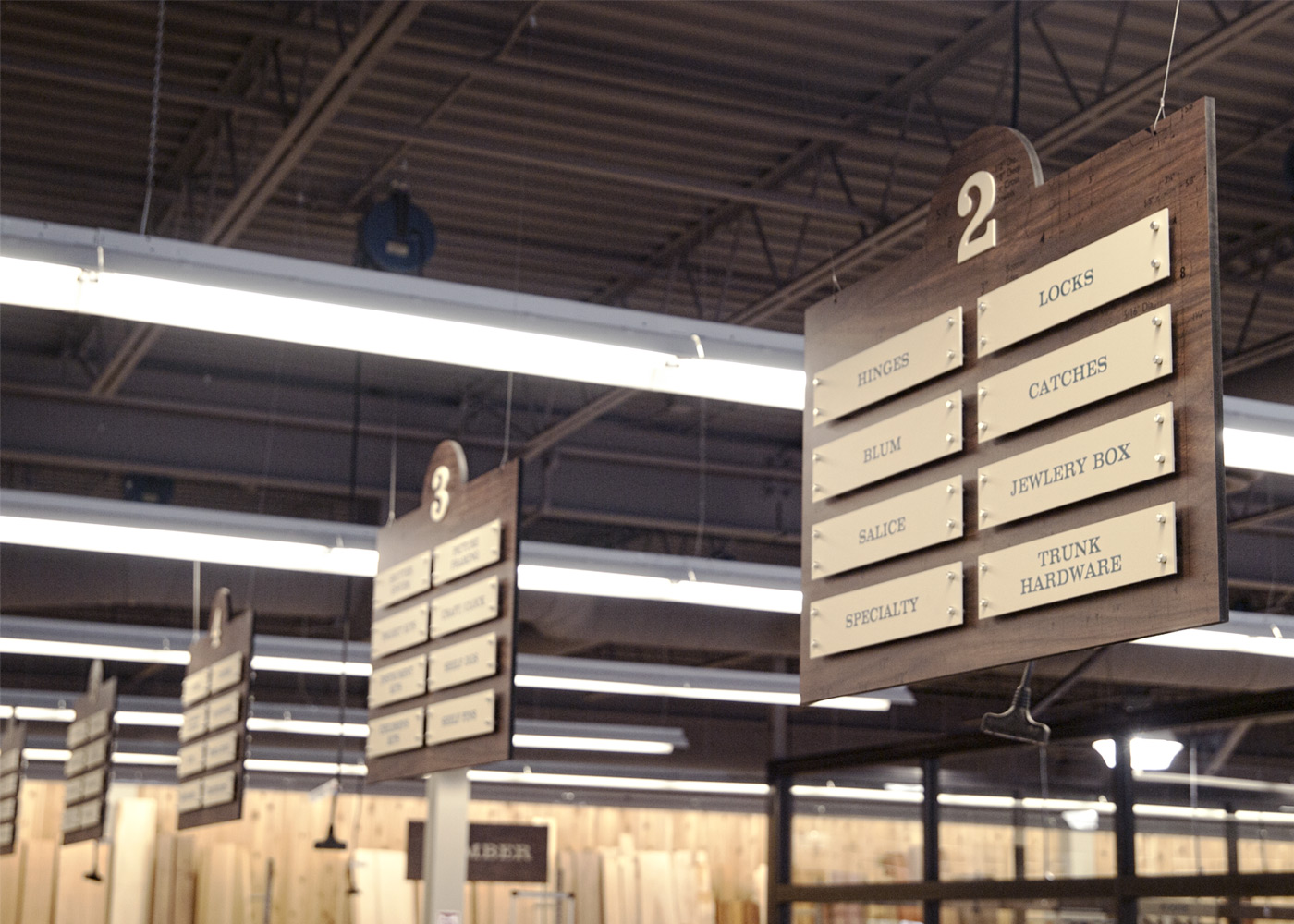 Wayfinding: Retail hanging signage with easily updatable plaques is functional and fantastic.
Wayfinding: Minimal supportive graphic elements in vinyl add branded layers to wayfinding.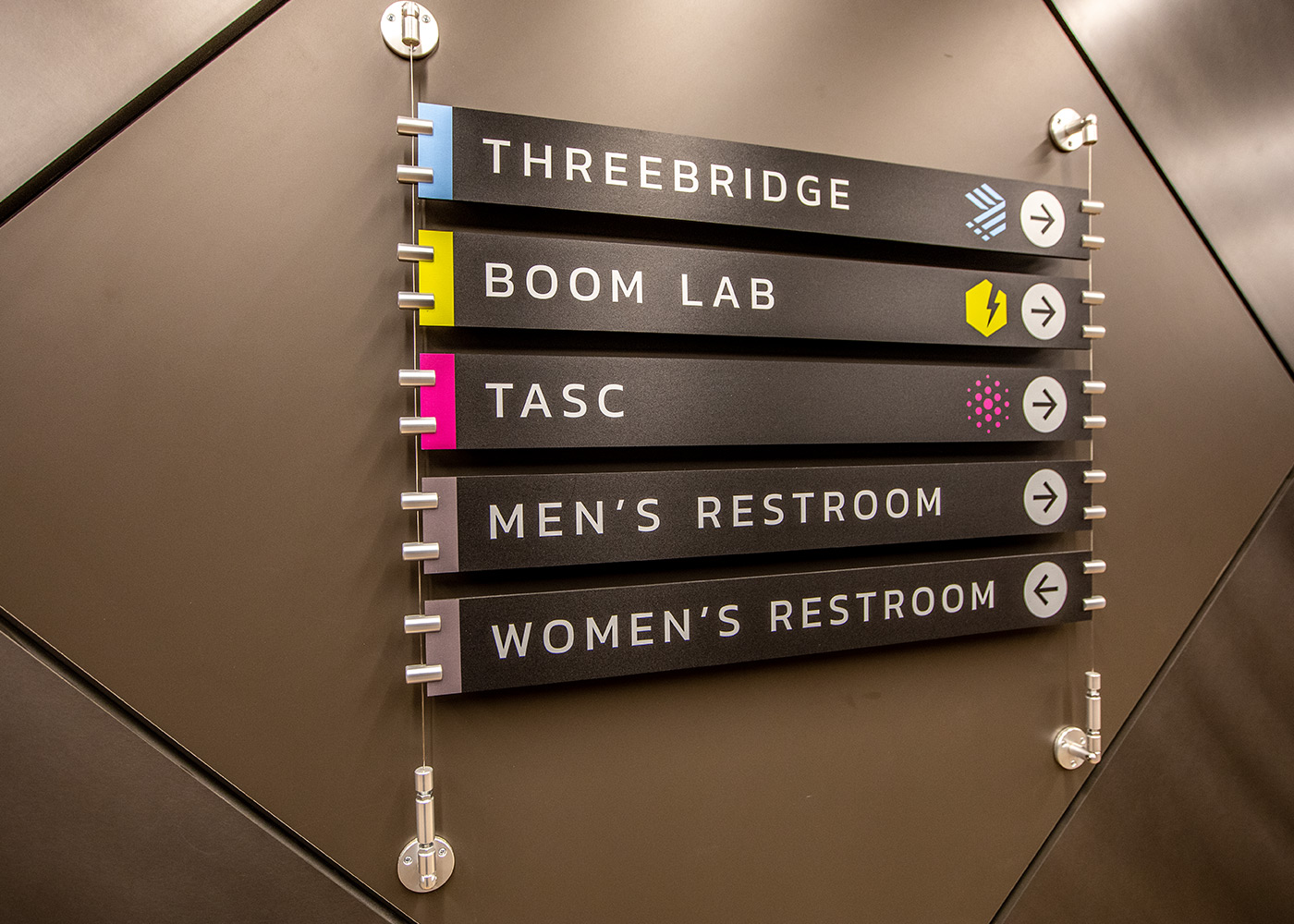 Wayfinding: Slats attached to a wired base create easy to update signs in a contemporary look.
Wayfinding: Elegant logo and arrows projected in light add branded flair.
Wayfinding: Hanging multi-dimensional wayfinding signage directs people to the right place.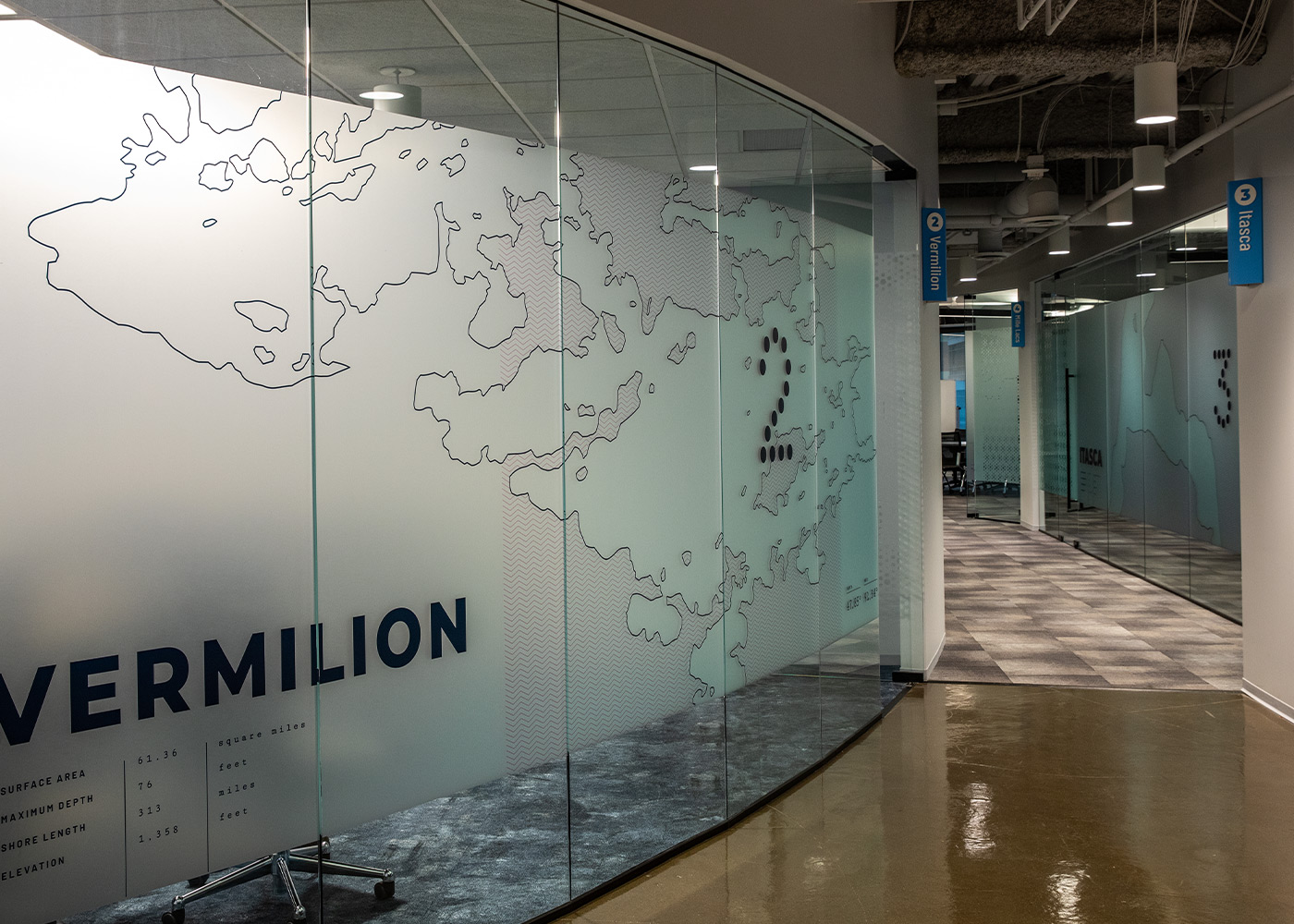 Wayfinding: Printed vinyl conference room window wraps create wayfinding and provide privacy.
Wayfinding: Notable entrance to help with navigation in the skyway.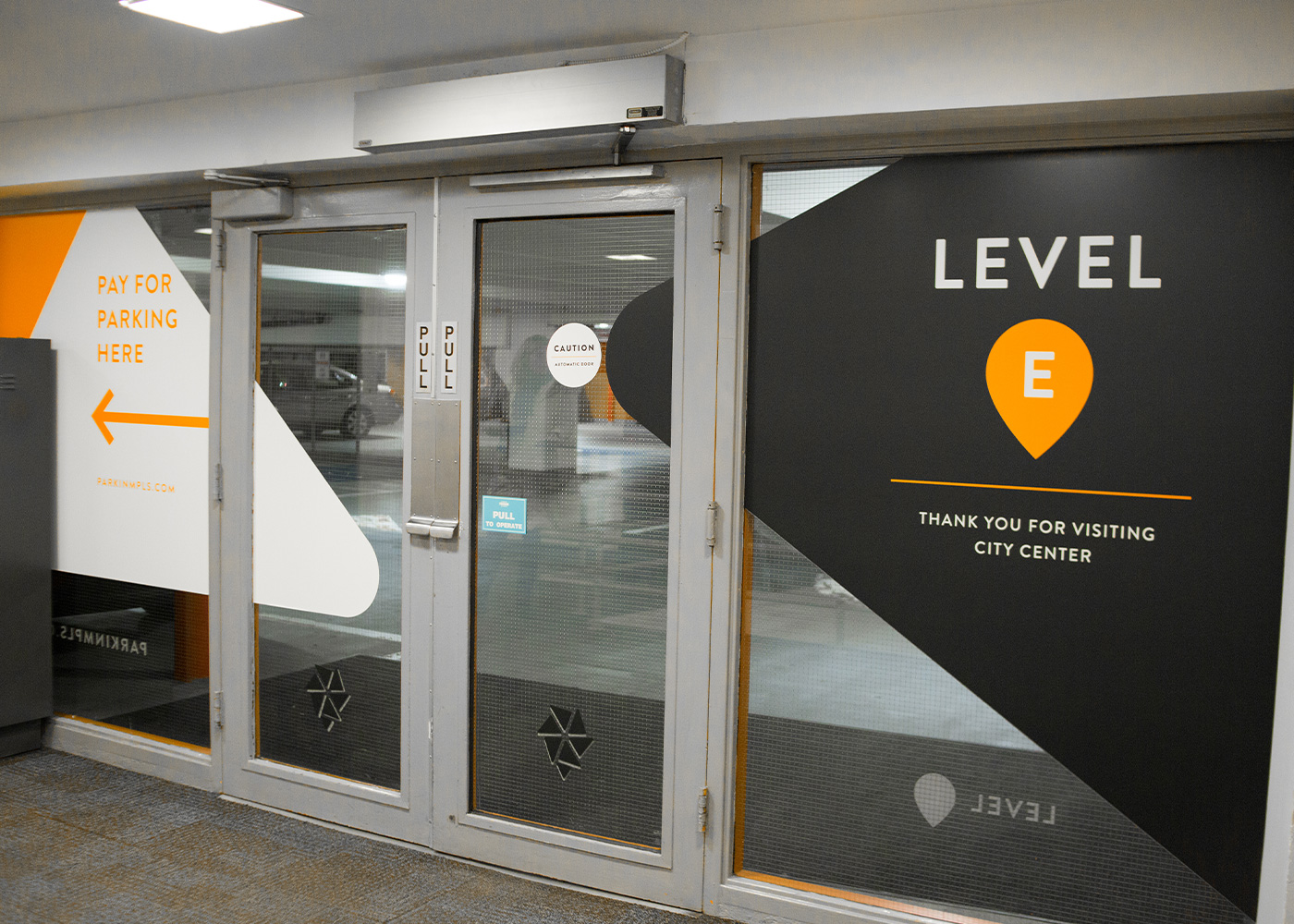 Automobile Wayfinding: Brightly branded graphics to help reflect your parking level.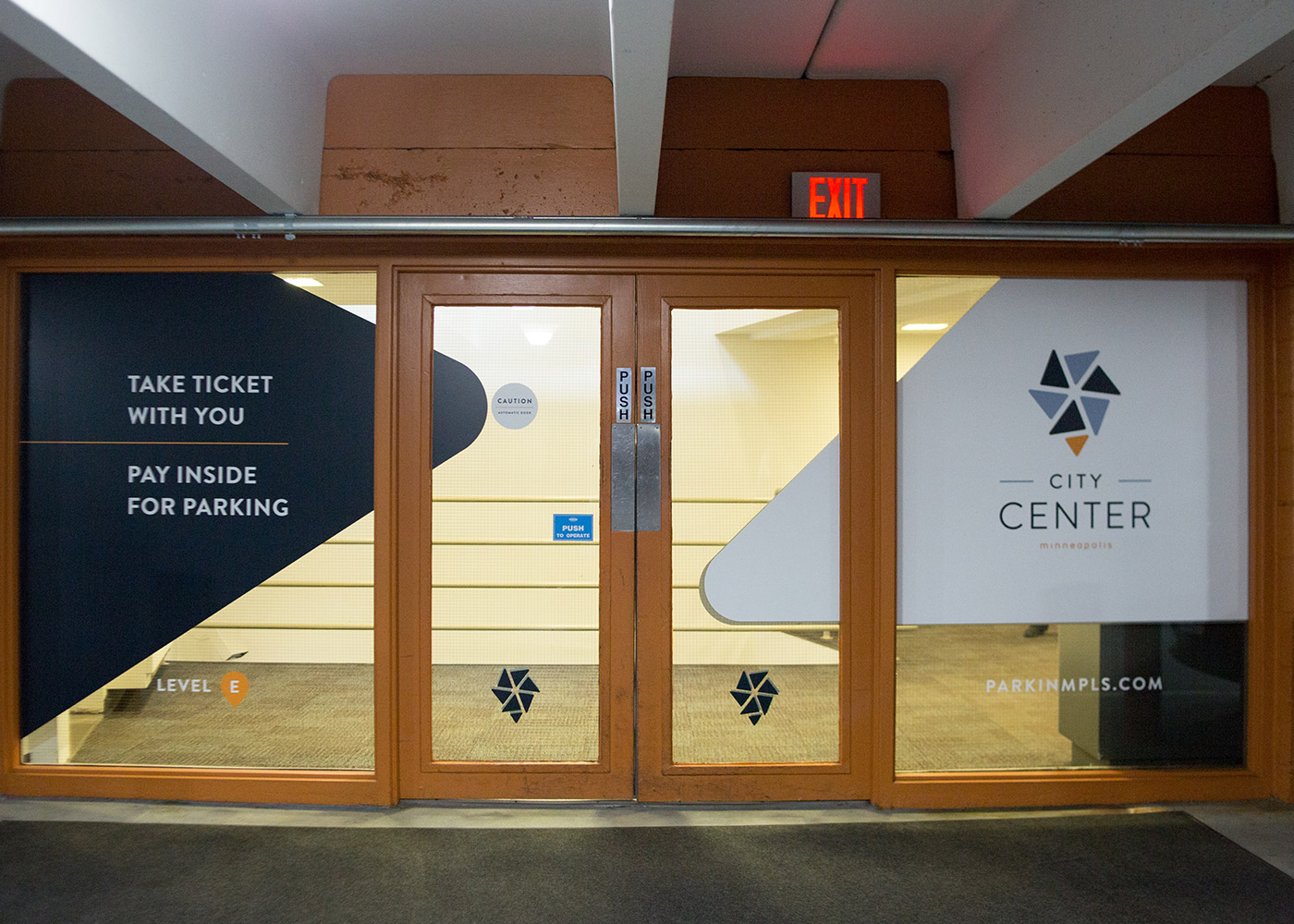 Automobile Wayfinding: Easily visible signage helps customers park near their necessary entrance.
The Sussner Team guided us through the entire process and made a daunting task feel easy, fresh, and fun.
Renee Pinkney, AT&T Tower
"
"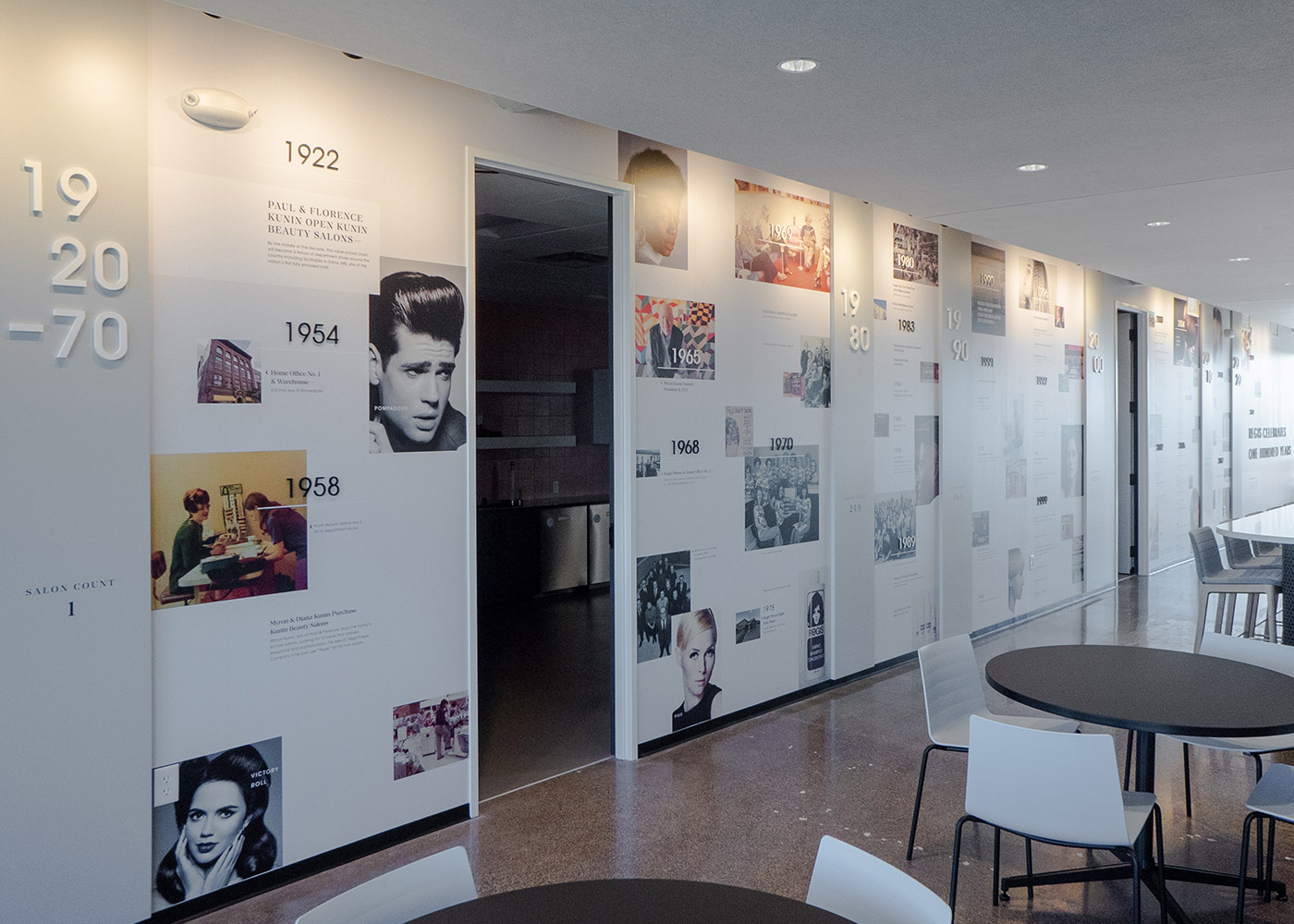 Group Spaces: Regis Corp's group space features a large-scale wall that celebrates Regis's rich history.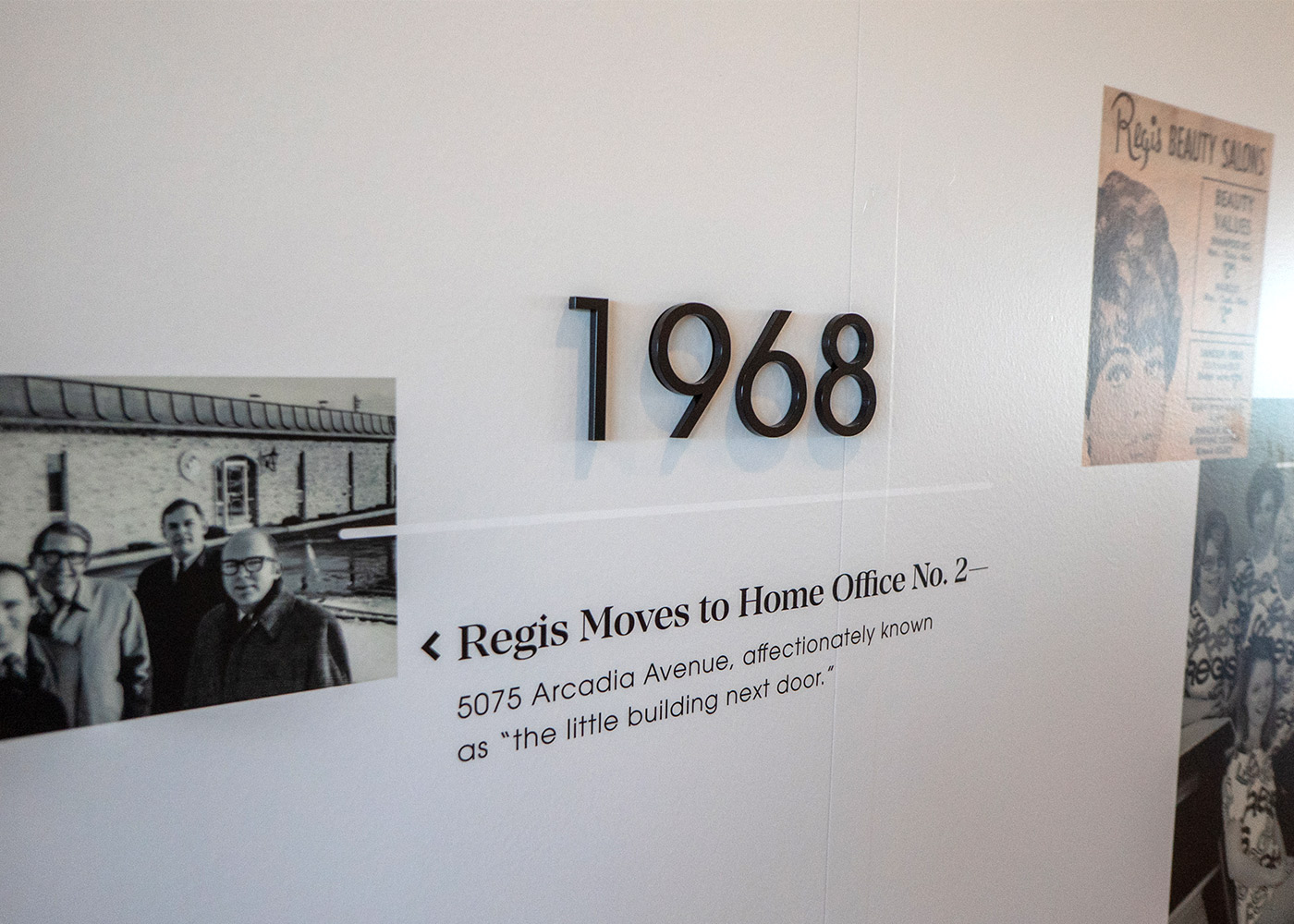 Group Spaces: Detail: Closeup of the timeline wall in Regis's employee area.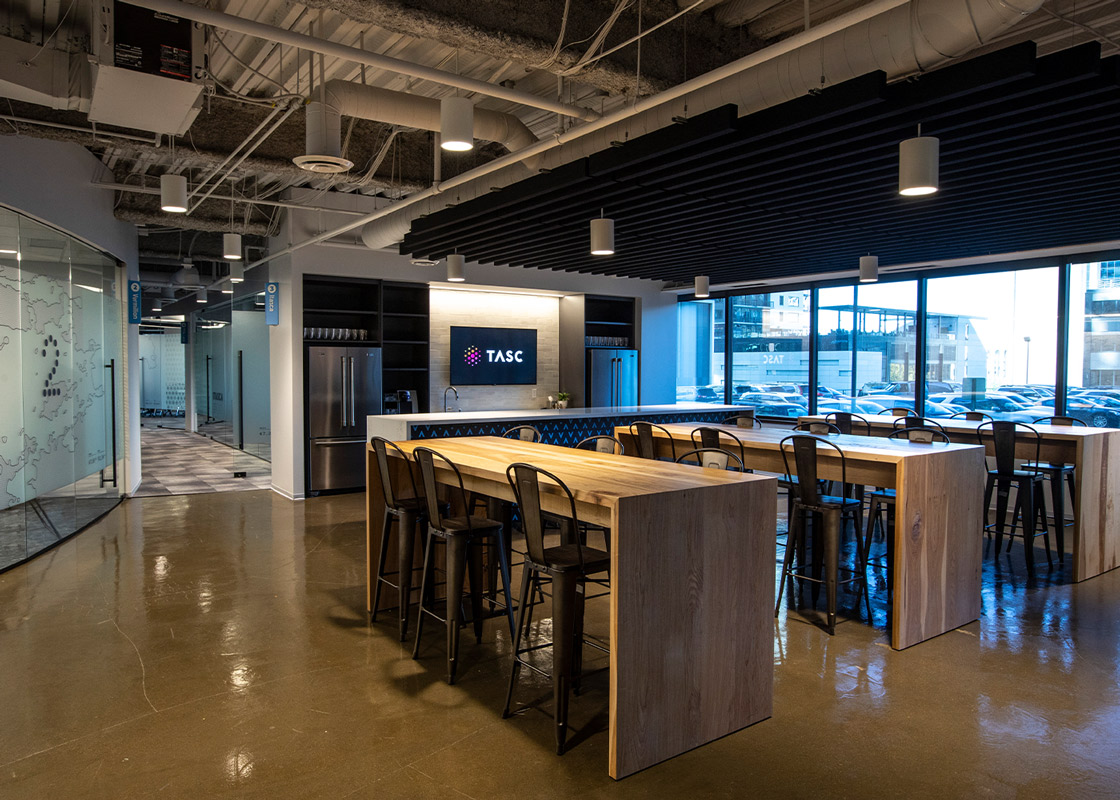 Kitchen Area: The sophisticated kitchen and stand-up meeting area at TASC.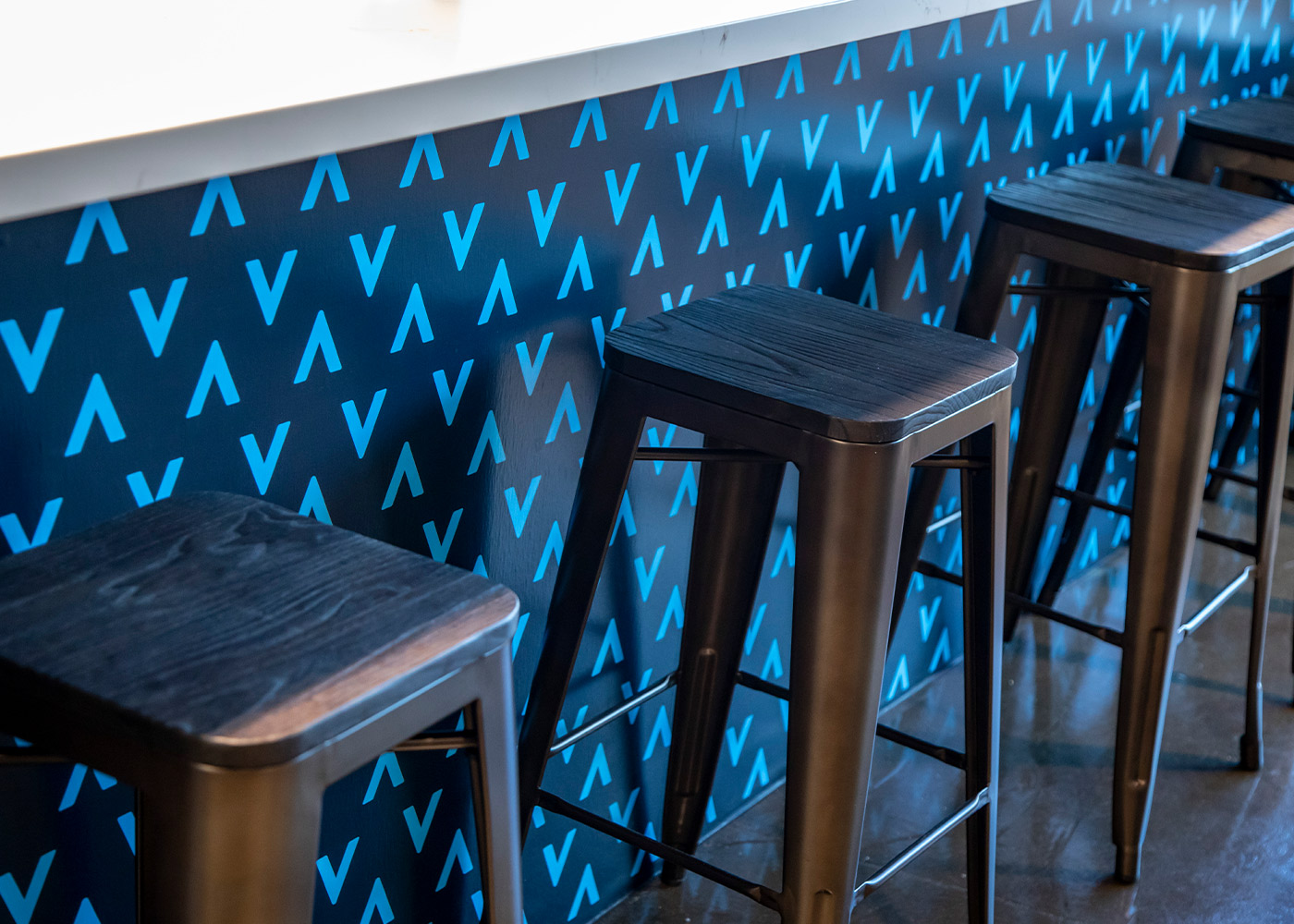 Kitchen Area: Detail: Closeup of the branded graphics applied throughout TASC's kitchen area.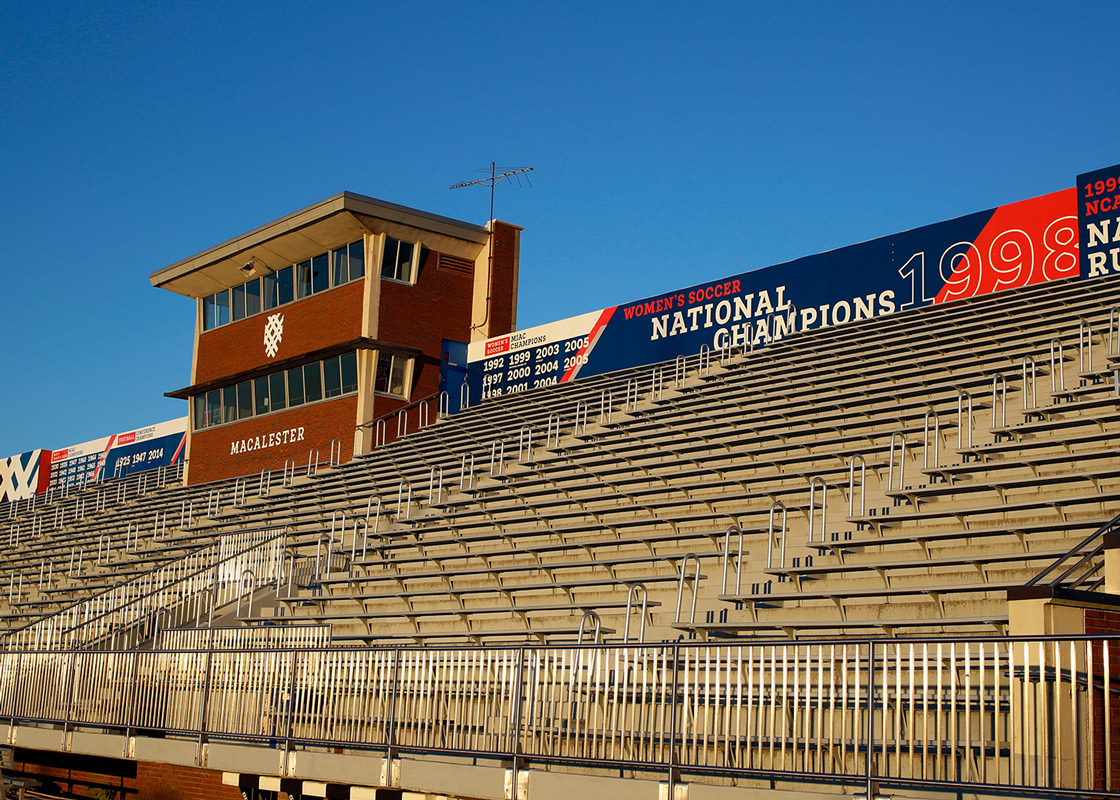 Stadium: Macalester College Athletics stadium celebrates their championship status.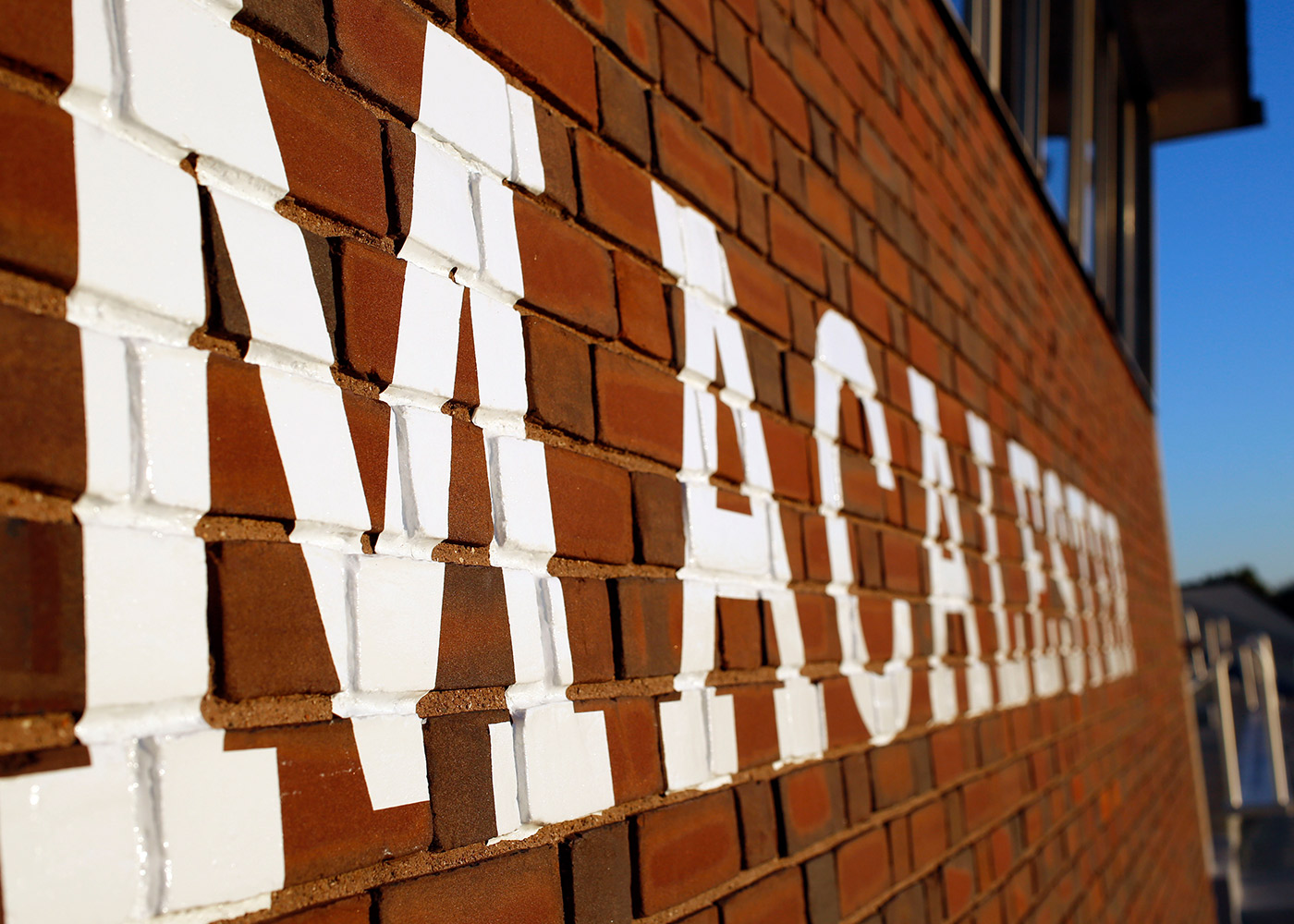 Stadium: Detail: Adhering vinyl to brick is one of the ways to display school spirit.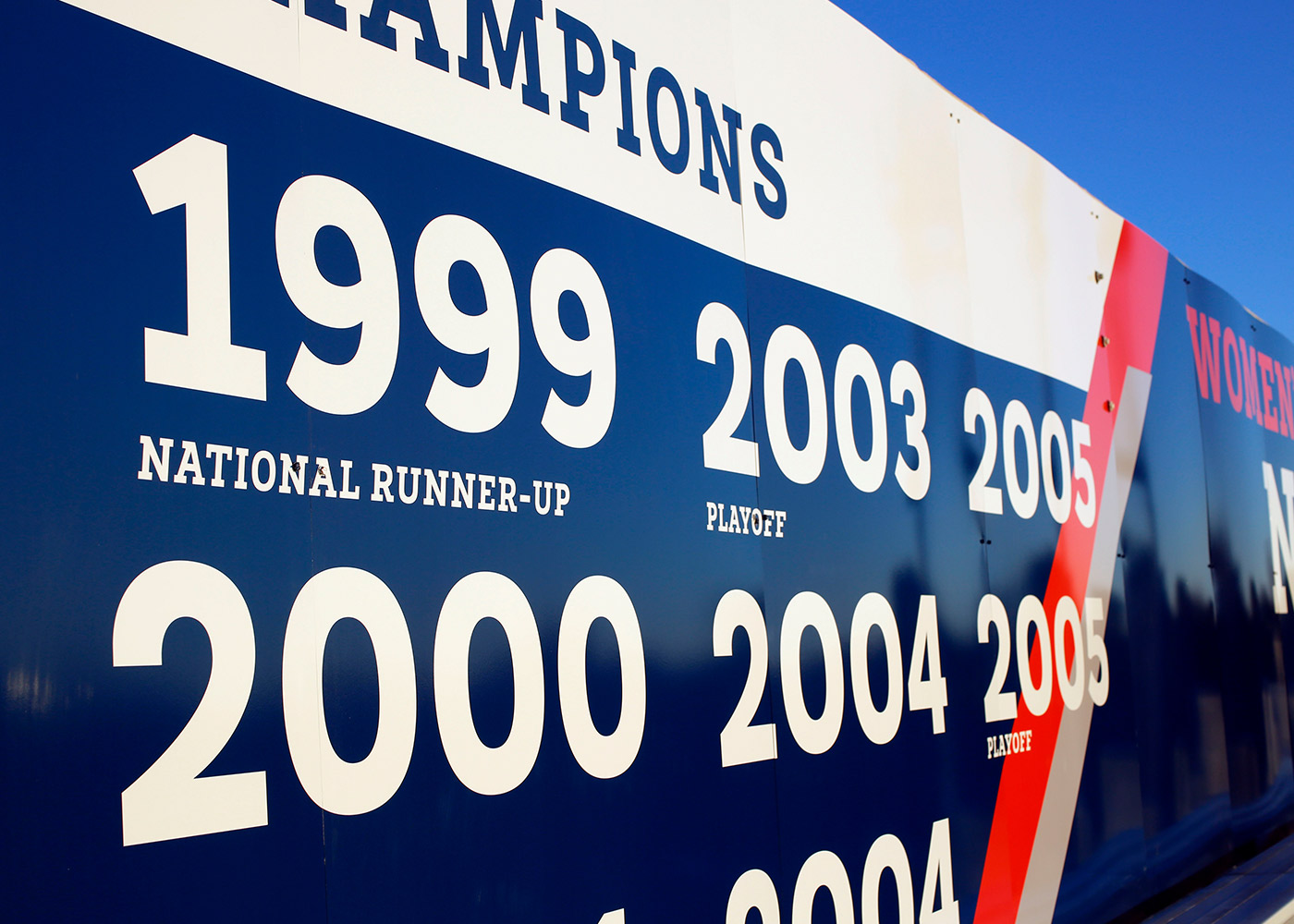 Stadium: Detail: Stats direct-printed on large pieces of metal share MAC's accomplishments with fans.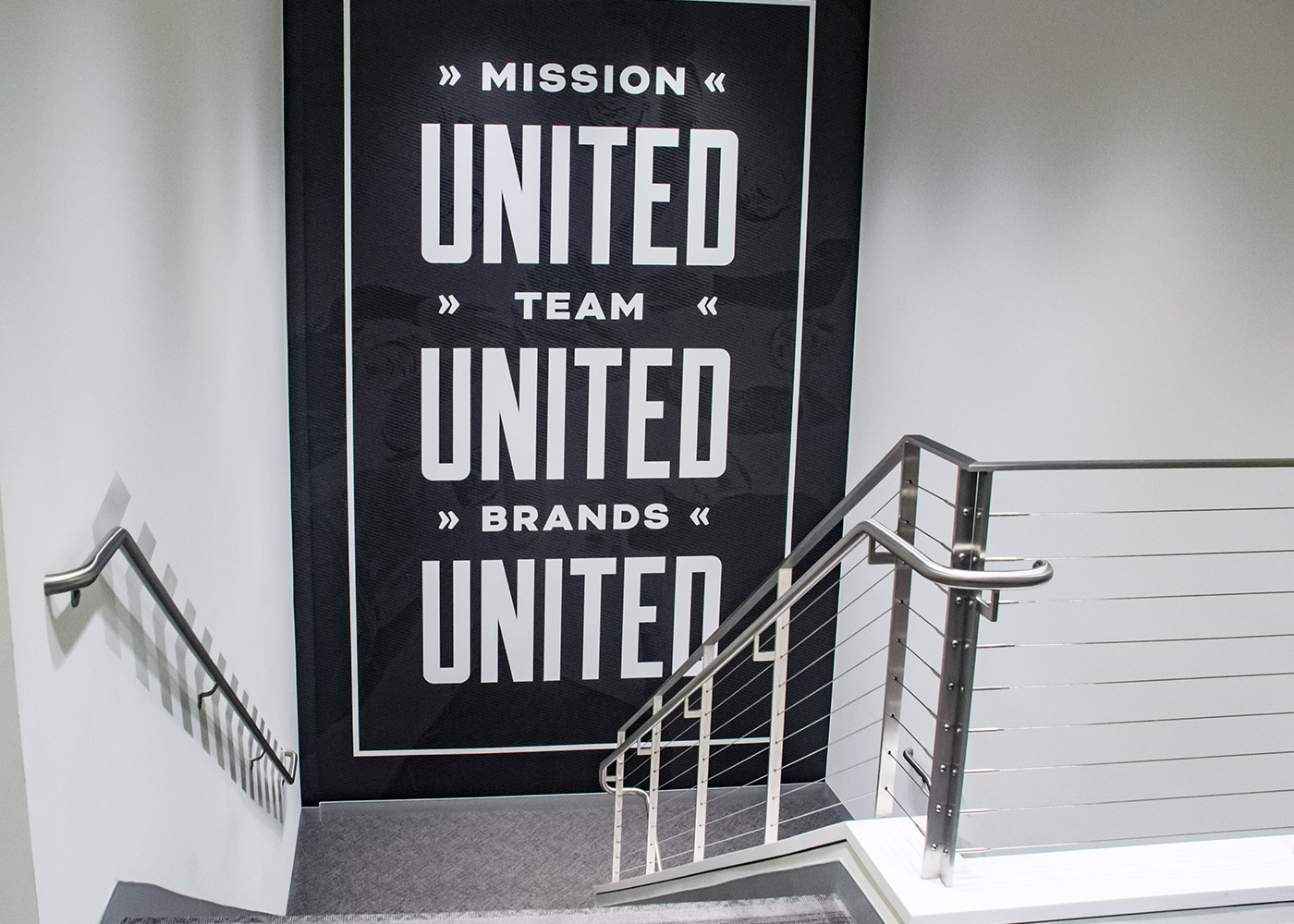 Stairwell: United Sports Brand's larger than life stairwell assures their mission can't be missed.
Break Room: United Sports Brand's walls decorated fun and playful branded lunchroom graphics.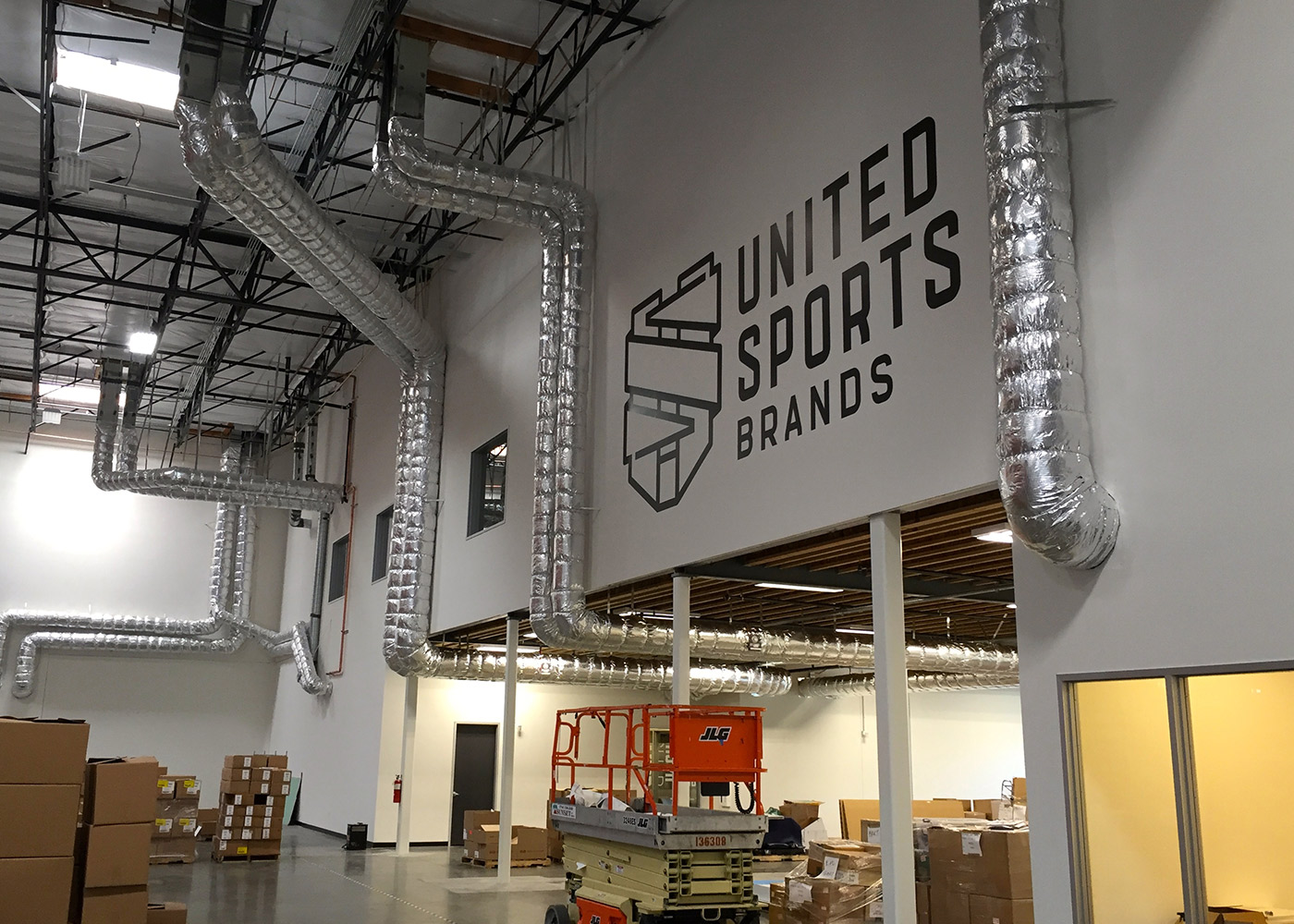 Warehouse: United Sports Brands is always cheering loudly for the team in the warehouse.
Rooted in Process
We have a proven process that has successfully helped our clients achieve their branding goals since 1999. We'll kick off the project by discussing your needs, wants, objectives, and budget. We'll proceed with a walk-through to help assess the space and its opportunities. We will address the identified areas and your needs, we'll propose solutions based on our findings. Then comes the fun as we create, produce, and install. From start to finish, we're happy to do the heavy lifting for you and your team, bringing your spaces to life.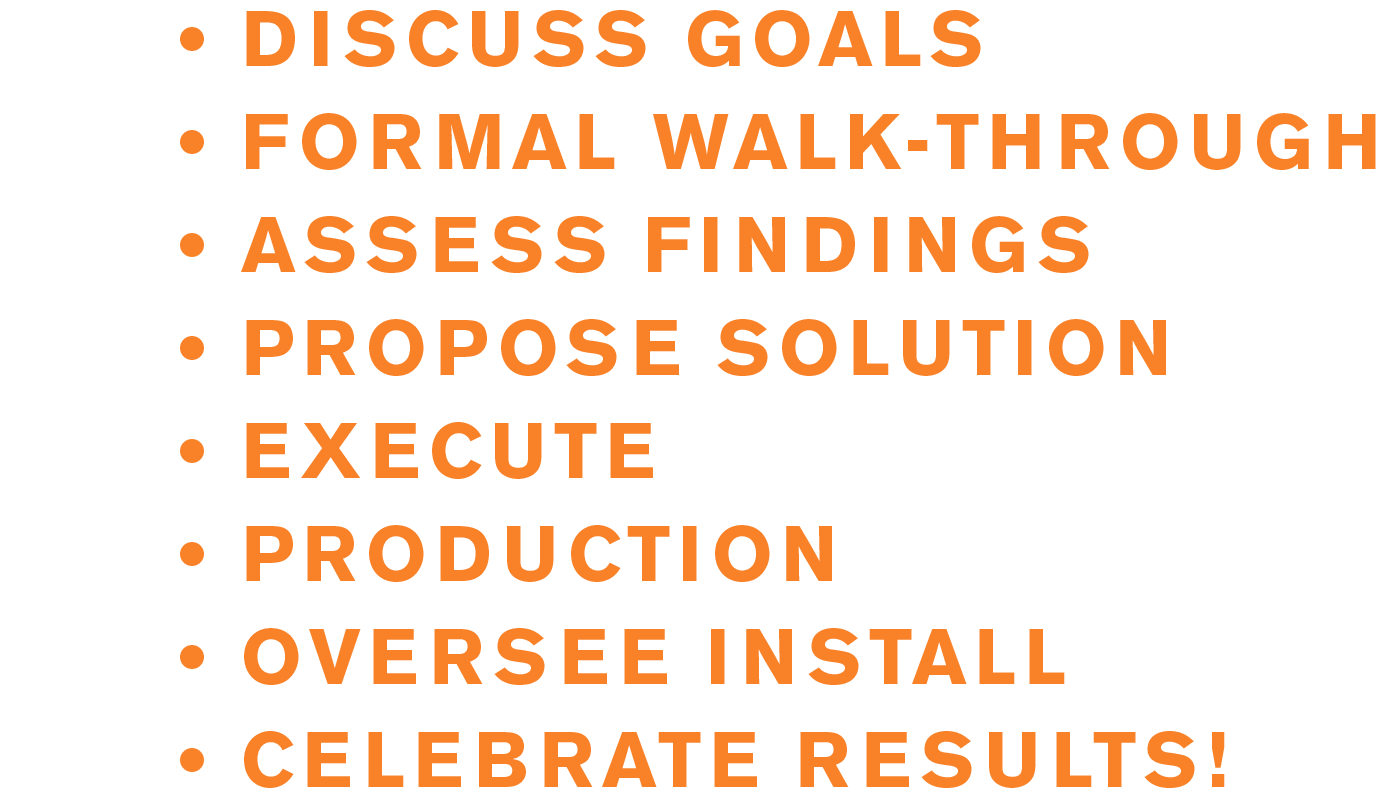 We couldn't be happier with the visual and financial results of our new stores! We are very proud of the work and the results have been outstanding.
Mike Dugan, Rockler Woodworking
"
"
Do you need help transforming your space?
With 20+ years of experience bringing business brands to life, we can help you energize your space into something truly inspiring. Let's talk about the goals for your environment, and how we can help you achieve them. Let us put our tools, skills, experience, and know-how to work for you on spaces your business calls home.
Contact us: derek@sussner.com / 612.339.2886