Higher Education, Collegiate Athletics
INDUSTRY
Branding, Art Direction, Team Uniforms and Merchandising
TACTICS
New York Institute of Technology is a highly distinguished University located in Old Westbury, New York. The University's athletic department is a member of the East Coast Conference, competing in NCAA D-II Athletics needed a brand update. The goals for the brand refresh were to represent the school's vision for the future, pay homage to the university's history, inspire engagement with the fans, athletes, and alumni while building a foundation that will continue to support the athletic program's brand for years to come. Through fresh and relevant creative, custom typography and a fierce new mascot, New York Tech's brand is ready to fill the stands, court, and fields.
OBJECTIVE

LOGO REDESIGN: The existing brand identity was created in the 1990s and was described by the client as dated and not memorable. A modern approach was taken to make sure NYIT is relevant among its division rivals. The updated brand should help attract and recruit top talent and elicit school spirit in students, athletes, fans, and alumni.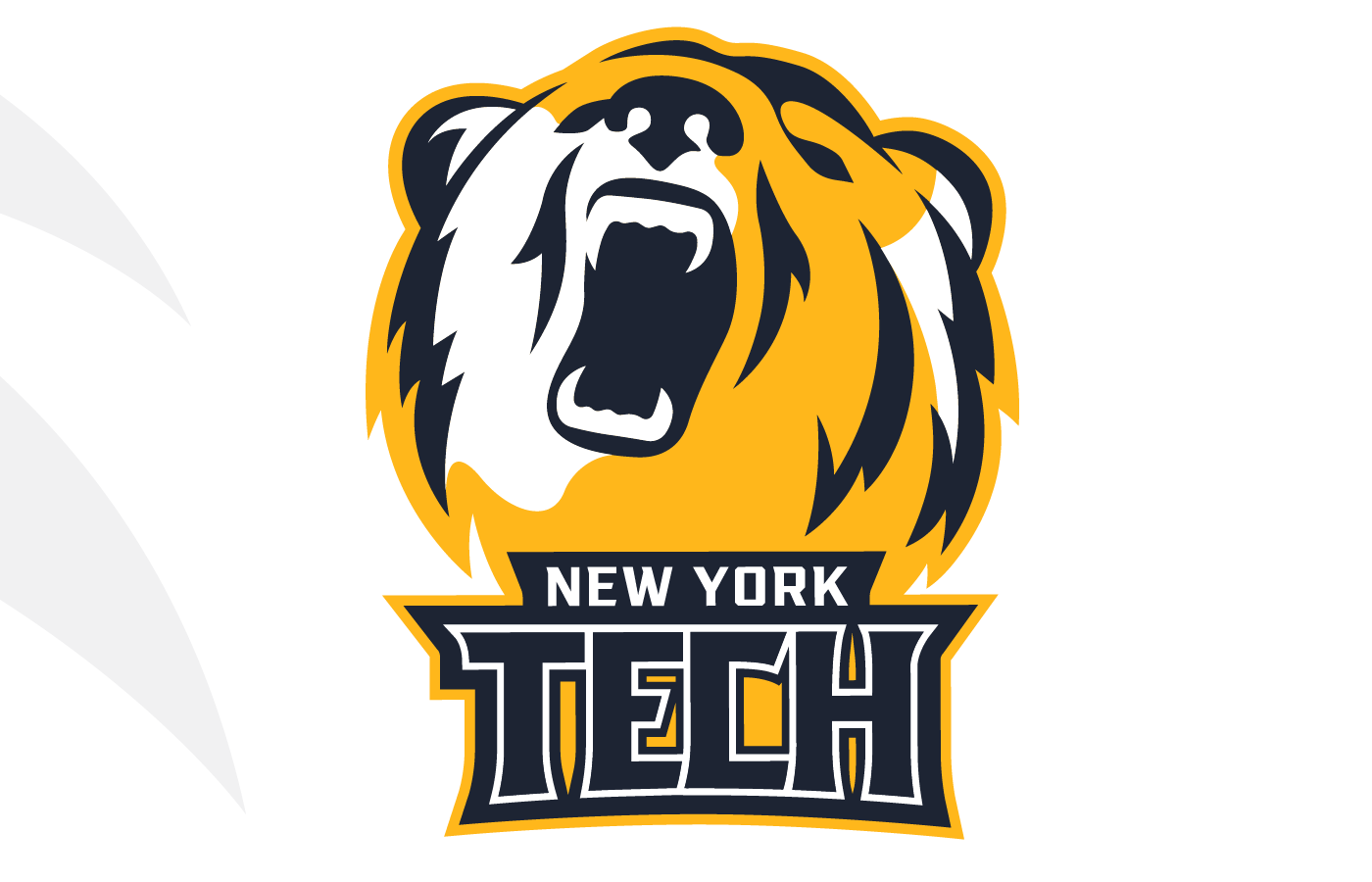 PRIMARY BRAND MARK: The mascot and custom typography were created to interact and unify as one brand entity.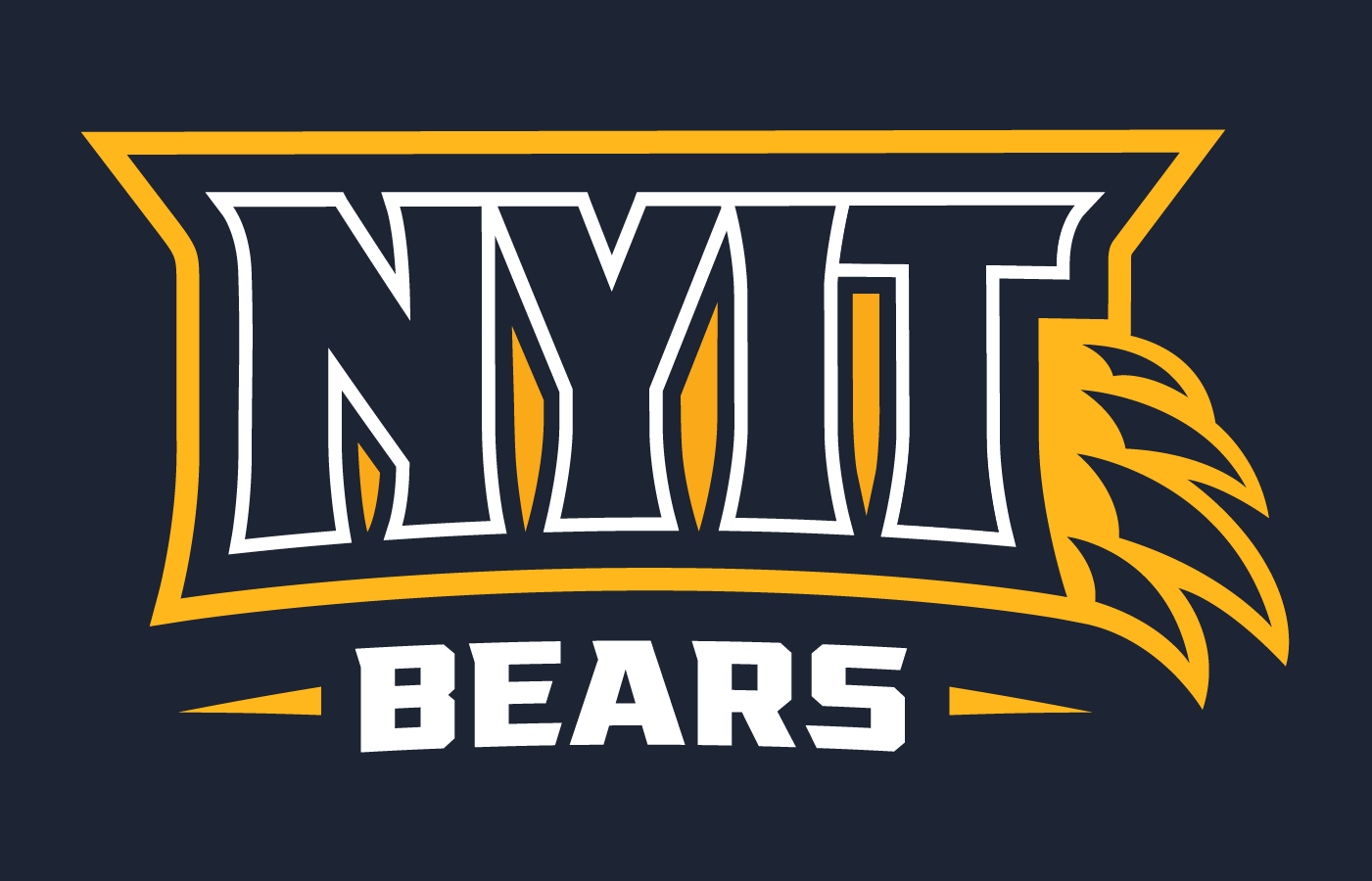 ALTERNATE OPTIONS: All word mark designs include multiple variations to provide flexibility for the NYIT brand.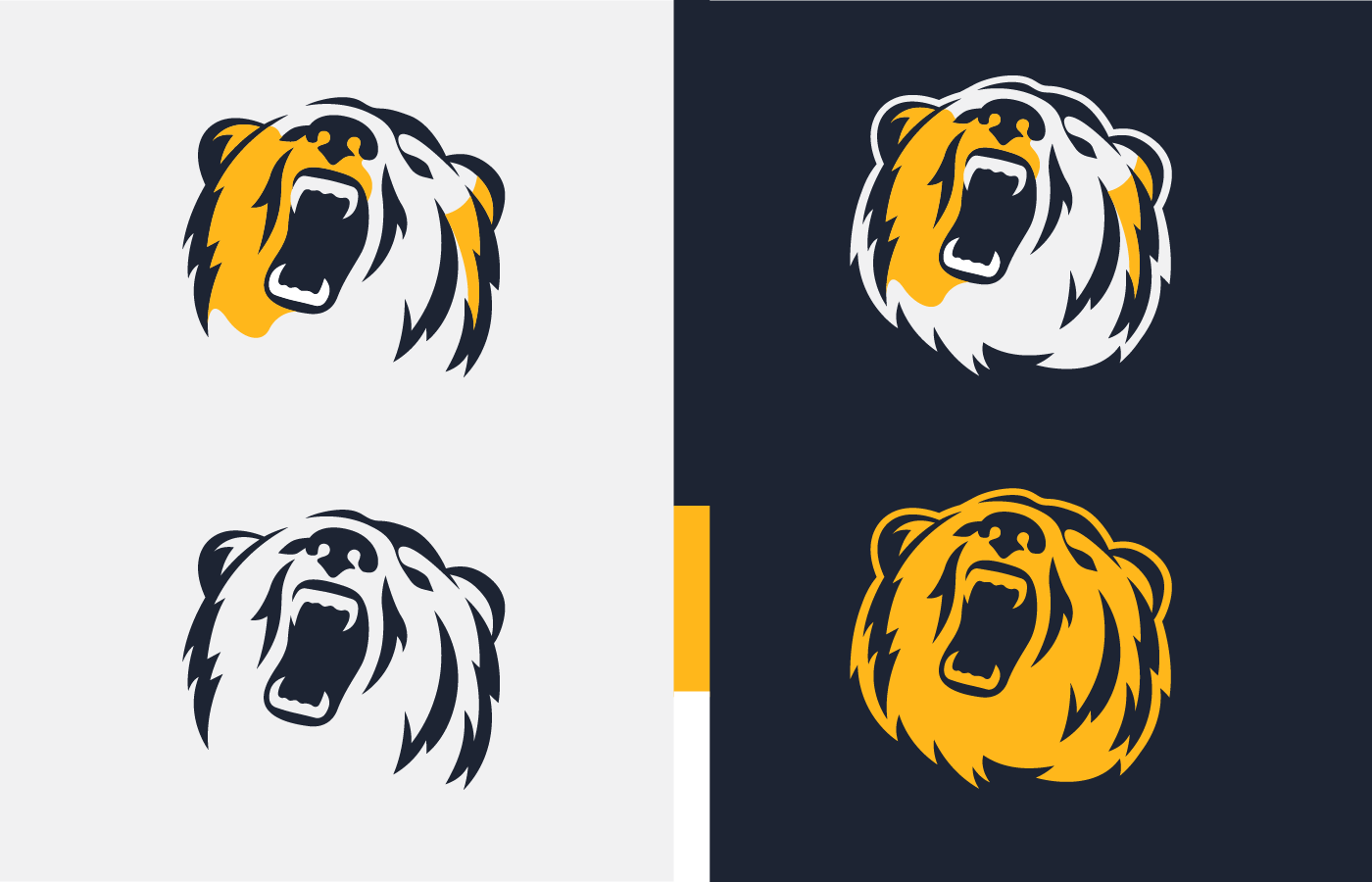 COLOR FLEXIBILITY: The new brand needed to be adaptable to all sports' spirit wear, practice gear and home and away team uniforms.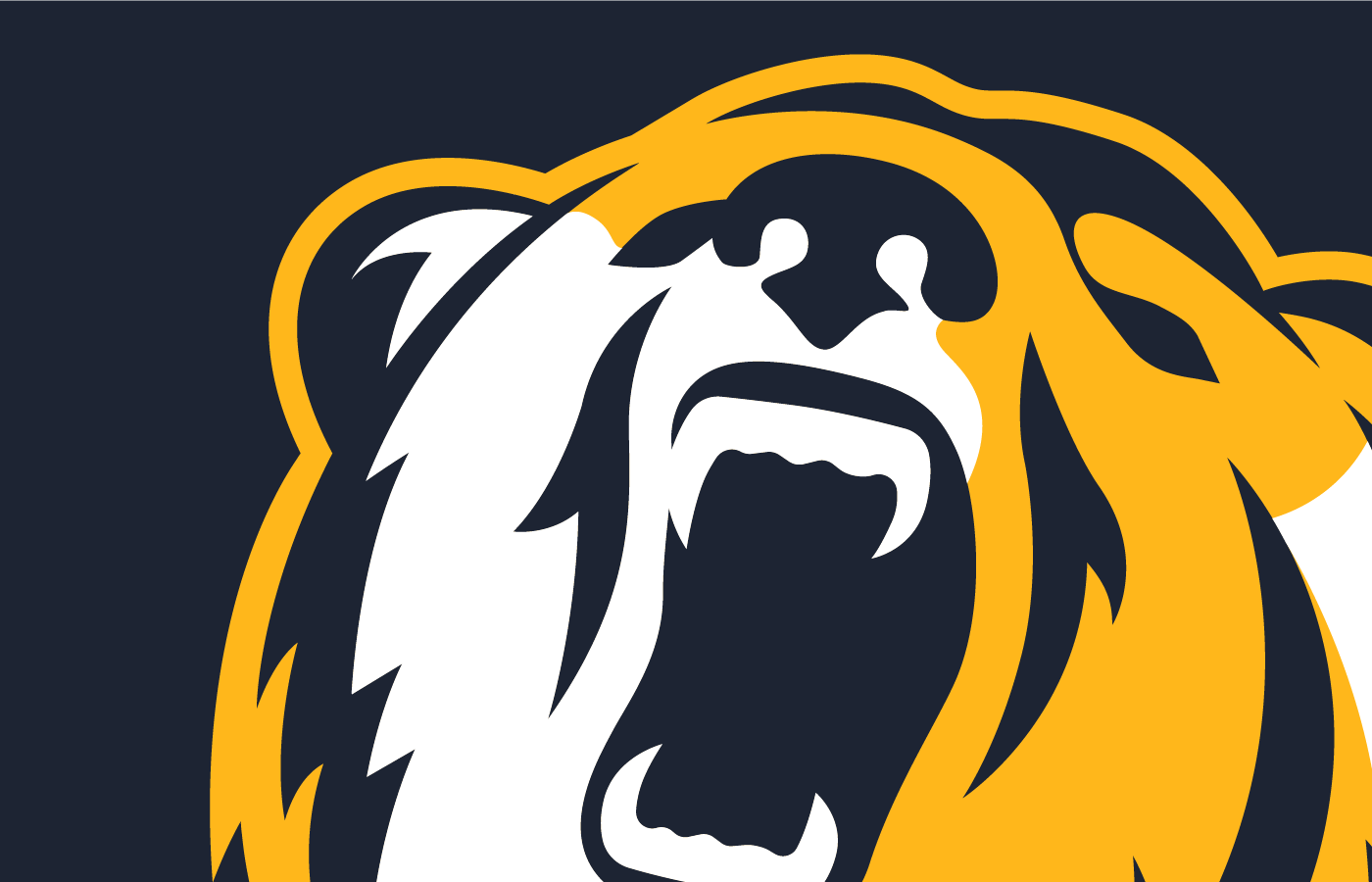 MODERN AND AGGRESSIVE: Rigid angles give the mascot a confident and aggressive emotion while being balanced with rounded curves.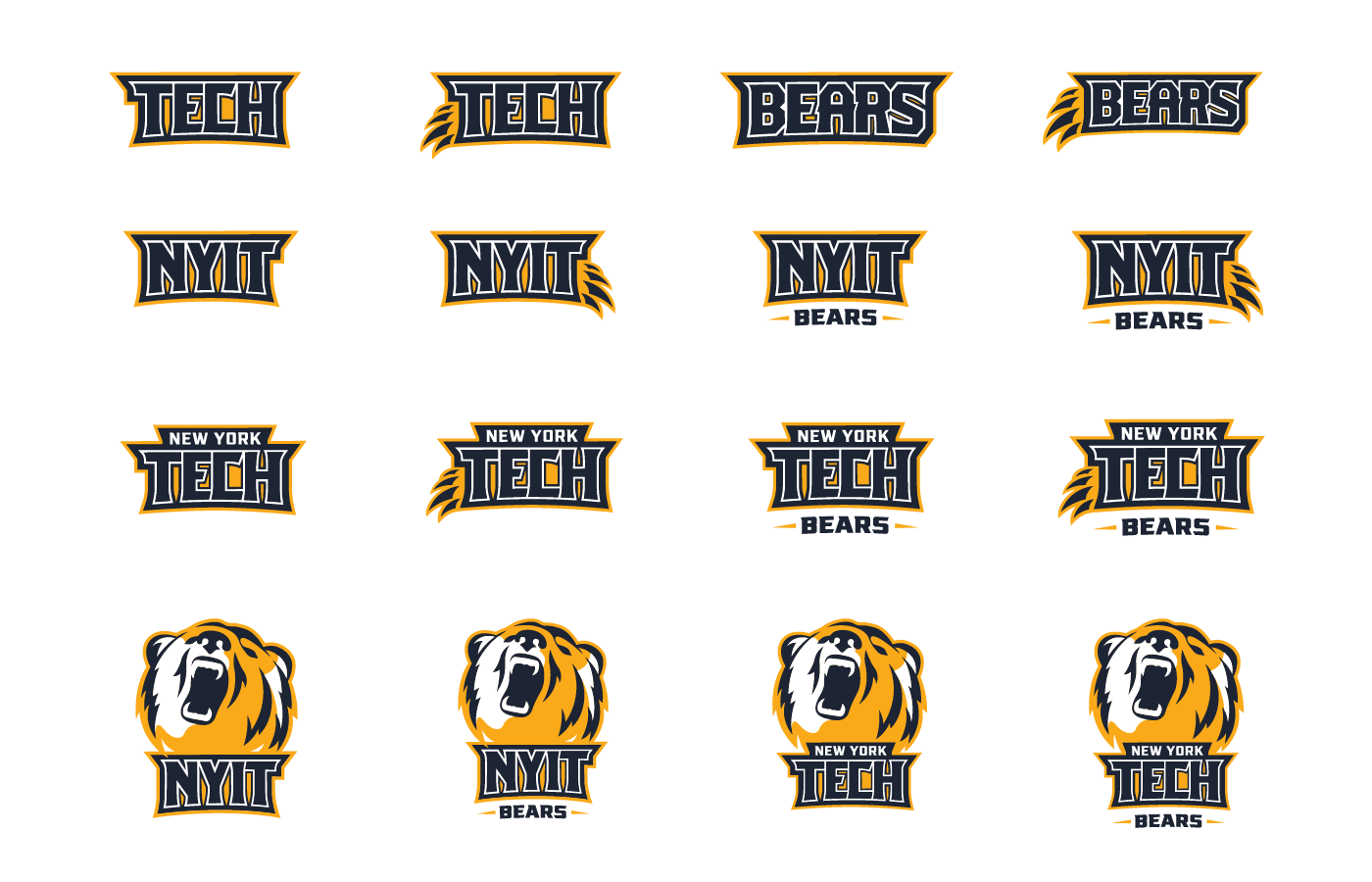 CUSTOM TYPOGRAPHY: Thoughtful lettering and typography was 100% custom-made for NYIT's various word marks.
BE. AGGRESSIVE. BE BE AGGRESSIVE!
An extensive study took place in illustrating the NYIT bear mascot in a refined, modern and fierce new style. How aggressive? How refined? How sophisticated? How simplified? Profile, 3/4 view or front-facing? Full body or face only? After thorough research and deep exploration, New York Tech's new mascot came to life. (Insert loud Bear roar here!)
GO FOR GOLD (& NAVY)
In evolving the existing bright blue and yellow color palette, NYIT re-introduced the program's historical navy blue and gold, bringing a confident, refined and established perception to the athletic brand.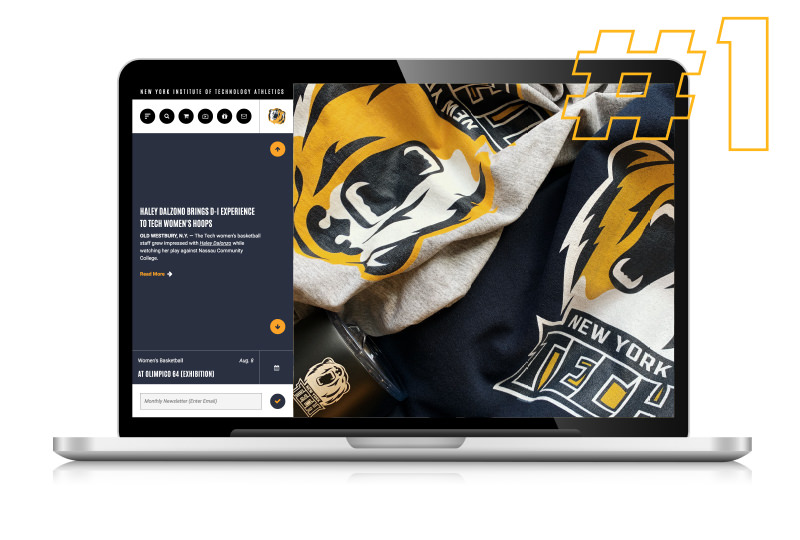 The staff at Sussner was exceptional. Our goal from the beginning was to create an identity that honored our past, looked to the future and is timeless in nature – simply put, Sussner nailed it!
Daniel Vélez, Director of Intercollegiate Athletics and Recreation, New York Institute of Technology
"
"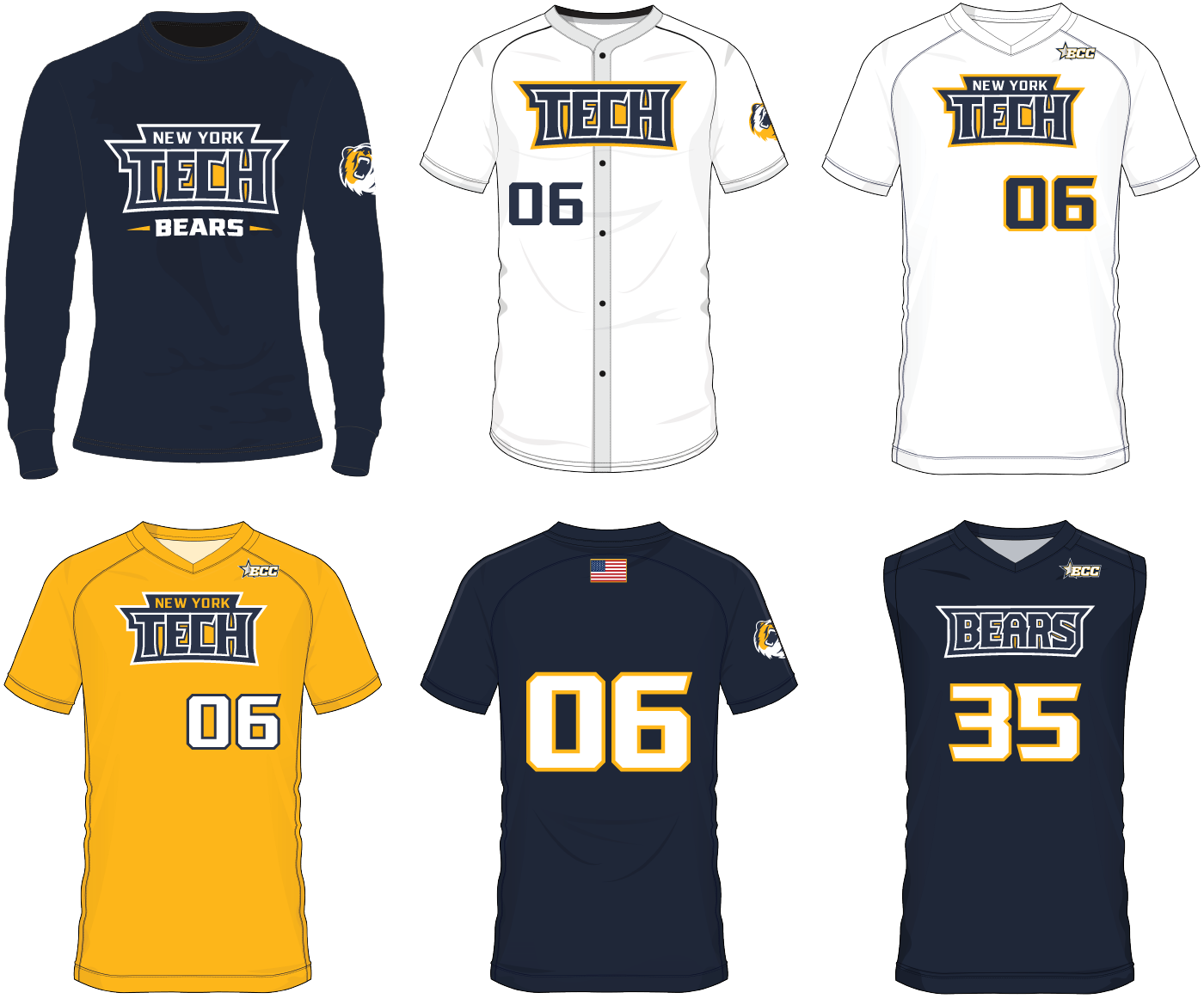 ART DIRECTION FOR UNIFORMS: Guidelines were implemented for the roll-out of new uniforms, merchandising, and practice gear for all men's and women's sports teams. Through supportive typography, thoughtful color coordinations and consistent brand placement, NYIT's unified new look is sure to please the crowds.
WE GOT SPIRIT, YES WE DO
With the new brand identity complete, an extensive brand style guide was created to set the foundation for NYIT's continued rollout. The identity was applied to uniforms for all the men's and women's sports teams' as well as various spirit wear, swag, merchandise and signage for all athletic fields and facilities. Go Bears!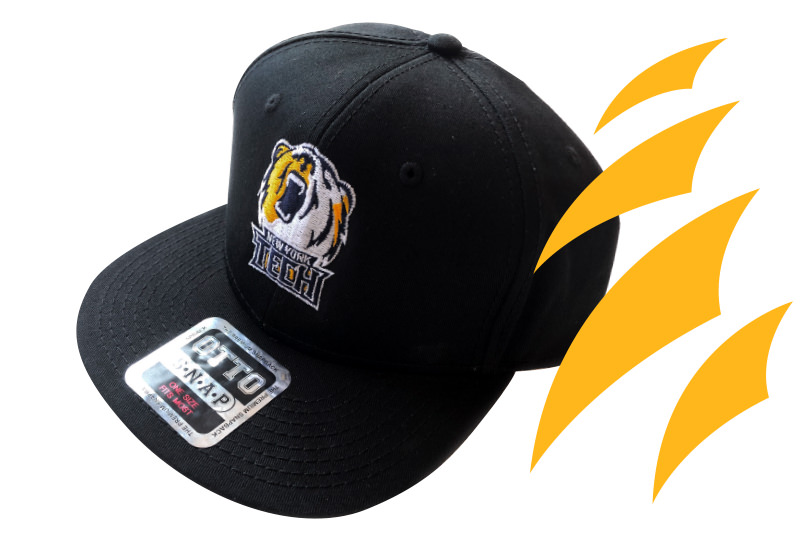 The new brand exceeds our expectations and resonates with alumni, students, and fans.
Daniel Vélez, Director of Intercollegiate Athletics and Recreation, New York Institute of Technology
"
"