Branding, Naming, Environmental Graphics & Signage, Vehicle Graphics, Print Collateral
TACTICS
We did everything but bake the pies (which is a good thing for everyone…). From naming the product, creating its identity, positioning the brand and designing the Minne's Diner restaurant graphics (formerly the Cottage Grill), to designing the pie boxes, the web site and the food trailer—we happily did it all. Minneapple Pie is an ideal example of SDCo partnering to bring a great idea out of the oven and to a State Fair near you. We ate a lot of pie and loved every bite.
OBJECTIVE

LOGO REDESIGN: Minneapple Pie's new brand needed to be family orientated, dependable, honest and homemade. Exhibiting a memorable, unique, and fun product that should appeal to the State Fair Audience. The name need to have a local flair that appealed to Minnesotans.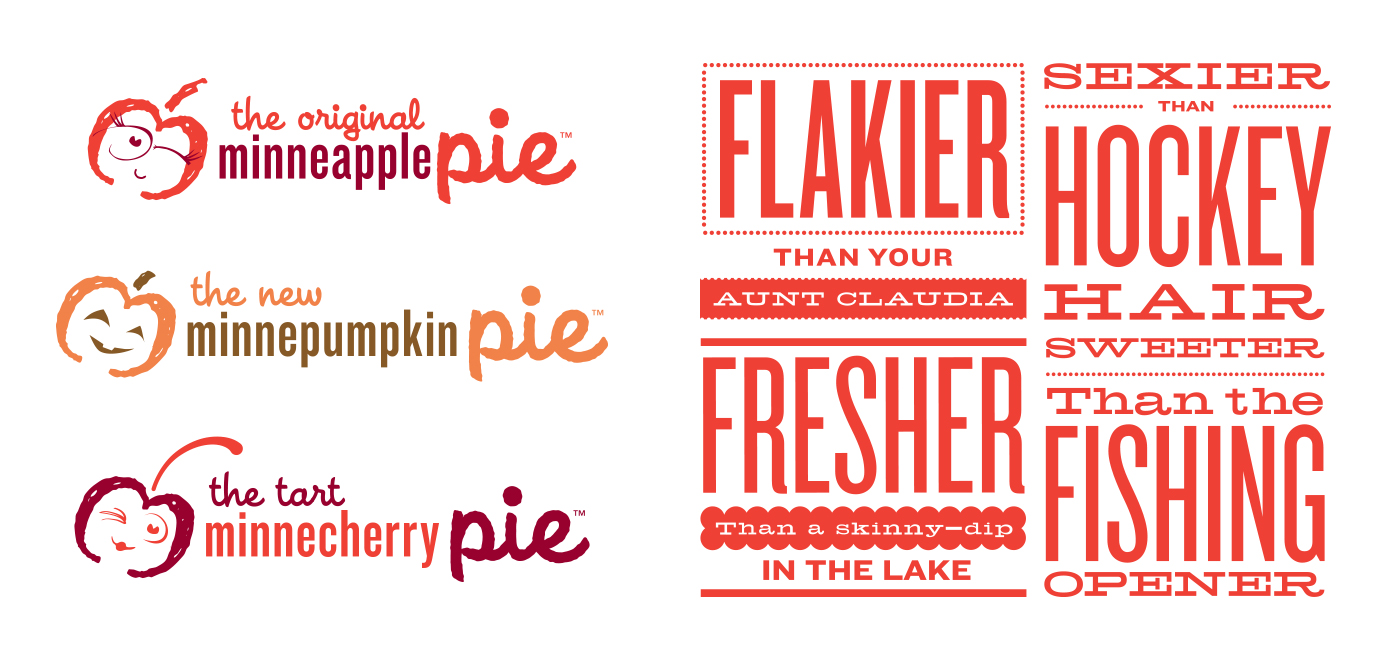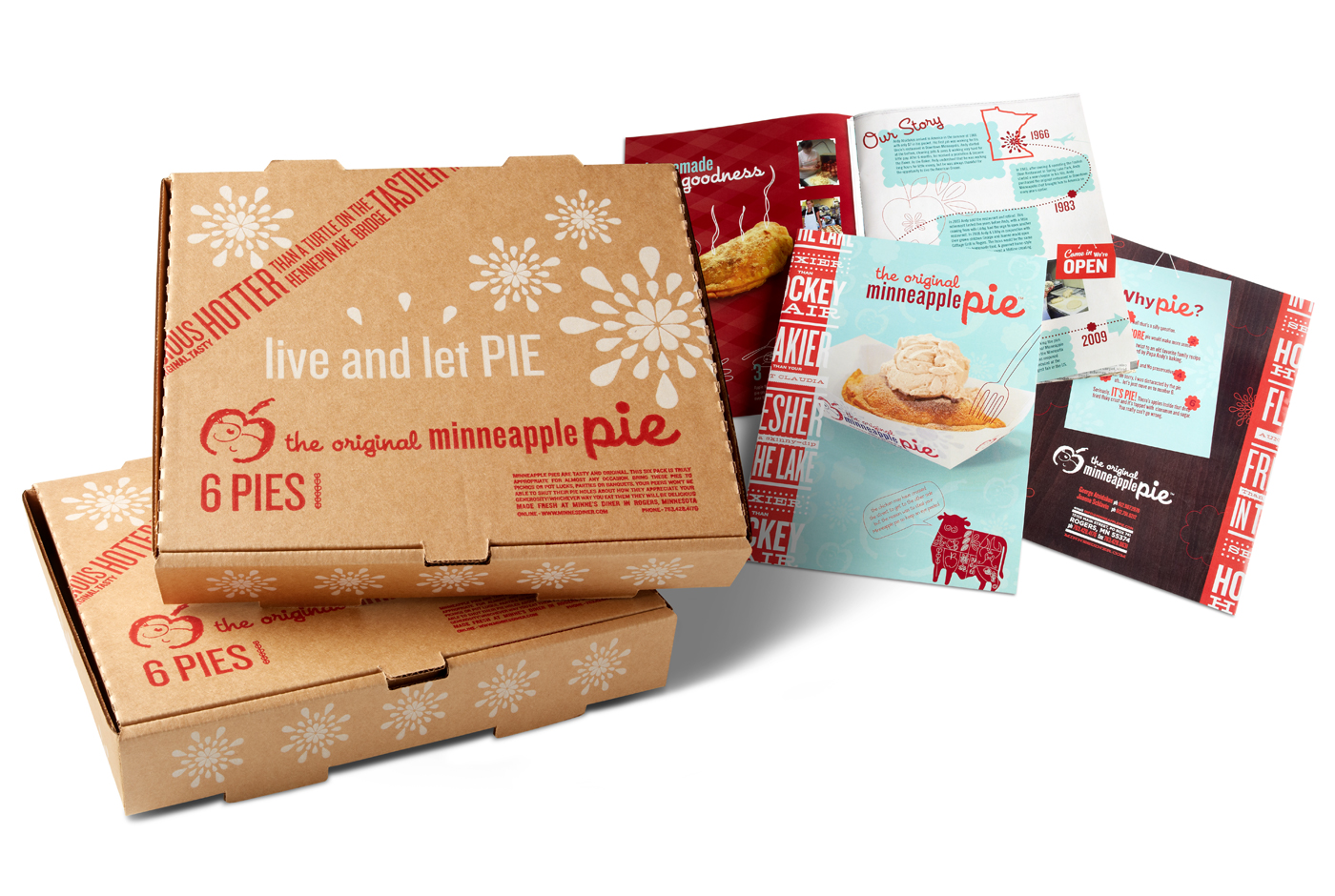 PIE BOX AND BROCHURE: Fun typography and brand graphics give this pie box some personality that makes the brand more recognizable.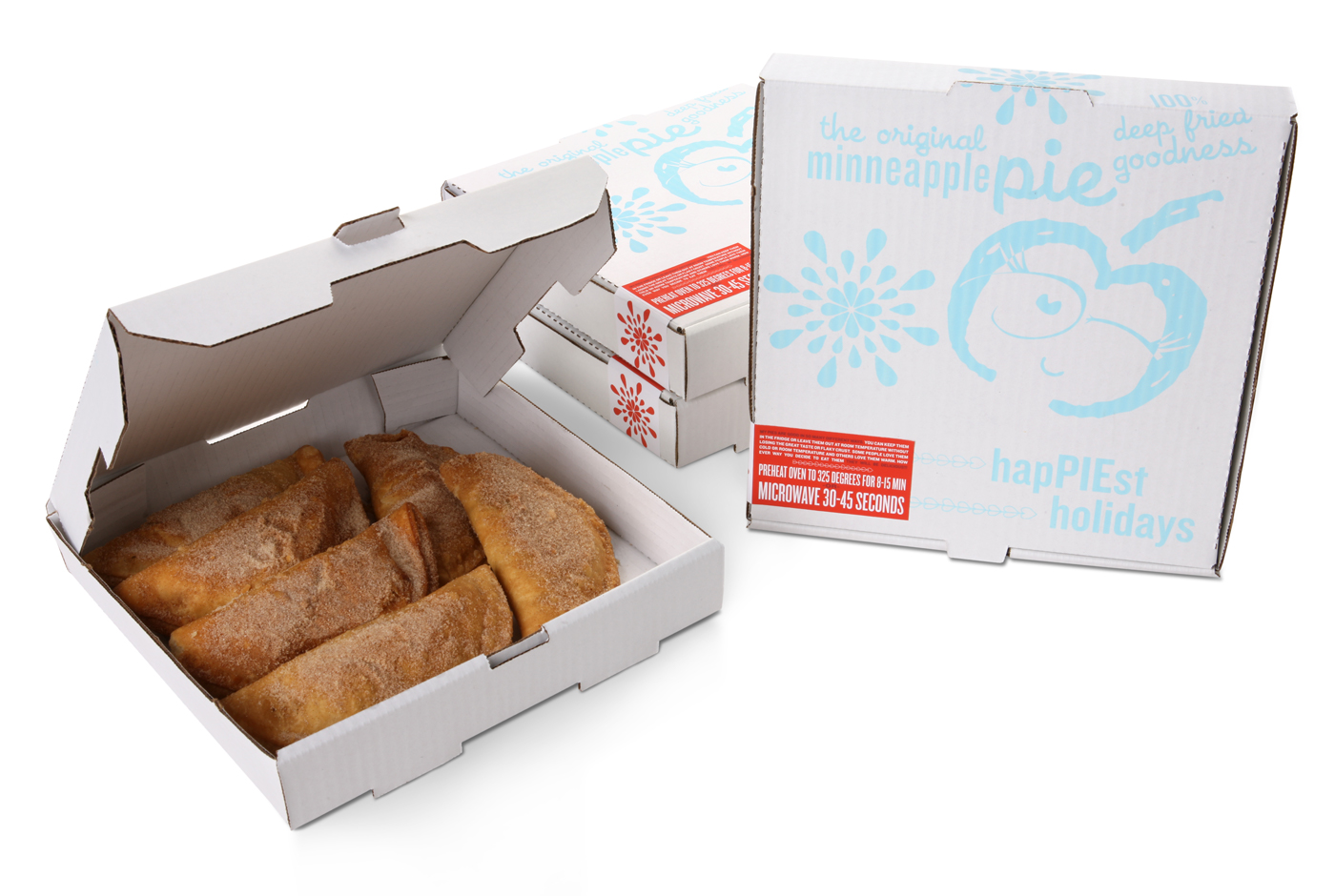 PIE BOX AND BROCHURE: By using seasonal graphics, the company is seen as an up-to-date and constantly refreshing brand that takes pride in their customers.
PIE BOX AND BROCHURE: The messaging that is used throughout the brand creates opportunities for social media, clothing items and brand awareness.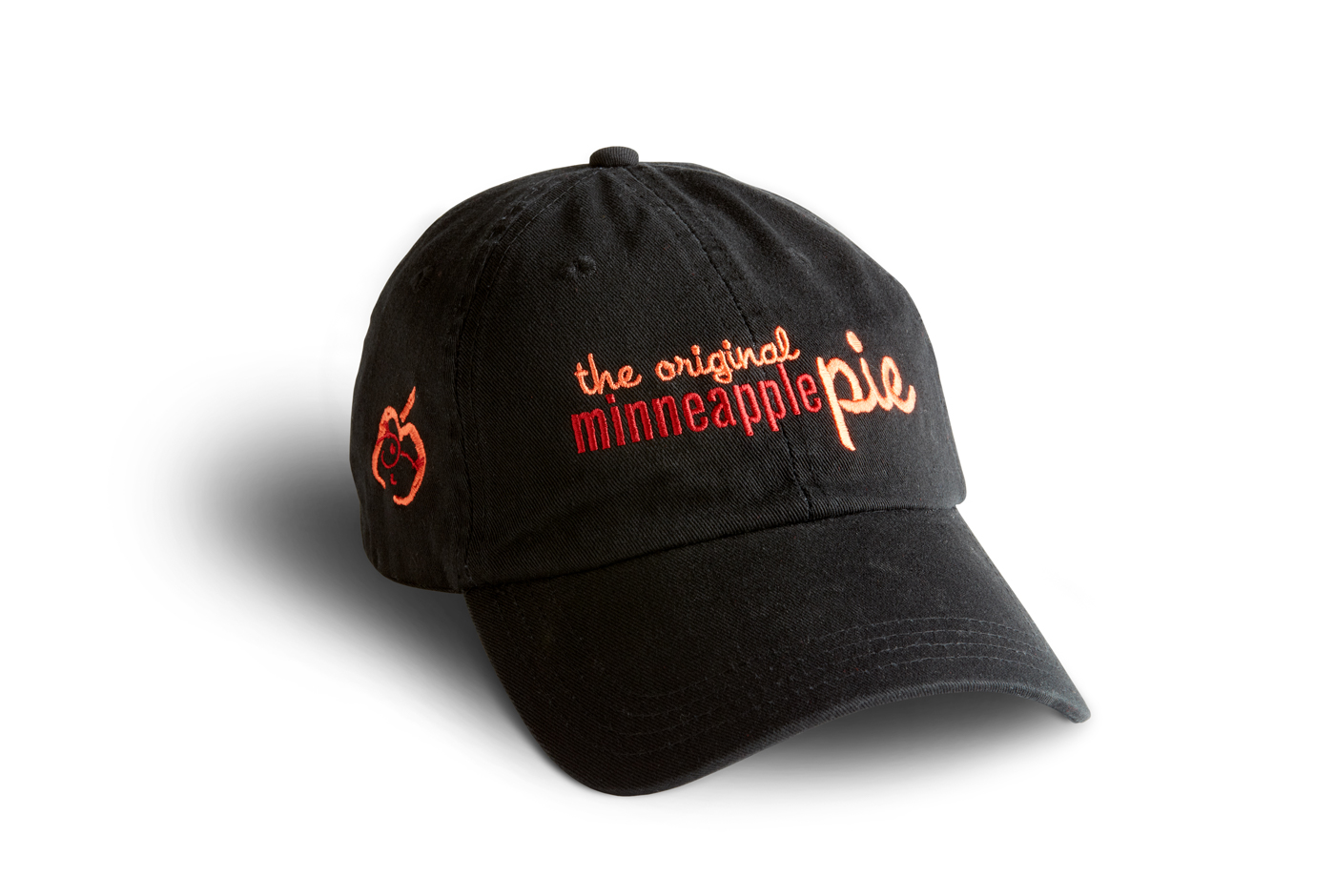 MINNEAPPLE MERCHANDISE: Hats are sold and worn by the crew making them more unified while working at the Minneapple Pie Trailer.
MINNEAPPLE MERCHANDISE: Branded shirts and clothing allowed the brand to grow outside of the trailer.
MINNEAPPLE MERCHANDISE: Branding the front and back allowed two sides of advertising for both workers and Minneapple Pie fans.
BETTER THAN PONTOON SUNDAY
The tone of the 100% homemade, deep fried apple pie with no preservatives or additives was an important aspect to set them apart from competitors. The new brand messaging needed to be clever, playful, and give off a local vibe. It was essential that it spoke to the unmistakably good qualities of the pie while nodding to regional Minnesota.
We have received so many positive compliments from our customers praising the creative marketing of the Minneapple Pie. Sussner has been an indispensable partner and truly cares about the success of our company.
Joanne Schlavin & George Atsidakos, Owners
"
"
FLAKIER THAN YOUR AUNT CLAUDIA
One of the broader goals was to widely spread Minneapple Pie throughout the state (and country) so everyone could enjoy the homemade goodness. They started at small fairs, moved up to Target Field (home of the Minnesota Twins), landed a comfy spot at the MN State Fair and eventually have gained store space at local grocer Kowalskis. As they continue to grow and share their wonderful treat with the locals, they are also adding more flavors to challenge their competitors.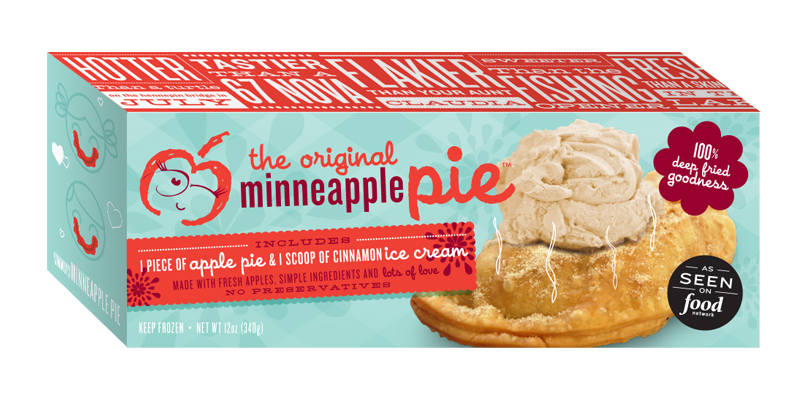 MINNE'S DINER RESTAURANT SIGNAGE: The goal of the restaurant was to showcase the pie and give fair goers a way to enjoy it year round as well as a local context for the pie's origin.
MINNE'S DINER RESTAURANT SIGNAGE: Additional graphics and assets were developed and used throughout the brand to increase authenticity.
MINNE'S DINER RESTAURANT SIGNAGE: Bright colors, illustrations and fun patterns give this space a spirited personality.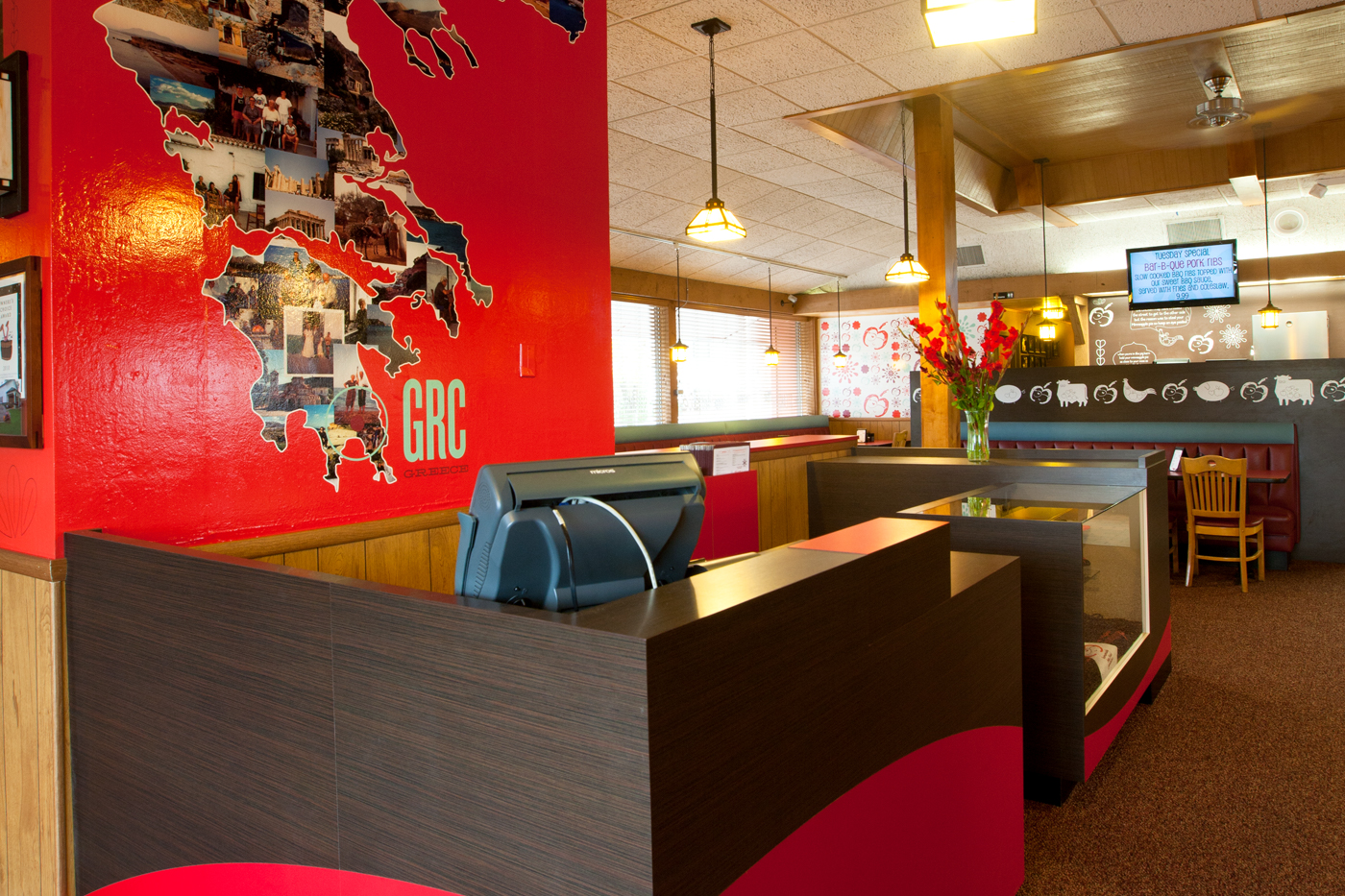 MINNE'S DINER RESTAURANT SIGNAGE: A nod to Greece, where the family has originated from, shows respect for the family history and the past while they continue to expand.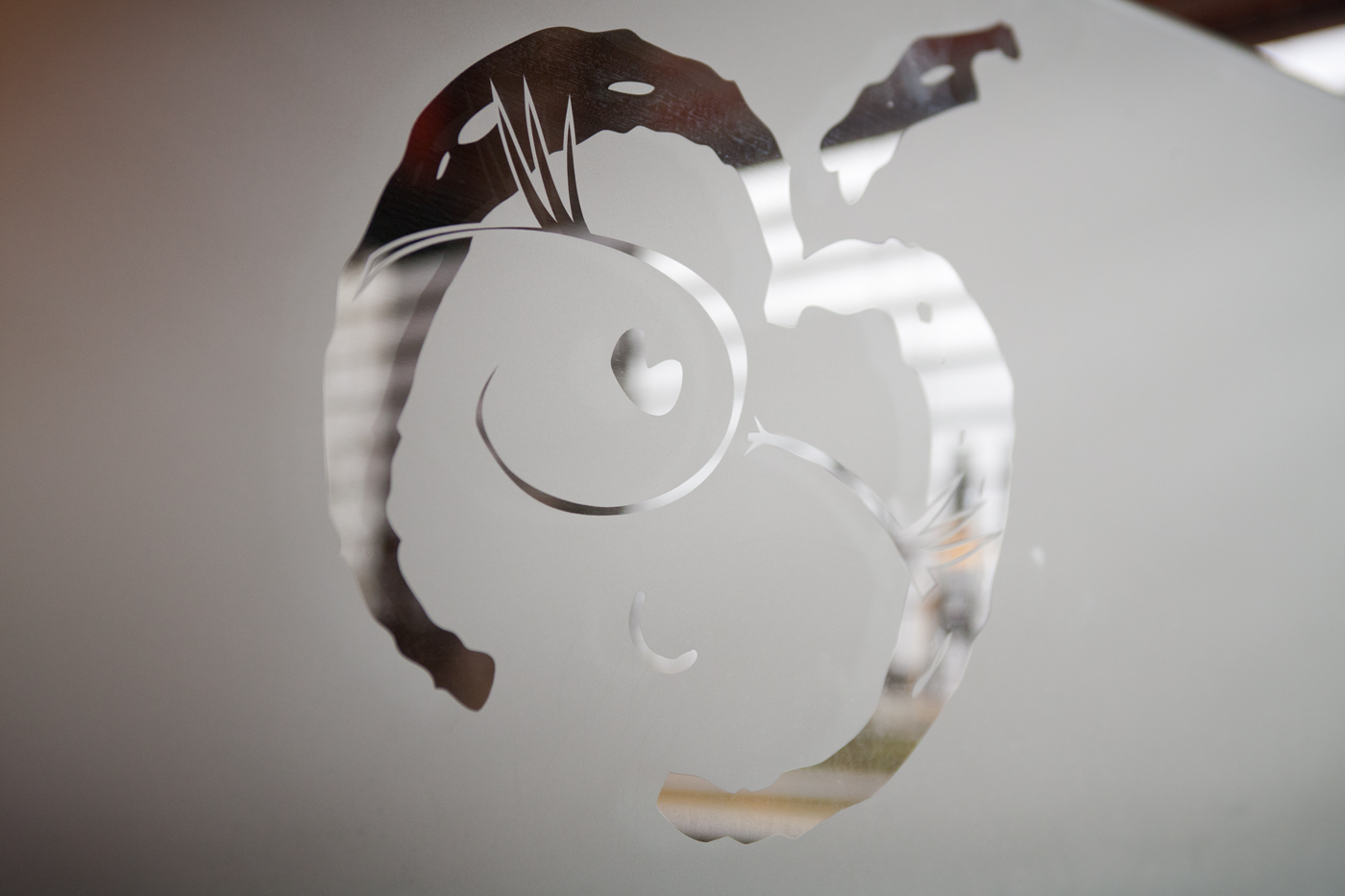 MINNE'S DINER RESTAURANT SIGNAGE: Minne herself is strategically placed on walls and seating to strengthen the identity.
As a result of Sussner's work we have seen an increase in business on all ventures. We've had several news media interviewers comment on how much they like the design work and have won multiple awards, including one for best signage for our trailer at the Steele County Fair.
Joanne Schlavin & George Atsidakos, Owners
"
"
BIGGER THAN PAUL BUNYAN'S WALLET
Becoming recognizable in the Minnesota State Fair is no easy feat. With deep fried foods on every corner, Minneapple Pie wanted to stand out and establish themselves as the best. We went through an intense thought process on how to design structurally that would allow each area to be beneficial and important. We had the brand, now we had to successfully advertise it.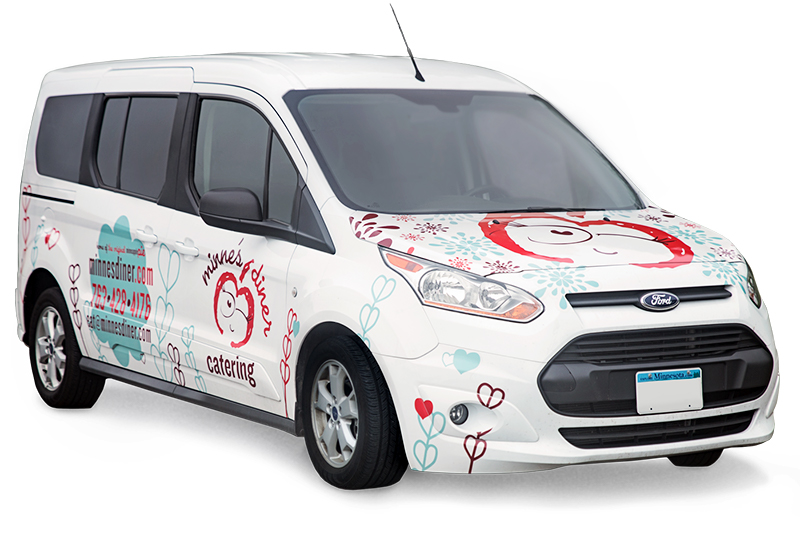 MINNEAPPLE PIE TRAILER: An easily recognizable logo was essential in planning the design.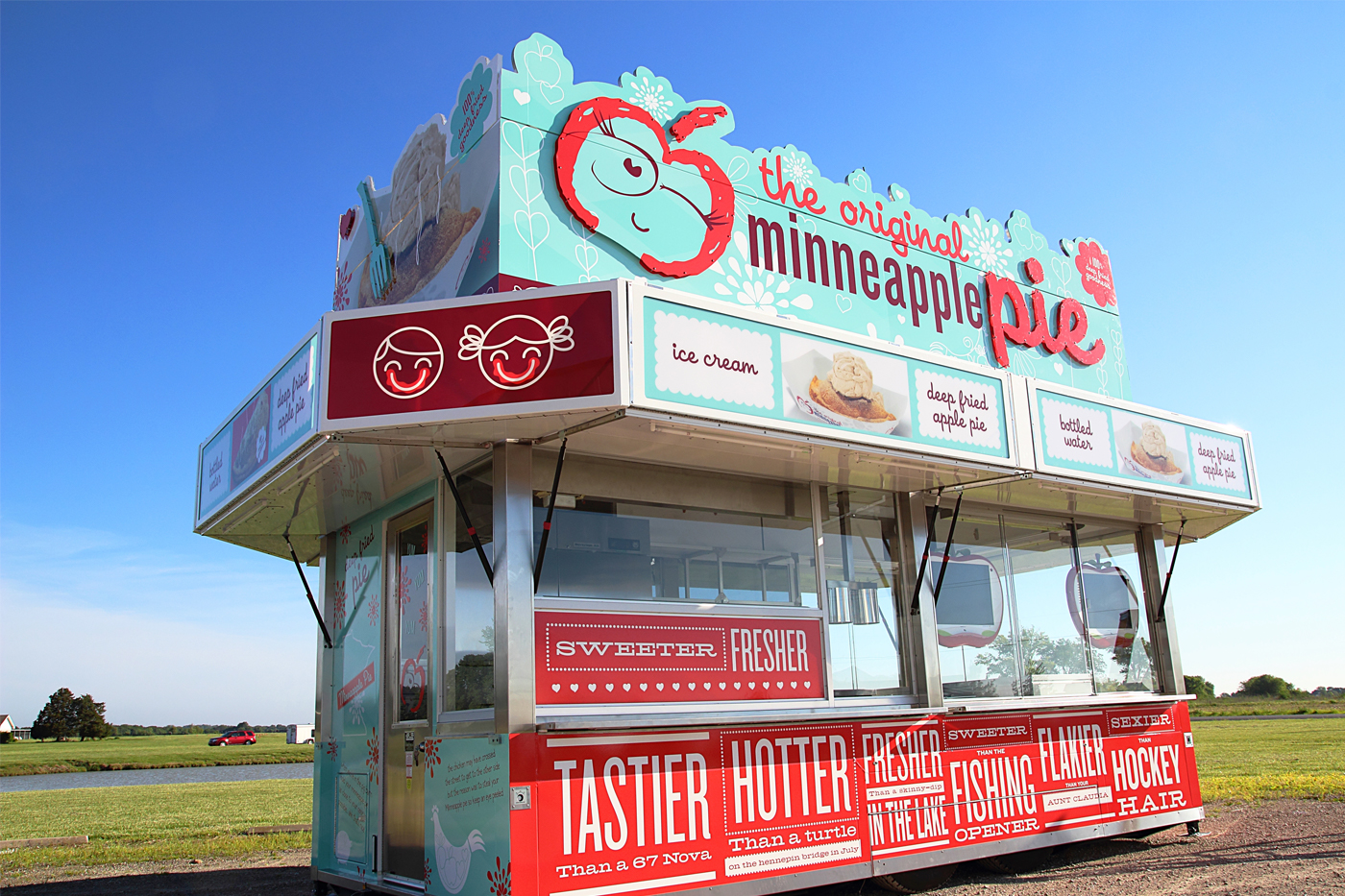 MINNEAPPLE PIE TRAILER: Memorable brand messaging and illustrations enhanced the trailers significance.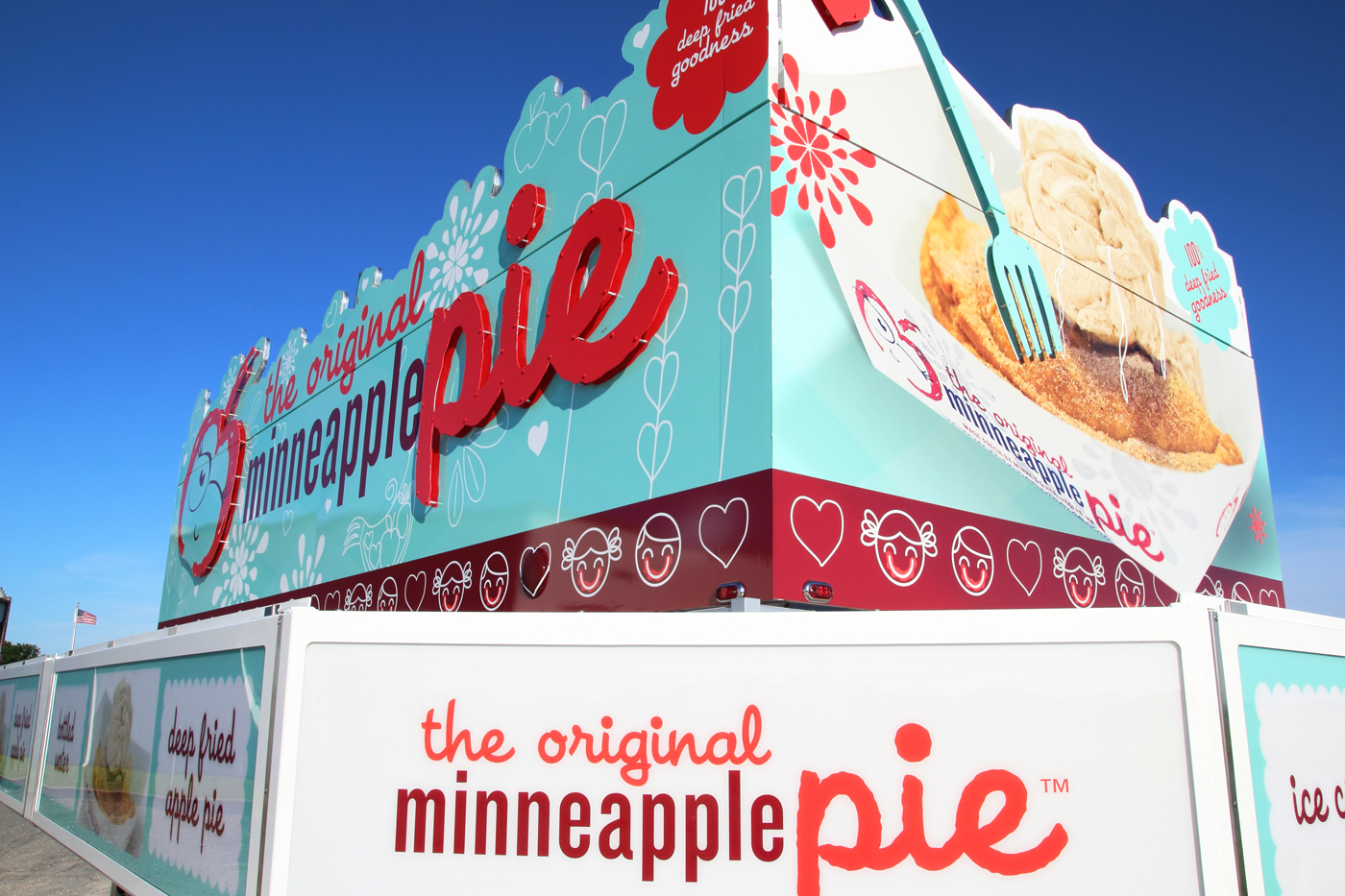 MINNEAPPLE PIE TRAILER: Lighting fixtures strengthened legibility from all corners of the fair.
MINNEAPPLE PIE TRAILER: Delicious pie images enticed the possible customer to choose them over the 'other guy'.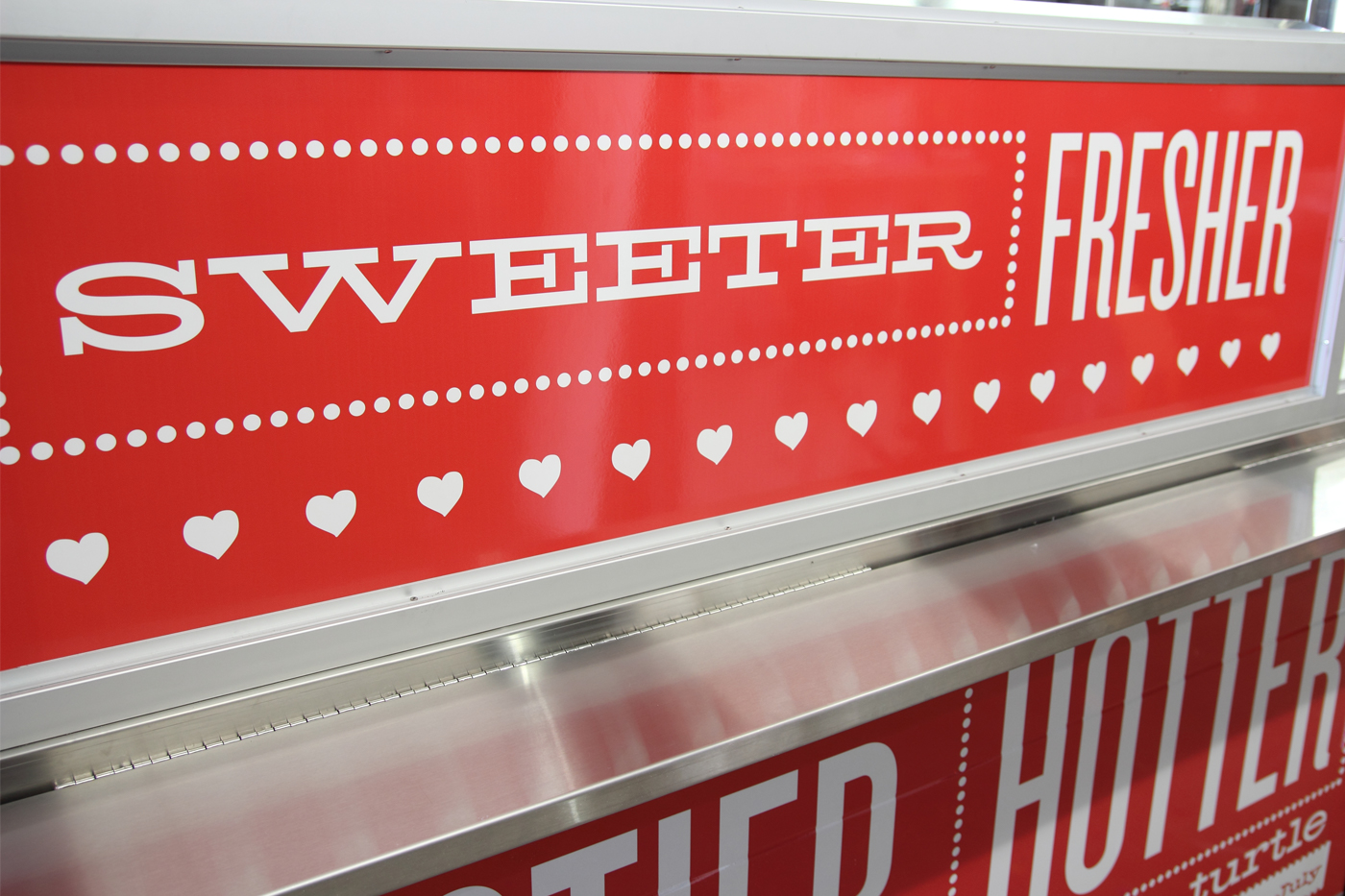 MINNEAPPLE PIE TRAILER: Minnesota fueled, and mouthwatering verbiage used repeatedly throughout the trailer reinforced their local status.
MINNEAPPLE PIE TRAILER: Long lines are a large deterrent at food trailers, with the use of interactive messaging, the customers felt entertained.
RECOGNITION:
+