Branding, Environmental Signage, Website, Print Collateral
TACTICS
While other printers distance themselves from the true art and deep craft of printing, Franklin Press embraces its strong heritage and its glossy future. SDCo was tasked with applying a fresh coat of ink to Franklin Press with a renewed identity, including a new logo, reinvented tagline, upgraded website, new delivery trucks and building signage. By collaborating with three generations of the Franklin Press family, employees and our extended SDCo team, we were able to highlight the best of this great company and illuminate the reasons to work with Franklin Press. Full disclosure: Franklin Press is one of our frequent go-to printers—because, we know outstanding when we see, feel and experience outstanding.
OBJECTIVE

LOGO REDESIGN: Franklin Press was in need of a brand refresh. As three generations have passed the FPI torch, a contemporary approach to reflect future growth while paying respects to the family history was an important component during development.
STATIONERY SYSTEM: The business card is three papers deep with a blind deboss which was a subtle way of showing the new brand and also FPI's smaller-scale capabilities.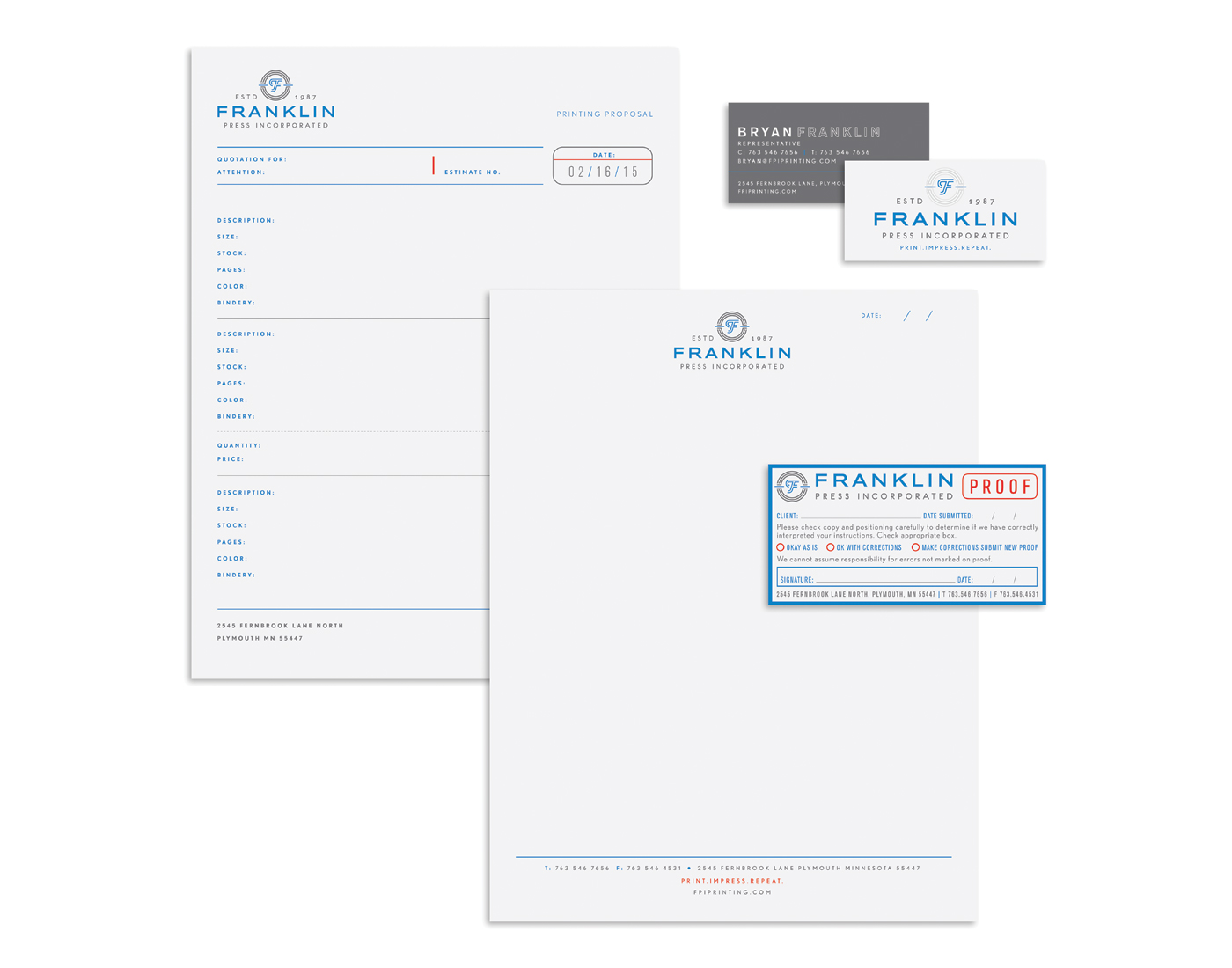 STATIONARY SYSTEM: Clean stationary with detailed typography complements the internal attributes of Franklin Press.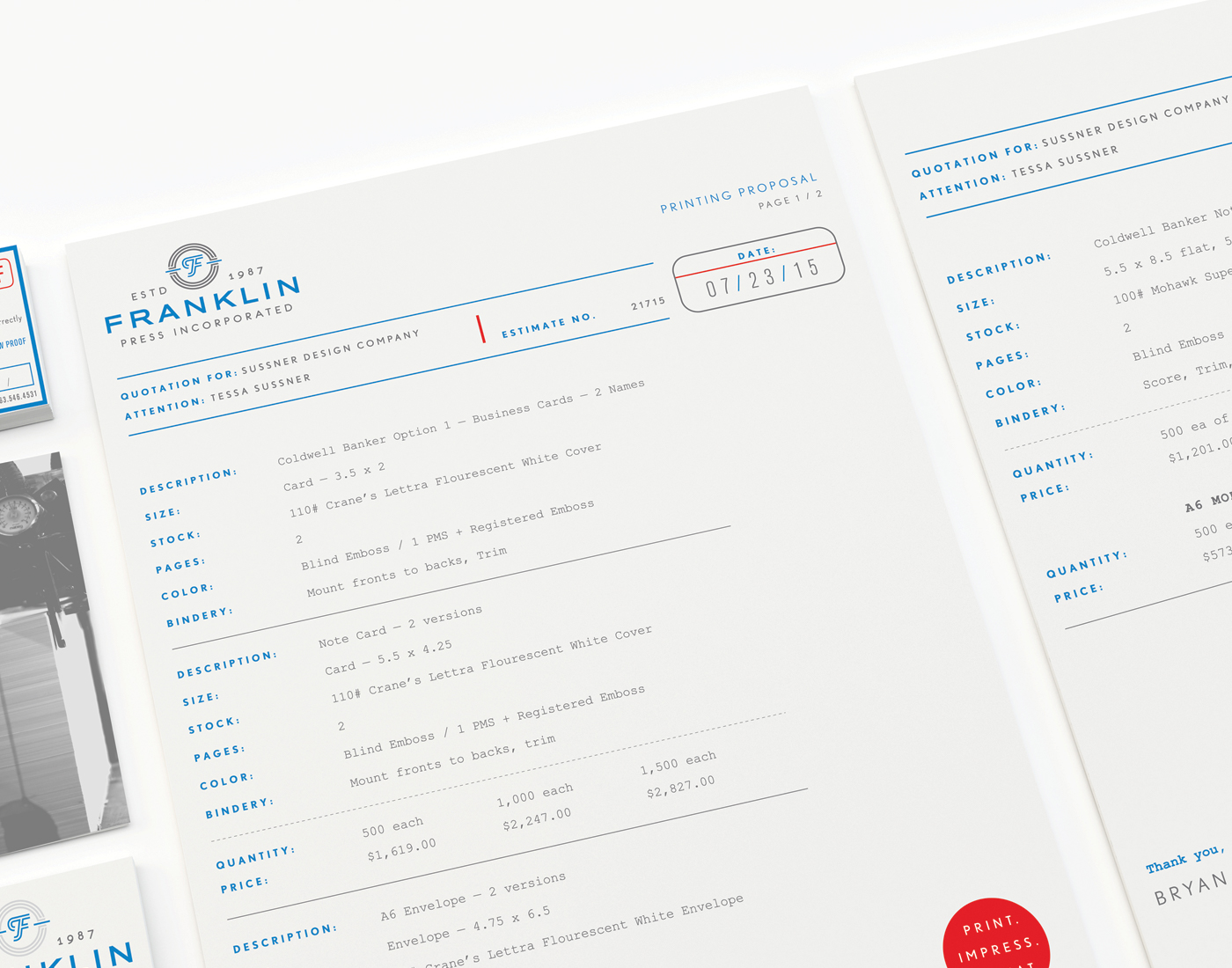 STATIONARY SYSTEM: With the majority of the brand consisting of warm grey and blue, pops of bright red was used to entice interest and add energy.
STATIONARY SYSTEM: The capabilities brochure was an opportunity to exhibit the new logo, brand voice and vision to both current and new clients.
EVERYDAY WE WORK FOR YOU
The tone of Franklin Press encompasses the characteristics they abide by on the daily, they are professional, dedicated, approachable and capable. FPI delivers in-person attention and the opportunity to enroll in the process as much as desired throughout the lifetime of the relationship. Franklin Press is an invested partnership that truly goes above and beyond.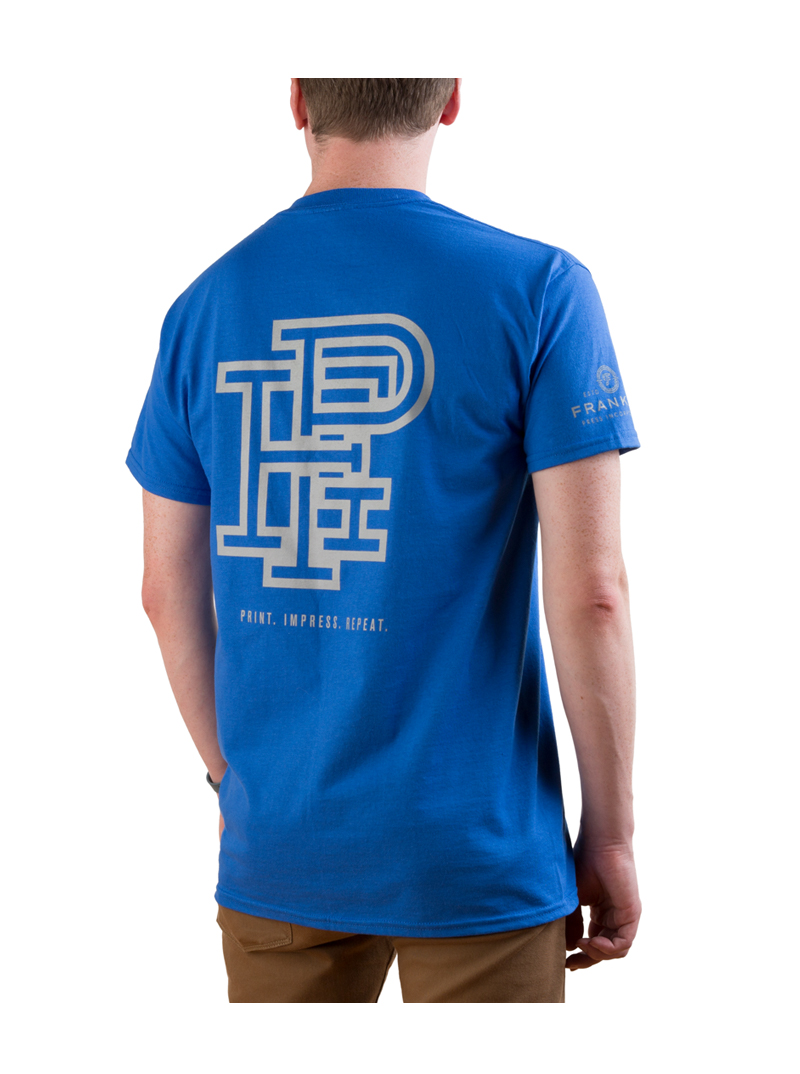 The Sussner team took the time to understand how our family history, work ethic, and level of quality make Franklin Press unique. This shows in our new logo, colors and tagline. The idea of updating our brand was intimidating, but SDCo made the whole process pretty painless and each step was always backed by solid reasoning. We have received so many compliments on our new look from both customers (many of which are other design firms) and staff—especially the people running the presses and wearing the new logo on their shirt every day!
Bryan Franklin, Sales Representative
"
"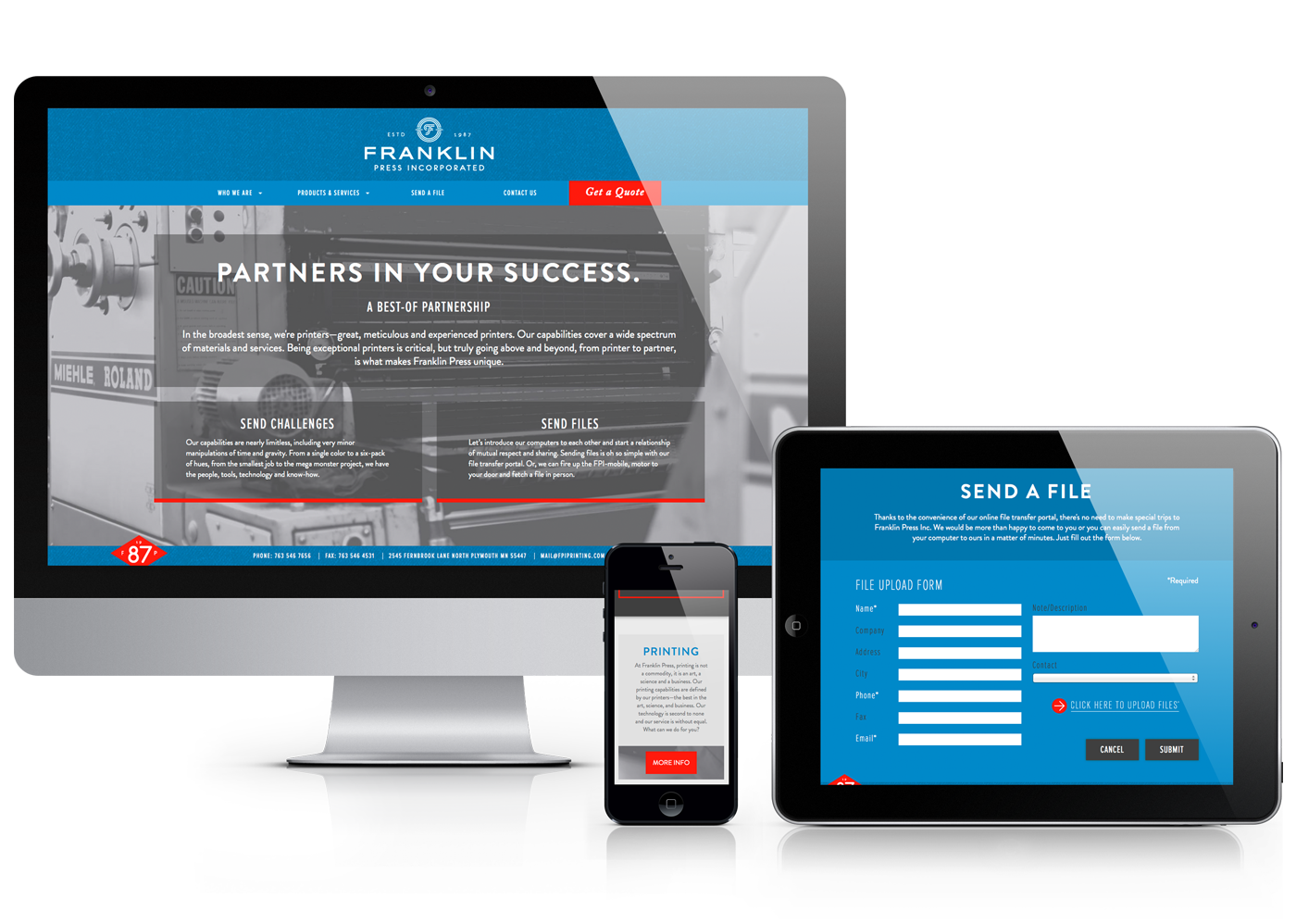 BEST-OF-PARTNERS
An intricately designed "liquid-carrier", handcrafted by Franklin himself, was a fool-proof way to say thank you to both clients and esteemed colleagues. Fun type and line-work enhances the brands approachability and gives a nod to the blue-collar personality. These time-invested gifts emulate the hands-on, high-quality and dedication Franklin Press brings to the office and production floor every day.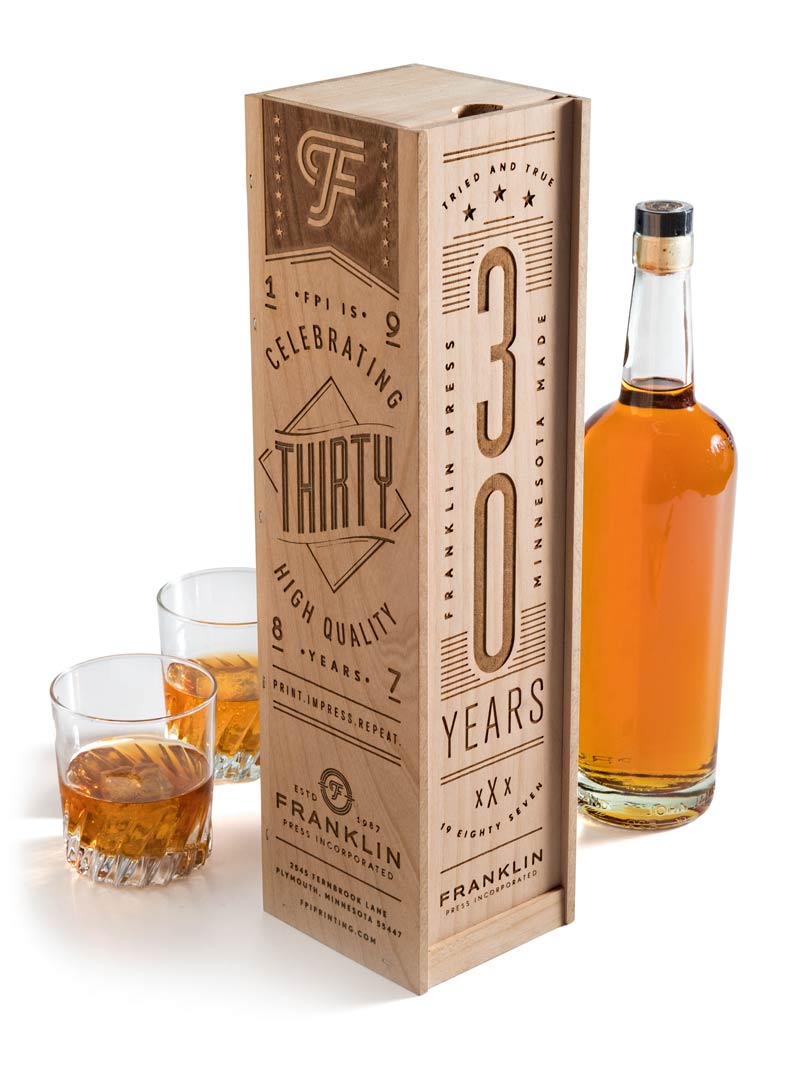 EXTERIOR SIGNAGE: The exterior signage was a chance to showcase the new vision and welcoming brand to onlookers and possible future clients.
EXTERIOR SIGNAGE: A subtle display of the locality of Franklin Press, without being obtrusive, is implied through topographical lake maps.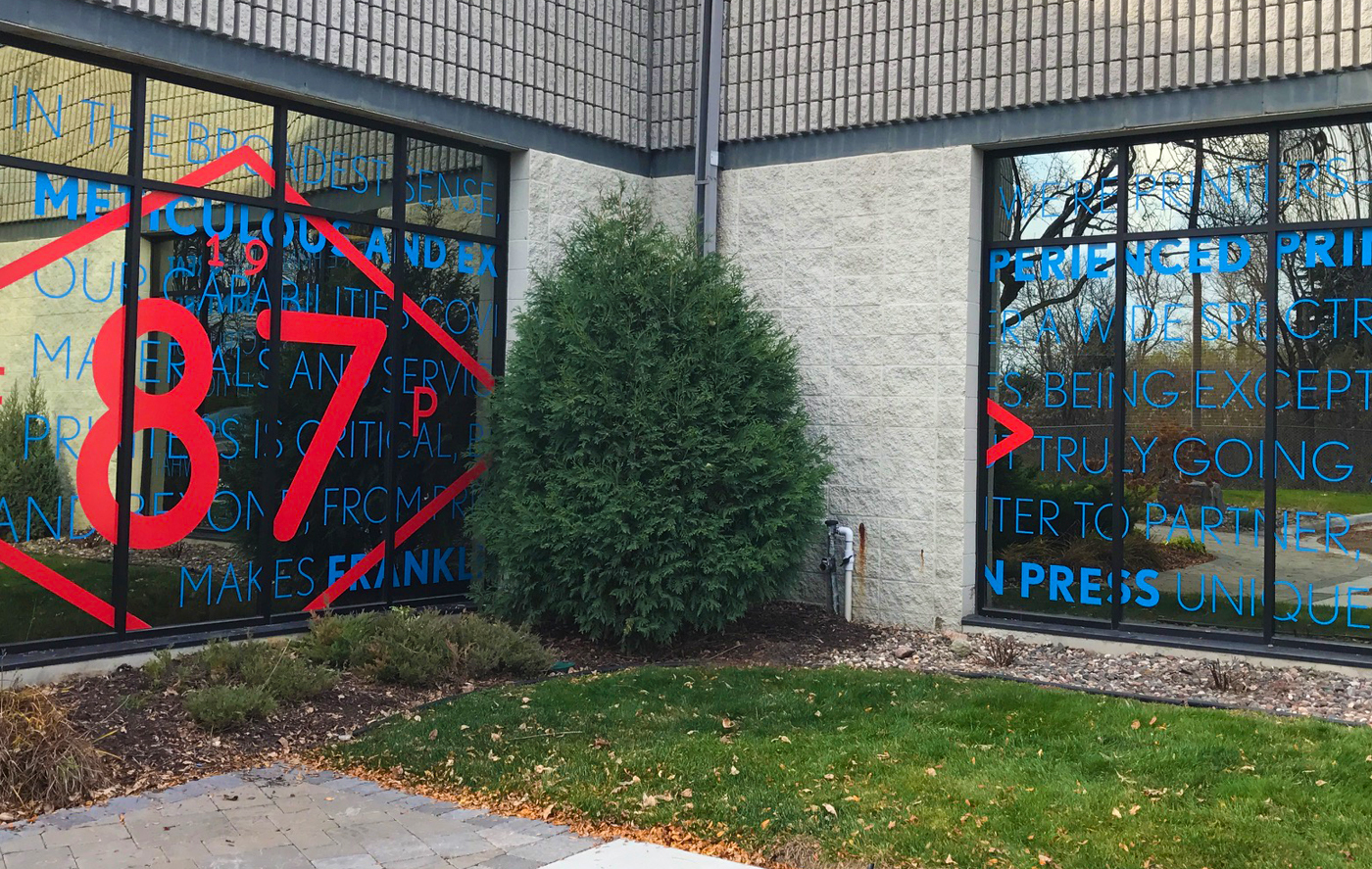 EXTERIOR SIGNAGE: Bright red graphics display the established date acknowledging the history and dependability.
BLUE-COLLAR PHILOSOPHY
Being perceived as approachable and also competitive was an essential component of the new brand. Franklin Press is a windsor knotted tie and blue jeans, they are bright white and rugged brick, clean lines and oak barrels. FPI is a professional, efficient and dependable machine that runs right for all partnerships.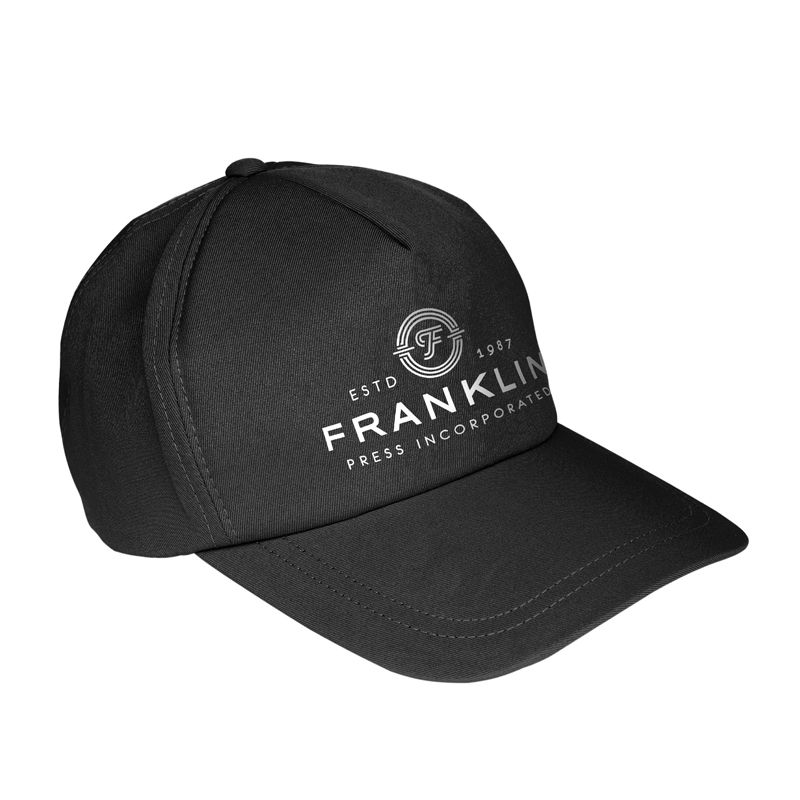 TRUCK GRAPHICS: Bright 'Franklin blue' was utilized for the truck graphics to generate a significant and memorable moving billboard for the new brand.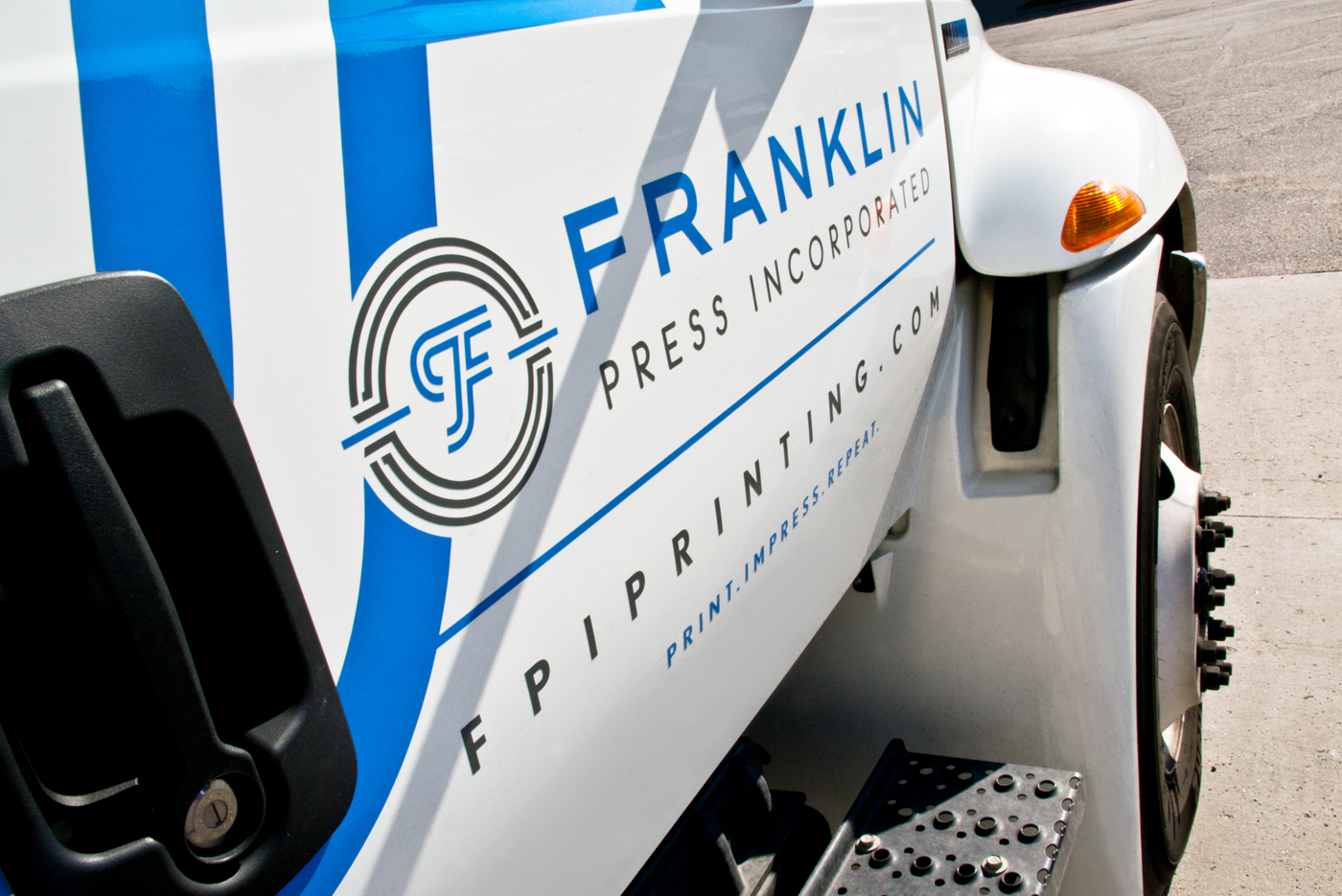 TRUCK GRAPHICS: We featured the new logo on all aspects of the vehicle to create a recognizable transition between the old and new brand.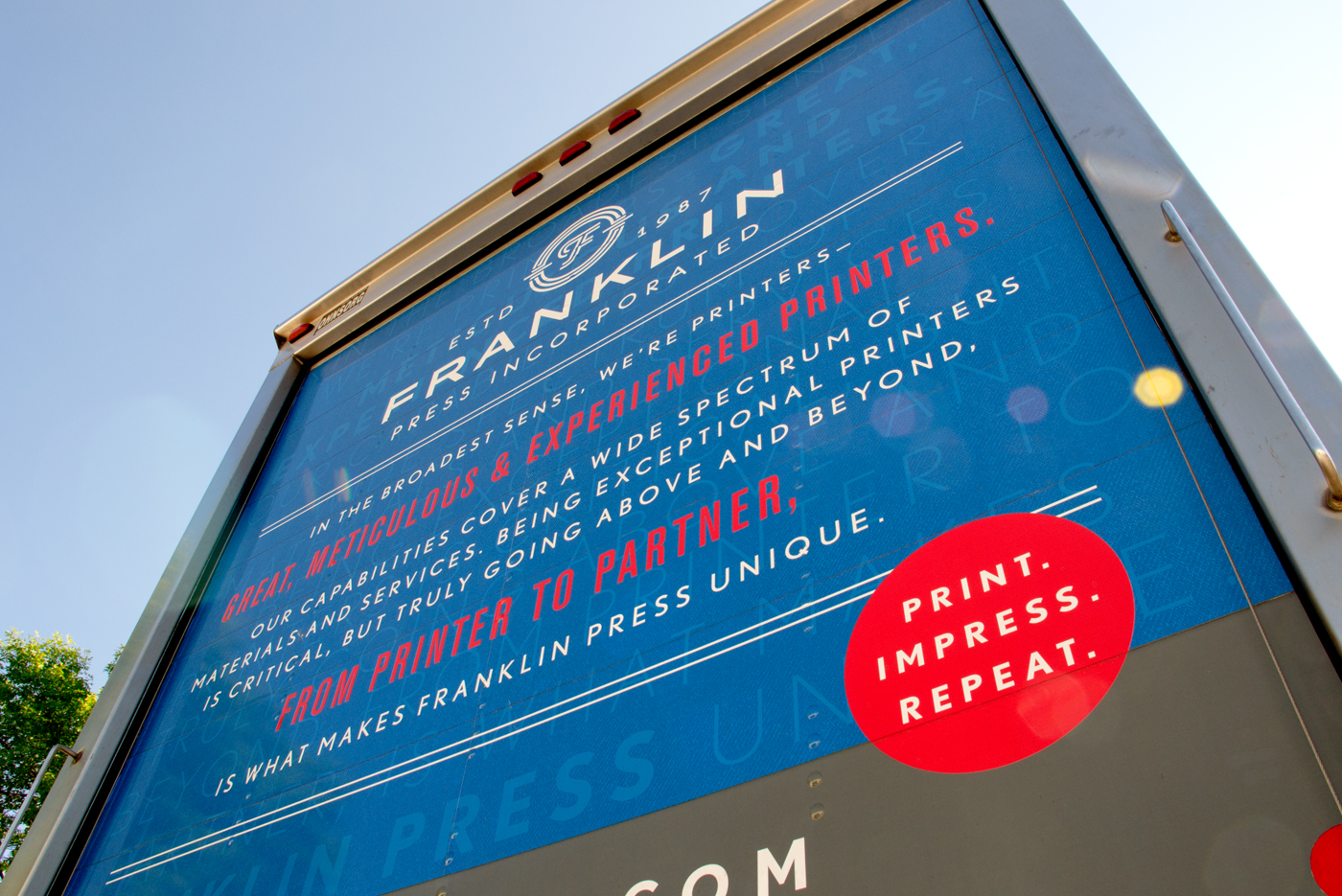 TRUCK GRAPHICS: Both the vision and voice were included to benefit multiple levels of viewing, whether stuck in stop-and-go traffic or driving on an overpass.
RECOGNITION:
+