Commercial Property
INDUSTRY
Branding, Environmental Graphics & Wayfinding Signage, Advertising, Print Collateral
TACTICS
The tallest building in the Upper Midwest deserved an identity that stands as proud. Capella Tower's management group, Ryan Companies, came to us seeking a brand that was more luxury hotel than cubicle farm. We pulled out every stop in order to reflect the Tower's concierge-like quality of services. With identity, printed collateral, environmental graphics, wayfinding signage and laser-engraved gift boxes, we continue to deliver premium creative for this sky-scraping client.
OBJECTIVE
LOGO REDESIGN: A logo facelift was necessary to emulate the sophisticated and stylish renovations that were in process. As a recognizable building proudly displayed in the Minneapolis skyline, the tower itself became the signifier in the logo development. The two stars above the building are that of the Capella constellation, which are considered the largest and brightest golden stars visible in the sky.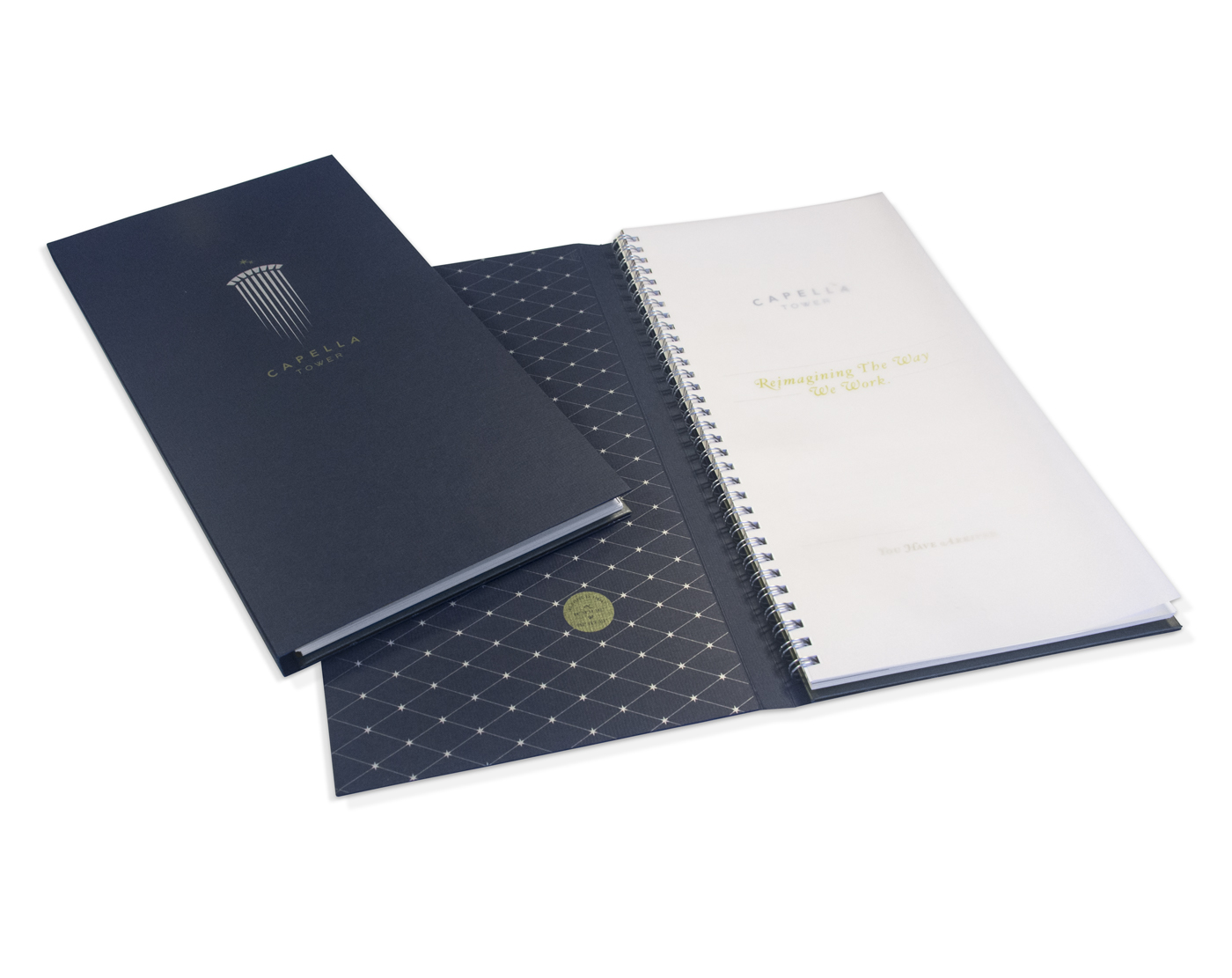 CAPELLA TOWER BROCHURE: An intricate takeaway to inform prospective tenants on the upscale amenities, luxury renovations, annual events and the general work-style of the current occupants.
CAPELLA TOWER BROCHURE: Abundant imagery promotes the recent renovations and captures the ornate elegance of Capella Tower.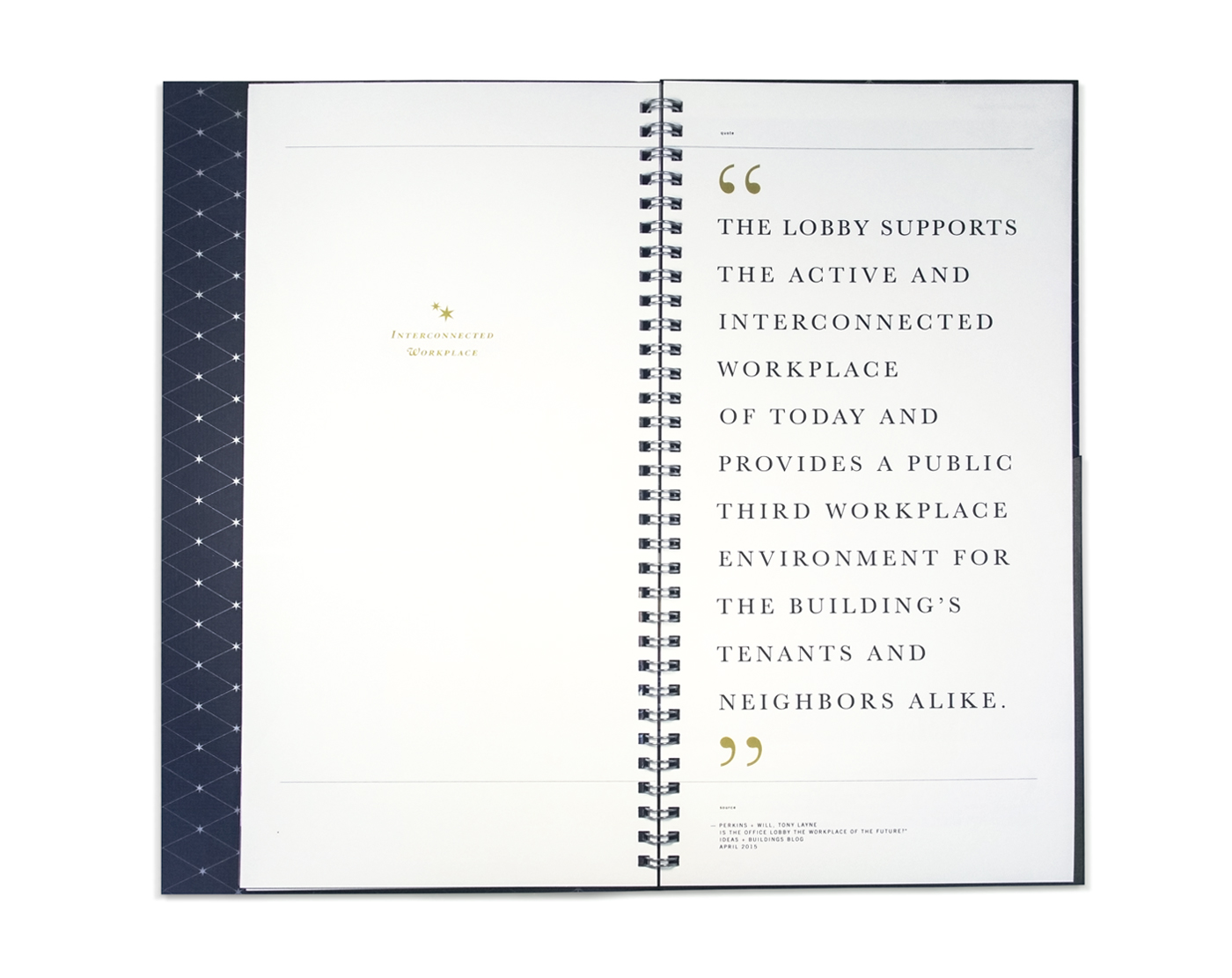 CAPELLA TOWER BROCHURE: The use of meticulous typography adds sophistication and stylish texture while generating a leisure pacing for the viewer.
CAPELLA TOWER BROCHURE: A ground floor view exhibits the detailed architecture and unique design of the building itself.
CAPELLA TOWER BROCHURE: Promising statistics, informative testimonials and building specifics demonstrate the lifestyle and available accommodations.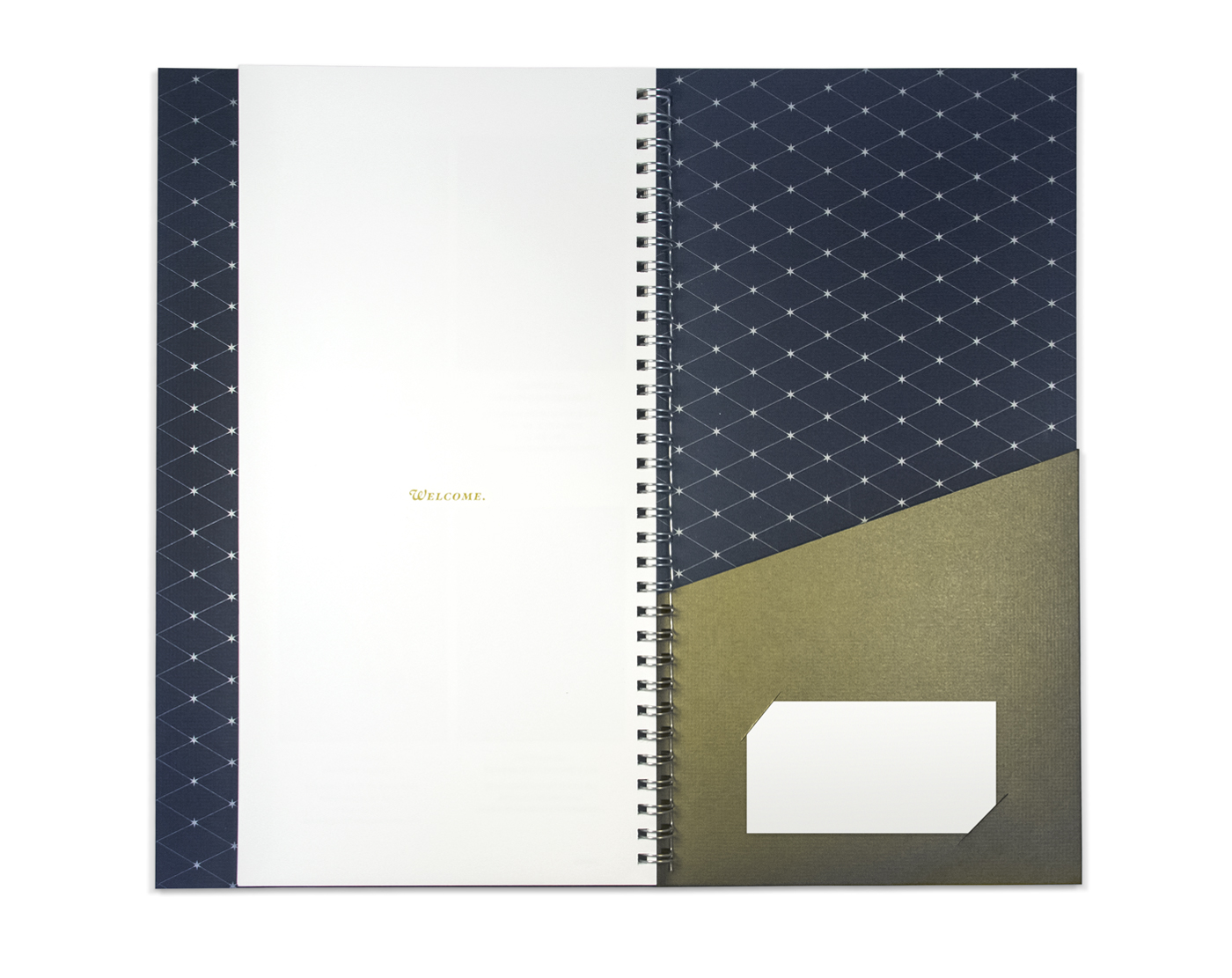 CAPELLA TOWER BROCHURE: Signing off with one of Capella Tower's genuine taglines "Welcome" is warm and inviting to the possible-future-tenant.
A PLACE TO PROSPER
Capella Tower's replenished new brand has created opportunities to self-advertise which entices new tenants and prosperous businesses. As the largest, leading Class A tower in downtown Minneapolis, Capella Tower is the home to both successful people and successful organizations. With a newly refined and charismatic persona, Capella is a place where market-leading companies come and once here, seldom leave.
The process that Sussner guided us through made rebranding approachable and manageable. We received much more than a logo that represents our building: we discovered new ways to speak to our strengths, gained marketing swagger, and earned new tenants.
Ted Campbell, Property Manager
"
"
THE VOICE OF CAPELLA TOWER
Welcome. Above. You Have Arrived. Capella Tower speaks with authority and confidence, without pretentiousness. The tone and manner reflects that of the tenants—experienced, respected and successful. While the personality is strong-willed, their voice is fresh and never loaded with clichéd corporate-speak. Capella Tower is bold but not flashy, they are clean lines and clear thinking. They are Capella Tower.
INTERIOR SIGNAGE: With all new renovations, the building was a clean slate allowing for new ideas and opportunities to advance the new brand.
INTERIOR SIGNAGE: Clean and easily distinguishable wayfinding preserves the sophistication of the building.
INTERIOR SIGNAGE: Strong use of typography benefits hierarchy and emulates stylish texture.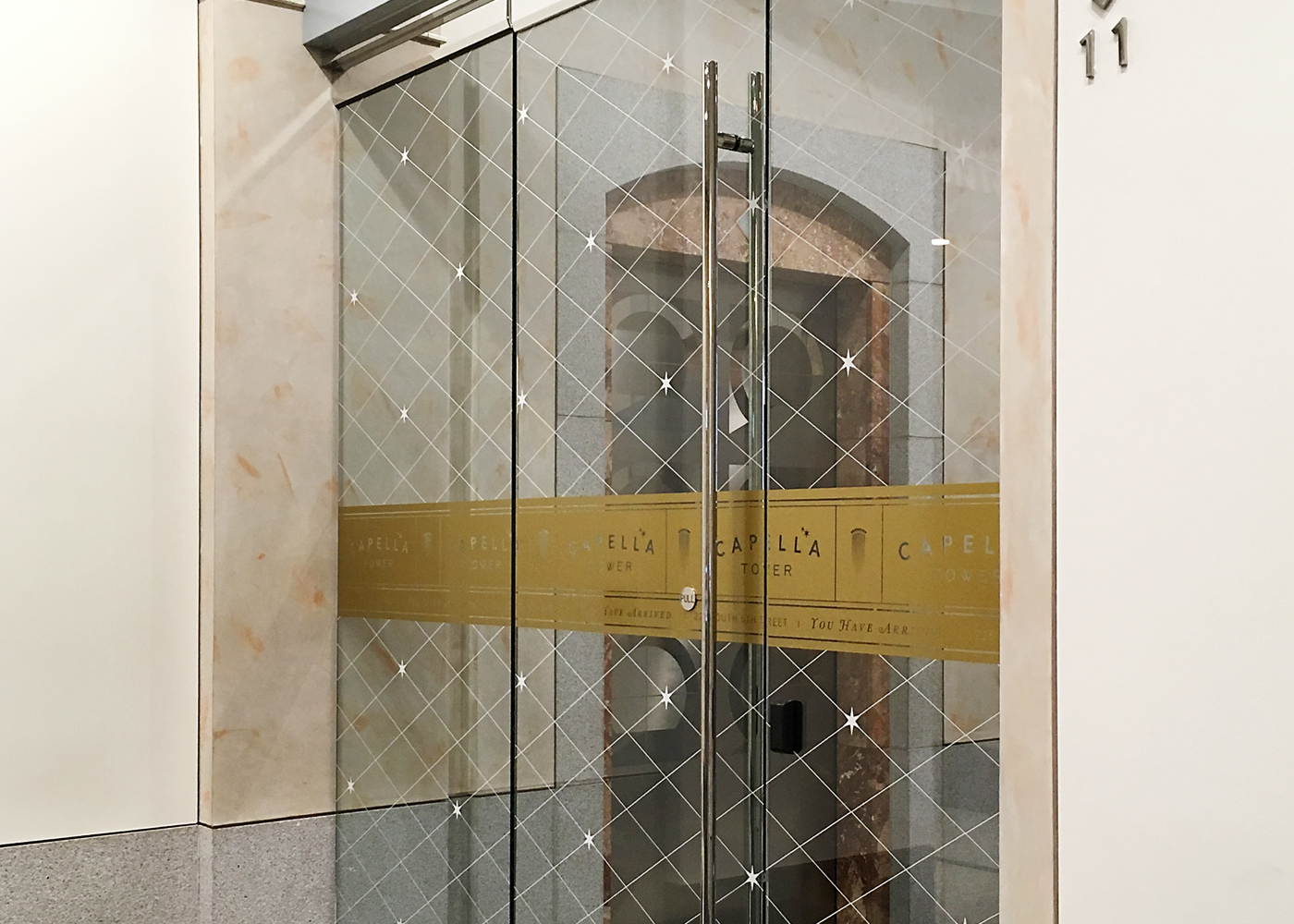 INTERIOR SIGNAGE: Fine lines, patterns and subtle branding reinforces the approachability of the building.
INTERIOR SIGNAGE: Simple, contemporary signage and icons are used for more precise and distinguished wayfinding.
INTERIOR GARAGE WAYFINDING: Large type was used in order to enhance legibility from afar and in dim areas.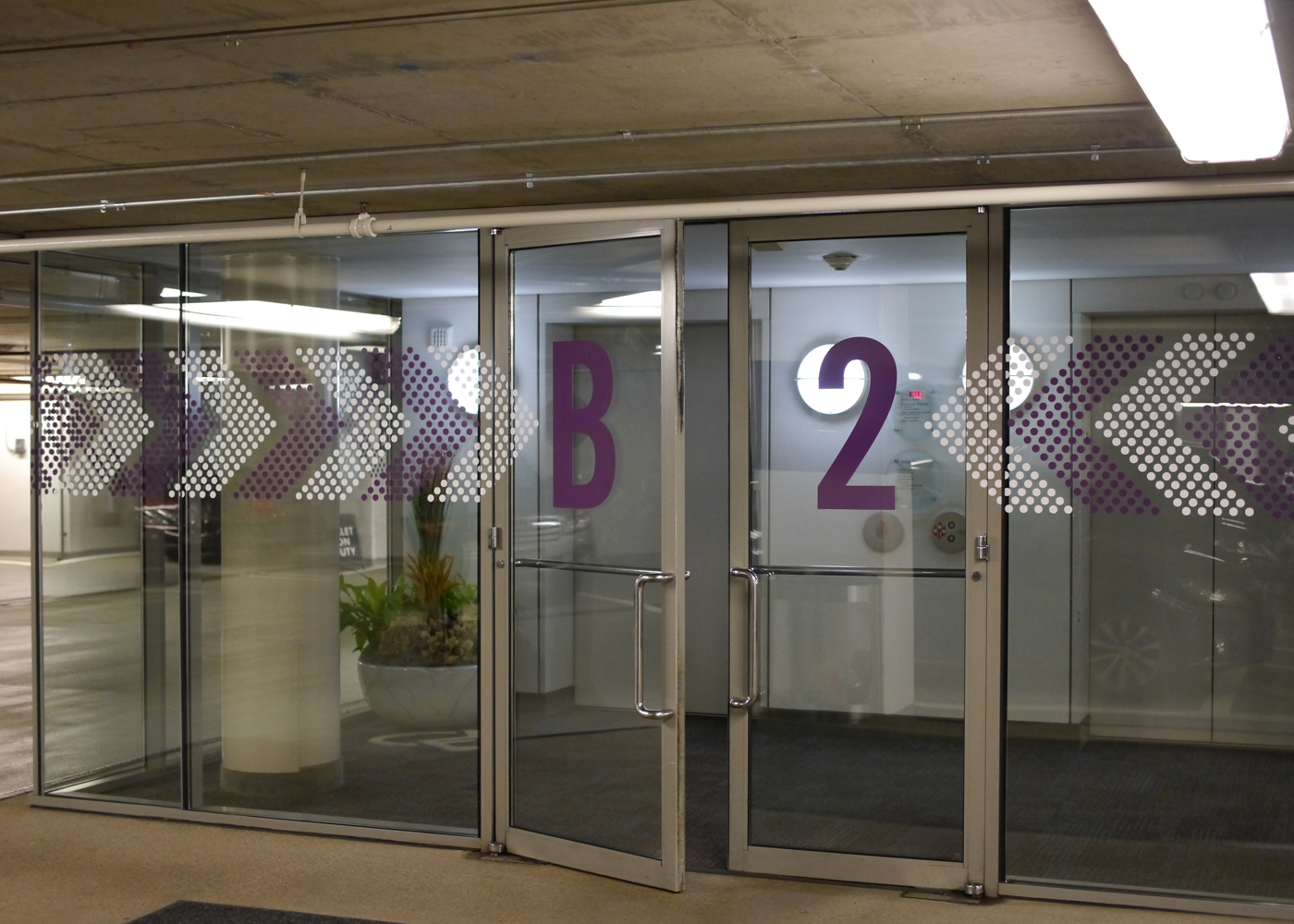 INTERIOR GARAGE WAYFINDING: The color-coded floor levels needed to be easily susceptible, accessible and notable.
INTERIOR GARAGE WAYFINDING: All areas included details that could be appreciated from a distance and close-up.
CAPELLA TOWER MARKET
The Capella Tower Market gives the tenants the opportunity to interact with other employees in a relaxed environment. Capella promotes convenient new offerings and events which have established a community within the building which boosts morale and efficiency. The Capella Tower Market sub-brand was developed to promote the relaxed atmosphere of the Capella Tower neighborhood.
RECOGNITION: