Questions to Ask When Considering a Brand Refresh: The First Question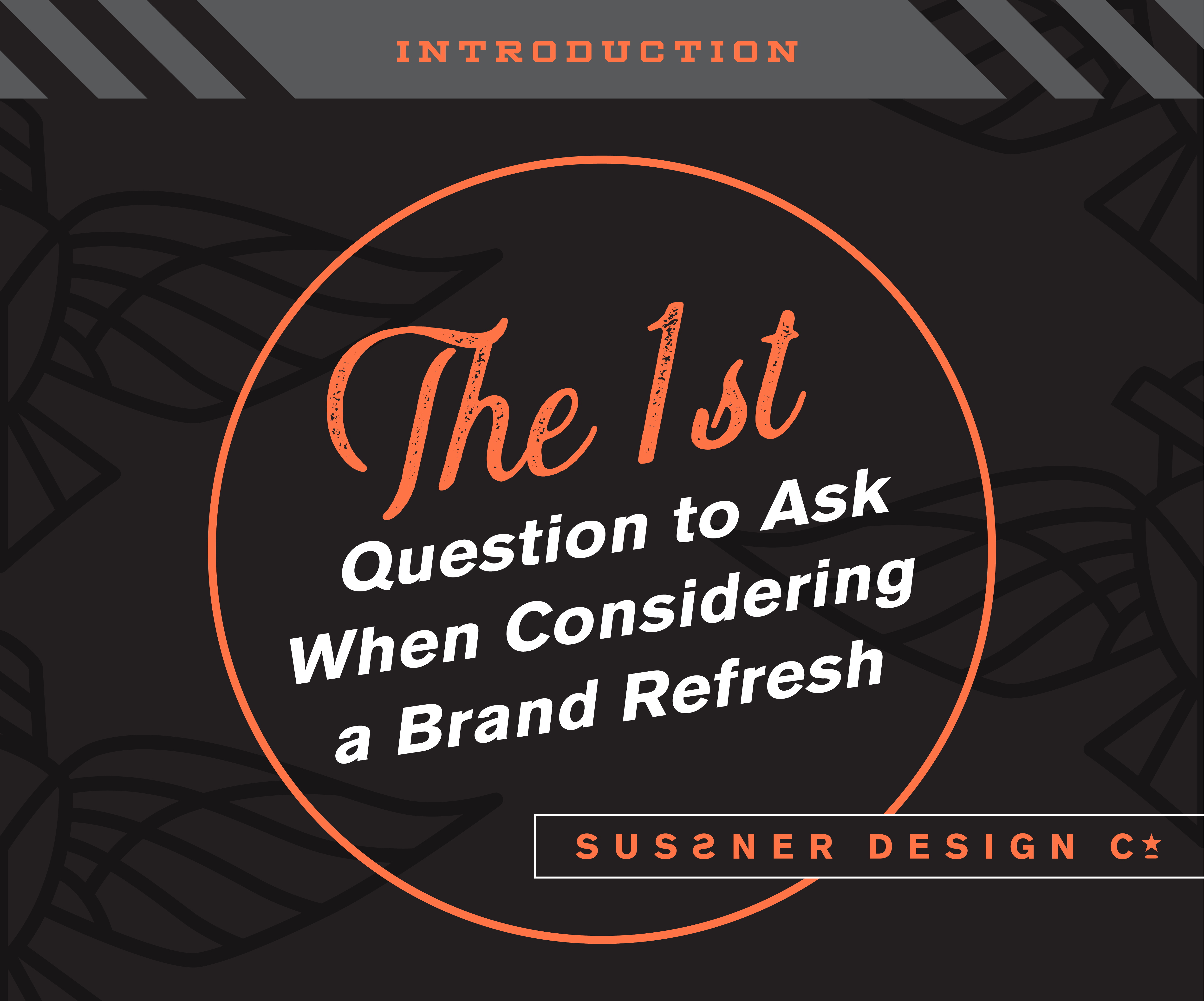 The 1st Question to Ask When Considering a Brand Refresh
Brand Worksheet – Question Number 1
If you're thinking about the state of your brand and considering building, refreshing, or refining, the first question we ask is:
What is the project you are thinking about?
This might sound like common sense, and at the surface, this question may sound simple to answer. But taking a moment to put some thought into your answer will clarify understanding and get everyone on the same page. Let's take a closer look at this question.
Ask Why? Why? and Why?
Some of the most meaningful answers we find are revealed when we ask "why" three times. Simon Sinek's well-known Ted Talk describes how to get to the why, which is at the center of what he calls the Golden Circle. The first question is usually answered with what the customer wants, and the second question is often answered with how the customer wants it or the format they envision this project will be delivered. These answers are great, but it's the answer to the third question that can identify why the customer wants this, which is the answer that offers the most helpful insight.
A real-life example:
We asked a customer we met with to talk about the project they were thinking of. They said they needed a new website. (With a brief look at the state of their current site, I knew they were right.)

Then we asked why they needed a new website. Their answer was that the current website "looked awful". (While honest, that's a rather subjective observation that can be challenging to qualify.)

When we asked why the third time – what was it about the current website that was awful – the customer told us that they'd added a new service line, and they were anxious to have that service included on their website. On top of that, they were frustrated by how hard it was for visitors to navigate their current site and to find the specific service they were looking for. And third, they felt the messaging that described their services were not up to date and did not do a good enough job of articulating what they do. With that, we landed on the insight we needed to put together a plan that would help them!
What would success look like to you?
If "What is the project you are thinking about?" is question 1A, then this question is 1B – and it's a great one for several reasons:
It tells your clients you care about what they want and that you are focused on them and their needs.

It paints a picture of what your customer's life will look like if they engage with you and describes the positive results they will experience if they use your product or service. It demonstrates you are motivated to help them get what they want.

It associates you with your client's aspirations, which positions them as the Hero you and you and their Guide (for more on the Hero/Guide relationship and the StoryBrand messaging framework.
What we learned
In the customer example described above, while we agreed their business would benefit from a new website that looked great, we learned that for their site to be successful it needed to clearly describe all of their offerings and be easy to navigate. We learned this client's problem was not with their logo or their colors – but that their problem was incorrect messaging and a lack of clarity. So while designing a new website was the tangible tactic we were hired to deliver, at the core of the project, we were hired to relieve their frustration and clarify their messaging so people could understand how this amazing company helps their customers.
The 2nd Question to Ask…
We'll dive into the next question we ask clients in our upcoming blog post. In the meantime, contact me if you would like to grab a cup of coffee and talk about how to make sure your brand stands out from the crowd.
Cheers!
Derek Sussner
derek@sussner.com
P.S. We recently published a worksheet with the 10 questions we use to start every branding project. We're excited to share this hoping it helps your brand take a solid first step towards breaking out of the pack. Use this worksheet as a tool to inform your internal team, your agency or design firm partner, or to gain a deeper understanding of your brand's landscape. Whether building, refreshing or refining your brand, your answers to these questions set the foundation and guide creative to its full potential.
Download the Sussner Brand Worksheet for free here: http://bit.ly/sdcobrandws