Our Branding Process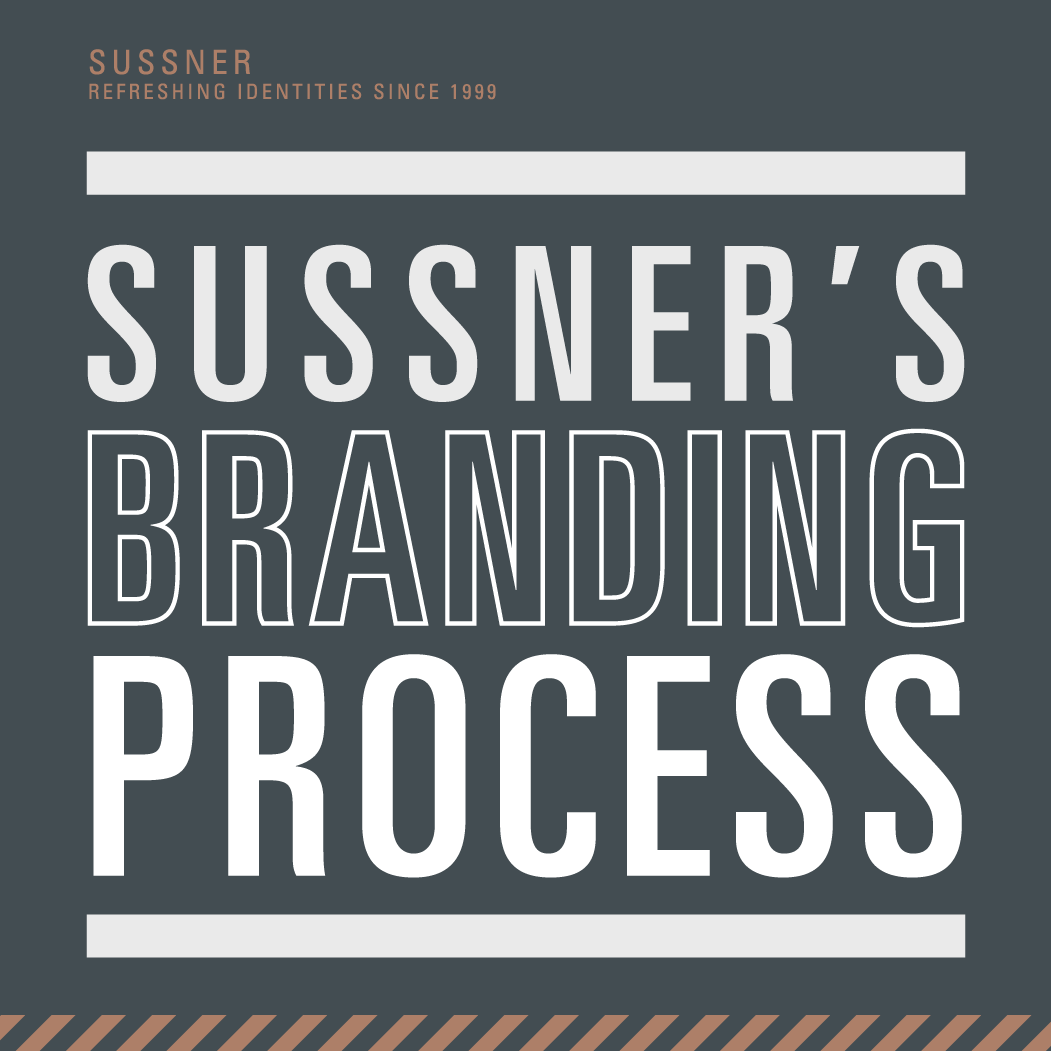 We've had a series of conversations lately with people thinking about their brand, their website, and the tactics that might help them market their services or products. And the questions that come up in every conversation are, "how does this work?", "what does this look like?" and "if we work with you, what are the steps this is going to involve?".
Understandably, many marketing leaders are challenged by how to attack the problem or opportunity facing their brand.
When you hire an agency like Sussner, you're hiring an experienced team that works with you to build something special rather than buying a pre-packaged item. But we understand that special thing is not tangible, and you can't see it or touch it (yet).
For example, if you buy a car, you know that it will have four wheels. You know what brand it is, you get to select the color, and you get to make all those decisions ahead of time.
But when you purchase a brand identity or engage in a branding initiative, it's tough to see what the outcome looks like because it hasn't yet been created. But you can have the peace of mind that comes in trusting a proven process.
Having a process is critical to finding branding and marketing success. Having a plan makes it easier for everyone to know what the goal is and what step we are on as we work toward the solution. By sticking to the process, we trust that the final product will be the right solution to help you in growing your business.
Our process includes five steps: Discovery, Strategize, Align, Create, and Amplify. Let's take a quick look at each
Discovery
Discovery is our learning phase. It's our opportunity to talk with the client, understand their objectives, obstacles, and opportunities.
The key deliverable is a Brand SWOT analysis, highlighting your brand's strengths, weaknesses, opportunities, and threats in the market. Being mindful of these items as we move forward helps ensure the approach for new branding is strategic, meaningful, and impactful.
Strategize
The strategize phase analyzes the key findings from the discovery step and starts using the insights to develop a strategic approach for the branding.
While the strategy we recommend differs from client to client, each strategy is created to establish clarity and connection for your company's employees and customers.
The deliverables for this step will range based on the scope of a project. For a smaller branding project, the critical strategy deliverable may only need new Desired Brand Attributes defined. Deliverables for a comprehensive rebrand may include Vision and Mission statements, Key Characteristics, Critical Actions, Desired Brand Attributes, Brand Positioning, Brand Architecture, and Customer Personas.
Align
Align is the step where we introduce visuals. This phase helps get every person on the same page with the "look and feel" of the new brand and establishes some objectives to what can be a subjective part of the process.
This alignment becomes incredibly important because it prevents us from missing the creative target. When we show you the first round of logo concepts, we should not be too far off the mark because we have worked with you to understand the right direction for the creative.
The deliverable of the align step is a visual listening tool called a moodboard. It is a collection of pictures and graphics that, when placed together, create a distinct look and feel that guides and inspires the design team.
Create
Create is the designer's, writer's, and photographer's favorite step. This is where we dip our brushes into the paint (so to speak) and get busy creating.
This phase develops the goodies that everyone sees – the visual and verbal solutions such as the color palette, the logo, the brand identity pieces, and the key messaging.
The deliverable may include the logo, identity system, tagline, brand messaging, or brand guidelines. The specific items get determined with each client based on their brand's specific needs and goals.
Amplify
Amplify focuses on refreshing and developing how this new brand rolls out and comes to life.
Whether it's a business-to-business or a business-to-consumer focus, this step is about creating the touchpoints that capture the attention of both the internal team and customers.
The list of deliverables for amplifying vary based on each customer. Some of the most common include a brand's website, business cards (yes – people still use and love business cards!), sales and marketing brochures, digital ads, social media, and office graphics. When it comes to how customers interact with your brand, we work to help you improve that engagement.
Process, Process, Process
At Sussner, we're all about the process, and we've continued to fine-tune our approach over the last two decades to help our customers grow their business. As Blair Enns wrote in Win Without Pitching: "The success of our outcomes is rooted in the strength of our process." We couldn't have said it better!
Here's to helping your brand stand out from the crowd!
Derek Sussner
Executive Creative Director, StoryBrand Certified Guide