Questions #6 When Considering a Brand Refresh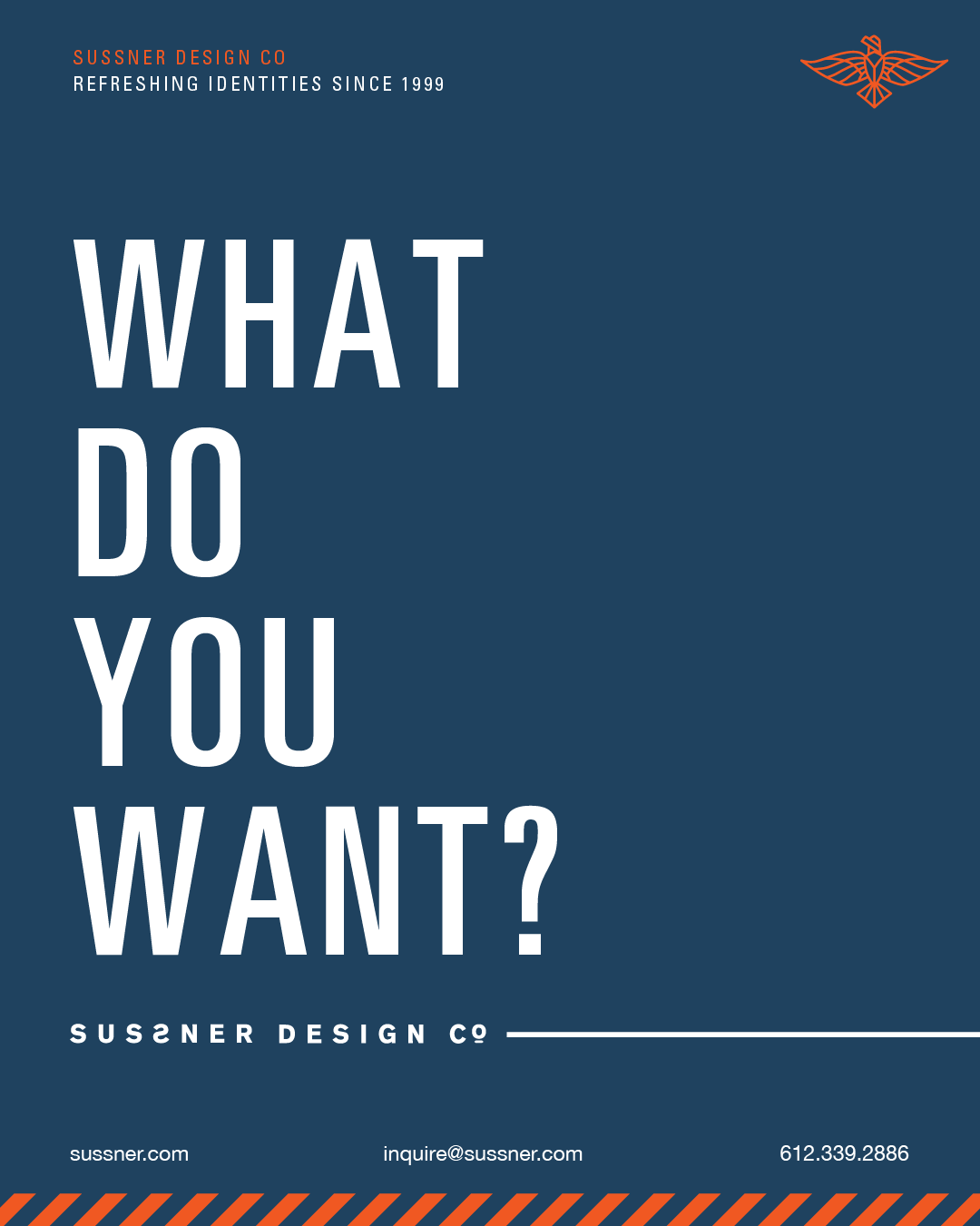 Do you know what you want?
Questions #6 When Considering a Brand Refresh
Like all business leaders, you are looking to grow the value of your company. And to do that you need a steady stream of new customers. The problem is what matters to prospects today is likely different then what mattered even just months ago – making your messaging and the reasons for customers to engage with you out-dated.
If you're thinking about refreshing your brand to help you stand out from the crowd, we've put together a worksheet with 10 questions that help gather the insight that's needed to create the plan that leads to your brand looking attractive to your customers. In the previous post, we looked at what your customers want. In this post we ask:
What do YOU want?
At first glance, this may sound simple, but it's one many of us take for granted. Let's look at it in two parts:
What is the specific goal or opportunity for your business? And…
What is currently preventing you from getting what you want? What's getting in the way?
If you know what you want, then you can identify what you need to be doing to get you there. Only after you are specific about defining specifically what you want are you able to create a plan that identifies:
What benchmarks, milestones, or progress points should be established?
What can you be measuring to help you monitor progress?
What does success ultimately look like?
Why do your customers buy from you?
How does your product or service benefit your customer or solve your customer's problem? Instead of describing your product or service as the tangible thing that you do, and telling people how your product works, it's extremely helpful to let customers know how your product works to solve their problem.
The followup question may be even more insightful  – and it's one that many of us overlook:
"Why are your ideal customers NOT currently buying from you?"
This question comes from Keith J. Cunningham, who writes (I'm paraphrasing): "If you want to grow, the single most important question you must figure out the answer to is this: 'Why are our ideal target customers (the multitude who know about us, have heard our message, and need what we've got) NOT buying from us?'"
If you are able to answer this, then you're able to shift your messaging, refine your product offering, or even adjust how you do what you do so you stand out from the crowd.
Getting your message right to explain how you can solve your customers' new needs, and leading them down a clear path to engage with you can help you keep growing in spite of the challenges we all face.
Are you positioned as the hero, or are you the guide?
As you fill out the answers to these questions, keep in mind that your brand is not the hero. The key is to position your customer as the Hero, and you as their Guide. You become the Guide in your customer's story by talking about helping the customer with that they want, and how their lives are made better through you and your services and your products. Becoming the guide to your customers is a game-changer.
Resources:
The Road Less Stupid
If you want to grow your business and are looking for a good read that provides insight on why your ideal customers are not currently buying from you, I'd highly recommend Keith Cunningham's book The Road Less Stupid: Advice from the Chairman of the Board. One more quote from the book: "Ordinary things consistently done produce extraordinary results."
Entrepreneurial Operating System
If you are stuck on how to structure a business plan, EOS is a powerful operating system with tools that will help you. Check out https://www.eosworldwide.com/ or read the book Traction – Get a Grip on Your Business by Gino Wickman. If you are looking for a referral to an EOS Implementor, I know several in the Twin Cities and would be happy to make a connection.
StoryBrand
If your business is getting lost in the crowd or unsure of how to build a marketing plan, then I can help. As a StoryBrand Certified Guide, my team and I leverage the StoryBrand tools to create clear messaging that helps you stand out and a sales funnel that engages customers and generates leads. Contact me at derek@sussner.com or 612-339-2886.
Here's to growing your business,
Derek Sussner
Executive Creative Director, StoryBrand Certified Guide
P.S. If you would like a copy of the Sussner Brand Worksheet, download all 10 questions here for free: http://bit.ly/sdcobrandws