Leverage Your Brand to Crush the Competition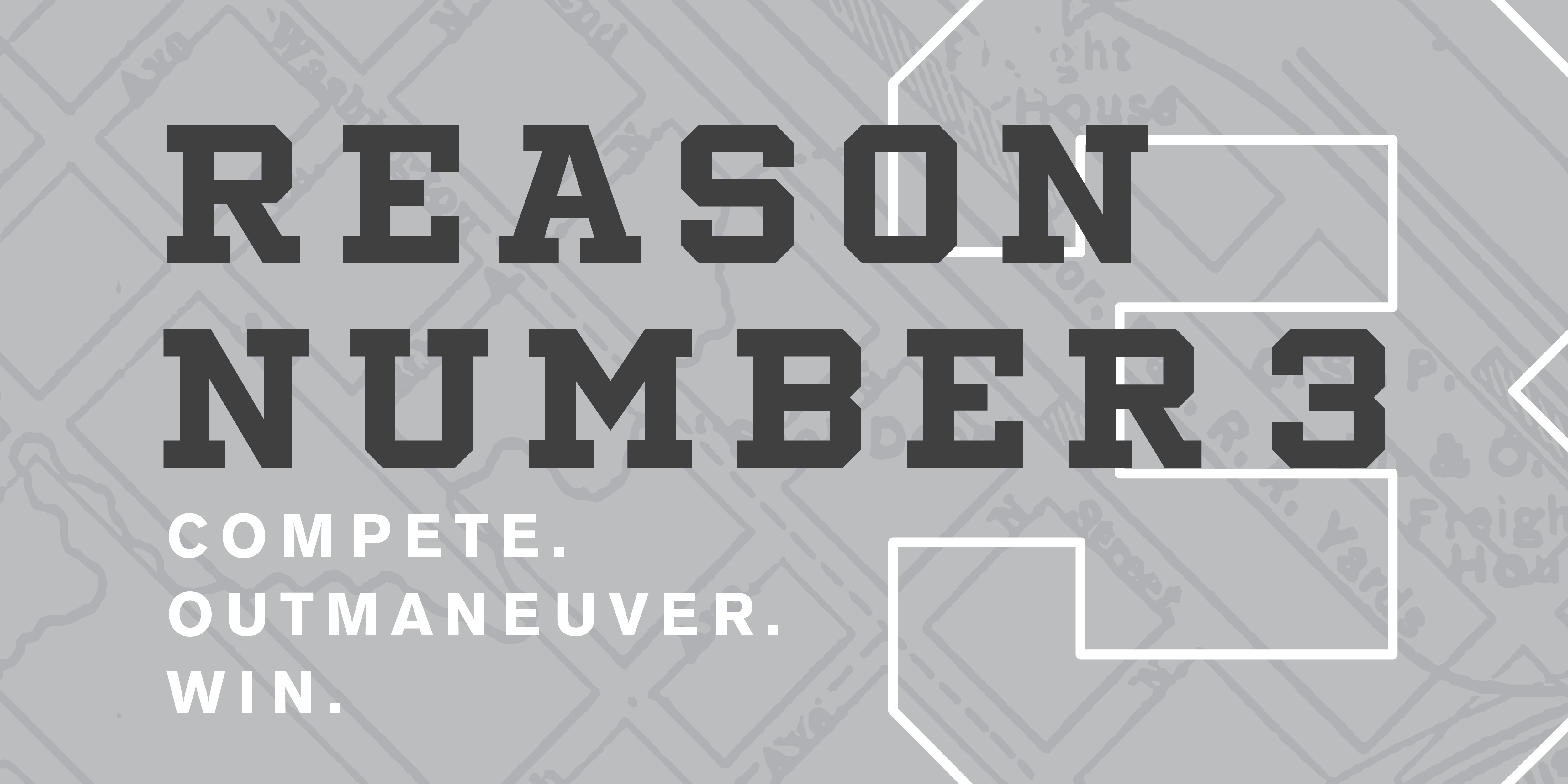 Compete, Outmaneuver and Win. Reason to Refresh Your Brand Identity – Number 3
Just about every customer I meet with is looking for a competitive edge for their business. I've heard it described a handful of ways…"We need to beat out the competition — aka win", "We are looking to get ahead and keep ahead of competitors," "We want to look better than our competition," "We need to level the playing field."
Crushing the companies, brands, and products you compete with might seem a bit harsh, but the fact is that whether you are chasing another brand or working to fend off a competitor that's nipping at your heels, the need to compete in the marketplace is vital to the long-term viability of your business.
For the sake of this conversation, I'm assuming you have the right people in the right seats; you have a great product or service that is priced right, and that you have the right processes in place to deliver. To get to the next level, you need to have a solid brand.
Think of your brand as a tool that will help put clearly defined space between you and your competitors (and help your brand crush them).
Understanding how to go about making sure your brand is functioning to the best of its ability can feel a bit overwhelming, and even knowing where to start can cause anxiety. And wondering what, if any financial impact results from your efforts can keep you from doing anything at all. This topic is one of the most common conversations we have in our business.
How do you leverage your brand to crush the competition? In a word, differentiate. Look better; sound better and intrinsically feel better than the rest of the pack. In business, an organization needs three things to be successful: Sales & Marketing, Operations and Finance. If only two of these three vital areas are strong, it's really tough for a business to compete.
A brand includes three key aspects – the messages, the visuals and the customer experience. For a brand to be successful, all three need to be in good shape.
Clear messaging cuts through the clutter and helps people understand what's unique about you and how your products will benefit them. A thoughtful system of visuals such as the logo, color and images help you look better than your competition. The ways your brand comes to life, such as on your website, in your marketing materials or in the physical spaces of your environment is how your customers interact with and experience your brand.
A tool that works on all of those things is pretty powerful.
Here's one thing you can do to take an easy first step in assessing how your brand stacks up against your competition. Analyze your competitors' brands and collect examples of what they look like and how they sound.
1. What does their tagline say?
2. What is the main message on the home page of their website?
3. What does their logo look like?
4. What colors do they use?
Now compare how you look and sound. Does your brand look or sound the same as everyone else? Is your message clear in articulating what it is you do? Is your brand represented vitally and vibrantly in a way that your audience can relate to?
In the discovery process we go through for our customers we go more in-depth and look at quite a few additional materials. But if at a minimum you review the logos and home pages of your competition – you'll gain extremely helpful insight into how you compare.
What is the potential impact?
Well, it's pretty great. We have one client – a building in downtown Minneapolis – that after refreshing their brand increased leases by 18.4 percent and realized a $10M increase in property value. Another client – a consulting firm – that we helped build a strong brand for made the list of one of the fastest 50 growing private companies in Minnesota. One more customer example – a sporting goods manufacturer – had product sales grow by double digits after refreshing their brand, and ultimately, blew by their primary competitor. (Check out more impressive results here).
Whether you're trying to level the playing field, tip the field in your favor, compete on a bigger field, or simply, reign supreme over the game, consider your brand as a tool that can help you compete, outmaneuver and win.
If you would like to grab a cup of coffee and talk about the competition you're facing, and how to put them in your rearview mirror, I invite you to checkout my StoryBrand Certified Guide Page or contact me at derek@sussner.com. I believe that you deserve someone in your corner to help you, and I'm happy to show you how the steps of the process look in putting space between you and your competitors.
Here's to gaining a competitive edge!
Derek Sussner
#SDCo20in19
P.S. For more examples of the impact companies have realized after re-energizing their brand identity, download "8 Reasons Refreshing Your Brand Identity Will Give You the Competitive Edge" for free.